►
◄
latest
habitat tv
blog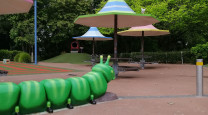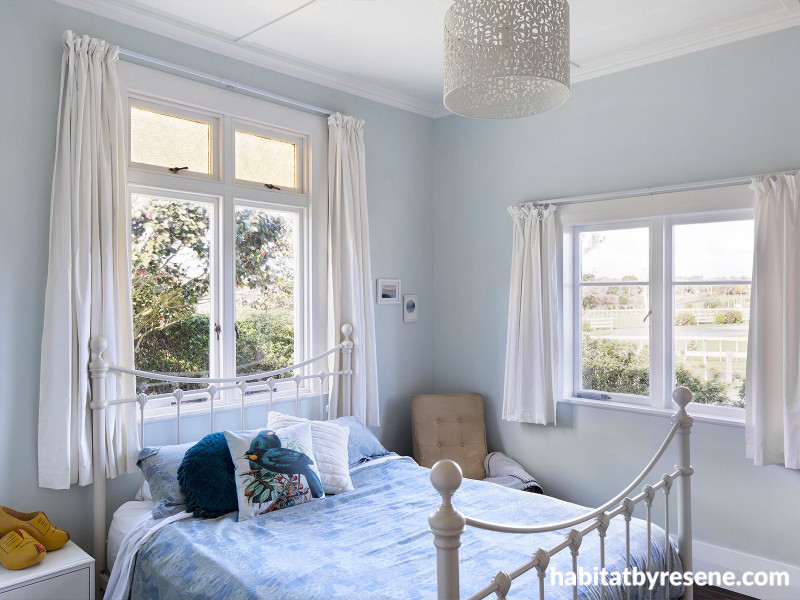 Three completely different ways to decorate a spare room
08 Jun 2020
When it comes to bedrooms, relaxing, restful blues are an infallible and captivating choice. Jane and Pim discovered the wonders of this tranquil hue in the guest bedroom of their charming Waiuku farmhouse when they adorned the walls with half strength Resene Nebula as part of their total home renovation. Architraves, skirting boards and a ceiling in Resene Quarter Villa White provide a crisp contrast to the calm, cloudy blue, and the result of their decorating efforts is a bedroom that anyone would be happy to curl up in.
But had their needs been different, under other circumstances, perhaps this spare room would have been a nursery or office instead. We asked a group of talented designers to share their ideas for other ways the same space could have been decorated.
The spare room as a nursery:
Designers Emma Adkins and Georgia Hay of Sample Workshop have come up with an alternative colour scheme, which sees this room transformed into a modern nursery that gives a respectful nod to the home's heritage features: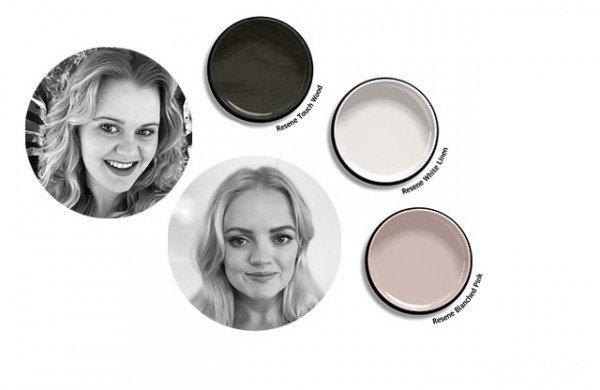 "Our key design tip to transform a spare bedroom into a timeless nursery is to retain a subtle classic influence with a pared-back colour palette as a base accented with saturated colours through easily replaced décor and accessories. Rather than creating a stereotypical 'feature wall', we have introduced a dado line and selected a youthful yet sophisticated wallpaper, Resene Wallpaper Collection SMIL69819001, combined with the subtle tone of Resene Blanched Pink and accessorised with burnt orange. Running curtain fabric from floor to ceiling is a commonly-used designer secret to visually increase window heights and create the illusion of a bigger space. By staining the floor in Resene Colorwood Touch Wood, we have created harmony between the warm oak furnishings and the cool grey tones found within the wallpaper design. To finalise the space, we have softened it by adding texture and tactility through a chunky woollen rug and a unique handmade felt pendant lamp."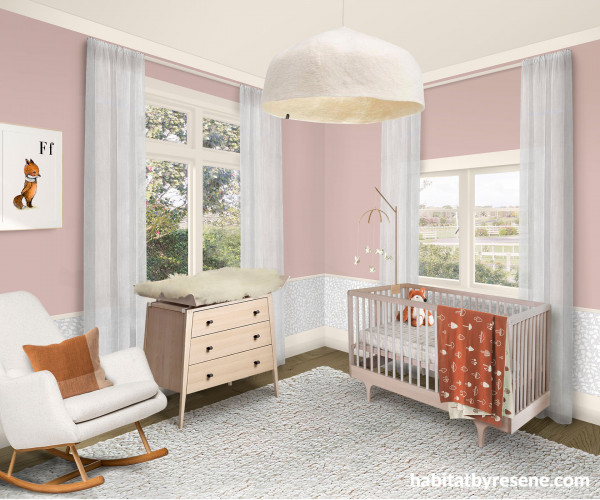 Emma and Georgia's design combines the beauty of simplicity with plenty of attention to details like texture and colour for a restful looking nursery full of warmth. Upper walls in Resene Blanched Pink, ceiling, trims, dado and skirting boards in Resene White Linen, lower walls in Resene Wallpaper Collection SMIL69819001 and floor in Resene Colorwood Touch Wood timber stain. Rocking chair from Freedom Furniture, cot from Nature Baby, rug and sheepskin from Furtex, changing table/dresser from Global Baby, throw, cushion, cot bedding and fox toy from Città.
Top tip: Remember most wallpaper designs are only available for sale for 2-3 years, sometimes shorter, so if you are planning to use the same wallpaper in multiple places or on a big project, always make sure you have enough when you start the project. If often pays to buy an extra roll, in case you need a little more later.
The spare room as an office:
Spare bedrooms, if unused, offer the ideal space for a home office. Designer Deanna Hills has the perfect plan to transform this bedroom into a modern, mid-century styled office with dark slate blue and crisp white contrast: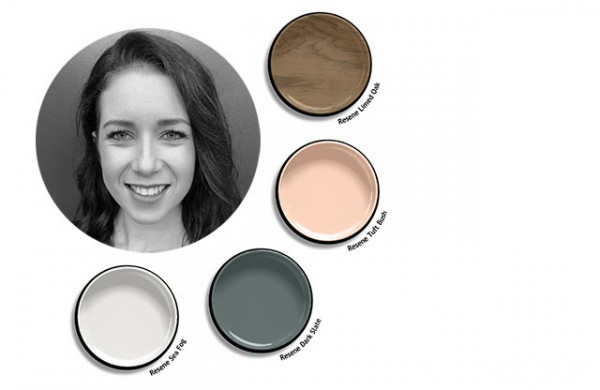 "I created this modern, mid-century style office as somewhere to reflect and let creativity flow. A full wall of shelving has been designed around the gorgeous heritage windows, which are the room's key feature. There is also a ceiling-mounted sheer curtain, which can be pulled across to soften the room and hide belongings. The deep, rich tone of Resene Dark Slate for the wall and shelving, mixed with oak timber textures in the desk and chair, gives this room a modern and sophisticated look. The walls and concrete floor, both painted in Resene Sea Fog, soften and offset the rest of the room nicely."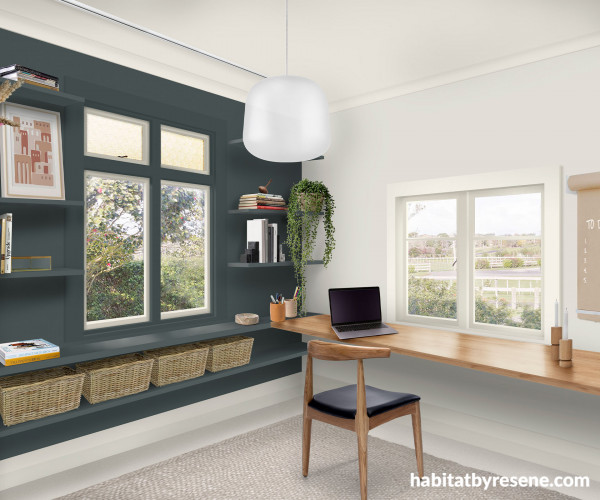 Deanna used Resene Dark Slate to bring character to this home office, taking the colour on to the window frames and shelves to make them a part of this striking feature. The rest of the trims and ceiling are in Resene Alabaster, the right wall and floor are in Resene Sea Fog and the desk top is stained in Resene Colorwood Limed Oak timber stain. Pendant lamp, marble dish and pencil cups from Città, artwork by Maiko Nagao, candle holders from Tim Webber Design, bulb vase, bookends and top from Capricho and glass jewellery box from Kmart.
Top tip: Different gloss levels will affect how your paint colour looks. Flat or matt finishes, like Resene SpaceCote Flat, absorb light and make the colour look darker and earthier, whereas semi-gloss or gloss finishes reflect the light and make the colour appear brighter and lighter.
imageJessica Gernat
IllustrationsMalcolm White
Published: 08 Jun 2020