►
◄
latest
habitat tv
blog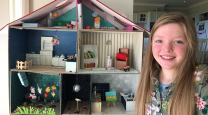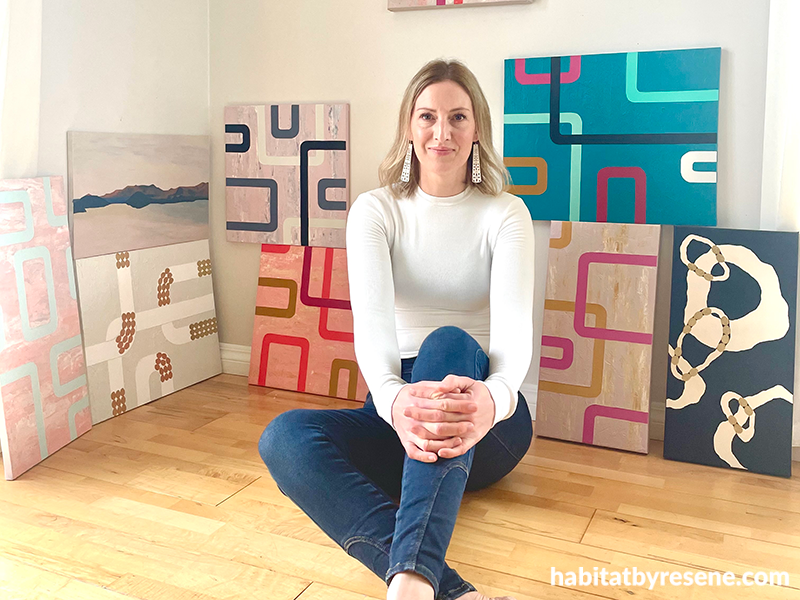 Wellington artist's passion for Resene paints stems from her childhood
22 Jun 2022
Wellington-based artist Audie Wilkinson has been both crafty and entrepreneurial since childhood. At eight-years-old, she held her first market stall selling her creations. "Over the years it changed from one thing to another – making beaded jewellery, teddy bears, later in my teens sewing clothes and doing art commissions." Currently her studio is dotted with Resene paint pots, which she uses to bring her bright abstract works to life.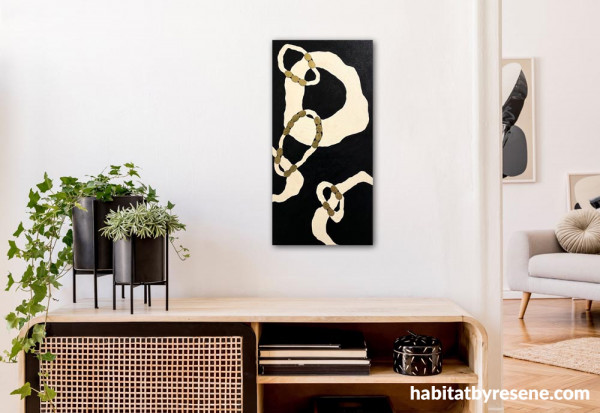 This piece uses Resene Black, Resene White, Resene Gold and textured brass metal pieces.
"I worked in a salon and a café at different points, and my employers allowed me to put my art on the walls and they sold quickly, so that turned into doing art commissions." Audie started making jewellery at this point, crafting leather earrings. "This took off and I got discovered by an up-market fashion store in my hometown Dunedin."
Her current, large-scale paintings are striking in bold tones like Resene Gelato, Resene Pursuit, Resene Aquarius and Resene Black. She describes her painted work as structured abstracts, using texture and combining colours that complement each other.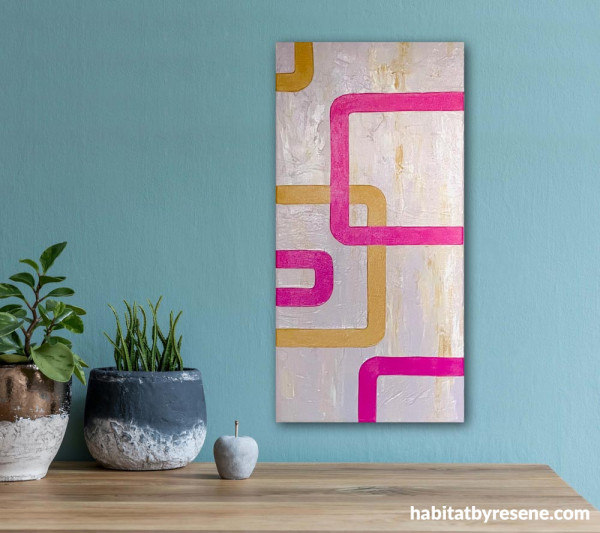 Resene Gelato, Resene White, Resene Scrumptious and Resene Billy T bring this piece to life.
"My father renovates homes and from a young age I started using his texture compound and Resene paints. He used to take me to the Resene ColorShop and I was right in my element. Resene really stuck and has ever since. I love the vast selection of colours they put out, and the staff are helpful and friendly in helping me match the charts to samples I bring in to store."
Audie is a lover of fashion, often her inspiration for colour palettes comes from clothing. "I also love landscape, flowers and architecture – when I love something I'm very passionate about it."
There is a relatively structured process of designing her pieces, she says. "It includes drawing, measuring out, using tape and cutting it to make the lines and curves I want, then applying texture, then paint. That's the exciting part when you see the piece really come together."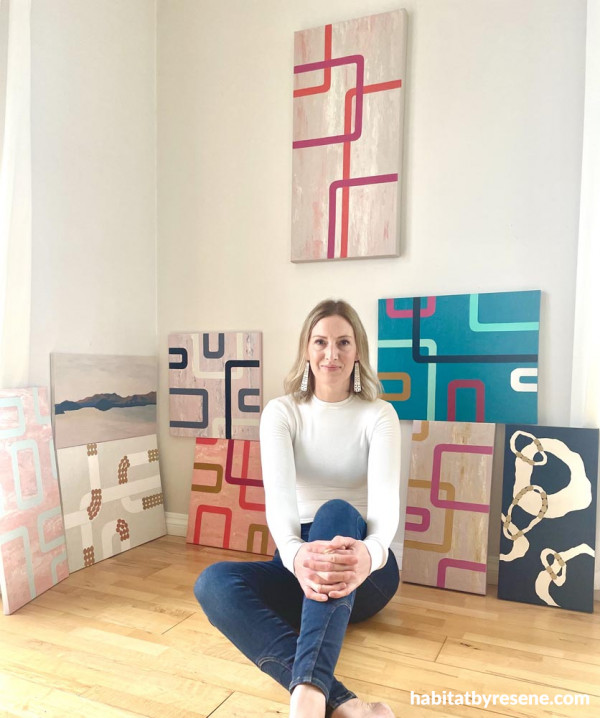 Audie in her studio with her Resene paint pieces.
Audie says her idea with her abstract series in Resene colours was to also offer commissions, colour matching a piece to a client's home.
With three children, her jewellery company and a hand in the bookkeeping for her husband's business, Audie says she is craving more time to paint. "I found myself wanting to go back to painting, and I finally put paint to canvas just recently. I am kind of juggling it all at the moment! My youngest goes to school in November, so I'm hoping by then to have a clear painting set up and to do more art."
Resene Gelato is her favourite hue. "I have used a similar colour in my jewellery for a long time now and its stuck with me. It's like a baby pink, but a bit of a musty vibe. It's also a colour that can go with a lot of colour combinations, both warm and cool tones."
Find Audie's paintings at www.odijewellery.com
Published: 22 Jun 2022