►
◄
latest
habitat tv
blog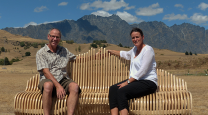 Popular and enduring shades of Resene blue inspired by sea and sky
In a subtropical climate like ours, it's easy to be drawn to an ocean-inspired colour palette full of beachy blues. Whether you choose one of the neutrals with a hint of blue or a full-on rich navy, there's plenty to choose from in the Resene palette. Classic sea-inspired colours include washed blues, seafoam greens, golden creams, sandy beiges and crystalline whites along with accents in stormy navy or a few pops of edgy black that will lift any room.
Soft and subtle with a hint of blue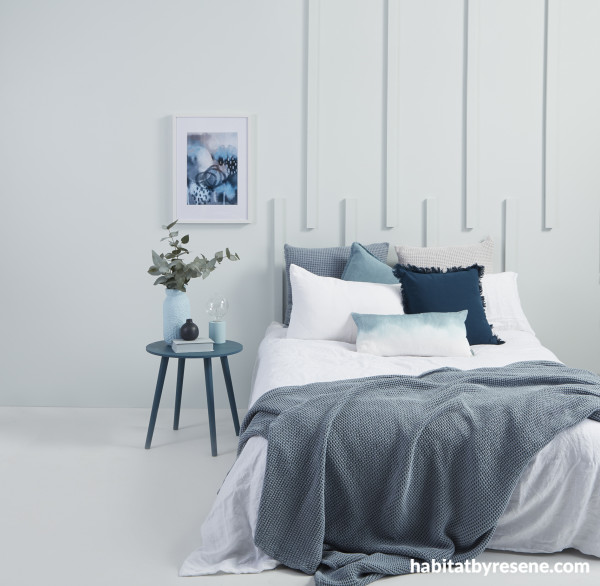 Bright and breezy, this bedroom is enveloped in a fresh palette of Resene blues, including Resene Quarter Emerge on the walls, Resene Fast Forward on the nightstand, Resene Mystery on the large vase, Resene Indian Ink on the small vase and Resene Raindance on the lamp base. Each shade plays off a different coloured cushion, making for a cohesive looking space. The floor is painted using Resene Walk-on in Resene Quarter Concrete.
Duvet and Hampton linen cushion from EziBuy, Euro pillowcases and throw from Allium. artwork from Etsy/urbanepiphanyprints, vintage washed linen cushion from Adairs, Rogue Lambs Ear Spray from Freedom. Project by Vanessa Nouwens, image by Bryce Carleton.
With our harsh light, it's common to want to keep your wall colour light and subtle, too. But just because you're drawn to white walls doesn't mean that they have to be boring. Choosing an off-white that's infused with a hint of blue is an easy way to subtly add more visual interest while also helping the hue marry up better with the rest of the sea shades you've selected. Look to colours like Resene Eighth Concrete, Resene Quarter Surrender or Resene Quarter Emerge for an easy, breezy vibe.
Batten walls are a popular on-trend design choice, but they don't have to surround the entire space – nor do they have to go all the way from floor to ceiling. Instead of a headboard, this bedroom uses partial battens to create an interesting focal point above the bed that helps draw the eye upward. Switching them to a horizontal orientation is another cool idea, and other ideas for battens could include a typical grid, parallel pairs, or turning them on a 45-degree angle.
Take a crack at Resene Duck Egg Blue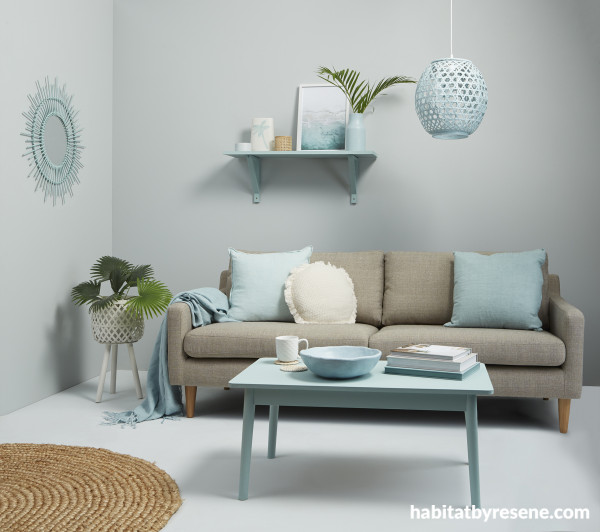 In this warm and inviting contemporary living room, Resene Duck Egg Blue walls and Resene Quarter Duck Egg Blue flooring introduces subtle and appealing colour to a space decorated primarily with other pale blues and neutrals. It's the sort of look that's just as ideal for a beachside bach as it is for your everyday home. The choice to paint the woven pendant lamp Resene Raindance and the raised planter in Resene Quarter Tea also helps to soften them. To add to the tropical feel, the wide, flat vase found in an op shop is painted in Resene Quarter Tea with a palm tree design applied using a stencil and Resene Raindance. The coffee table and mirror are painted in slightly more saturated Resene Rewind and Resene Raindance respectively to add some subtle tonal contrast while the jug vase in Resene Raindance, the bowls in Resene Raindance, the tealight holder in Resene Slipstream, the tray in Resene Quarter Tea and the hook rack in Resene Truffle have been colour matched to the soft furnishings.Sofa from Contempa, rug, Atlantis Deco Object, Edie Scale white mug, coasters and tealight votive from Freedom, artwork from Etsy/sageseaprints, pale aqua cushion from Allium, round cushion and bamboo pot stand from Kmart, linen throw and linen cushion from Adairs. Project by Vanessa Nouwens, image by Bryce Carleton
Duck egg blue comes in quarter and half strengths, plus triple strength for those who want to indulge a deeper hue and can look beautifully sophisticated when used as a backdrop in a restrained and elegant design. It's a hue that's virtually unmatched in its versatility. While it's a soft and delicate shade, Resene Duck Egg Blue can hold its own in a rustic context, making it a great pairing for rougher natural materials like rattan, jute and kete or even boho cotton macramé. With another light wall or flooring colour, the woven accessories in this space might feel too coarse for the level of comfort that's evident here. Other colours that look brilliant with duck egg blue are velvety mauves such as Resene Memory Lane, Resene Sixth Sense or Resene Waterloo, cool whites such as Resene Half Black White, Resene Half Merino or Resene Half Sea Fog, or deep slate blues such as Resene Fast Forward, Resene Navigate or Resene Undercurrent.
Mid-blues and hues make a dreamy setting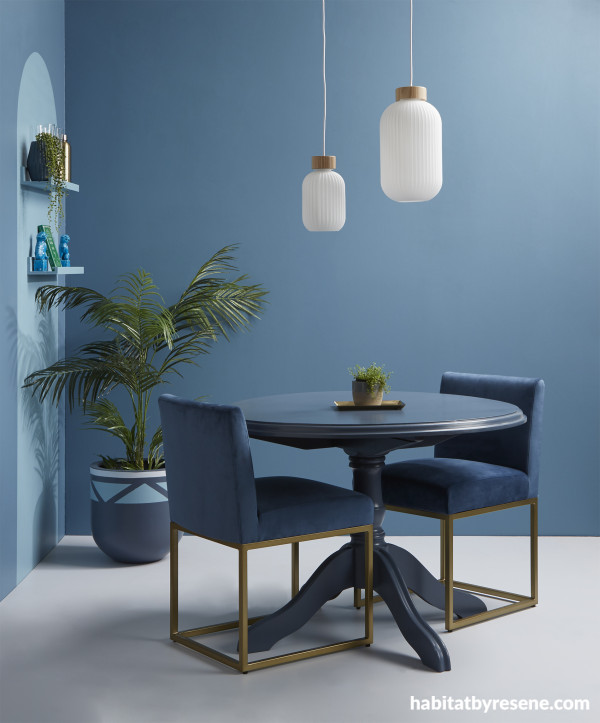 An intimate corner with an elegant bar cart and a cosy, layered blue setting makes for the perfect sophisticated spot. The walls in this graceful nook are painted in the mid-toned hue of Resene Seachange, a soft Scandinavian blue with a touch of slate grey. In this room,Resene Seachange is paired with another lighter mid-blue, Resene Awash, on the curved wall feature, and a smoky grey blue with a slight purple edge, Resene Rhino, on the table and pot plant. An even lighter blue with notes of lilac and grey, Resene Breathless, features on the floor to complete the elegant tonal look. Walls in Resene Seachange, arch in Resene Awash, floor in Resene Breathless, shelves in Resene Awash, Table in Resene Rhino, pot in Resene Rhino with stripe in Resene Breathless and triangle motif in Resene Awash, small vase (on shelf, with bar tools) in Resene Breathless. Chairs from Freedom Furniture, bar cart from Wooden Horse, rug from Grounded Homeware, brass scoop from Good Thing, artwork from Rachel Mataira, brass tray (on table) and brass plant pot (on shelf) from H&M Home, plant from Mood Store. Project by Melle van Sambeek, image by Bryce Carleton.
Mid-toned blues such as Resene Seachange, Resene Awash and Resene Kashmir Blue and Resene Biscay aren't too dark and aren't too light which makes them a perfect backdrop colour. However, these middle of the road blues can run the risk of looking flat without extra tones and textures in the mix. To make your space elegant and sophisticated, layer tonal blues and incorporate metallic accents such as Resene FX Metallic Sputnik and Resene FX Metallic Dalek. This elegant room is an example of how a mid-value wall colour can be rich and luxe when layered with lighter and darker tonal hues.
Metallic accents are the perfect choice to add a sophisticated and elegant look to a space, and in this room, brass has been utilised as such. It features on the dining chair legs, is picked up in the bar cart and repeated in the accessories on the floating shelf – remember, if you want to make it a feature, repeating it three times in a space will help it feel connected.
Nice ice baby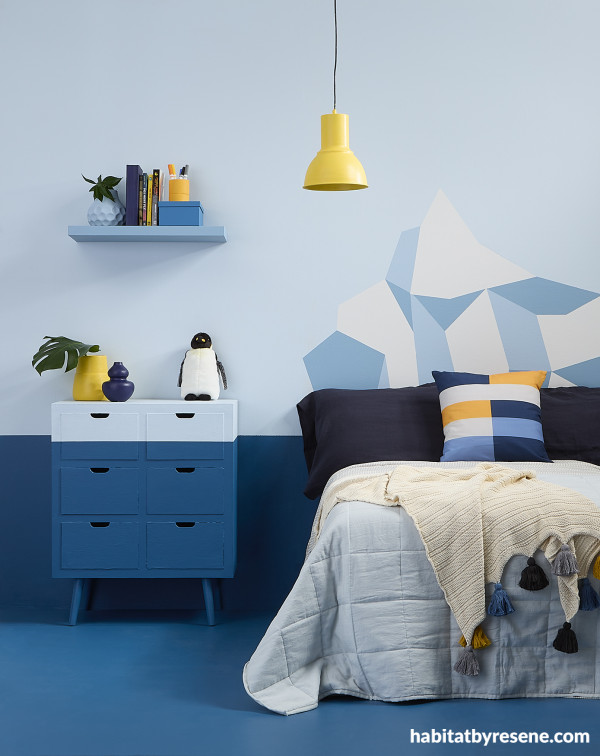 This child's bedroom uses layering of blue tones to create a fun, fantasy world. The walls and ceiling are Resene SpaceCote Low Sheen waterborne enamel tinted to the aptly named Resene Quarter Frozen. For the deep Antarctic waters, the floor is painted in two coats of Resene Walk-On flooring and paving paint tinted to Resene Spinnaker. By tinting this same hue into Resene SpaceCote Low Sheen, the 'water' runs 75cm up the bottom of the wall to create an enveloping effect. Once the 'water' had dried, the main feature of the room, the iceberg painted headboard design was painted in Resene Sea Fog, Resene Frozen and Resene Blue Moon. Using Resene Lustacryl semi-gloss waterborne enamel, a durable formula that's ideal for furniture, the dresser is painted in Resene Spinnaker and Resene Quarter Frozen. The bedside table is painted in Resene Frozen and a stool and a floating shelf carries that key colour from the iceberg off the wall and into the room. To infuse some energy, the pendant lamp, vase and pencil cup are painted in Resene Bright Spark to play off the golden yellow tones in the cushion and throw. Small accessories like plant pots and storage boxes are painted in Resene testpots in Resene Matisse, Resene Bullitt and Resene Frozen. Duvet, blanket and navy pillowcases from Citta, puppet from Toyco, throw from Freedom, Resene Living cushion from Briscoes, canvas shoes from Kmart.
Project by Laura Lynn Johnston, image by Bryce Carleton.
With creative coats of colour, this child's bedroom has been transformed into an Antarctic fantasy where the imagination of a young penguin-lover can run free. Part of what makes this concept so immersive is that the paint effects and colour palette are not just on the walls, floor or ceiling but have also been carried on to the furniture, accessories and even a few toys.
Using a pencil and ruler, the iceberg's main jagged outline was drawn before adding in the straight, angular lines that give the effect its icy form. High-quality professional washi-style masking tape – available from your local Resene ColorShop – was used to outline the areas being painted in the lightest colour, Resene Sea Fog before the other colours in Resene Frozen and Resene Blue Moon were added. Because the theme has been created with paint, it only takes a weekend to completely transform it into something new if your child outgrows it or wants a new fantasy or discovery to explore.
Midnight blues for a sophisticated sanctuary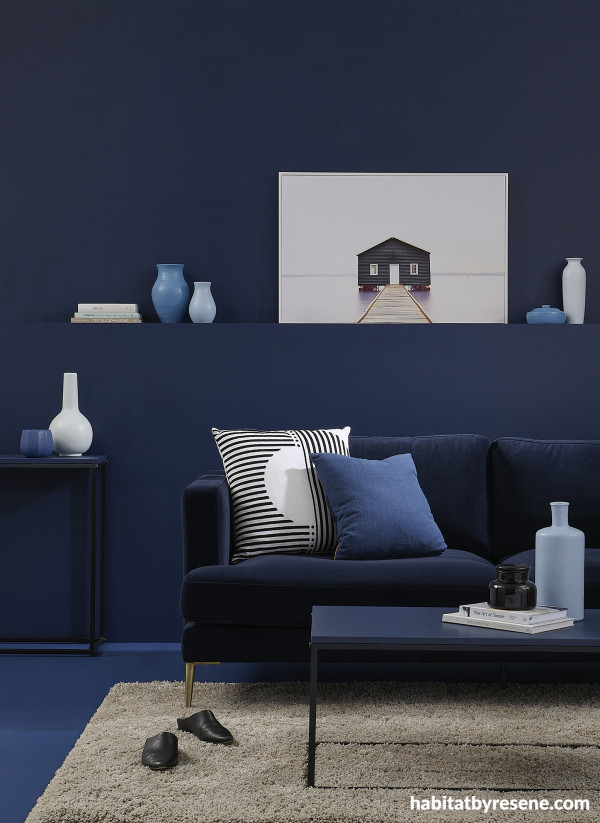 In this tonal version of a cocooning living space, the walls and coffee tables are painted n Resene Midnight Express with painted vases and plant pots layered into the roomin deeper Resene True Blue and Resene Kashmir Blue as well as cooler Resene Smokescreen and Resene Breathless with a few touches of warm white in Resene Bianca and black in Resene Nero. The addition of five accent hues may sound like a lot, but it's helpful in representing the full chromatic transition from very light through to very dark and visually softening the gap between them. Velvet sofa, rug and blue cushionfrom Nood, striped circle cushions from Freedom, coffee tables, console table and artwork from Kmart, gold dish and tray from H&M Home. Project by Laura Lynn Johnston, image by Bryce Carleton.
Sometimes nothing but the drama of deep blue will do.
Prized for its dramatic presence and classic appeal, navy blue is among the most versatile hues – one that can be adapted to suit a wide range of colour schemes and decorating styles. Colours like Resene Midnight Express and Resene Indian Ink are deep, rich and recessive, and make way for brighter colours to pop. It's a trademark complement for interiors boasting coastal, classic and contemporary character. Although navy blue's benefits are many, it is a colour that needs to be balanced to ensure it doesn't overwhelm or result in a space that feels closed-in rather than the cosy and cocooning hero hue we know it to be.
For a complementary colour scheme, look to blue's opposite on the wheel: orange. The fiery hue introduces warmth that balances the cool depth of navy blue. A mid-range tone is often enough to establish a bold, colourful look, such as pops of tangerine or papaya like Resene Ecstasy or Resene Roxy, while lighter shades like coral or cantaloupe such as Resene Florentine Pink or Resene Tacao make for beautiful accent colours to complement coastal décor.
Blue has such a range that it can signal quiet serenity in a colour like Resene Frozen right through to the power and drama of Resene Midnight Express, with all the tones in between.
Whatever your choice, blue is rightly one of the all-time favourites in the colour pantheon.
Published: 10 Feb 2022
Do you have a home full of wonderful Resene paint and colour? Send us some snaps by emailing [email protected]bitatbyresene.co.nz.