►
◄
latest
habitat tv
blog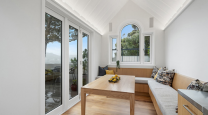 Master Builders' Chief Executive David Kelly shares his tips for building in the challenging climate.

Planning... more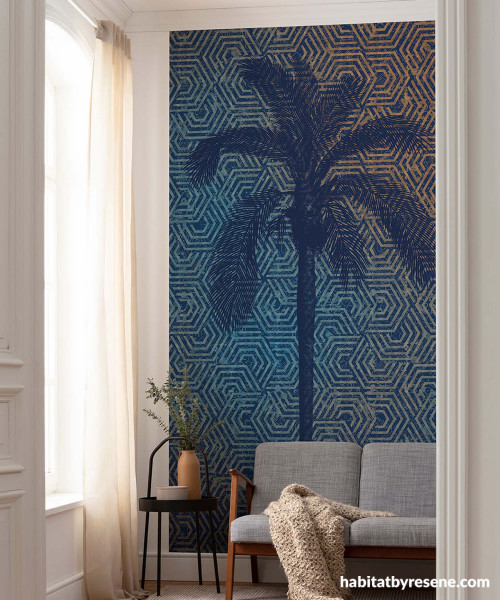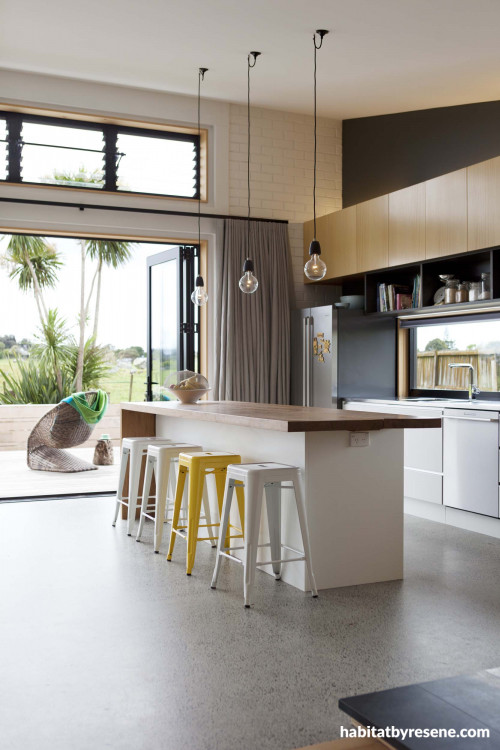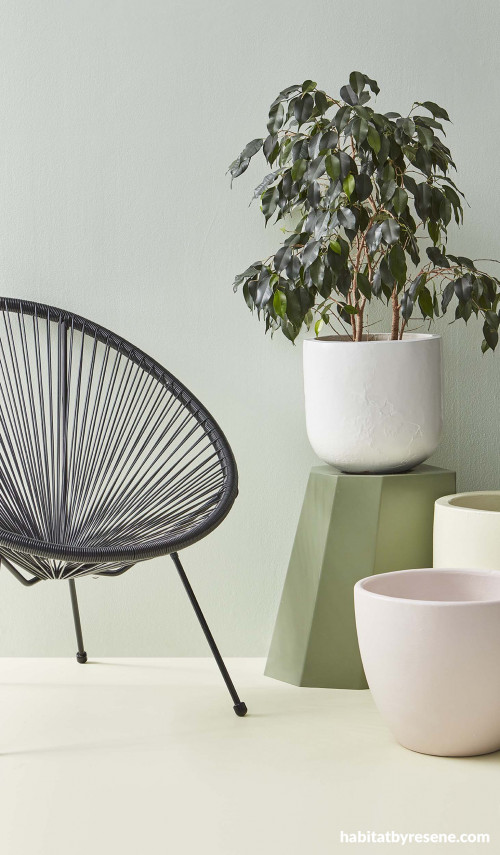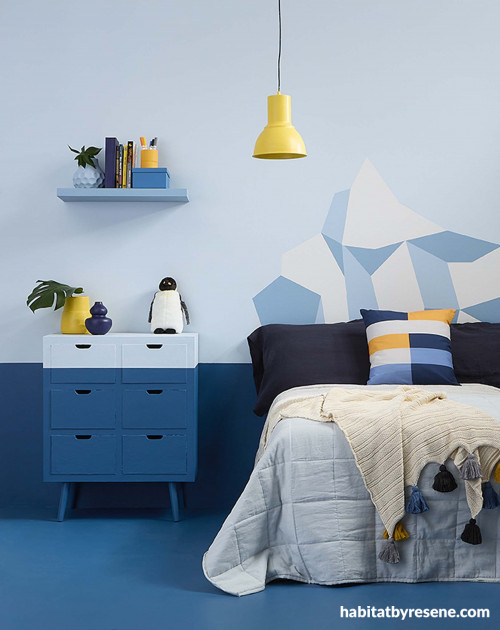 Nature-inspired interior ideas: Bring the outdoors in with colour
There's nothing better than a seamless indoor/outdoor flow during the warmer months; the breeze flowing through your lounge or opening up the sliding doors to invite the garden inside. But if you're not blessed with a home decked out in extensive ranch sliders, large windows and vast gardens – or even if you are – there are plenty of ways to up the ante and bring the outdoors in with Resene colours.
The trick to creating a sophisticated indoor/outdoor space is to treat your garden, patio or courtyard and interior home as one overall living space. Making design decisions that can flow between the indoors and outdoors is the first step to becoming more connected with nature and embracing this luxurious way of living. If you're an apartment dweller or have minimal outdoor space fear not, a themed room in Resene paint could be just the ticket to fill your home with inspiring vistas or relaxed garden vibes.
Colour your courtyard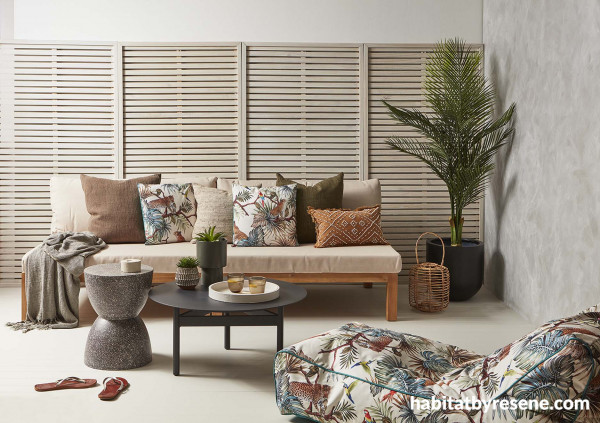 This summer courtyard features a creamy back wall in Resene Triple White Pointer, with side wall in Resene Half Friar Greystone with Resene FX Paint Effects medium coloured with Resene Quarter Friar Greystone applied to the wall using a ragrolling technique. Floor in Resene Triple White Pointer, large plant pot in Resene All Black and tray in Resene Blanc. The trellis is in Resene Woodsman Whitewash. Sofa from Early Settler, cushions and bean bag daybed from Bed, Bath & Beyond, lantern from Adairs, tumblers from Città. Project by Vanessa Nouwens. Image by Wendy Fenwick.
This summery courtyard is the perfect way to extend your interior colour palette. If your home has an abundance of neutral colours, consider taking it outside and painting your courtyard wall. Off-whites such as Resene Triple White Pointer are the perfect background to make your plants pop and can also reflect sunlight, making the area feel like a brighter extension of your home.
If you don't have a courtyard or patio, bring the outdoors in by revamping your conservatory or sunroom. Even indoors, a trellis painted in a deep blue such as Resene Midnight Express will give the room a sense of depth. It also makes creating a vertical garden in your home straightforward and easy, simply attach light planters in intervals up the trellis to give your room height and an added touch of nature. An easy way to introduce earthiness into the space is to create a textured wall. The marbled effect of the sidewall of this courtyard was painted in Resene Half Friar Greystone with Resene FX Paint Effects medium coloured with Resene Quarter Friar Greystone applied to the wall using a large brush in a swirling motion, then wiped off with a clean dry rag.
Colours in the palm of your hand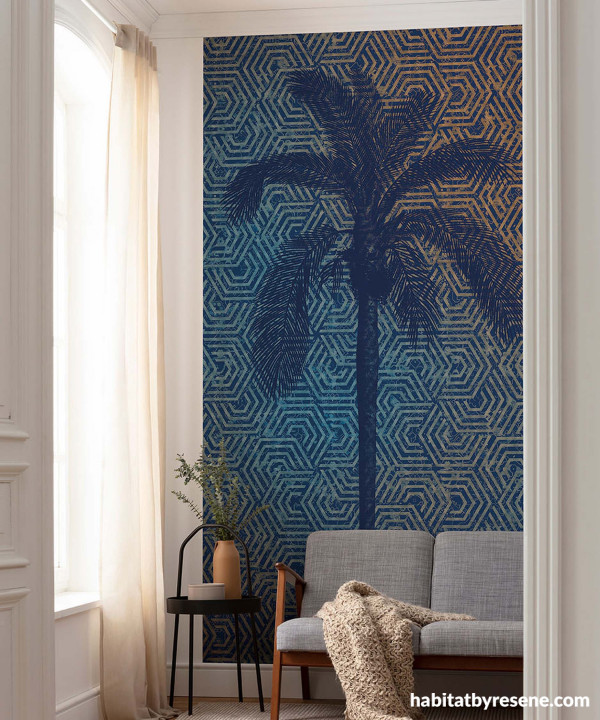 This vibrant and abstract feature wall in Resene Wallpaper Collection HX3-012 will give your home that beachy feeling in no time.
Bring a splash of the sea and sun into your home with Resene Wallpaper Collection HX3-012. A wallpaper feature wall is a highly accessible way of introducing a bright new colour scheme into your home with minimal effort. Use a bold Resene wallpaper such as this one to kickstart your colour scheme, matching your décor and furniture to the many hues that can be found in it. If you're after a rustic ocean atmosphere in your home, don't crowd the space with a clutter of shells or photographs of the sea. This wallpaper will do the heavy lifting for you, introducing an abstract shell pattern and pairing it with deep ocean blues, sandy yellows and of course some classic palm tree imagery. Simply pair it with bright Resene Rice Cake walls and wooden elements for a light and breezy ocean-themed room.
Turn things inside out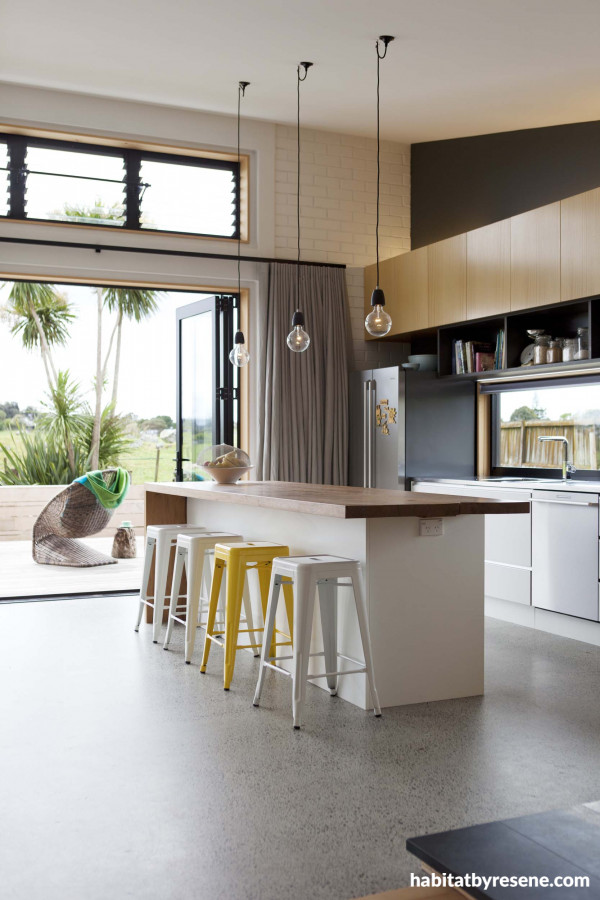 Peta of Yellowfox Interior Design kept the indoor/outdoor flow of her Mangere home simple and sophisticated with walls in Resene Black White and a feature wall in deep Resene Armadillo.
There is an art to keeping interiors simple without them feeling sparse or unfinished. If you're lucky enough to have large windows or sliding doors, then make the most of the outside – by bringing it inside. Choosing a neutral colour palette that features bright whites, such as Resene Black White, can reflect the colours of the environment outside your window. Simplicity is key for this look in order to make the subtle green, blue and yellow reflections shine. Invite nature in with accents of timber stained in Resene Colorwood Natural or introduce small pops of colour such as bright yellow Resene Turbo or vivid blue Resene Half Resolution Blue to keep things interesting.
Give it the green light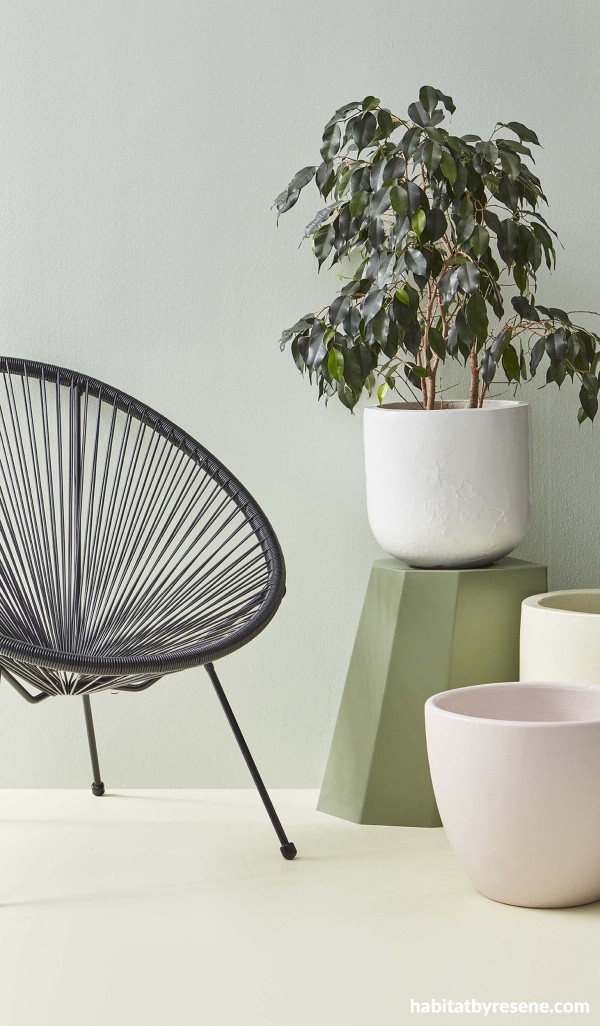 Soothing and sweet, this room's wall is in Resene Peppermint, floor in Resene First Light, and plant pots in Resene Hint Of Grey, Resene First Light and Resene Soothe. Stool from Everyday Needs. Project by Amber Armitage. Image by Wendy Fenwick.
One of the most well-loved colours for relaxation, greens are great for transforming any space into an oasis of colour. Our go-to greens include deep Resene Kaitoke Green, classic Resene Olive Green and fresh Resene Peppermint. Pastel greens such as Resene Pixie Green or slightly richer Resene Green Smoke are perfect to lighten your living room or office for spring. Introducing pastels into your colour scheme has the added benefit of making a space feel nostalgic for simpler days and encourages a connection to nature. Ground the look by adding contrast and depth through bold pieces of furniture in darker colours, such as Resene All Black or Resene Sambuca.
The ultimate chill out zone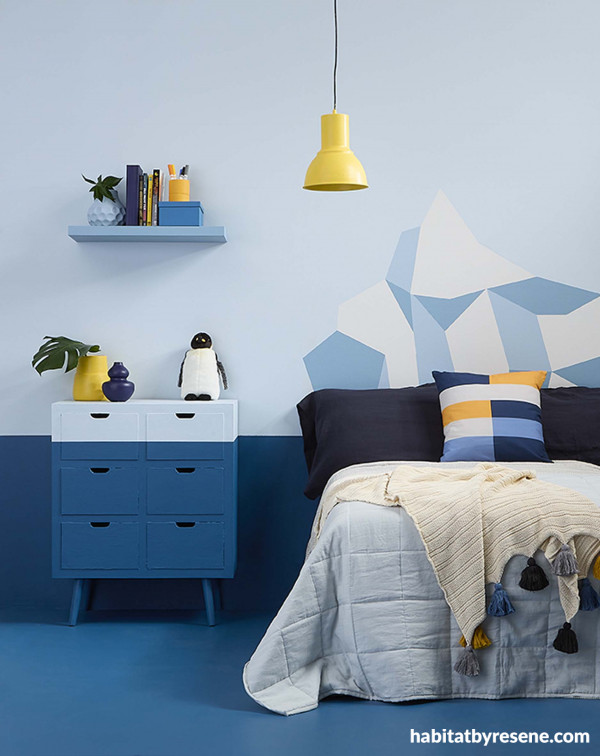 This fun and educational kids bedroom's upper wall is in Resene Quarter Frozen with lower wall in Resene Spinnaker. The iceberg painted headboard is in Resene Sea Fog, Resene Frozen and Resene Blue Moon. The dresser is in Resene Quarter Frozen and Resene Spinnaker and the shelf is in Resene Blue Moon. The pendant lamp is in Resene Bright Spark and large vase in Resene Fuel Yellow. Duvet cover and cushions from Città, throw from Freedom Furniture. Project by Laura Lynn Johnson. Image by Bryce Carleton.
Inspire your budding globetrotter with a themed room. With Resene's vibrant range of paint, it's easier than ever to recreate your child's dream travel destination in their own bedroom. All you need is an intrepid colour palette, a bit of imagination and some painter's tape. This Antarctica-themed room delicately balances colourful negative space with a bold and exciting iceberg headboard featuring Resene Frozen.
The concept of this room can easily be changed up depending on your child's interests. For example, you could create a mystical woodland with Resene Forest Green on the floor and lower wall, with Resene Pale Leaf on the upper wall and a painted headboard of mountains or evergreens. The trick is to use your darkest colour on the lower wall or floor to keep the space grounded and feeling open. A themed room is not only a way to bring the outdoors into your child's room but is also an excellent opportunity to teach them about nature and the world around them.
By extending your colour scheme to your outdoor spaces or creating themed interiors, you can easily embrace the outdoors with rich and adventurous Resene colours this spring. The Resene colour range is available in both interior and exterior paints and stains, making it easy for you to create a cohesive palette inside and out.
Published: 11 Nov 2021
Do you have a home full of wonderful Resene paint and colour? Send us some snaps by emailing [email protected].
the look
If you're stuck on what
colour to use or need colour
advice, try out the Resene
Ask a Colour Expert service.
the look
If you're stuck on what
colour to use or need colour
advice, try out the Resene
Ask a Colour Expert service.