►
◄
latest
habitat tv
blog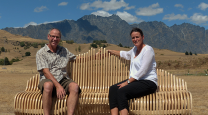 Calming interior colours: Six pretty-quick fixes that'll help you relax to the max.
Is there a space at your place in which you can really switch off? Everybody needs a little time away, and with Resene paints and a little know-how, that can be as simple as padding down the hallway to a pamper zone that's all your own. Read on to find six suggestions for creating rooms you can rejuvenate in on the regular.
Retreat yourself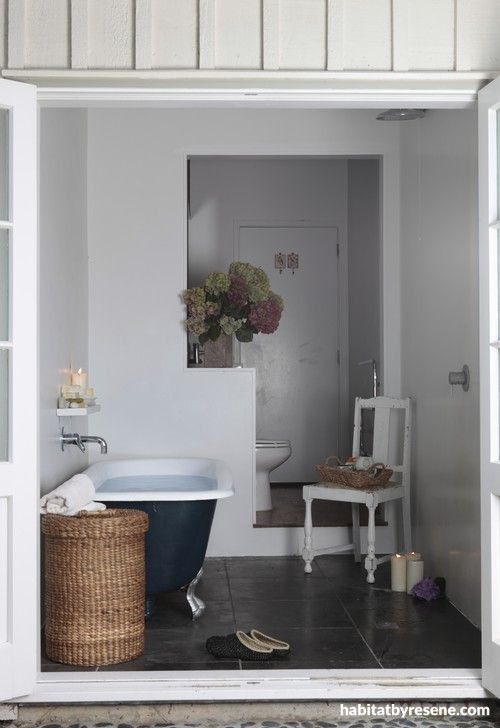 Bath in Resene Armourcote, with Resene Magnum and Resene Silver. Wall in Resene Alabaster and trim in Resene Half Alabaster. Photography by Charlie McKay.
The simplest spot to turn into a spa-like wellness space, aim to make your bathroom a sensory experience, considering sight, touch, scent and sound. Start with the former by adding restful Resene colours to the walls, skirtings and ceilings, remembering that lighter hues make small rooms seem more spacious. Prime with Resene Sureseal, then tint a washable, moisture-resistant enamel with MouldDefender and anti-bacterial protection (such as Resene SpaceCote Low Sheen Kitchen & Bathroom, Resene SpaceCote Flat Kitchen & Bathroom or semi-gloss Resene Lustacryl Kitchen & Bathroom) to your chosen Resene colour. Appeal to your sense of touch with luxury towels, smell with aromatherapy products and hearing with gentle music. Make bathing even better by painting your bath or installing a shelf for candles, a mug of herbal tea or a glass of wine. Eliminate stressful clutter with sufficient storage and add a chair for clean clothes. Texture helps stop white spaces feeling clinical, so opt for natural materials where possible, such as the stone tiles and woven laundry basket seen here.
If you can dream it...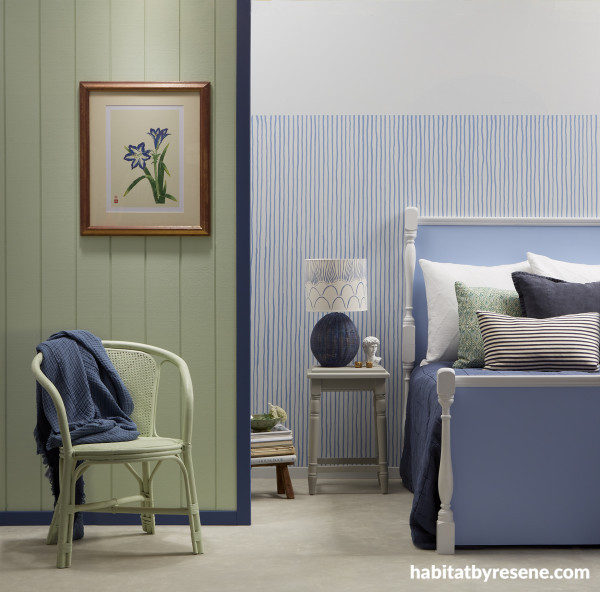 Right wall in Resene Surf Crest and Resene Astronaut (trim), left wall in Resene Mystic and Resene Relax (stripes), floor in Resene Mystic with Resene Paint Effects Medium tinted with Resene Dusted Grey. Chair in Resene Surf Crest, bedside table in Resene Dusted Grey chalk paint, lamp in Resene Zephyr (shade) and Resene Astronaut (base), headboard in Resene Relax and Resene Quarter Iron (uprights). Artwork by Bioattic from Endemic World, throw and white Euro pillowcases from Places & Graces, stool and bowl by Tony Sly, bust from Ornament, dice from French Country Collections, green cushion from Collect Living, striped pillowcase from Thread, bedspread from H&M Home. All other items stylist's own. Project by Kate Alexander, photography by Bryce Carleton.
A more tranquil bedroom is also just a Resene paint job away – a process that can be meditative in itself. Blues and greens have calming qualities that make them ideal for creating rejuvenating and restful bedspaces. This sleep space channels the R&R of a country or coastal cottage in soothing shades of garden, sea and sky. The repetition of vertical lines in the tongue-and-groove panels, painted stripes and headboard uprights is visually reassuring, and juxtaposed by extra-comfortable bedding. In lieu of the wallpaper often found in classic cottages, we created a feature wall using narrow stripes of grey-blue Resene Relax two-thirds of the way up the wall in grey Resene Mystic, for a grounding effect that doesn't overwhelm the eye. Don't try to make your stripes perfect – their charm is in their rustic nature. Painted vintage furniture completes the scene, along with objects that calmly and cohesively tie into your colour palette.
Dressed and impressed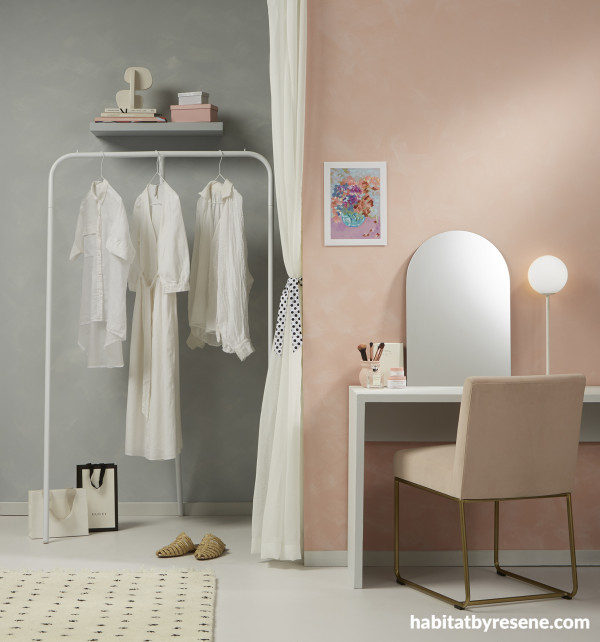 Left wall in Resene Loblolly with Resene Paint Effects Medium tinted with Resene Half Gull Grey, right wall in Resene Sakura with Resene Paint Effects Medium tinted with Resene Quarter Blanc, skirting boards and desk in Resene Snow Drift, floor in Resene Mercury. Rug from Grounded Homeware, rack and hangers from I'll Hang it Here, sculpture by Gidon Bing from Good Form, curtain from Resene, artwork by Brenda Clews, mirror from The Warehouse, chair from Freedom, lamp from Good Thing. All other items stylist's own. Project by Melle van Sambeek, photography by Bryce Carleton
Flex your star power and install an old-Hollywood-style dressing room to take the pressure off in the mornings and provide a place for a little pampering at night. Picture yourself serenely preparing for your day or transitioning into your downtime without anyone banging on the bathroom door, in just the right light and with enough room to keep everything you need within reach. This space could be recreated in a corner of your bedroom or in a guest room. Floaty fabric and a candy colour are the heroes of the scheme, achieved with a curtain from Resene and peach-blossom Resene Sakura paint, teamed with winter-grey Resene Loblolly and lime-chalk Resene Snow Drift to subtly blend feminine and masculine. Both walls have been given a textural treatment with Resene Paint Effects Medium for a sense of softness enhanced by warm, flattering lighting. Paint the floor (we used paler grey Resene Mercury), then add a rug to up the luxe underfoot.
Open book nook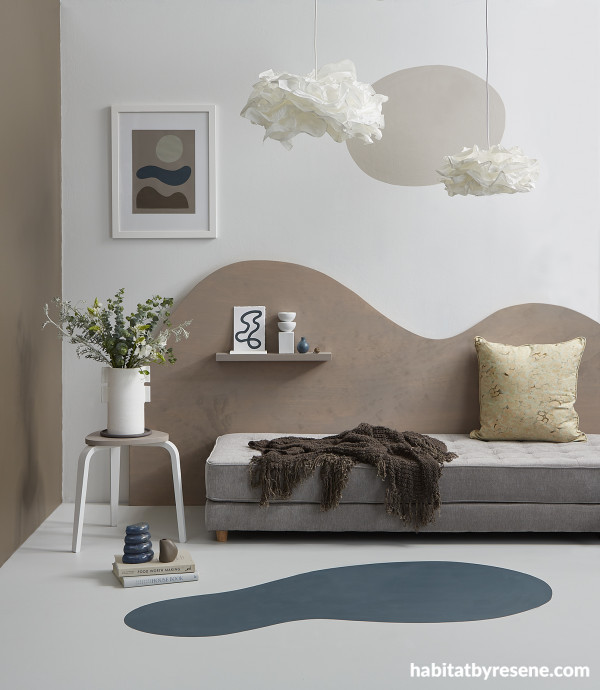 Left wall in Resene Oilskin, right wall in Resene Half Athens Grey and Resene Quarter Perfect Taupe (shape), floor in Resene Quarter Delta and Resene Atomic (shape). Artwork in Resene Quarter Perfect Taupe, Resene Atomic, Resene Oilskin and Resene Quarter Delta; stool in Resene Quarter Perfect Taupe; tray in Resene Oilskin; headboard in Resene Colorwood Riverstone; shelf in Resene Quarter Perfect Taupe; bud vase in Resene Atomic. Stool from Ikea, pendant lights from Urban Sales, sofa bed from Nood. All other items stylist's own. Project by Kate Alexander, photography by Bryce Carleton.
Does your living room let you live your best life? Allocating a quiet corner as a reading nook could make all the difference to its functionality, allowing your family to turn on the TV in one zone, while you escape into a story in another. The beauty of an open-plan set-up such as this is that you're separate, yet connected, within cooee of your partner or with one eye on the kids. On this main wall and floor respectively, Resene Half Athens Grey (a soft pearl grey with a touch of violet) and dawn-mist grey Resene Quarter Delta are a blank canvas for the repetition of a curvy motif that's echoed in the DIY artwork and painted objects. Welcoming shapes in Resene Quarter Perfect Taupe (right wall), Resene Colorwood Riverstone (headboard) and Resene Atomic (floor) and playful pendant lights combine to set a whimsical scene that's distinct yet neutral enough to gel with the rest of the room.
Glasshouse half full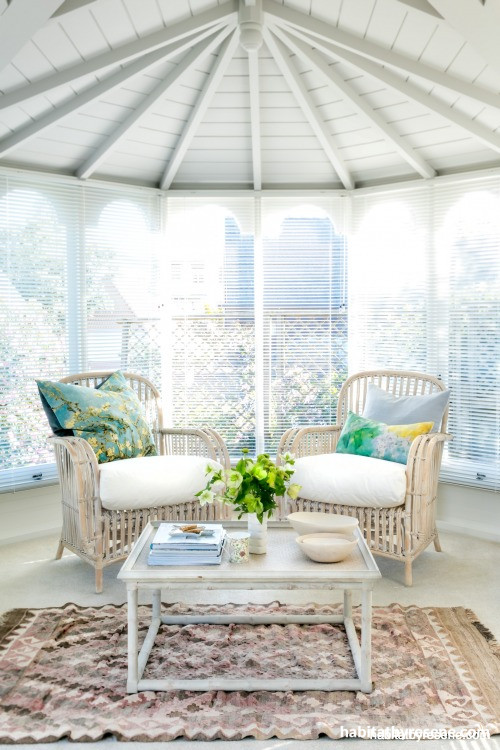 Ceiling in Resene Truffle, walls in Resene Quarter Thorndon Cream. Interior design by Susie Cropper.
You heard it here first: conservatories are cool again – and giving yours a spruce-up to bring it into the now is an opportunity for relaxation that's not to be missed. In this '80s townhouse, the light bounces off Resene Truffle overhead and Resene Quarter Thorndon Cream on the walls – a warm beige and an off-white that are nice and clean yet avoid the glare bright whites can cause in a sunny space. Combined with cane furniture and just a few carefully chosen essentials, this room has a pared-back, almost Scandi feel that in itself in conducive to quiet contemplation. Indoor greenery loves the warmth and light conservatories capture, so pot some plants and watch them flourish while filtering the air and offering dynamic interest and shadows as the light changes throughout the day. Throw open the doors to further connect with nature in your harmonious indoor/outdoor sanctuary.
Pool resources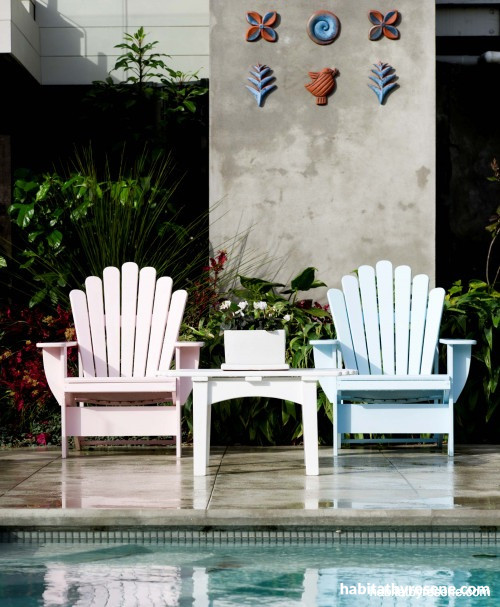 Chairs from Garden Pine Design in Resene Princess (left) and Resene Splat from the Resene KidzColour range. Photography by Mark Heaslip.
Pools and decks get lots of use in summer, but what about autumn, winter and spring? Painting your outdoor furniture with Resene paints and finishes both modernises it and increases its durability in all weather, so it can stay put and ready for you to soak up the sun on year-round – with the addition of a comfy cushion and throw when you're not slathered in sunscreen. These Cape Cod-style chairs were bought new then updated with paint, which is also a great trick for upcycling second-hand finds, an option that's kinder on your wallet and the environment. For timber outdoor furniture such as this, remove existing mould and ward off future growth by prepping with Resene Moss & Mould Killer. Follow with Resene Wood Primer, then two coats of Resene Lumbersider tinted to your colours of choice. Use the right-sized brush to get into the nooks and crannies, and avoid drips by not putting too much paint on your brush. For chairs like this, you could also use a roller to speed up the painting of the larger panels.
Published: 07 Apr 2021
Do you have a home full of wonderful Resene paint and colour? Send us some snaps by emailing [email protected].
the look
If you're stuck on what
colour to use or need colour
advice, try out the Resene
Ask a Colour Expert service.
the look
If you're stuck on what
colour to use or need colour
advice, try out the Resene
Ask a Colour Expert service.