►
◄
latest
habitat tv
blog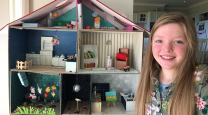 Celebrate the colours of planet Earth with orchard-inspired Resene hues and a greener outlook
Earth Day is an annual event celebrated on 22 April encouraging new ways of looking after the planet. Resene is committed to helping the environment with the most extensive range of Environmental Choice-approved paints including the popular waterborne enamel paints Resene SpaceCote Low Sheen and Resene Enamacryl.
Paint manufacturing has come a long way since the days where toxic solvents were commonplace. Resene has been at the fore of developing new paint technology since its launch 75 years ago.
One hundred years ago most paints contained lead and other toxic chemicals such as mercury and arsenic. Resene was ahead of its time when it first introduced waterborne paints to the market in the 1950s. Waterborne paints are a more environmentally friendly paint choice than traditional solventbased paints and reduce the amount of volatile organic compound (VOC) emissions.
The advent of waterborne enamels in 1996 was a gamechanger. These new paints could be used on trims, joinery and in wet areas, which were traditionally not able to be painted with waterborne paints due to a tendency to soften under prolonged exposure to moisture.
Today less than eight per cent of the decorative paint sold by Resene is solventborne, while the average per litre VOC levels of Resene decorative paint sales have dropped by over 90 per cent since 1980.
You can do your bit for the earth when you paint with Resene by returning your unwanted paint and paint packaging to your nearest Resene PaintWise collection centre in NZ or to the Paintback service in Australia.
While Resene's favourite colour is green, there are many other shades which can help you celebrate the beauty of planet Earth, all tinted into Resene Environmental Choice approved paints.
Oranges and lemons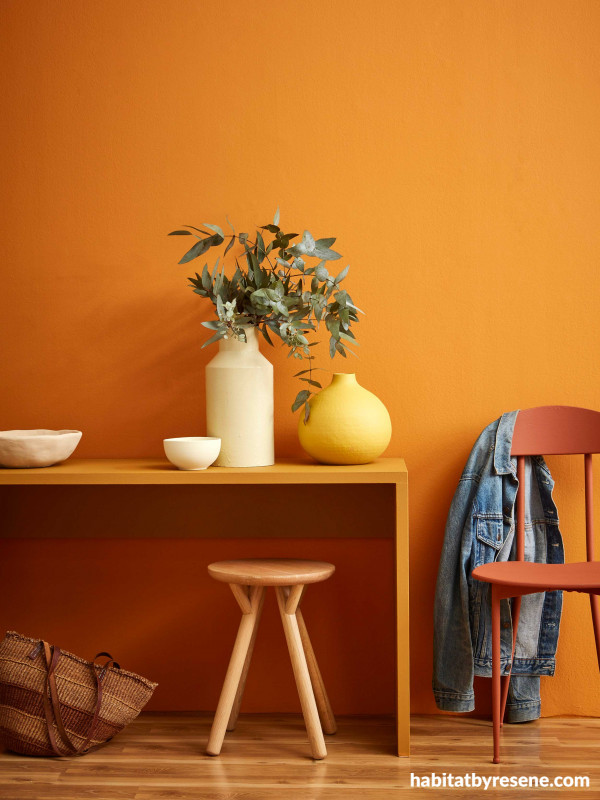 This bold and beautiful wall is painted in Resene Twisted Sister. The floor is in Resene Colorwood Natural and the sideboard is in a smooth Resene Swiss Caramel. The chair adds a deeper tone and is painted in Resene Moccasin. The short round vase is in Resene Thumbs Up, the small bowl is in Resene Moonlight and the tall vase is in Resene Yuma. Project by Gem Adams. Image by Wendy Fenwick.
Give your home a citrus burst with warm oranges and yellows. Using richer, full bodied colours such as Resene Twisted Sister can give your room a fresh feeling without being overly pretty or light. It's easy-peasy lemon-squeezy to paint your vases in a lemon yellow, such as Resene Thumbs Up, to create soft and muted accents. Complete the look by staining your wooden floors with Resene Colorwood Natural wood stain. The connection between wooden features, such as floorboards or chairs, and a deep orange wall adds both depth and warmth to a space. Orange, while striking, is extremely versatile. Select décor featuring palm trees and pop art for a distinctly Californian vibe or turn your room into a Moroccan retreat with accents of turquoise and bronze.
Stayin' olive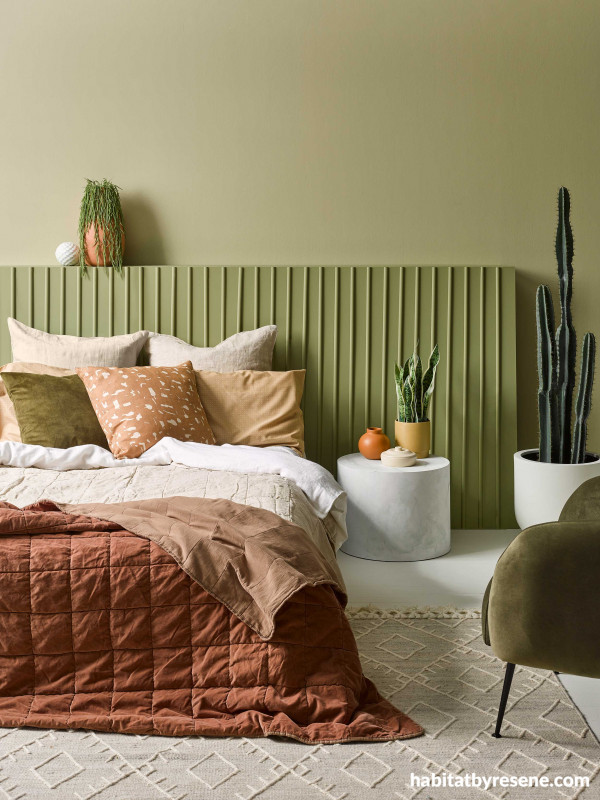 Olive green and terracotta are big colours of the season. Mix both to create earth-tone bliss in a bedroom. Upper wall in Resene Stone Age, lower batten wall in Resene Wilderness, floor in Resene Green White, side table in Resene Alabaster with 'marble effect' in Resene FX Paint Effects medium coloured with Resene Rolling Stone, cactus plant pot in Resene Celeste, vases and dishes in Resene Lime White, Resene Beethoven, Resene Papier Mache, Resene Toffee, Resene Hampton, Resene Teak and Resene Twine and ball ornament in Resene Half Duck Egg Blue. Rug, mirror, cactus and olive cushion from Freedom Furniture, other bedding from Città, armchair from Contempa. Project by Laura Lynn Johnston. Image by Wendy Fenwick.
Sub out your neutrals for muted greens this winter and use a two-tone approach to your walls. Using a darker colour for the feature wall, such as Resene Stone Age, and a lighter colour with the same tone, such as Resene Wilderness, for the surrounding walls will give you that relaxed feeling of basking beneath the olive trees. Two-tone walls add interest to a room and using muted colours will ensure that your room remains refreshing without being overbearing. Add warmth to the room by painting pot plants or stools in warmer colours, such as yellows and terracotta (try Resene Hampton and Resene Gold Coast) or try creating a limewash effect by layering stone greys and whites using Resene FX Paint Effects medium, for an earthy edge that keeps the look grounded in nature.
The pick of the patch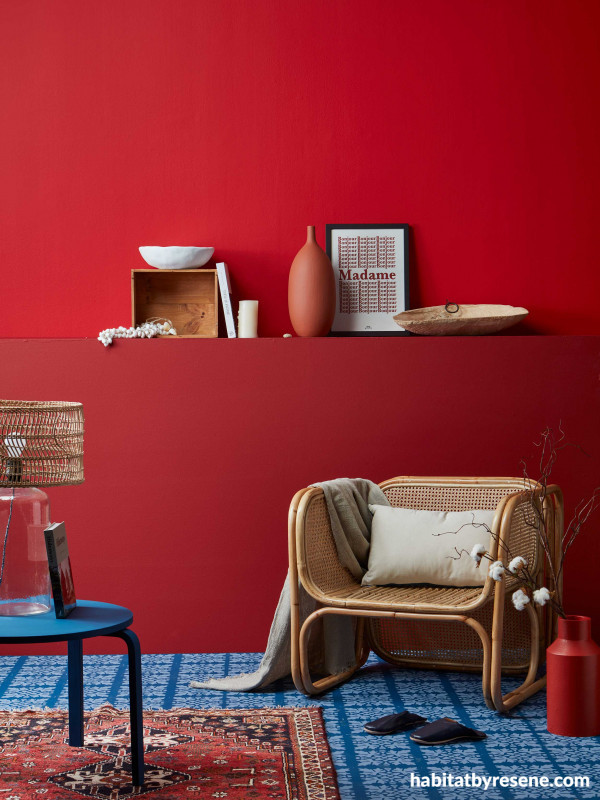 Red makes a comeback in this colourful room that uses Resene Poppy on the upper wall and Resene Dynamite on the lower wall. The floor cools things down and is painted in Resene Wishing Well with a lighter pattern in Resene Time After Time. The vase on the floor is in Resene Raging Bull and the vase on the shelf is in Resene Moccasin. The table is also in Resene Wishing Well. Project by Gem Adams. Image by Wendy Fenwick.
Red feature walls used to signal danger in decorating, but this vibrant hue is back and better than ever. But before you go painting like a red rag to a bull, it's good to know which type of red is the berry best choice for your home. Truer reds, such as Resene Poppy, suit homes with warmer décor. When it comes to pairing truer reds with accessories, think rich yellows, deep oranges and crisp whites such as Resene Alabaster. Deeper blue reds, such as Resene Dynamite, shine in homes with blue accents. Pair deeper blue reds with cool colours, such as vases painted in Resene Jacksons Purple and pot plants in Resene Mystery. Alternatively, mix and match different shades of red in your space to recreate the feeling of digging into a bowl of fresh strawberries on a hot summer's day. Pair with mid-century furniture pained in Resene Nero for a sleek, modern look.
A new leaf on life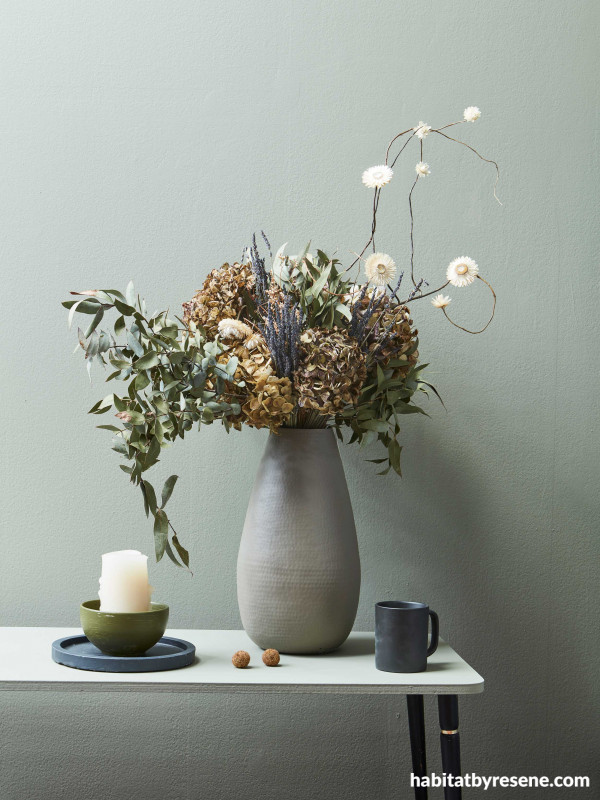 Cool, calm and collected, this peaceful blue/green palette starts with the wall painted in Resene Peace. The table is a lighter extension of the wall and is in Resene Kandinsky. The vase is in Resene Double Pravda and the bowl is in Resene New Leaf. Project by Gem Adams. Image by Wendy Fenwick.
There's nothing quite like the tranquillity of a cool walk through native evergreen forest. Bring that feeling into your home with the soft green of Resene Peace on your walls. Resene Peace is coloured with a hint of grey, making it a tranquil companion to brighter décor and true to its name it will bring a feeling of peace into your home. Using a placid colour on your walls gives you the opportunity to spice things up with your furniture. Try painting a table in a lighter tone, such as Resene Kandinsky, to continue the blue/green theme and brighten the space. Using darker colours such as Resene Dark Side for vases and stools will ground this airy arrangement. Dried flowers can help to finish the look and also provide a delicate touch of elegance throughout the winter months.
Peachy-keen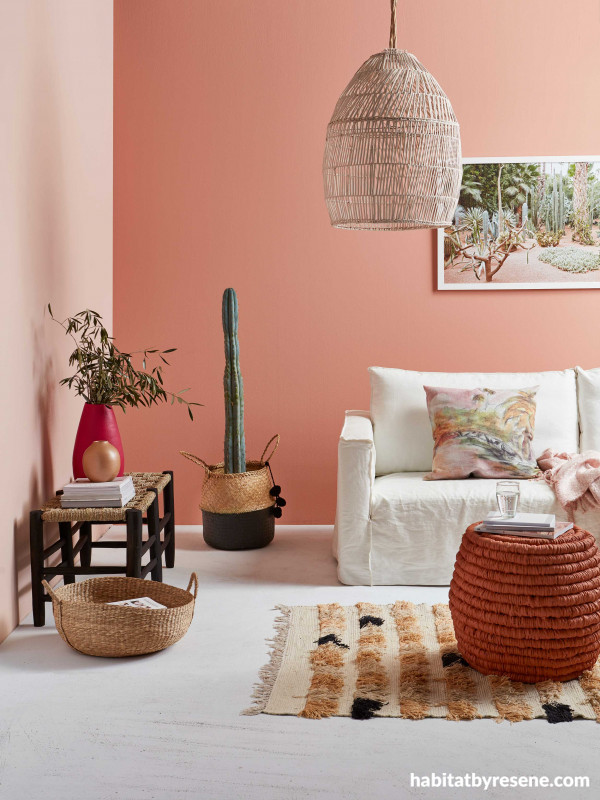 Take a new spin on the earthy palette with muted colours inspired by the sunset. The lighter pink wall is painted in Resene Sorbet and the darker wall is in Resene Just Dance. The round coffee table brings depth to the room and is painted in Resene Sunbaked. Project by Claudia Kozub. Image by Wendy Fenwick.
Red sky at night, shepherd's delight – while the old wives' tale is only sometimes true, it is true that sunset-inspired interiors have an eternally delightful quality. Get this peachy look with a deliciously sweet Resene Just Dance feature wall. Resene Just Dance has yellow hints of mango and apricot. Bring in a lighter second tone, such as Resene Sorbet, for the adjacent walls and pair it with a white floor, such as Resene Alabaster, to brighten the room and keep the space looking clean. Embrace the heat of a desert sun theme by decorating your living space with cacti and vases painted in metallic yellows and greens or try Resene Gold. If you're after a softer rose theme, pair the walls with décor in muted greens and browns. Using wicker furniture will keep the vibe relaxed or try a wooden coffee table stained in a deep Resene Colorwood Dark Oak wood stain.
Whether you're after a peaceful, leafy retreat or a dazzling desert home, Resene has an earthy array of colour choices for you this Earth Day.
Published: 22 Apr 2021
Do you have a home full of wonderful Resene paint and colour? Send us some snaps by emailing [email protected].
the look
If you're stuck on what
colour to use or need colour
advice, try out the Resene
Ask a Colour Expert service.
the look
If you're stuck on what
colour to use or need colour
advice, try out the Resene
Ask a Colour Expert service.