►
◄
latest
habitat tv
blog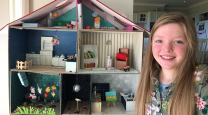 Check it out: Channel the checkerboard with these interior looks
Checked patterns are by no means new in the design world, popular since the Renaissance period in Europe. But the classic staggered arrangement of contrasting squares has experienced a resurgence in the design scene. Checkerboard squares, plaid, gingham and buffalo check motifs make a statement and offer a look that's both eccentric and chic decked out in Resene paints.
Origin of the check pattern
The bold, two-colour chequered motif has actually been used across the world in design for thousands of years. Pottery from as early as the Bronze age featured staggered squares of light and dark. The pattern became popular with artists and designers during the Renaissance with checkerboard flooring regularly appearing in 15th century European ballrooms and living spaces. The pattern was used on the ground floor landing of the Queen's Staircase at Versailles in the 1680s, and in Westminster Abbey on the floor installed in 1690.
Fast forward to the 1920s and it begins to appear once more in the form of linoleum and ceramic tiled floors in kitchens and bathrooms. Perhaps thanks in part to Netflix's popular chess-themed The Queen's Gambit series, it's back in its modern form popping up on fashion runways, cushions, linens and interiors.
Go classic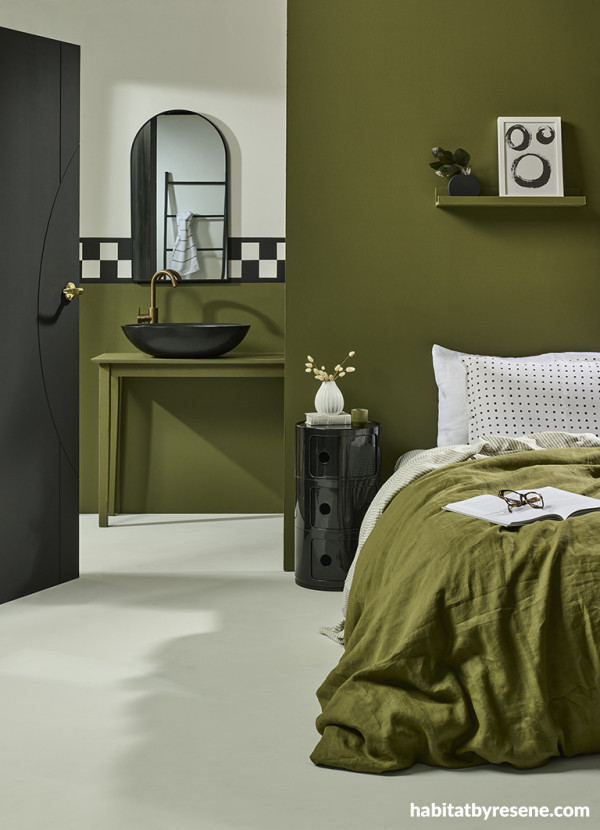 A classic checker look with a twist features in this ensuite, the pattern subtly bordering a mirror. Resene Waiouru features on the bedroom wall and the lower half of the ensuite wall. The green is balanced out with a checkerboard painted detail in Resene Nero and Resene Eighth Black White, flooring in Resene Black White and Resene Eighth Black White used on the top half of the ensuite wall. Shelf, vanity table and lower half of the ensuite wall. Door and wooden duckboard in Resene Nero. Project by Melle Van Sambeek, image by Bryce Carleton.
Nothing beats a classic black and white checkerboard pattern, and you can make the feature as subtle or bold as you like. The checkerboard look is such a traditional flooring pattern that the great thing about it is it can be adapted to suit all interior styles, be it contemporary, cottage-core, vintage or rustic. You can't go wrong with Resene Alabaster and Resene Black squares to pair with any colour palette. The beauty of black and white design schemes is their timelessness. Pairing the two colours together as a foundation for a room allows your furniture and art pieces to be more prominent. Ultimately a dash of black in any room in your home adds depth and can ground an overall colour scheme.
Top tip: If you're thinking of painting a floor in a checker pattern, use Resene Walk-on for a tough finish. You can also add Resene SRG Grit for extra slip resistance if you're planning a pattern in your exterior entranceway.
Go neutral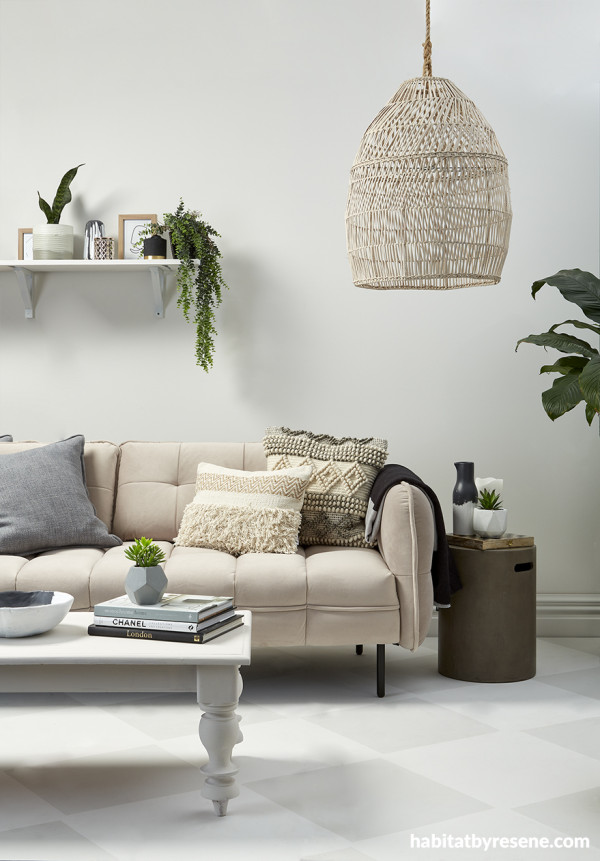 Just because you're not after a bold chequered look doesn't mean your incorporation of it in your space needs to be boring. Even an achromatic colour scheme can be rich and full of interest when done right.Wall and architraves in Resene Black White, floor checkerboard pattern painted in Resene Black White and Resene Triple Black White, coffee table in Resene Westar and shelf in Resene Black White. Ombre plant pot in Resene Celeste (top), Resene Terrain (middle) and Resene Cobblestone (bottom) and woven pendant lamp in Resene Despacito. Sofa, throw and cushions from Contempa.Project by Annick Larkin, image by Bryce Carleton.
Chequered patterns in neutral hues look gorgeous in any room. A little more subtle than their bold black and white counterpart, a neutral palette keeps the design minimalistic while still showing off the pattern. Sometimes it can be a small and subtle extra touch to an interior that makes all the difference too, it doesn't have to be loud. Try pairing together soft beiges like Resene Alpaca and Resene Pearl Bush, lilacs like Resene Bilboa Flower and Resene Half Fog, or greens like Resene Highland and Resene Ottoman.
There's something very neutral and friendly about a checkerboard look as far as patterns go, which makes it easy on the eyes as a design feature. There is no limit to the colour combinations you can explore with the pattern, and you can experiment with the size of the squares too. Having your checks neutral as a base on your floor is a chic look that won't date, and allows you to update your furniture and décor over the years without needing to change your floor again.
Get creative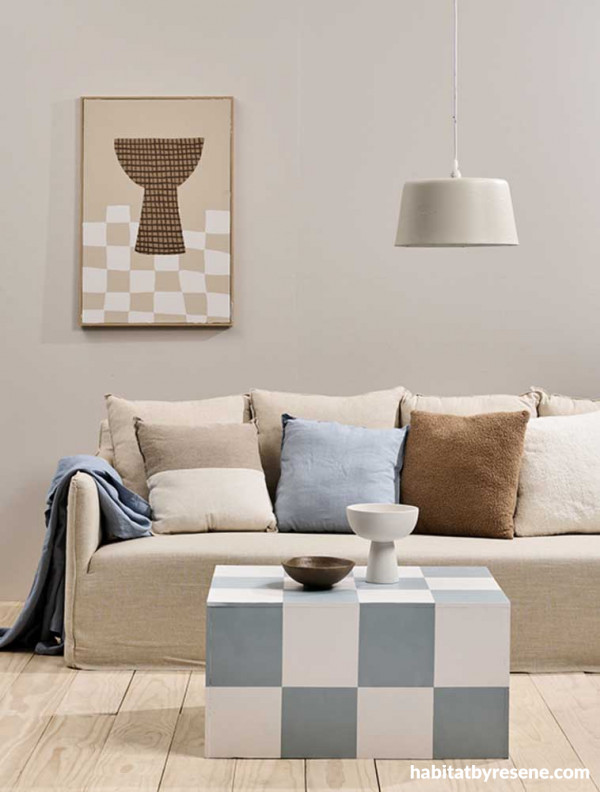 A checkerboard design can work anywhere – it's all about finding your own way of applying it in your space, and there's no better way to do that than with paint. Wall in Resene Eighth Joss, checkerboard coffee table in Resene Dusted Blue and Resene White Linen, lampshade in Resene Tea, brown bowl in Resene Tobacco Brown. Sofa from Nood, blue cushion from H&M Home, two tone cushion from Freedom, brown boucle cushion from Lune and Co. Project by Vanessa Nouwens, image by Bryce Carleton.
Don't limit the chequered pattern trend to your floorboards. Of course, an entirely chequered floor isn't for everyone, but you may still want to incorporate the pattern into your home. Add a nod to the chess board and embrace painted art pieces, side tables, tiles, headboards and candleholders. Get creative! The pattern goes well with the overall layout and feel of almost any room as it's such a timeless geometric design, it really all comes down to your colours.
Make your own chequered artworks or breathe new life into current coffee tables/bedside tables – use earthy tones like Resene Toffee and Resene Gold Coast for a natural style, or bold contrasting colours like Resene Jalapeno and Resene Black White to add vibrancy to a space. You can add the chequered look too in soft textures like rugs that can be incorporated anywhere in your home, and add flair and depth to a space without a permanent commitment to flooring. It's a soft and minimalistic look, yet very stylish.
Be bold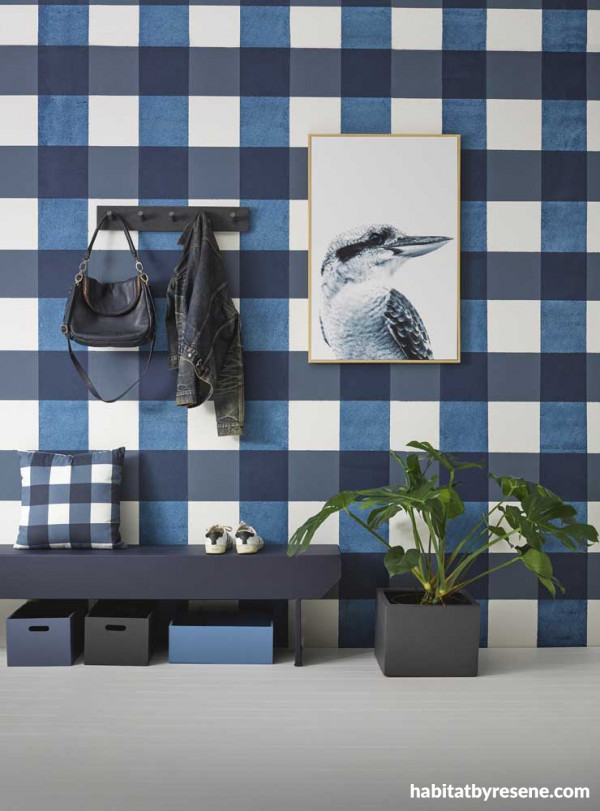 This feature wall is bold and blue, with a background colour in Resene Sea Fog, and Resene Indian Ink and Resene Rhino as its check colours. The bench seat is in Resene Indian Ink, hooks in Resene Grey Friars, wooden boxes under bench seat in Resene Kashmir Blue and Resene Hammerhead and plant pot in Resene Double Grey Friars. Project by Vanessa Nouwens, image by Melanie Jenkins.
A chequered accent wall is perfect for when you are revamping a space and want a new feel in the room. The gingham style is a branch of the traditional checkerboard look on flooring, and it really is a 'feel good' print. It's familiar and symmetrical, but still playful. The look adds definition to a space and can help break up different areas of a room. You could use it to separate a bathroom wall, or a bedroom wall. It's easy to incorporate the pattern again on towels and linen for a cohesive theme. Just be sure to use the same colours if you do this, to avoid a busy and chaotic look.
For a picnic-chic look, try a chequered or gingham accent wall in reds like Resene Roadster or Resene Red Hot, paired with a white like Resene Alabaster or Resene Half White Pointer.
Top tip: Not every room has an obvious hero wall. Consider a room's existing features and look for its natural focal point. For instance, in a bedroom, the wall behind the headboard is often a good option. If your lounge lacks obvious focal points, think about where you position the room's main items of furniture and imagine how colour might provide a backdrop to showcase your key pieces.
Pairing patterns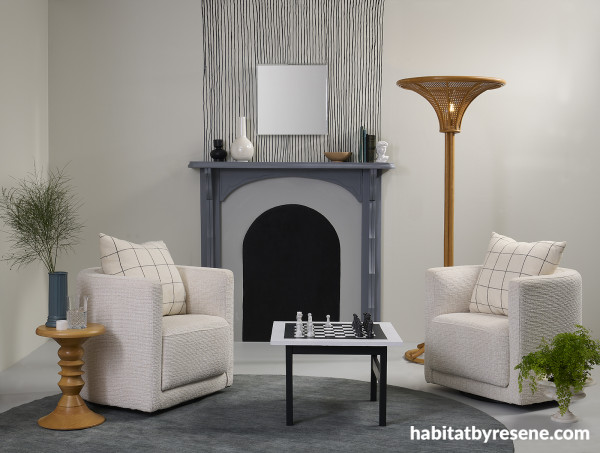 If you or your family are especially enthusiastic about chess, why not permanently incorporate it into your space with paint? A painted board makes a great feature on a side table or coffee table. Walls painted in Resene Triple Merino with hand painted pinstripes (above mantle) in Resene Double Cod Grey, floor in Resene Kensington Grey, mantle in Resene Raven with painted arch (on wall) in Resene Double Cod Grey and hearth in Resene Half Raven. Chess board table in Resene Double Cod Grey and Resene Seashell, bowl (on mantle) in Resene Leather, tall cylindrical vase in Resene Balderdash and other small accessories in Resene Double Cod Grey and Resene Seashell. Armchairs from King Living, rug from The Ivy House, cushions from Citta, stool from Thread. Project by Kate Alexander, image by Bryce Carleton.
Patterns can help bring together a room and make it feel livelier, particularly if a room doesn't receive much light, or is a large space. If you want to mix patterns together, know that there's freedom for that too. Just make sure to create a visual balance. Do this by adding in solid colours every so often to break up the lines and shapes of the patterns you've chosen to complement your checkers. Aim to keep patterns flowing throughout the entire room, and not just regulated to one side for a cohesive look too.
Top tip: Don't forget about a diagonal look with checkers. A floor can be painted diagonally square-wise rather than straight, which adds an additional layer of design, and can change the way the room feels dramatically.

The timeless check pattern will pull together any colour scheme and inject interest into a space, be it a small or large incorporation of the trend. There are no limits to the ways the pattern can enhance a space. If this trend has 'checked' all your boxes, all you need to do is choose your space and colours to get started creating your own checkerboard feature.
Published: 12 May 2022
Do you have a home full of wonderful Resene paint and colour? Send us some snaps by emailing [email protected].
the look
If you're stuck on what
colour to use or need colour
advice, try out the Resene
Ask a Colour Expert service.