►
◄
latest
habitat tv
blog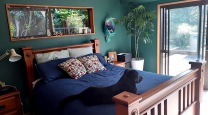 Christine and Andy go for striking yet simple
When Christine and Andy were deciding on a new scheme for their 15-year-old builder's spec home in Papamoa, the choices were fairly simple – a striking yet simple scheme of Resene colour, using strong contrast for drama.
Christine was keen on keeping the scheme light and simple to suit the style of the home, so chose a range of variants in Resene Truffle, with feature walls in Resene Bokara Grey. The exterior was also given a makeover, using Resene Double Truffle.
Christine tells us more.
How did you decide on the overall look of the interiors?
The interior colours were easy to come up with as the contemporary style of the house lends itself to something feel light and airy. I like to see two colours and style taken throughout the interior. So by using dark feature walls in the master bedroom and dining area, it allowed the look to flow. It had to be in Resene – I wouldn't use anything else.
I love to rearrange the furniture and accessories, which is so easy to do when you have neutral walls.
What part of the house are you most happy with?
Andy and I both love to entertain so the dining and kitchen area has been designed to sit have coffee, dine and relax. You can see the outdoor fireplace from that area, which gives me a sense of being in the middle of my own oasis.
We both came up with the idea for a freestanding outdoor fire. Andy built it on his own – he works in the building industry so we didn't require any input from outside specialists.
We decided to incorporate a wall on both sides of the fireplace to act as a wind-breaker and to give privacy.
Monochromatic with a twist
Christine and Andy have cleverly created a scheme that is monochromatic but which avoids the starkness of using just black and white. Instead, they've chosen colours that have a softer edge, yet when combined, these colours still give the crispness and drama of a monochromatic scheme.
Resene Bokara Grey is a deep charcoal black with a warm edge, while the Resene Quarter Truffle, which is used for most of the interior walls, is a very pale warm grey. Resene Black White, used for the trims, is a chalky clean white.

The best resource for creating a monochromatic or tonal scheme is the Resene Whites & Neutrals range, which contains many great colours set out in 'families' or variants of strength, from eighths through to triples. See the palette cards and charts at your local Resene ColorShop or Resene reseller.
Photography by Chris Parker.
Published: 07 Jun 2018
Do you have a home full of wonderful Resene paint and colour? Send us some snaps by emailing [email protected].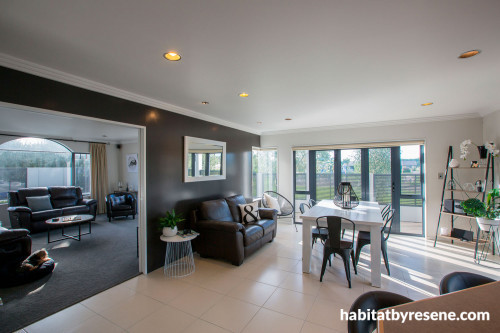 A feature wall of Resene Bokara Grey anchors the living area and is a crisp contrast to other walls in Resene Quarter Truffle and trims and ceiling in Resene Black White.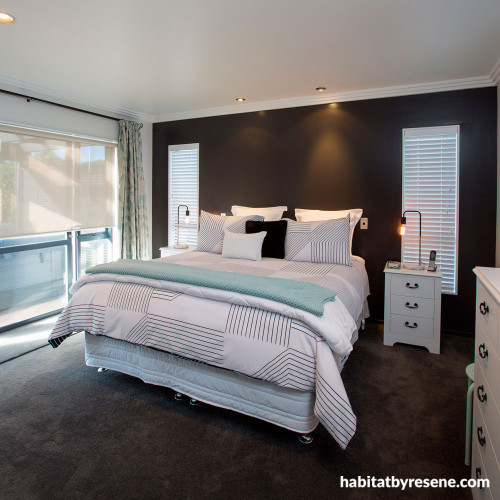 The master bedroom also has a feature wall in Resene Bokara Grey, which ties in with the carpet colour. The bed is dressed in black and white, softened by pale aqua. The ceiling is Resene Black White.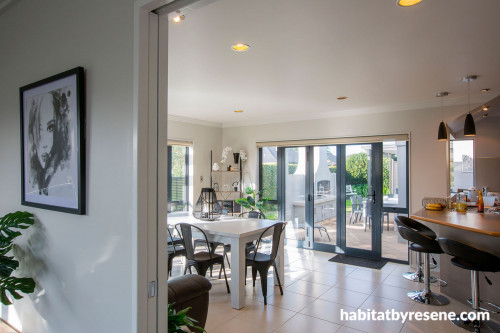 Christine achieved a fresh and light oasis with walls in Resene Quarter Truffle and trims and ceilings in Resene Black White. She loves the view from the kitchen and dining area, out onto the outdoor fireplace.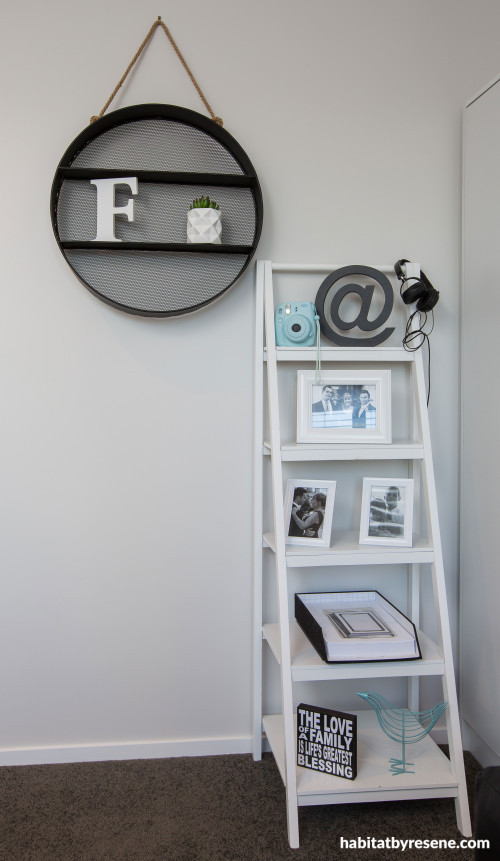 Christine loves to change out the look of the home by changing around furniture and accessories, finding that especially easy to do against a monochromatic colour palette. The walls are in Resene Quarter Truffle and trims and ceilings in Resene Black White.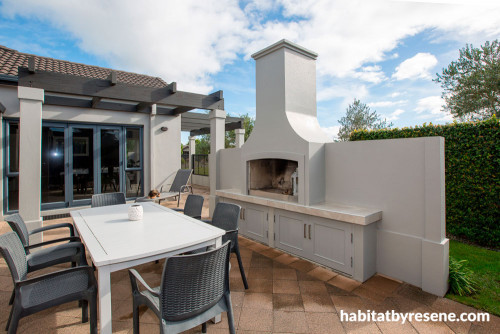 Andy and Christine designed and built the outdoor fireplace themselves. It is finished in Resene Double Truffle, using Resene Sonyx 101 which gives a semi-gloss finish. The pergola is in Resene Bokara Grey.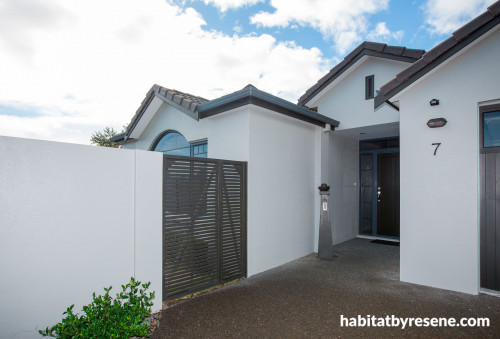 Resene Bokara Grey has been used on the fence inserts, front door and garage door to contrast against the plastered cladding which is painted in Resene Double Truffle.
the look
If you're stuck on what
colour to use or need colour
advice, try out the Resene
Ask a Colour Expert service.