►
◄
latest
habitat tv
blog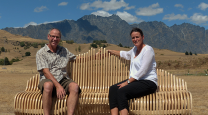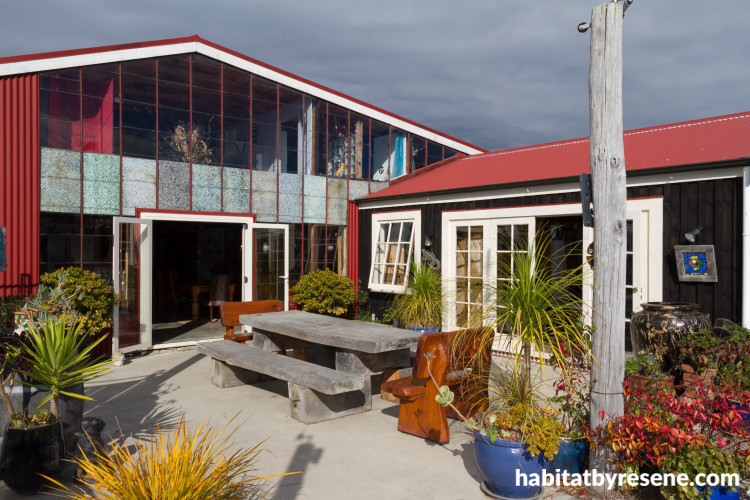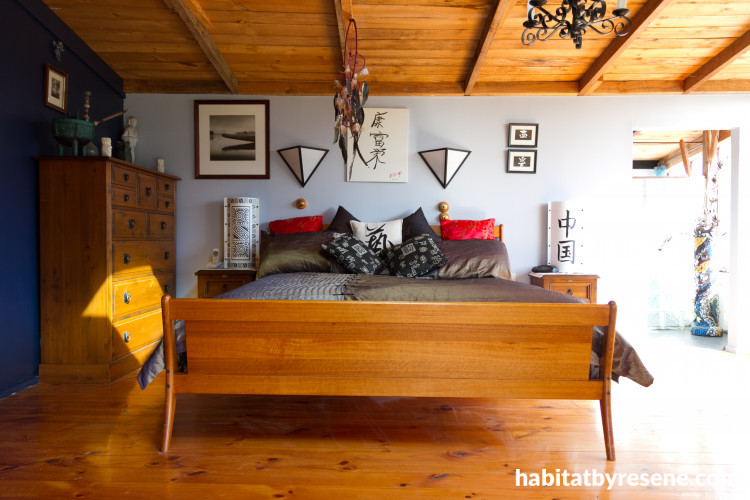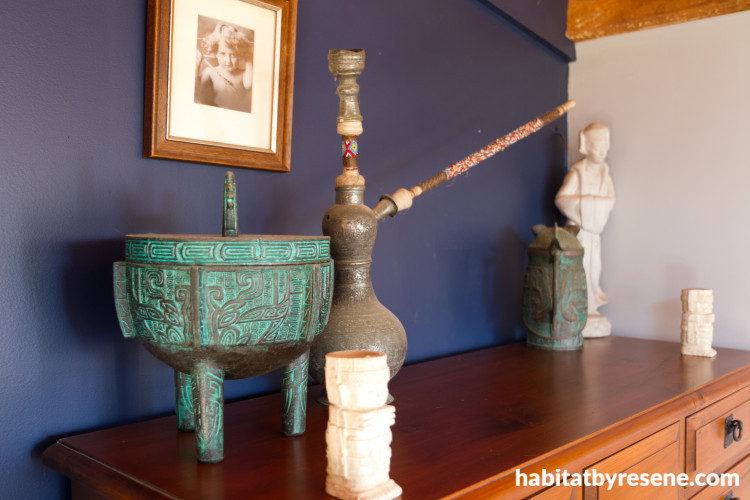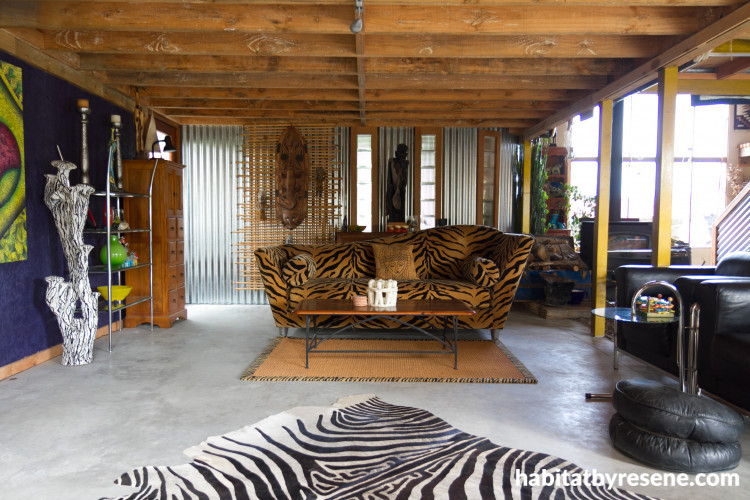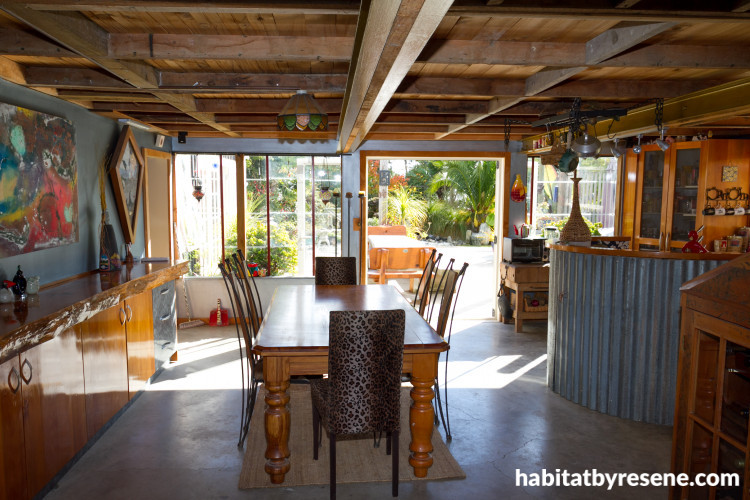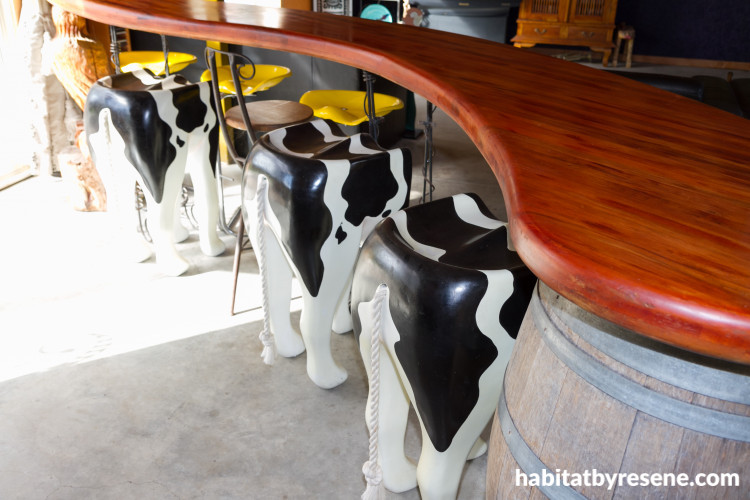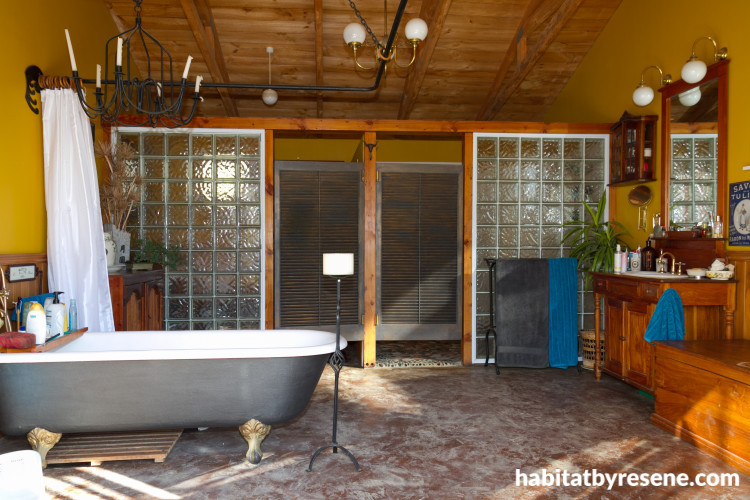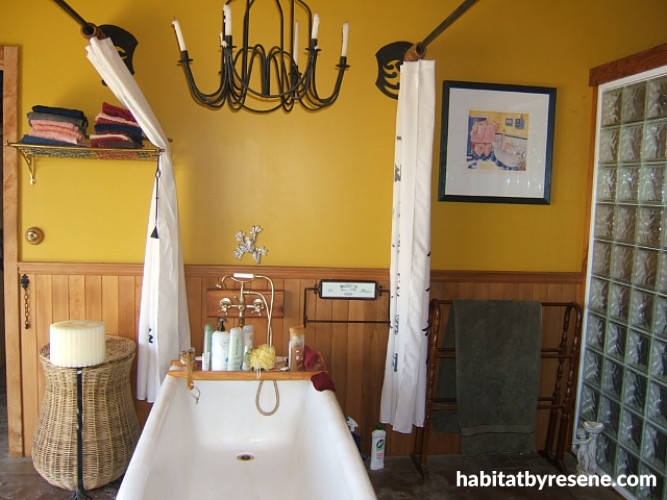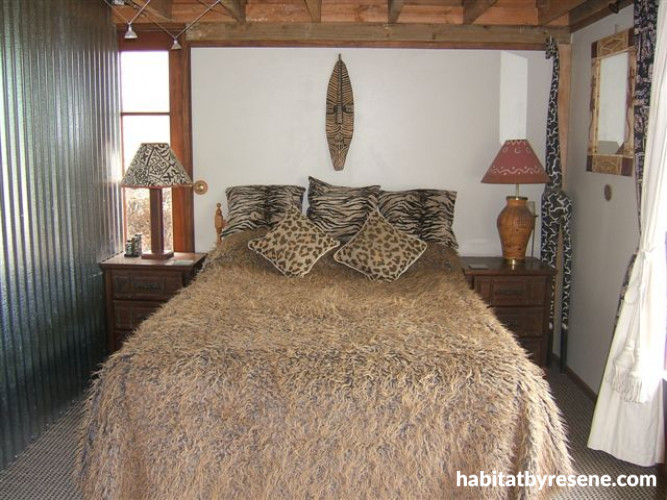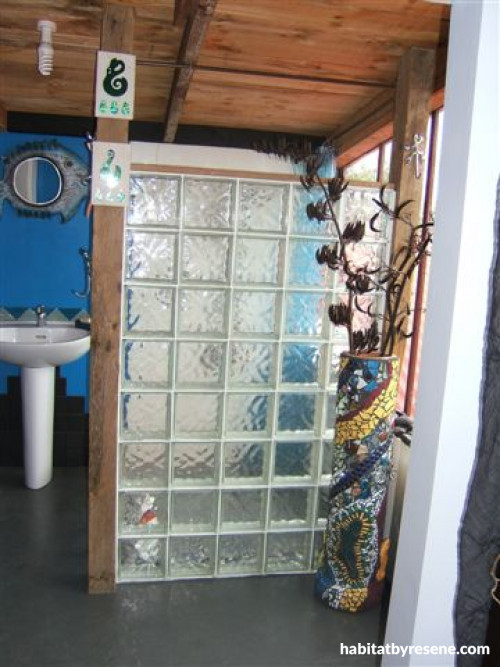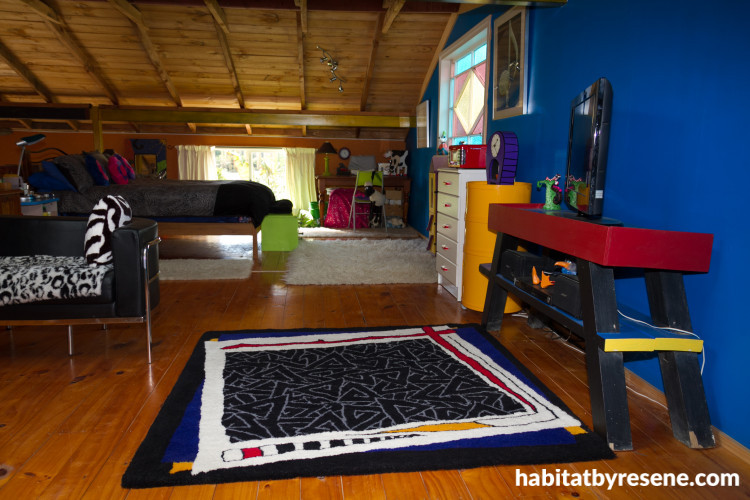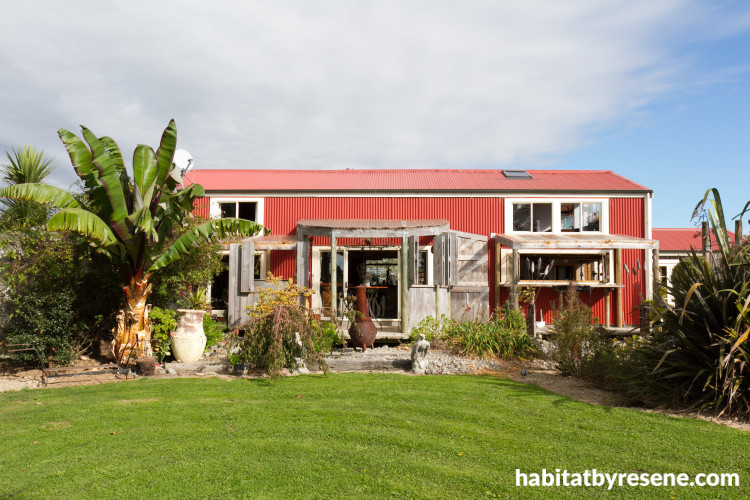 Paul and Di Convert a Barn into a Quirky Country Home
Published: 17 May 2012
Do you have a home full of wonderful Resene paint and colour? Send us some snaps by emailing [email protected].
A surprising home, full of colour and personality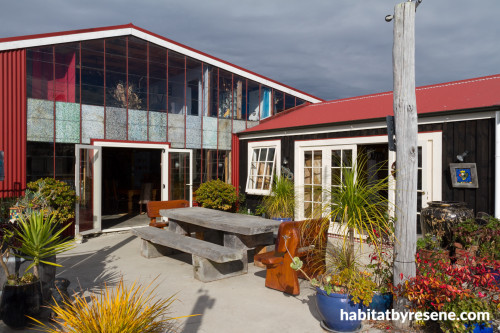 When Habitat of the Week readers Paul and Di wrote to us about their conversion of an old barn, we were intrigued. "We are organic free range farmers who purchased a big red barn in Otaki. We had five groups of builders through to quote for a conversion, and three said "bulldoze it", so we didn't!" Then we saw the photos and... well, we had to share it with you. Rarely do we see a home so full of personality and individual style as this Habitat of the Week.
What did your home look like before the conversion? When we started it could only be described as a train wreck! Most of the builders who quoted on the job told us to do ourselves a favour and knock it down!
How would you describe your interior design style? We both wanted an industrial, raw materials look. We wanted to retain as much of a barn feel as possible. We didn't want it to look all "flash Harry" - it had to look like what it is: an old barn.
Where did your inspiration come from? We didn't want it to look like anyone else's house, so the inspiration just came from the building itself really, and making it what it is.
What was the greatest success? I feel that our greatest success was having it so open plan, and being able to make it flow. There are very few internal walls, so we used different colours and furnishings in each space, to make it feel like you have moved into a different room when you enter each one.
What space in the house do you get your greatest satisfaction from? Probably our favourite room would be the main bathroom. It's about the size of a double garage! There was so much space in the house that we did it just because we could. It's lovely to lie in the bath with the doors open, enjoying the garden. The shower's saloon doors are recycled from the old Barrett's Hotel in Wellington. We love the result of the mosaic floor in the shower, which we did ourselves. And the sheer size of the room made it possible to go mad with the bold colour - we both love that.
What advice would you give to someone trying to achieve a similar look? My advice is, and has always been: don't be afraid of colour - it's easy to change. Don't follow what everyone else is doing - it's like a hairdo really, just because it's "in", doesn't mean it will suit you. So many people have said to us, "I'd love to do a conversion," and we say, "Just do it!"
What colours did you use? We used some Resene Metallics paints to give an industrial look and to flow with the concrete floors and grey macrocarpa decking, and we used some bright colours too. We are both very vibrant people, and using bright colours came naturally to us. The main bathroom is Resene Dixie Chick on the walls, and Resene Metallics in Blast Grey 2 on the claw footed bath and the saloon doors. The dining room and kitchen are Resene Tea and Resene Metallics in Infinity. The master bedroom is Resene Midnight Express and Resene Half Flotsam, and the en suite is Resene Endeavour and Resene Metallics in Blast Grey 1. The mezzanine walls are Resene Splish Splash. The guest bedroom is Resene Sisal. The hallway is Resene Haystack, with the trimmings in Resene Corn Field. We have also used Resene Bright Red in various places around the house. I love all of the colours and, at this point in time, wouldn't change a thing.
Get the look:
If you're looking for something unique for your home, Resene Metallics can provide a unique talking point for your walls. Combine it with a textured basecoat such as Resene Sandtex Mediterranean Effect and you can create a roughened metallic effect, popular if you are wanting to achieve an industrial look. See the Resene Metallics and special effects chart for a range of colour options.
East meets West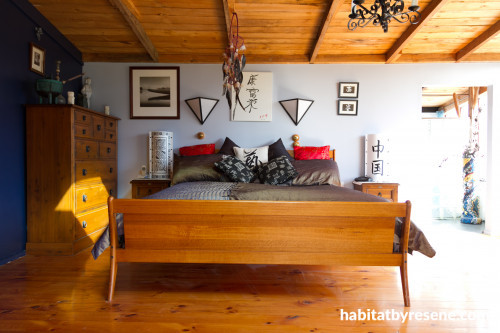 The master bedroom is painted in Resene Midnight Express and Resene Half Flotsam.
A few of my favourite things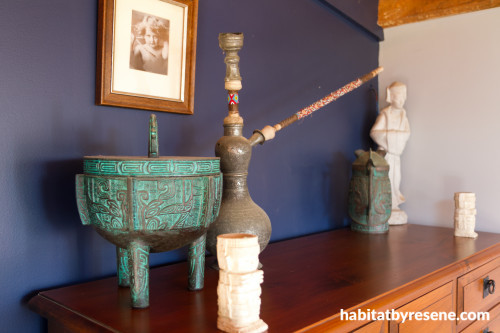 Treasured possessions on display in the master bedroom.
Animal instinct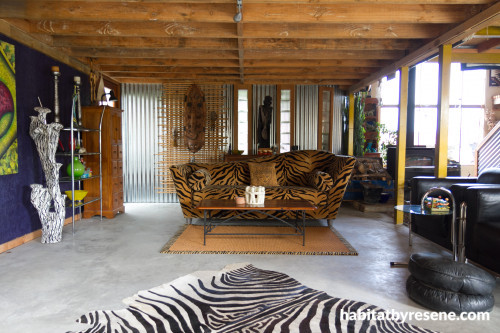 The living room features animal print furnishings, which are a favourite of Di's, and used throughout the house.
Metallic taste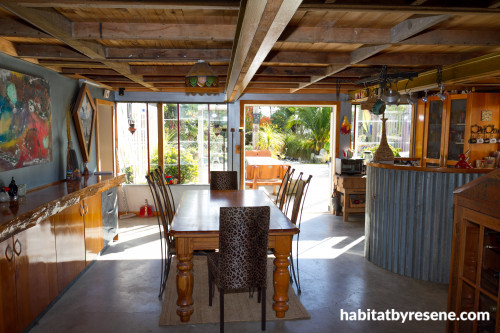 The dining room and kitchen are painted in Resene Tea and Resene Metallics in Infinity.
Milk bar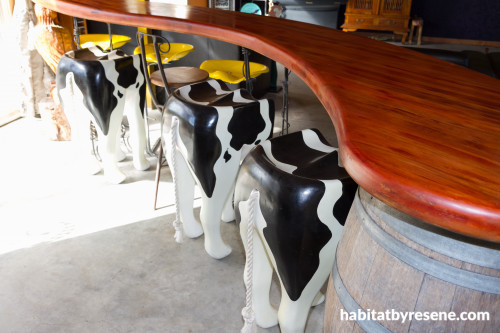 Cow-themed seats make a quirky feature of the living area bar.
Bathing brights
The huge main bathroom is painted in Resene Dixie Chick. The claw footed bathtub and the shower's saloon doors are painted in Resene Metallica in Blast Grey 2.
Going for gold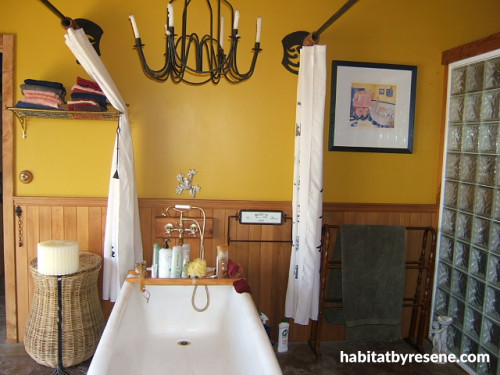 The bathroom's Resene Dixie Chick walls make it a bright, sunny space.
Iron will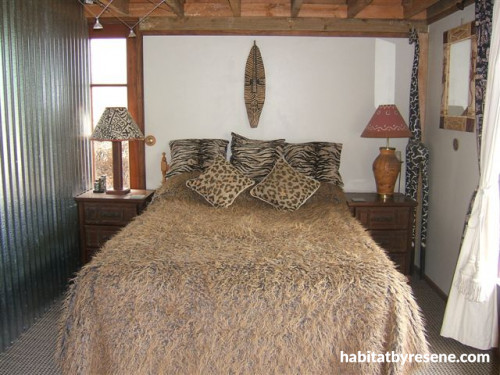 The guest bedroom is one of the few spaces without some bright colour. The painted walls are Resene Sisal, while the other walls are unpainted corrugated iron.
Bathroom blues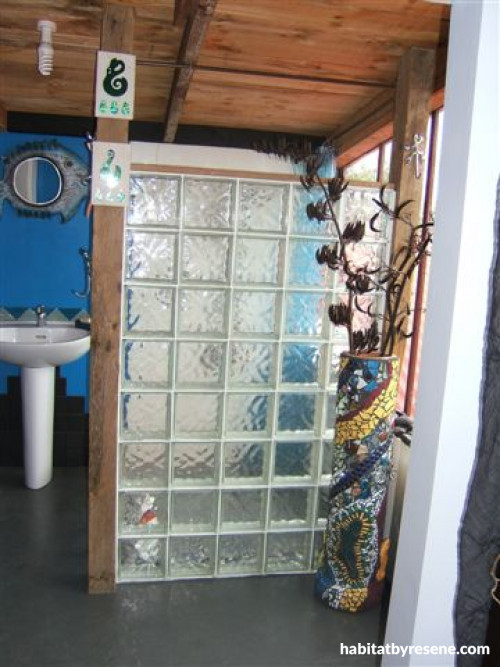 The en suite bathroom features walls in Resene Endeavour and Resene Metallics in Blast Grey 1.
Primary colours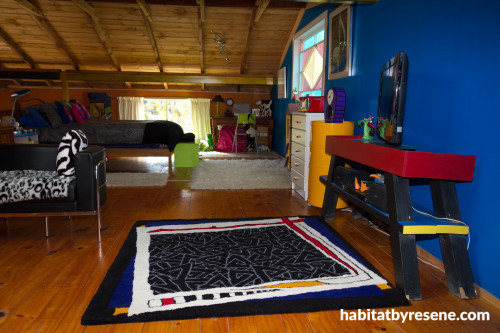 Bold furnishings on the mezzanine floor are accentuated by walls in bright blue Resene Splish Splash.
Big red barn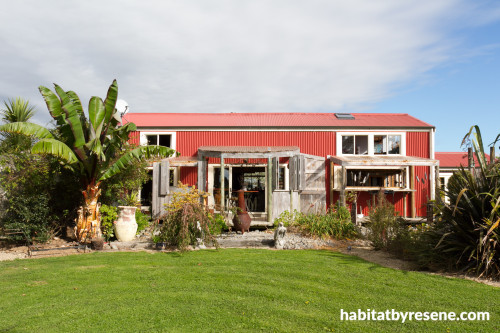 Paul and Di's big red barn as seen from the side.
the look
If you're stuck on what
colour to use or need colour
advice, try out the Resene
Ask a Colour Expert service.