►
◄
latest
habitat tv
blog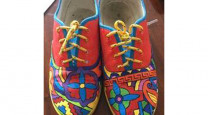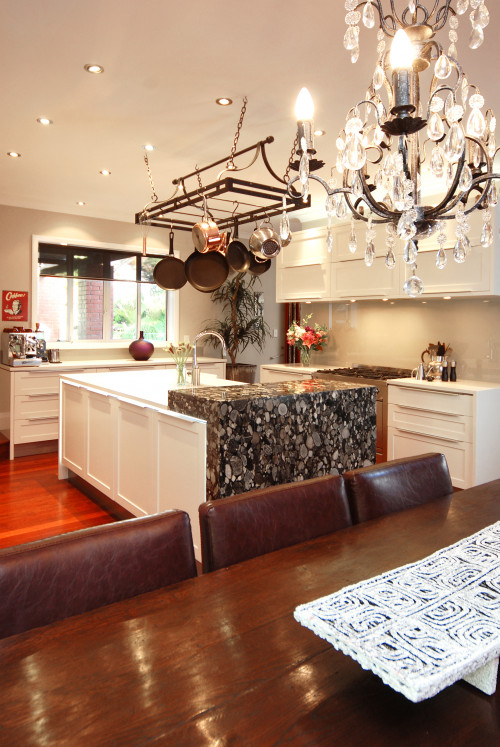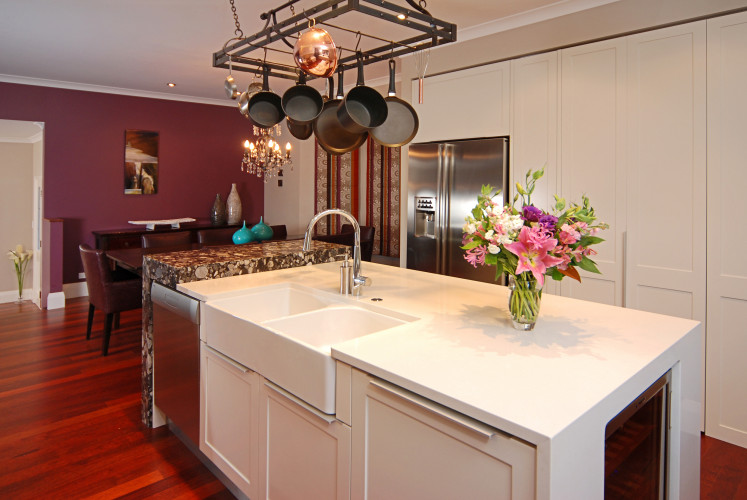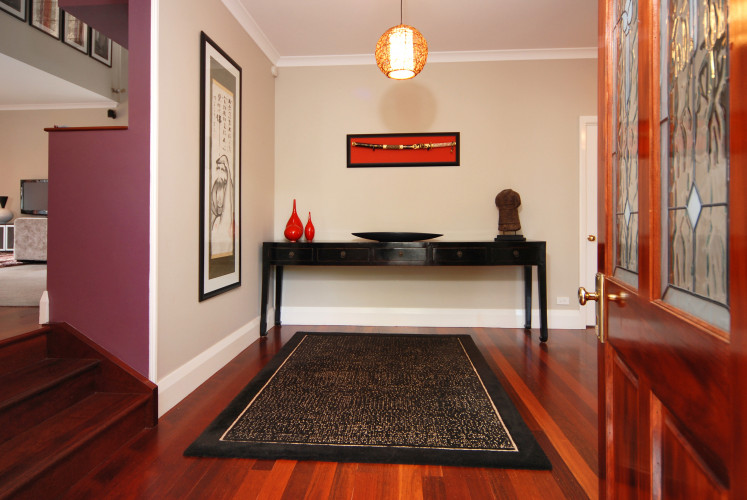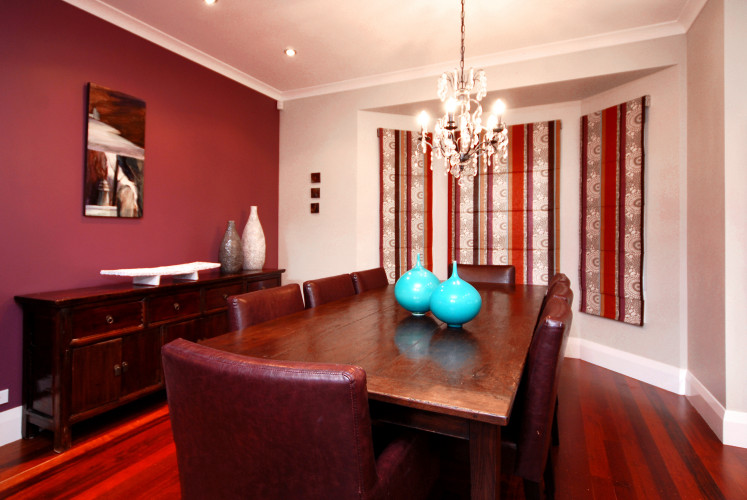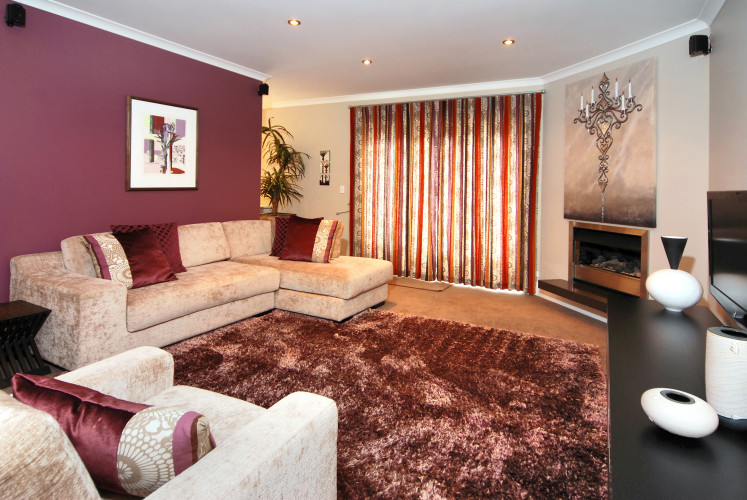 Alun and Julie's Country Manor
24 Feb 2011
Do you have a home full of wonderful Resene paint and colour? Send us some snaps by emailing [email protected].
A home where purple reigns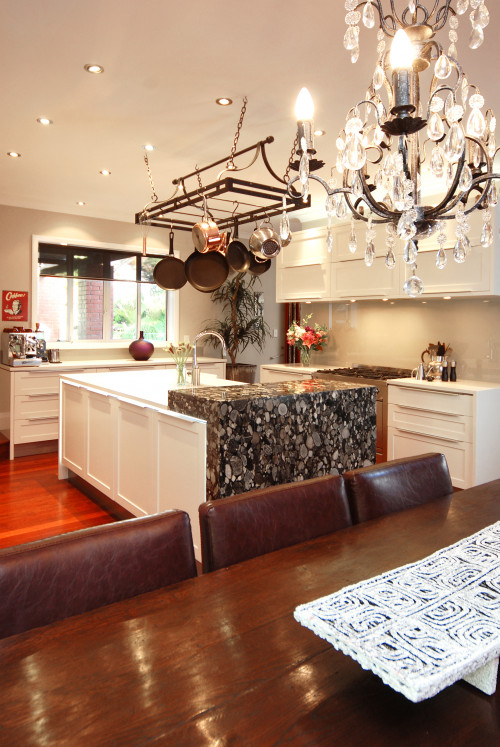 Alun and Julie's six-bedroom home may look like an English country manor from the outside, but their contemporary furnishings, and love of the colour purple, give the interior a much more modern feel.
When they bought the place five years ago, most of the rooms were painted wall-to-wall in Resene Finn purple. "I love purple, but not that much!" laughs Julie. "It is a very warm and inviting colour, but having it on almost every wall just made the place too dark. We wanted to lighten the rooms and make them look more spacious, so we kept some walls purple but painted the rest in lighter, more neutral colours."
Red and orange accents tie in with the red brick exterior of the house, and complement the warm wooden floors. In the sleek, modern kitchen, the hanging pot rail and chandelier hint at the building's country past. It is an eclectic mix of colours and styles, but the couple "wanted a casual and comfortable home that could really be lived in. We have kids, so it needed to be warm, not grand and pretentious."
What was the biggest challenge? The kitchen. It took the best part of a year to complete, because the cabinet makers closed down just before completion. We had to get someone else to make some of the cabinets. It was a nightmare, but we totally love the way it looks now.
What was the greatest success? The whole colour scheme coming together. All of the colours flow so well.
Which space do you get your greatest satisfaction from, and why? We've got a little area behind a half-wall in one of the living areas, with two really comfortable chairs and all of our books. We hardly ever sit there because we've got children, but when we do, we love it. It's relaxing and really comfortable and soothing.
What is your advice for someone trying to achieve a similar look? You've got to really love a colour if you're going to go bold with it.
pictures
Interior designer: Amanda Neill at Designworx
Country kitchen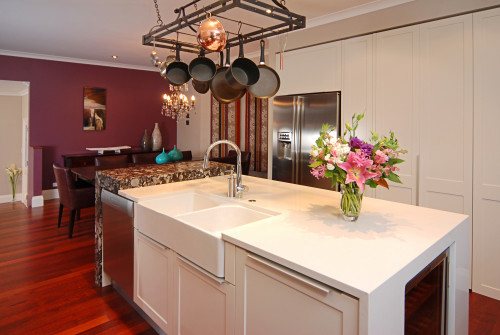 "The key focal point of the kitchen is the natural granite waterfall with its large embedded river stone look," explains interior designer Amanda Neill of Designworx. "It was designed to flow over the side of the bench in a Dali-esque manner, with an organic feel to it. It is highly visible as you enter from the main door, and the play on scale and height adds interest into what would otherwise be a very neutral kitchen."
Contrasting colours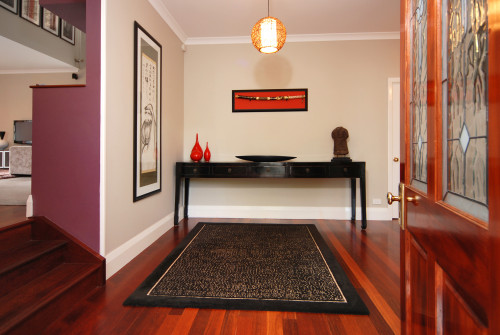 A visitor's first view of Alun and Julie's home gives them a taste of things to come: purple and rust colours, warm tones, dark furniture and lots of art.
Made to match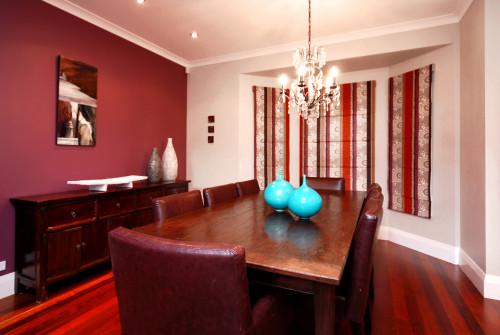 Alun and Julie already owned furniture in colours similar to Resene Finn before they bought this house. As Julie says, "It's my favourite colour."
Grape expectations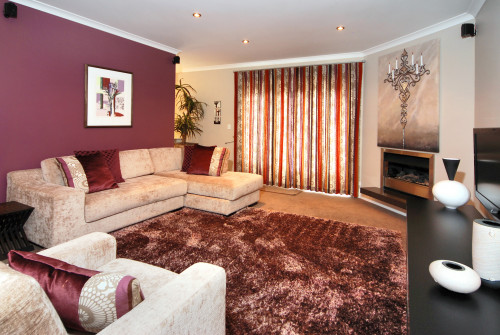 Uncluttered yet cosy, one of the living areas gains extra warmth thanks to a new fireplace built into the corner, with a cantilevered granite hearth.
the look
If you're stuck on what
colour to use or need colour
advice, try out the Resene
Ask a Colour Expert service.