►
◄
latest
habitat tv
blog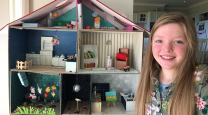 Courageous colours to take your space from weary to wow
Brights and bolds may be just the thing you need to inject some life into your space.
One of the main reasons people typically opt for inoffensive shades like white, cream, grey, and taupe is just that – to avoid offense. But often enough, this 'chromatic-evasion' results in spaces so sterile that they skip right over fresh, contemporary and clean and end up feeling vast, bare and bland instead. If your space is giving off more drab than drama, a healthy dose of colour might be just what the doctor ordered.
In celebration of International Colour Day (21 March), we've given a hard pass on predictable and put together some unexpectedly excellent colour combinations. Whether you have a yearning for yellow, a passion for pink or are keen on green, these palettes can help inspire you to grab a paintbrush, embrace exciting colour and banish boring for good.
Published: 21 Mar 2019
Do you have a home full of wonderful Resene paint and colour? Send us some snaps by emailing [email protected].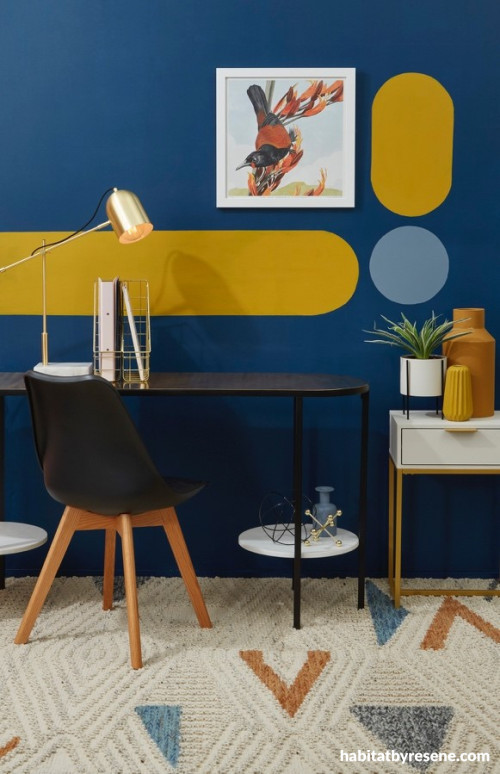 Navy + Mustard + Copper + Dusty Blue
Both bold shapes and colours have come to play around this console-turned-home office, but it's the details that make the look work. Resene Cleopatra provides warmth and picks up the golden undertones in the Resene Wishing Well walls. Dusty denim Resene Time After Time is reflected in the triangle shapes in the rug and the large vase in Resene Moccasin works in the same way to mirror the chevrons patterns, the shape of the chair legs and the coppery tones of the artwork. It's the simplicity of the shapes and white accents like the side table and planter in Resene Half Tea and the marble details that help keep the scheme from overpowering.
top tip: If you're going for bright or bold, try to keep fussy fabric patterns to a minimum so that the colours are the ones doing the talking, or the space could get a bit noisy. Try textured fabric instead, like a velvet or woven knit.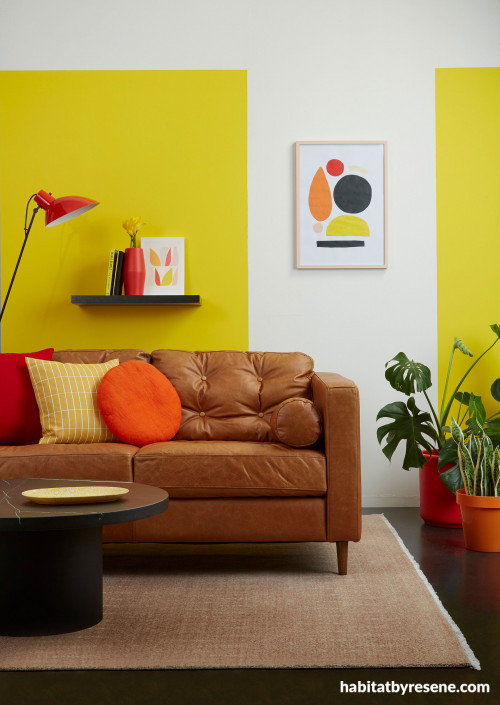 Yellow + Orange + Red + Black
These Resene Black White walls have been completely recharged with a couple of blocks of Resene Turbo and a few splashes of Resene Roadster and Resene Party Zone accessories. But it's not just the high energy colours that make this mid-mod room shine – it's also the repetition of shapes and finishes. The floating shelf and flooring have been coated in high gloss Resene Noir to play off the marble coffee table, and the round circles appearing in the artwork, plant pots, table, tray and cushions bring it all together.

top tip: Use Resene Polythane, a solventborne moisture-curing polyurethane, over colourful painted floors to get a high gloss finish, or Resene Aquaclear for a waterborne finish.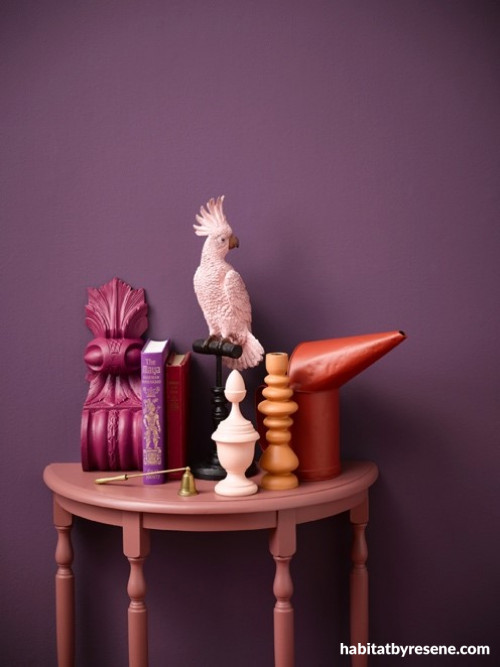 Purple + Pink + Red + Fuchsia
Despite this deep purple being a strong colour, it is surprisingly adaptable. However, if it's your first time trying out a striking shade, a good rule of thumb is to stick to the same area of the colour wheel and add-on less-vibrant layers until you reach the right intensity. In this example, the Resene Couture wall has been layered with accessories in a range of pinks, plums and fuchsias including Resene Ringo, Resene Dawn Chorus, Resene Stetson and Resene Vanilla Ice. To mix it up and keep things from looking too tone-on-tone, this designer incorporated a candlestick in Resene Entourage, an antique gas canister in Resene Pioneer Red and painted the bird's perch Resene Nero.

top tip: If you want to take the guesswork out of finding shades to layer with your bold selection, start with the Resene The Range fashion colours fandeck. Each page in the fandeck features colours that work well together. On the back of each colour, you'll find complementary colour suggestions to help get you started.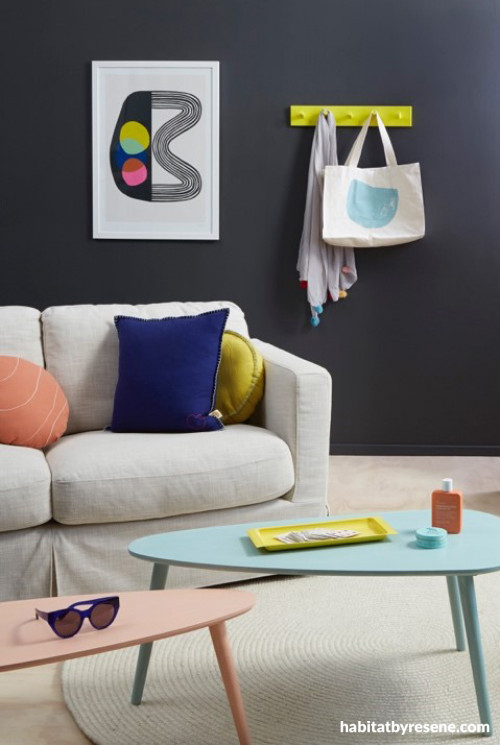 Cobalt + Coral + Yellow + Misty Blue
This mix of bright primary colours like Resene Space Cadet and Resene Gorse with softer pastels like Resene Sakura and Resene Ashanti alongside simple neutrals creates a look that could've come straight out of Stockholm. The Resene Nocturnal wall and plywood floor finished in Resene Colorwood Whitewash provide a quiet backdrop for the pops of colours to work their magic. While the same colour palette could still work well with white walls, the result wouldn't feel nearly as cosy as this space does.

top tip: The key to making colour work in your home hinges on picking shades that you really truly love. You'll be excited to work with them and it's sure to perk you up every time you see it. And, given the wide spectrum of rich colours trending at the moment, it shouldn't be hard to find at least one hue that you're drawn to.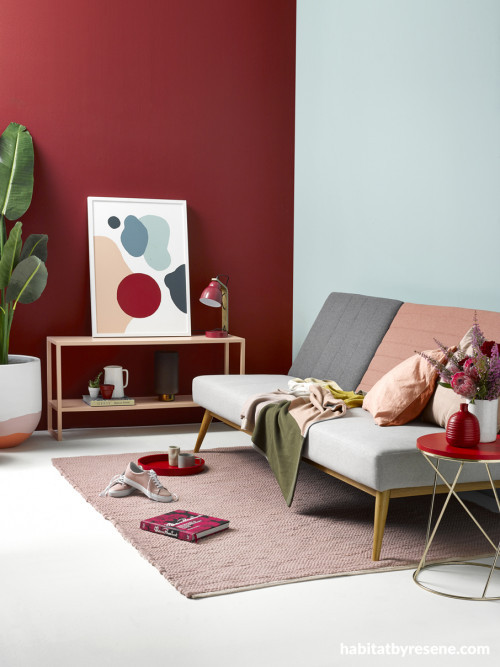 Red + Blue + Blush + Grey
With walls in Resene Salsa and Resene Unwind and a painted floor in Resene Chalk Dust, this look in this lounge could not be more on trend right now – and it's a perfect example for how bold, bright colours can be used to frame a more-or-less neutral space. The side table in Resene Poppy and sideboard in Resene Dawn Chorus echo the red wall and pink furnishings and accessories in Resene Salsa are the icing on the cake.

top tip: Before you commit to a colour, you can get a feel for it by painting a large swatch onto cardboard with a Resene testpot, leaving an unpainted border around the edge. Move it from wall to wall to check how it looks in different lighting and pay attention to how the colour makes you feel before coming to a decision.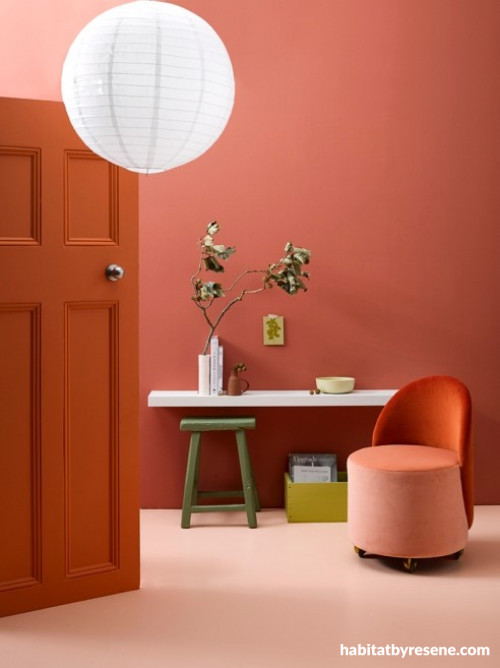 Rose + Salmon + Celadon + Pine
This space takes rich and rosy tones with soft green shades and brings them together for a scheme that's anchored on eye-catching colour with simple and minimal furnishings. The pale floating shelf in Resene Quarter Tea, the dusky green stool in Resene Woodland and the crate in Resene Gingko add as sharp contrast to the background palette of Resene Apple Blossom walls, a Resene Wax Flower floor and a Resene Sebedee door. This vibrant finished look feels fresh and contemporary while being anything but boring.

top tip: When building layered tone-on-tone looks, try using different degrees of sheen to break things up and create more visual texture.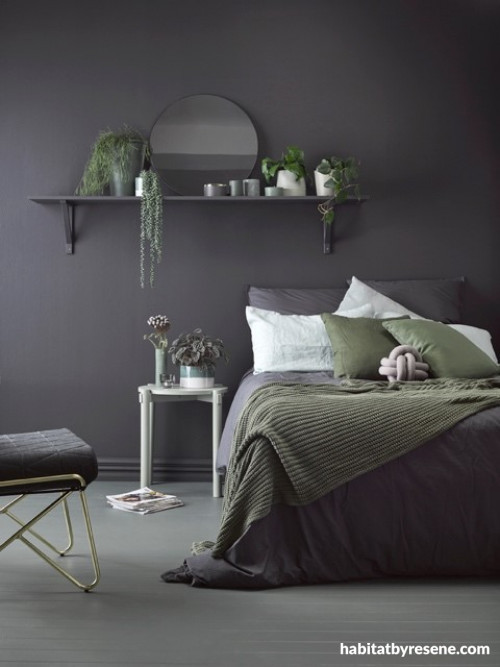 Smoke + Sage + Mint + Lavender
Walls, trim and shelving in deep and dark Resene Nocturnal set the mood for a cocoon-like bedroom piled high with organic greens in rich textures. The tone-on-tone plant-inspired palette softens the smoldering wall colour with a floor in Resene Viktor, a side timber table in Resene Organic and accessories in Resene Paddock, Resene Seaweed, Resene Passport and Resene Ciderhouse.

top tip: Not all dark or bold colours automatically make a small room feel smaller – it depends more on the lighting and what base the hue has. Ask to see some shades that have a cool base at your local Resene ColorShop, which can actually help make walls recede.
For more ideas, tips and tricks for bringing courageous colour choices into your home, check out our cover feature Fully saturated style in the Autumn/Winter 2019 issue of habitat by Resene magazine – available now at your local Resene ColorShop.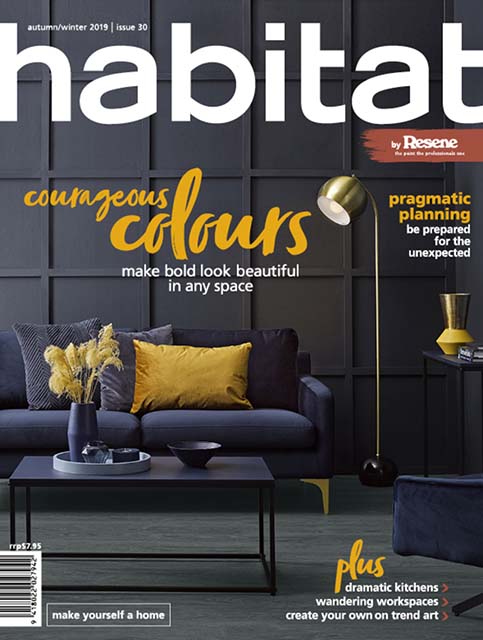 styling Gem Adams, Kate Alexander, Amber Armitage, Laura Lynn Johnston, Megan Harrison-Turner, Vanessa Nouwen
images Melanie Jenkins, Wendy Fenwick, Bryce Carleton