►
◄
latest
habitat tv
blog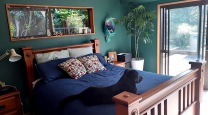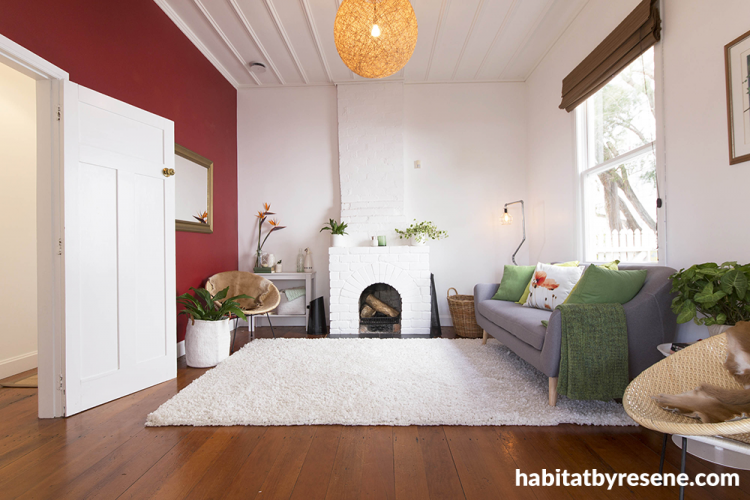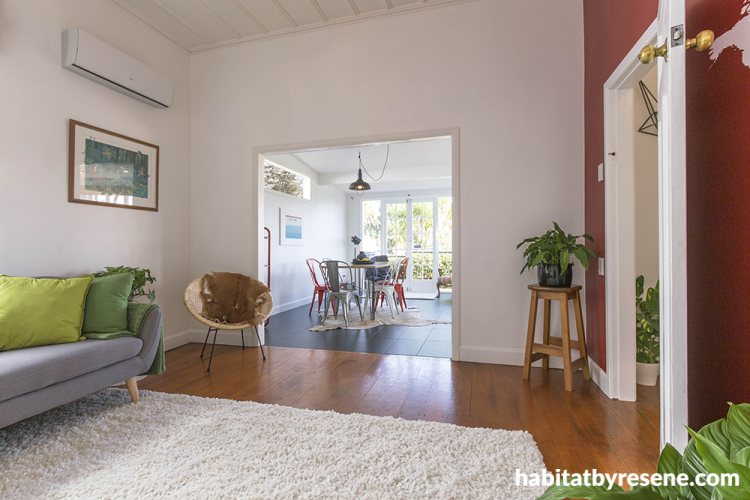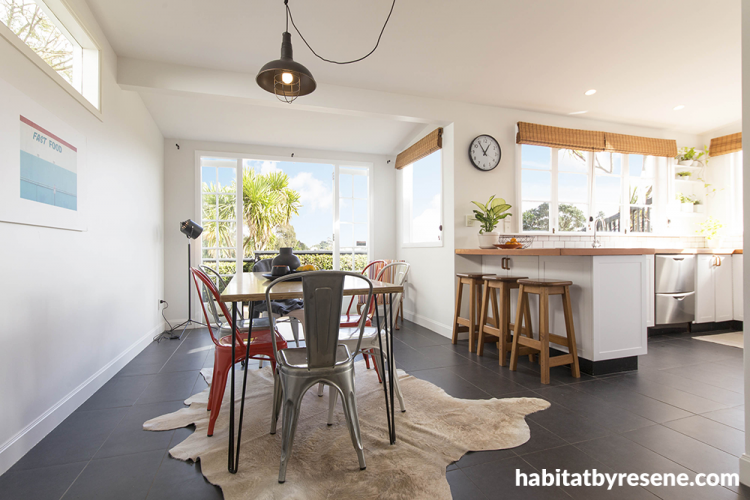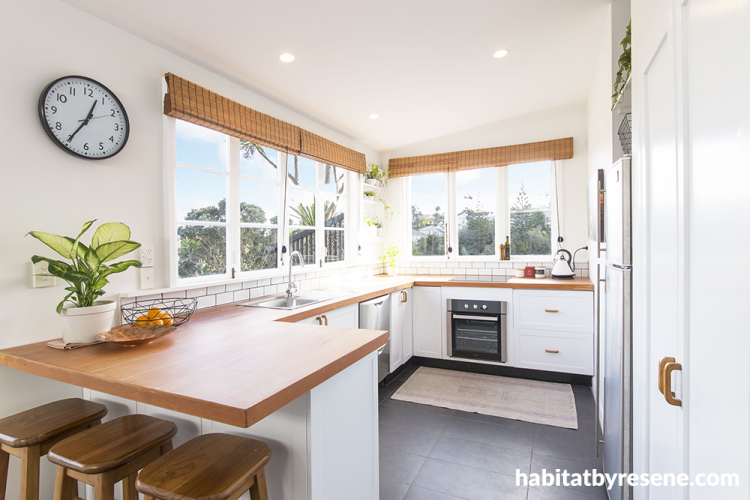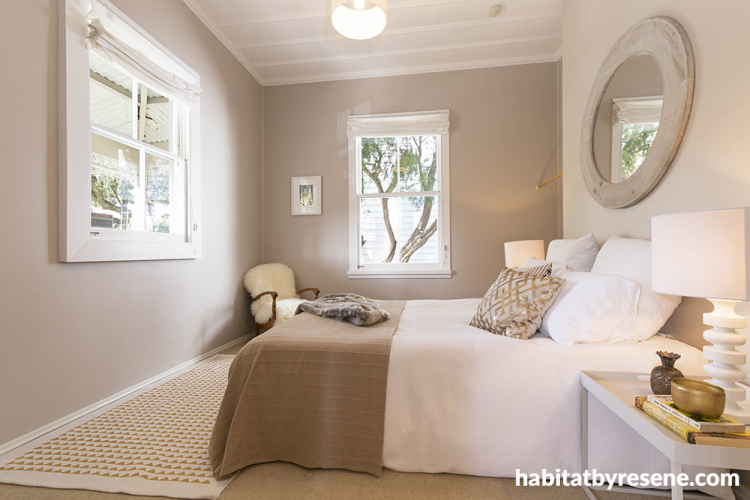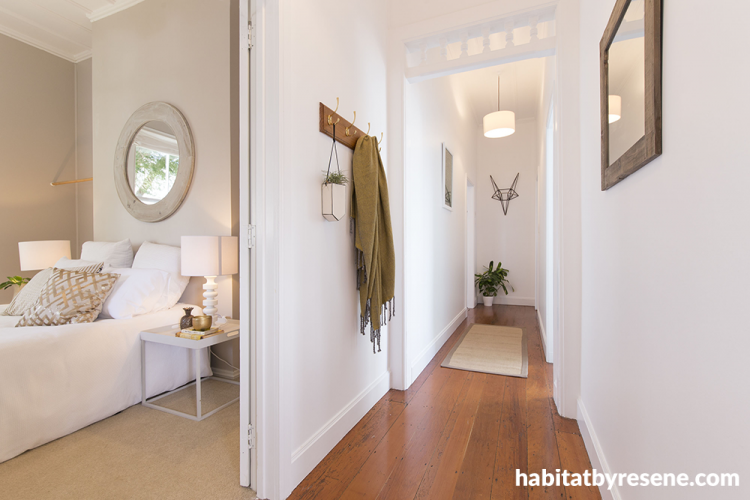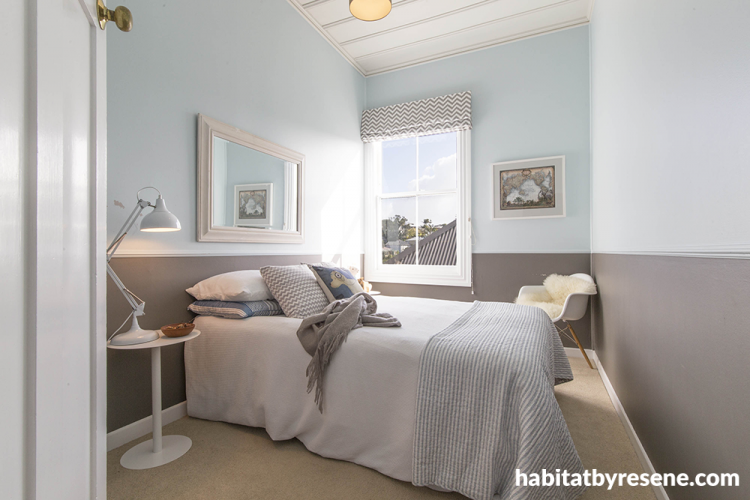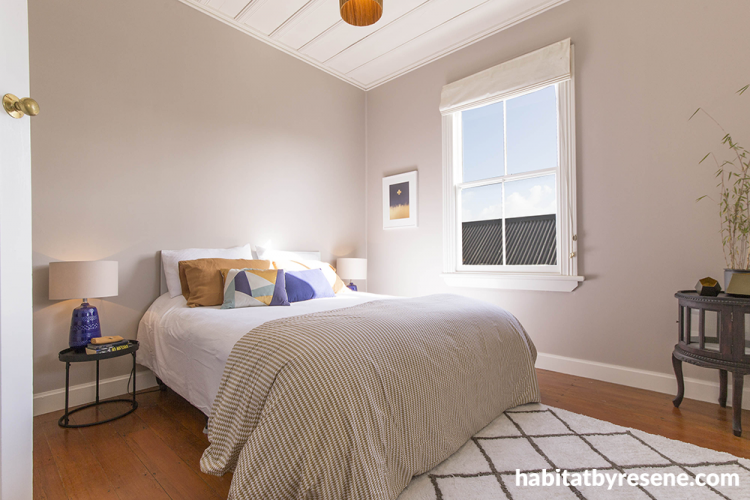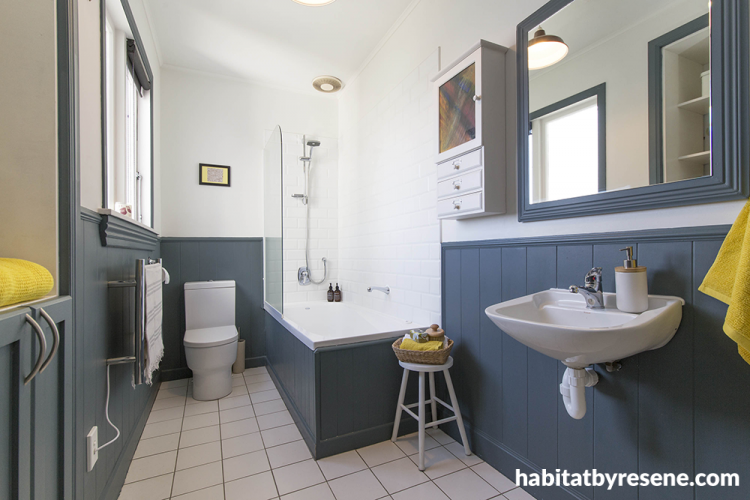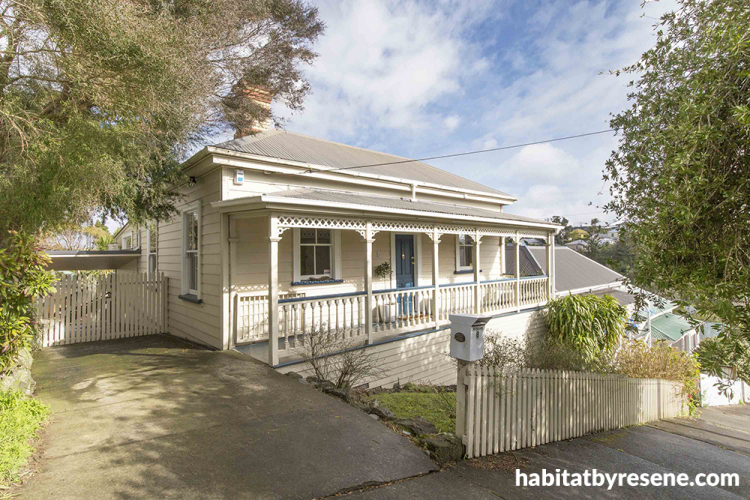 Darren and Stacey's tranquil weatherboard villa
It was 10 years ago when Darren invested in a 1900s weatherboard villa in Auckland's now trendy suburb of Kingsland.
Only a short walk away from Eden Park and Kingsland's lively cafes and bars, the three-bedroom house is in a prime location but needed a freshening up.
The rooms now sing with a thoughtful palette of Resene paint, and some very important additions – wife Stacey, two kids, cat Desmond and boxer Laragh – has resulted in a beautiful and special home for Darren and his family all these years later.
It was not in Darren and Stacey's heart to follow a heritage colour scheme. They felt it was important to retain the villa's character – but still have fun with colours that they loved.
In keeping with the villa's era, they used design devices such as tongue and groove panelling in the bathroom and keeping the dado lines.
And instead of erasing the red walls in the living room, which were "a bit full on", the couple painted three walls and the exposed brick fireplace in Resene Black White for a more modern look. The one red wall ended up being a bit of a feature wall that gives the room character.
For this, the team at the Newmarket Resene ColorShop were very helpful in choosing the right products especially for the exposed brick, says Darren and Stacey. "Being porous it will absorb the paint so you need to seal it first. On their advice, we used a water based concrete primer to seal and Resene Lumbersider for topcoats."
The couple also used Resene Zylone Sheen VOC Free paint on the walls, being 100% free of volatile organic compounds.
Did you know… Resene Lumbersider has a bit of flexibility so if the bricks get a bit warm and expand the paint won't crack when they cool?
The dining and kitchen rooms have elevated views to the Waitakere Ranges with some stunning sunsets, so they kept the space simple also in Resene Black White. The timber benchtop adds warmth in the Scandi-inspired kitchen.
Resene Serene was used in the two front bedrooms to create a modern yet neutral background so that the artwork and accessories can shine. The character high ceilings create a lot of volume and the rooms can handle darker tones.
Darren and Stacey's advice is to "start with an artwork you love and pick colours within it: mid tones for walls and bright/bold colours within it: mid tones for walls and bright/bold colours as accents and accessories."
In two-year-old Cian's bedroom, the couple used two colours: dark charcoal Resene Half Masala to ground the room and lighter, airy Resene Cut Glass above the dado line.
"We think nowadays you don't need to conform to a period colour scheme, just do what feels right to you and follow your personal style," says Stacey.
Darren and Stacey's house is currently on the market with open homes on Saturday and Sunday 12-12:30pm this week.
The auction date is 24th August, unless sold prior. If you have any further queries please contact Robyn Ellson on 021 800 891.
The couple would like to thank Salley Jefferies of Styled to Sell, ph: 022 628 7217, for the beautiful styling of their home.
Published: 05 Jul 2016
Do you have a home full of wonderful Resene paint and colour? Send us some snaps by emailing [email protected].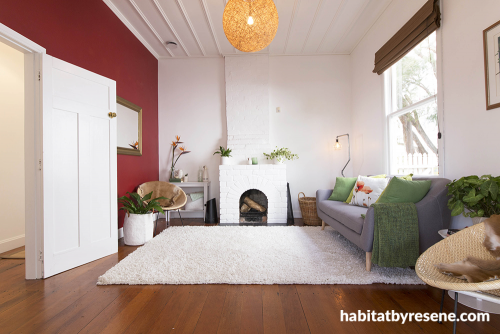 The living room was once enveloped in red walls that overwhelmed. The couple painted three walls and the exposed brick fireplace wall in Resene Black White, transcending the natural light and ambience of the room.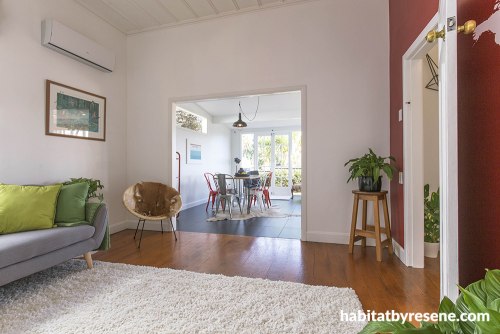 There's a lovely open flow from the living room to the dining room and kitchen area.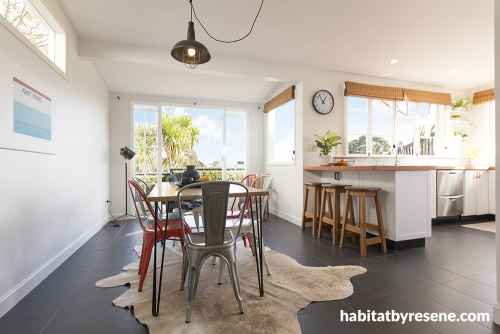 The open-plan dining room and kitchen are painted in Resene Black White and look over stunning views of the Waitakere Ranges.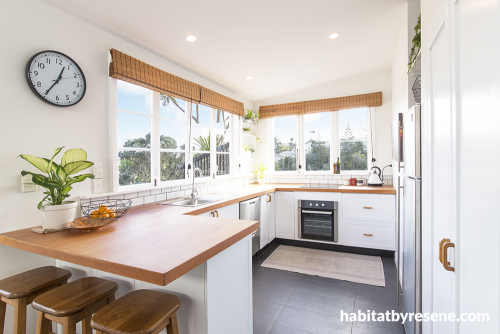 Yellow-toned wood accents give a warm touch to the monochromatic palette of the kitchen area. The walls are painted in Resene Black White.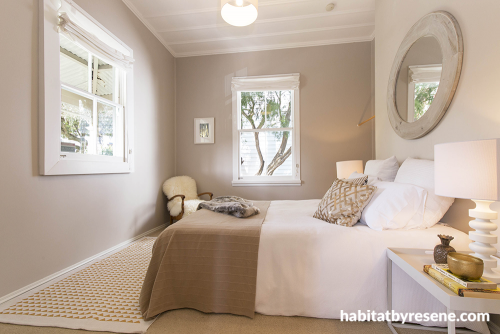 Easy on the eyes, this peaceful bedroom is painted in Resene Serene and layered up with yummy textures.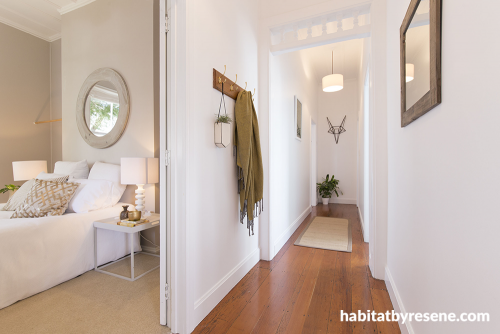 The hallway, painted in Resene Black White.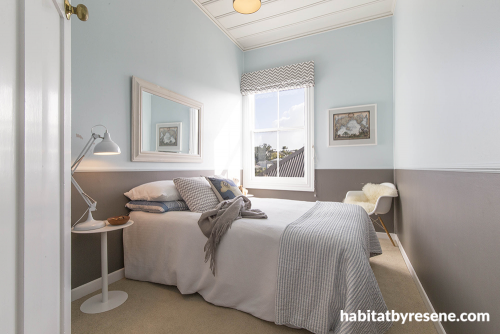 Two-year-old Cian's room is painted in Resene Cut Glass and Resene Masala, taking into account the villa's original dado line.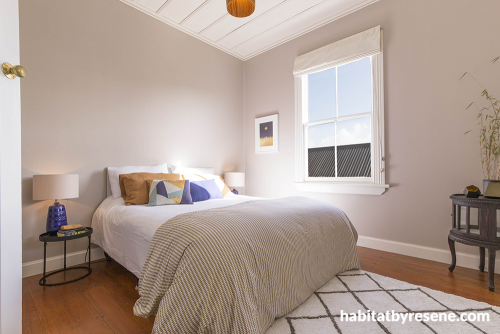 A second bedroom painted in Resene Serene, a tranquil and fair natured beige.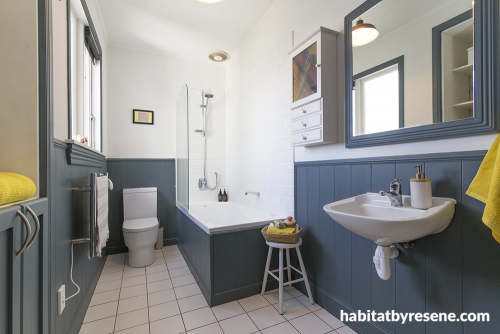 As a nod to the villa's era, the couple used tongue and groove panelling in the bathroom painted in Resene Ivanhoe and Resene Black White.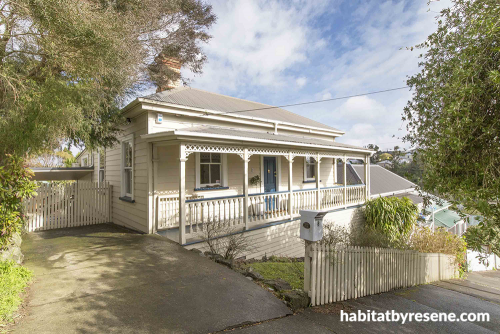 The exterior is painted in Resene Sugar Loaf with accents in Resene Billabong.
the look
If you're stuck on what
colour to use or need colour
advice, try out the Resene
Ask a Colour Expert service.