►
◄
latest
habitat tv
blog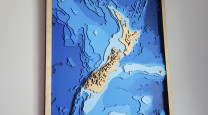 Designing your perfect home interior using mood boards
Creating the perfect ambiance in your home is a combination of personal style, well selected colour and attention to detail. Mood boards can be an invaluable tool to get you started, helping you visualise your dream space before you begin decorating. You'll be able to see what colours, textures and themes work well together, as well as what to avoid!
The first step in designing a new space is often the most crucial one - choosing the right colour palette. Luckily, Resene has thousands of shades for you to choose from so you won't be short of options to begin your mood board. This tool will allow you to create a collage of images, colours, textures and materials that encapsulate your desired look, as well as saving you time, money and resources.
Creating a mood board:
Choose your theme: Start by determining the theme or style you want for your space. Whether it's a cosy rustic living room or a sleek modern kitchen, having a clear theme in mind will guide your design choices.
If you're finding this part difficult, spend time over a few weeks collecting pictures of decorated homes you like and ones you don't like. Keep them in two separate collections. Very soon you will start to see a pattern emerge that will help you narrow down the theme that will work for your tastes.
Select your colours: Resene offers a wide spectrum of beautiful and versatile colours. Consider the mood you want to create in your space. For a tranquil atmosphere, opt for soft, neutral tones like Resene Alabaster or Resene Half Sea Fog. If you're after a bold and vibrant look, explore the Resene Multi-finish colour palettes for rich, deep hues. Using colours found on one palette from this collection will also help you to create a cohesive look – pick up a colour deck from your local Resene ColorShop for some inspiration, order colour charts online, or Ask a Resene Colour Expert online to help you out with free advice.
Texture and materials: Incorporate textures and materials that complement your chosen colour palette. Include swatches of Resene wallpapers, fabrics and even images of furniture pieces that you intend to use. Remember to include things like flooring and bench options and joinery colours.
Accessorise and accent: Mood boards aren't just about paint and walls, they encompass the entire design. Add images of accessories and accent pieces like cushions, artwork or lighting to complete the look. You might even begin with a piece of artwork and develop your board around that, using colours and shapes from within it.
Mood boards in action:
Let's explore four mood boards that showcase how they can be used to design various spaces in your home:
Soulful neutrals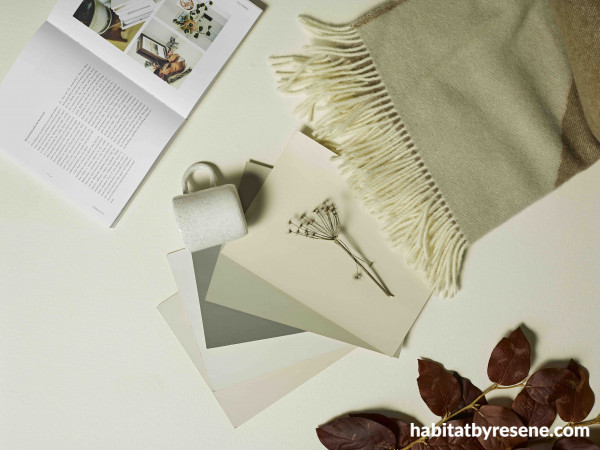 For this mood board, we painted our background in Resene White Pointer and used Resene A4 drawdown paint swatches in shades of (left to right) Resene Merino, Resene Alabaster, Resene Tapa, Resene Half Truffle and Resene Quarter Tea. These shades work well together because they are all cool toned neutrals, giving off a cosy winter feeling.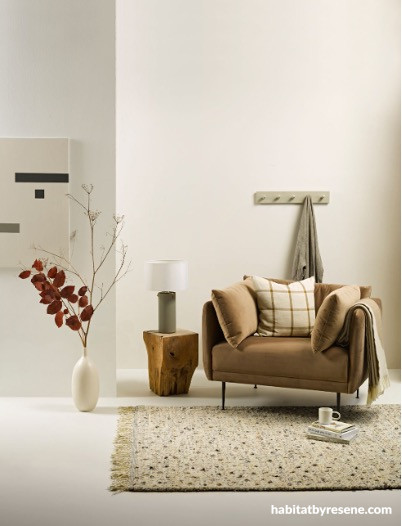 This living space, created from our handy mood board above, is fresh and clean with the back wall painted in Resene Merino, while the front wall is Resene Alabaster and the floor is Resene White Pointer. The DIY artwork is painted in Resene Quarter Tea, Resene Double Ash and Resene Half Truffle. The tall vase is Resene Parchment, the lamp is Resene Tapa, the jug base is Resene Putty and the wall hooks are Resene Double Ash. Spray from Flux Boutique, side table from Indie Home Collective, armchair and rug from Contempa, grid cushion and gown from Citta, throw and mug from Sunday Home Store, rug from Father Rabbit. Project by Gem Adams, image by Melanie Jenkins.
For other cool toned neutrals, try stony greys with a green edge like Resene Quarter Ash and Resene Eighth Tana, or a modern urban grey with a taupe edge like Resene Rakaia.
Modern chic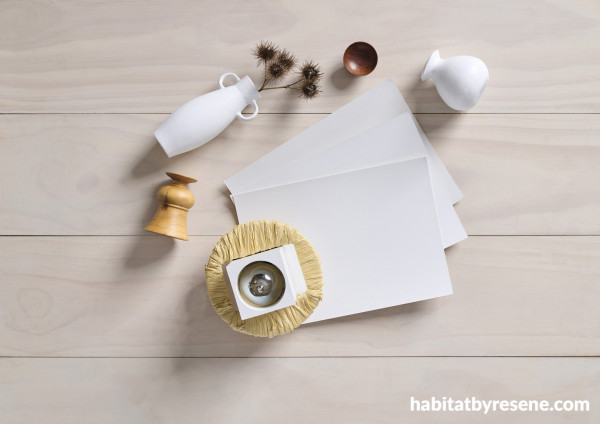 With a design idea of clean, neutral colours and contemporary accessories and decor, we created this charming and simple mood board. We used Resene A4 drawdown paint swatches in Resene Half Black White, Resene Eighth Black White and Resene Triple Black White. Choosing the same colour in different strengths means you know you will achieve a cohesive look in the space you are designing. The vases are also painted in Resene Eighth Black White. With our colours sorted, we then chose a light elegant background which will be used for our flooring, Resene Colorwood Breathe Easy, and added in natural accessories to tie it all together, a raffia light fixture and wooden bowls.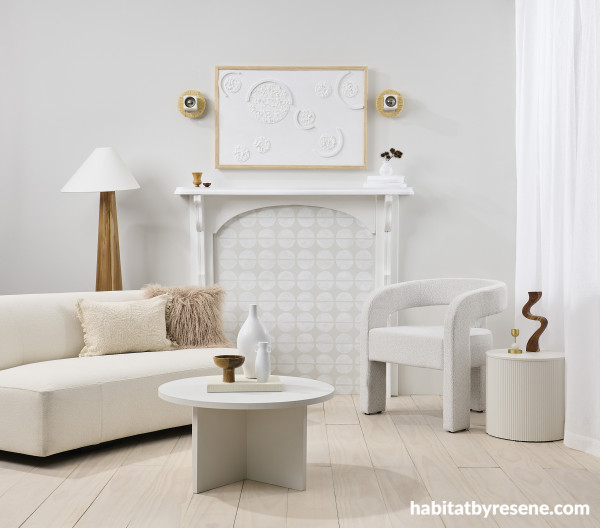 It can be incredibly rewarding seeing your design coming together, and you'll be thankful you took the time to create a mood board. Using three strengths of one shade, Resene Half Black White, Resene Eighth Black White and Resene Triple Black White, we painted the walls and accessories, as well as creating a stencil pattern inside the fireplace for a central focal point in this living room. Layered white spaces beam with light and when executed well, are extremely inviting. Whether a home is spacious or on the small side, shady or sun-drenched, a white interior design scheme never fails. It's also easy to add or remove furnishings as your own interior style develops, or family grows/changes. The floor is in Resene Colorwood Breathe Easy, chair from David Shaw, cushions from Baya, decor pieces from A&C Homestore and lamp from Sailor and Scout.
Opting for a monochrome look in your home can feel like you're playing it safe, but it's certainly still an option filled with many choices. Different subtleties of whites will change the mood of your room entirely. For warmer or meringue toned whites, try Resene Half Pearl Lusta, Resene Rice Cake and Resene Quarter Villa White. For cooler whites, opt for Resene Triple Sea Fog and Resene Barely There.
Rustic charm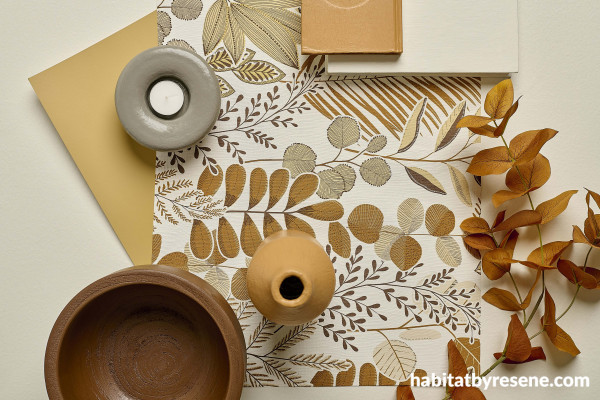 For a rustic design, we spotted a wallpaper that we absolutely loved, so this was the base for our mood board. Using a swatch of Resene Wallpaper Collection 465327, we drew colours from this and chose a background of Resene Triple Rice Cake, a Resene A4 drawdown paint swatch in Resene Teak, books painted in Resene Triple Rice Cake and Resene Dark Buff, bowl in Resene Milk Chocolate and tealight holder in Resene Half Masala.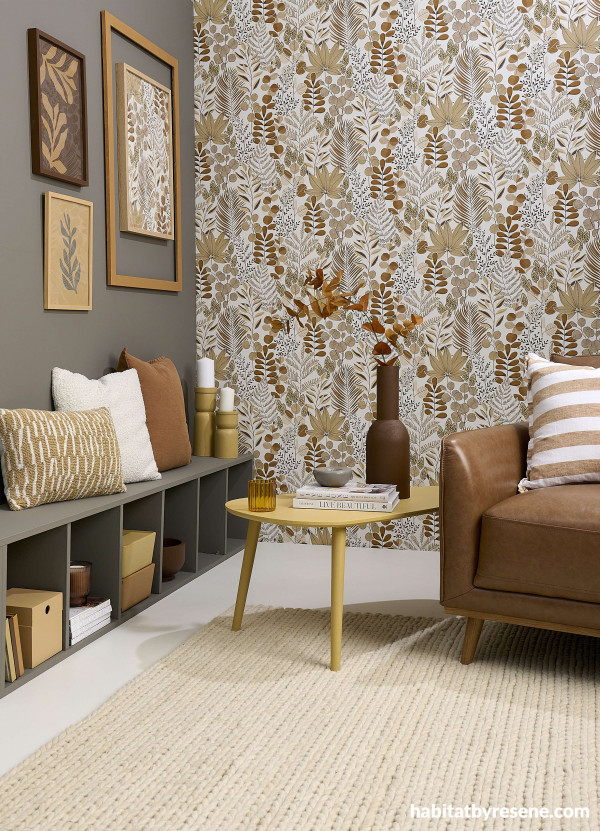 Through our mood board we have created a cosy haven with a classy, rustic charm. Using the colours above, we chose Resene Wallpaper Collection 465327 for a feature wall, Resene Half Masala on the surrounding walls, Resene Triple Rice Cake on the floor, and pops of earthy tones in Resene Teak, Resene Dark Buff, Resene Milk Chocolate and Resene Half Masala on accessories. Chair from Nood, striped, white and brown cushions from Adairs, rug from Mocka, rectangle cushion from Freedom.
Painting the cube style seating the same colour as the wall is a great trick for making the shelf seating look built in. The essence of a living room lies in comfort - every element should contribute to a relaxed ambiance, nurturing a haven of tranquillity. The delicate balance of colour and textured accessories in this space attests to the successful fusion of style and comfort, ultimately crafting a living room that not only appeals to the eyes but also embraces the senses in a warm and inviting embrace. This room tells a story of timeless elegance, modern vibrancy and earthy rustic accents - a space that welcomes you to unwind and experience the joys of home in every shade and curve.
For a different take on this rustic style, try using Resene Colorwood wood stains in dark shades like Resene Deep Oak and Resene Mahogony, along with a cosy bone white like Resene Triple Merino or a winter foliage beige like Resene Double Truffle.
Dark and sophisticated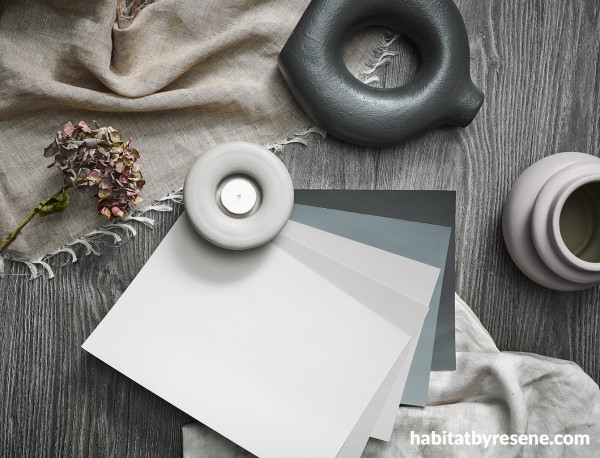 With a dark and refined design in mind, we created a mood board using cool and moody shades. The background is finished in Resene Colorwood Crowshead with Resene A4 drawdown paint swatches in (from left to right) Resene Nocturnal, Resene Blue Smoke, Resene Martini, Resene Tom Tom and Resene Quarter Silver Chalice with vases in Resene Martini and Resene Nocturnal and tealight holder in Resene Tom Tom.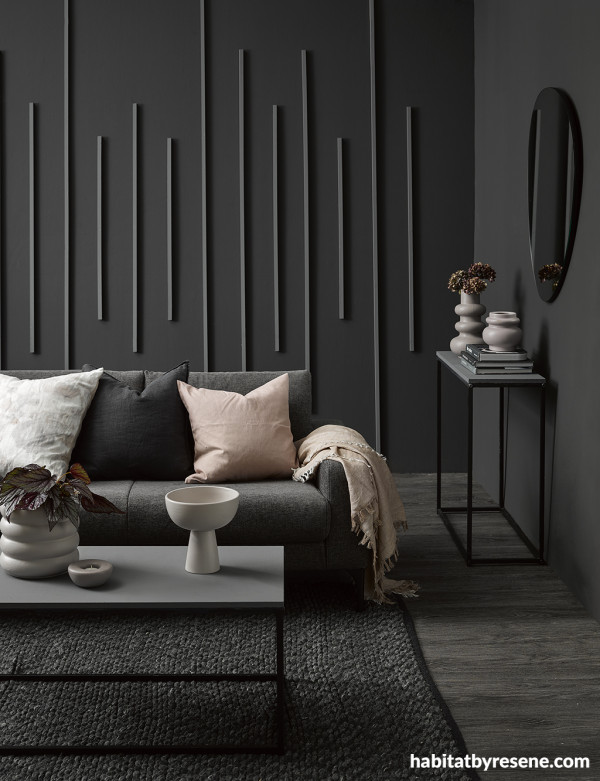 In this space, we opted for walls in Resene Nocturnal, a soothing, night-time off-black, as the base colour for our scheme in this chic and elegant living space. The wall colour is supported with timber flooring stained in deep Resene Colorwood Crowshead, which allows the beauty and texture of the wood's natural grain to show through without deviating from the all-encompassing strategy of our cocooning and sophisticated colour scheme. From here we added pops of Resene Nocturnal, Resene Blue Smoke and Resene Quarter Silver Chalice in accessories and décor, while also choosing to add some warmth through pink toned cushions and dusky pinks like Resene Tom Tom and Resene Martini. Sofa and ottoman from King Living, mirror from Freedom, pink cushion cover from H&M Home, Kate Spade pattern cushion and throw from Allium.
For a different variation, try adding pops of colour in greens like Resene Blue Smoke, Resene Yucca and Resene Tiara.
Designing spaces in your home becomes a more enjoyable and efficient process with the help of mood boards. They allow you to experiment with colours, textures and styles, ensuring that your vision comes to life. Try using the habitat look book to create your own mood board online and remember to make the most of Resene testpots when testing out your colour scheme at home.
Visit your local Resene ColorShop to pick up testpots and order Resene A4 drawdown paint swatches of your favourite colours and wallpapers, and get started on your very own mood board today.
projects Gem Adams, Vanessa Nouwens, Melle van Sambeek
images Bryce Carleton, Wendy Fenwick, Melanie Jenkins
Published: 04 Oct 2023
Do you have a home full of wonderful Resene paint and colour? Send us some snaps by emailing [email protected].
the look
If you're stuck on what
colour to use or need colour
advice, try out the Resene
Ask a Colour Expert service.
the look
If you're stuck on what
colour to use or need colour
advice, try out the Resene
Ask a Colour Expert service.