►
◄
latest
habitat tv
blog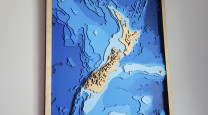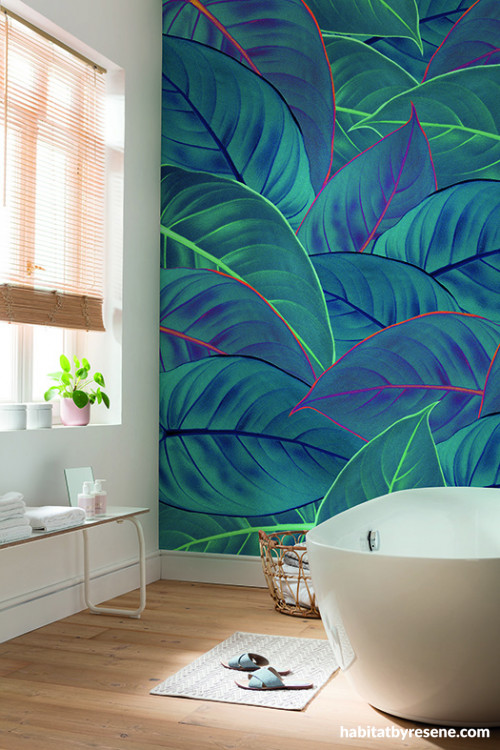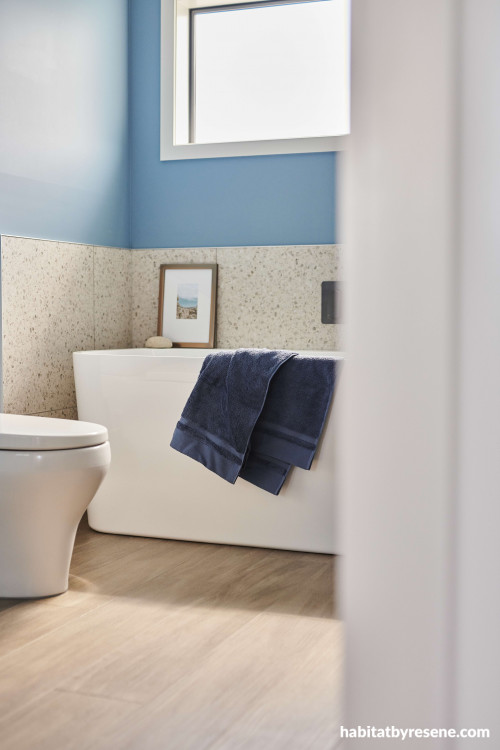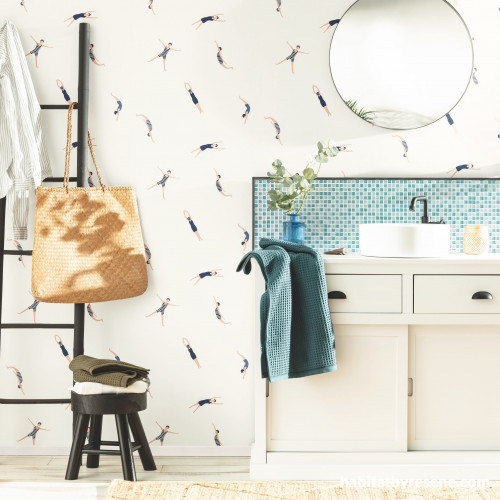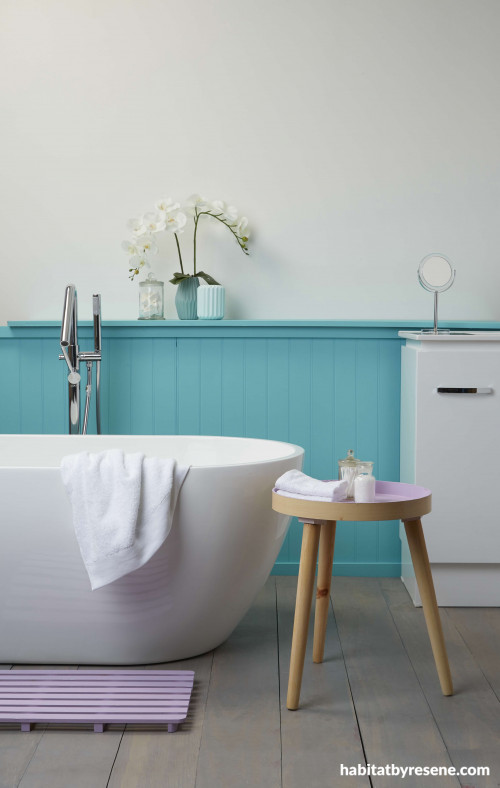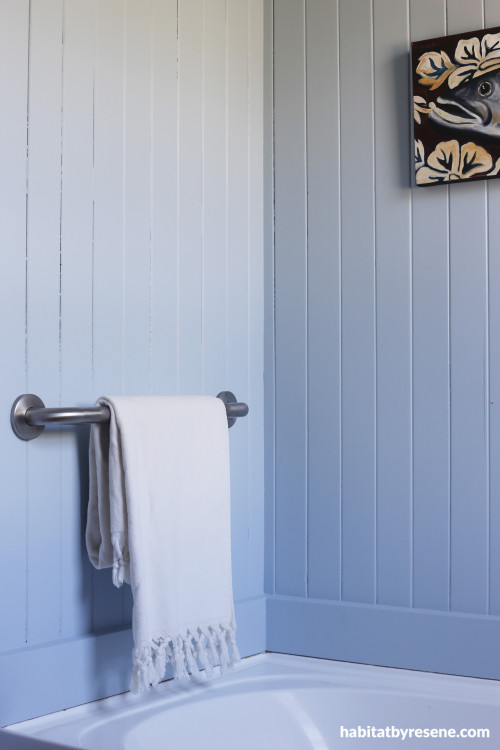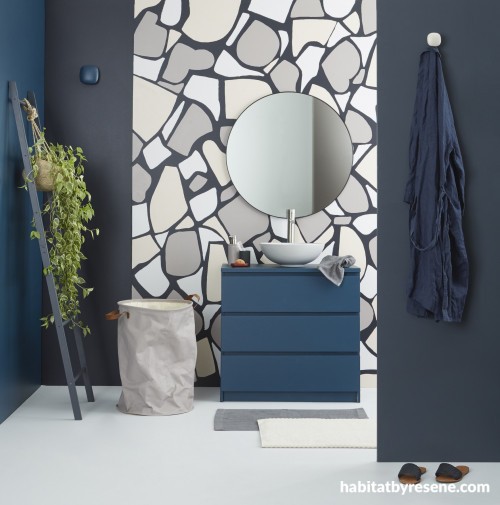 Dive into tranquillity: Refreshing blue hues for your bathroom
When it comes to home design, bathrooms often take a back seat to more frequently visited rooms like the kitchen or living room. But, in our quest to create the perfect living space, we shouldn't forget the little sanctuary that can help us relax and unwind at the end of a long day. Whether you're a morning shower person or a long soak enthusiast, a bathroom that reflects your personal style can make your daily rituals all the more enjoyable. Let's dive into the soothing world of Resene blues and wallpapers and see how refreshing and cool tones can transform your bathroom into a relaxing haven.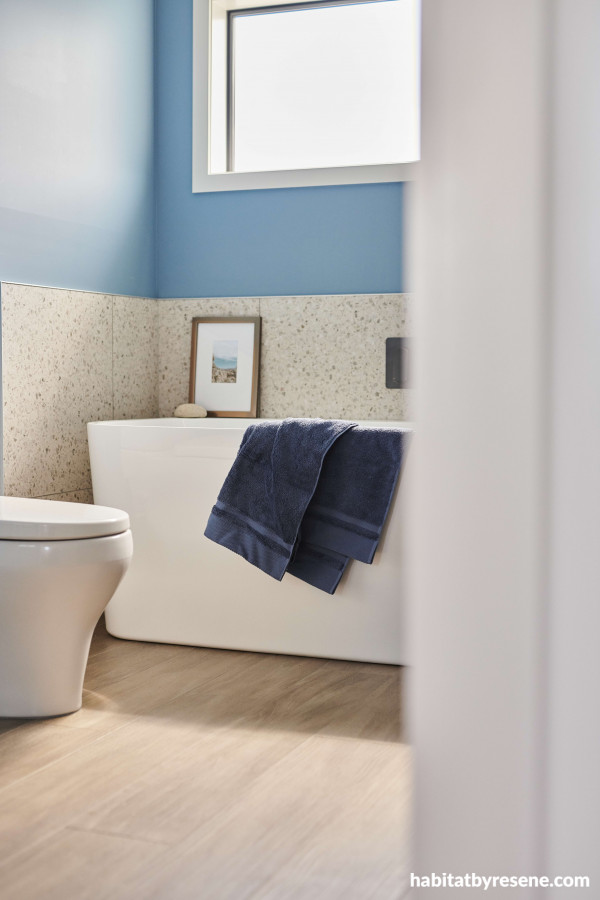 A blue-grey slate with hints of summer sky, Resene Lazy River, was used in this bathroom. The warm speckled tiles, natural flooring and warm shade of Resene White Pointer on the trims and ceiling help to warm up the space for a cosy feel. Design by Abbie Chapman, image by Amber-Jayne Bain.
This is a classic yet timeless approach to bathroom design. The clever use of colour above tiles can set the scene for relaxing and unwinding and create a stylish space whatever your colour palette may be. Sky blue Resene Lazy River teamed with sandy toned tiles gives off a coastal feel, instantly transporting you to a serene beach getaway. The white, blue and warm toned combination is clean, calming and perfect for those who appreciate a touch of tradition with a modern twist. It's like having the ocean right in your own home.
Try other sky blues like Resene Subzero, Resene Seagull and Resene Jordy Blue. If you want to create a coastal or bach feel, go for a light wood stain on floors like Resene Colorwood tinted to Resene Whitewash, Resene Breate Easy or Resene Becalm.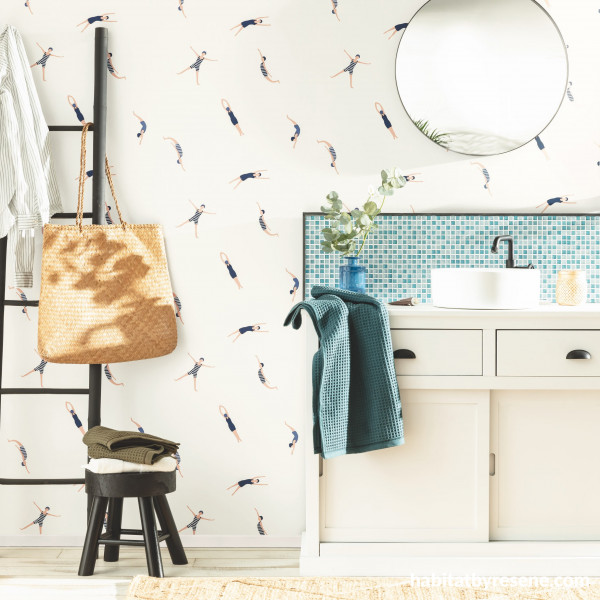 Bathrooms can be fun and entertaining in a subtle way, which is just what Resene Wallpaper Collection OB102696234 provides.
Who says your bathroom can't have a bit of fun? This charming wallpaper has a subtle but whimsical twist that will bring a smile to your face every time you enter the room, reminding you that life should be enjoyed in every corner of your home. A bathroom is not just for personal care, it's a place for a mini escape too! With a white background, this wallpaper featuring swimmers pairs well with classic whites like Resene Half Sea Fog, Resene Alabaster and Resene Half Black White, as well as navy blues like Resene True Blue and Resene Biscay.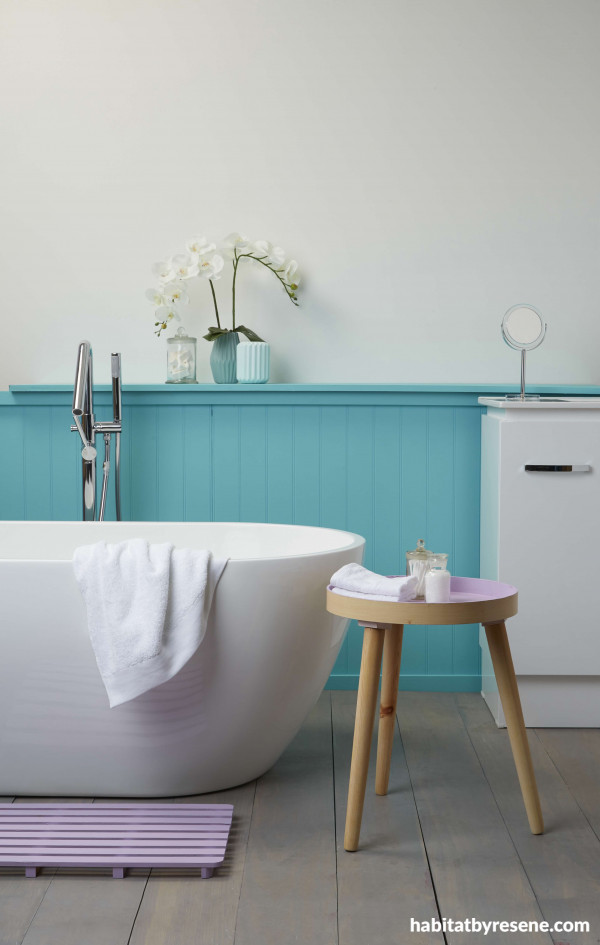 This bathroom features tongue-and-groove panelling and shelf in Resene Yes Please, flooring in Resene Colorwood Mid Greywash, a bathmat and inside tray table in Resene Mozart and vases in Resene Meditation and Resene Kandinsky. Furnishings include a bath, bath filler and vanity from Plumbing World. Project by Megan Harrison-Turner, image by Bryce Carleton.
A vivid turquoise like Resene Yes Please is a confident choice that's perfect for a sharp injection of colour, especially in an all-white bathroom. Pair it with accents of pale mauve like Resene Poet to bring in some warmth or complement it with similarly icy blues like Resene Malibu and soft grey pastels like Resene Midwinter Mist and Resene Quarter Scarpa Flow. Get the look with a few small vases, a wooden stool and timber flooring stained in Resene Colorwood Mid Greywash.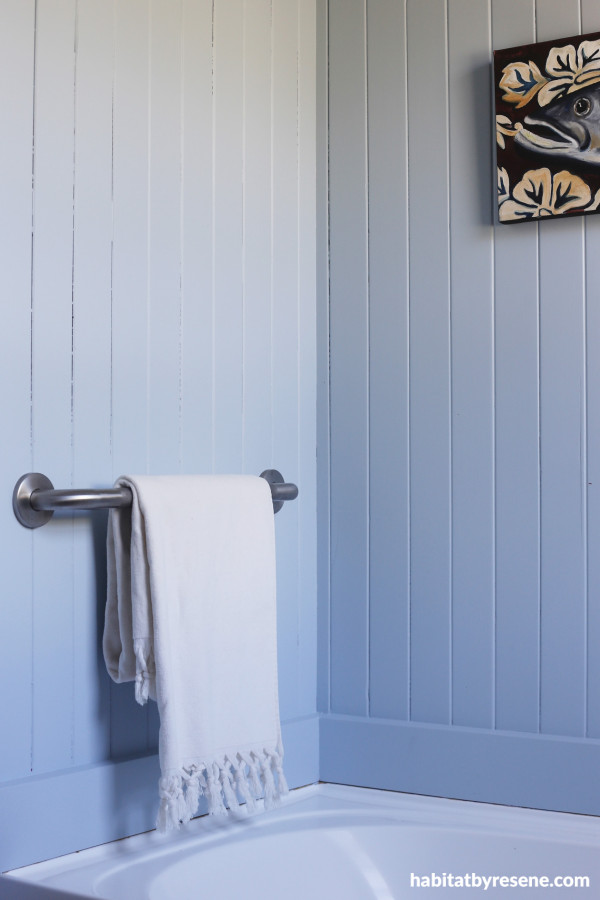 This serene and calm bathroom is painted in the breezy blue of Resene Half Halcyon. This subtle shade is kind on the eyes and inviting for the senses. Design and image by Kate Alexander.
Panelled walls can change the whole look of your bathroom. Depending on what colour you go for, they can take your bathroom from basic to sophisticated. They're generally easy to install and are a great choice to hide imperfections on walls. For a relaxed feel, choose a breezy blue like Resene Frozen, Resene Spindle, or follow stylist Kate Alexander's lead and opt for Resene Half Halcyon. For a more sophisticated look, try painting your panels in a dark slate blue like Resene Avalanche or Resene New Denim Blue and surrounding walls in a charming white like Resene Vista White.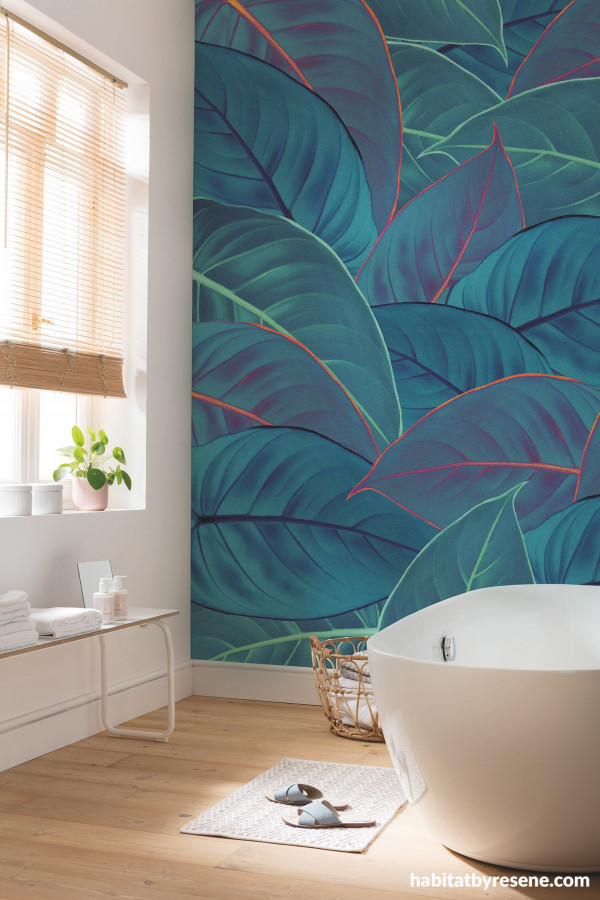 This serene bathroom has a refreshing touch of energy with a feature wall in Resene Wallpaper Collection P026-VD2.
Resene wallpaper is a versatile option that can help you create any ambiance in your home, like this one which celebrates the beauty of nature. The blue and green tones and large leaf print creates a tropical paradise right inside your bathroom. Paired with wooden flooring and white walls, Resene Wallpaper Collection P026-VD2 combines the tranquillity of the forest with the comforts of home. It's like stepping into a lush garden while you get ready for your day.
For a bold pattern like this, keep your walls simple to let the colours in the wallpaper really shine as a feature. Try clean whites like Resene Half Barely There and Resene Alabaster, and a wood stain or colourwash stain finish like Resene Colorwood tinted to Resene Natural or Resene Bask.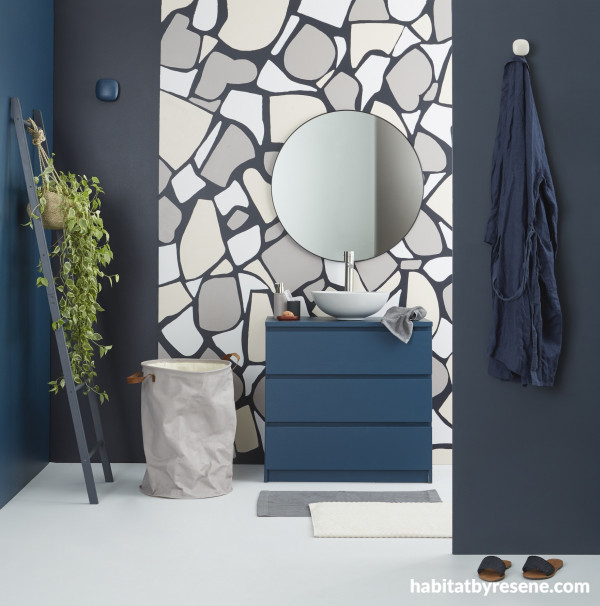 The back wall of this powder room is in Resene Jaguar with painted 'faux' terrazzo in Resene Alpaca, Resene Urbane and Resene Tom Tom. The left wall is in Resene Tangaroa and the right wall is in Resene High Tide. The floor is in Resene Mercury, vanity in Resene Tangaroa and ladder in Resene High Tide. Project by Kate Alexander, image by Bryce Carleton.
Add texture to your bathroom like this terrazzo wall painted in gorgeous cool toned Resene neutral paint colours. By using a non-permanent method like paint, incorporating the look of terrazzo into your home need not break your budget or become an unchangeable fixture. Try this idea on a wall or floor in a hallway, kitchen or bathroom with your favourite Resene colours to get the same effect in a way that's easy to change if you fall out of love with the look. For a more sun kissed, Mediterranean terrazzo look, try warmer shades for your terrazzo pattern like Resene Sandcastle, Resene Biscotti and Resene Pearl Lusta.
In this creative and luxurious bathroom, the upper wall is painted in Resene Alabaster, with marble effect painted in Resene Double Stack, Resene Alabaster, Resene Eighth Stack, Resene Half Stack and Resene Half Baltic Sea. The stool is painted in Resene Eighth Stack, shelf in Resene Invincible, coral in Resene Alabaster and plant pot in Resene Half Stack. Bath and tap wear from Plumbline, towels from Father Rabbit. Project by Melle Van Sambeek, image by Bryce Carleton.
If you want to keep your bathroom neutral, try a monochromatic scheme using cool greys and slate shades. Colours like Resene Eighth Stack and Resene Half Baltic Sea will give the illusion of a fresh, cooling space without the bright and obvious blues. You can even try this simple method to create a stone and marble look without the hefty price tag of the real thing! We applied a layer of Resene Alabaster then masked out the 'tile grouting' and used a sponge to dab the cool slate tones randomly over the wall creating the blurred-out look, imitating the organic veins and patterns found in real marble. For added depth and contrast, use a darker shade to create veining in the tiles. Apply the paint with a small brush or sponge, following the natural flow and patterns of marble. Allow the paint to dry slightly then remove the tape, and this will ensure you end up with clean, crisp lines and a polished finish.
Your bathroom is not just a functional space, it's your private sanctuary where you start and end your day. Whether you're unwinding in a relaxing bath or getting ready in the morning, these refreshing blue tones can elevate your bathroom into a peaceful retreat. Dive in! After all, you deserve a space that pampers your senses and reflects your personal style in every shade of blue.
For more advice on paints and wallpapers visit your local Resene ColorShop or Ask A Paint Expert online. Or if you need more help choosing colours, book a Resene Colour Consultation, virtually, instore or at home, www.resene.com/colourconsult.
Remember to follow habitat by Resene on Instagram for more home design inspiration.
Published: 07 Nov 2023
Do you have a home full of wonderful Resene paint and colour? Send us some snaps by emailing [email protected].
the look
If you're stuck on what
colour to use or need colour
advice, try out the Resene
Ask a Colour Expert service.
the look
If you're stuck on what
colour to use or need colour
advice, try out the Resene
Ask a Colour Expert service.