►
◄
latest
habitat tv
blog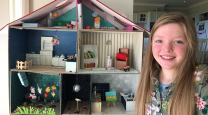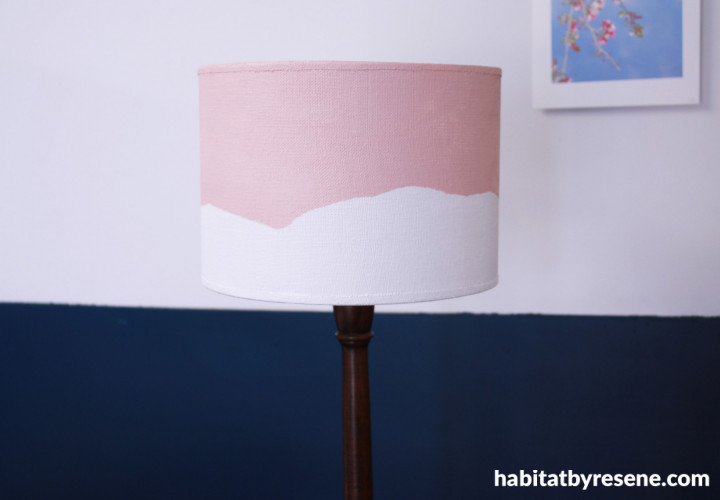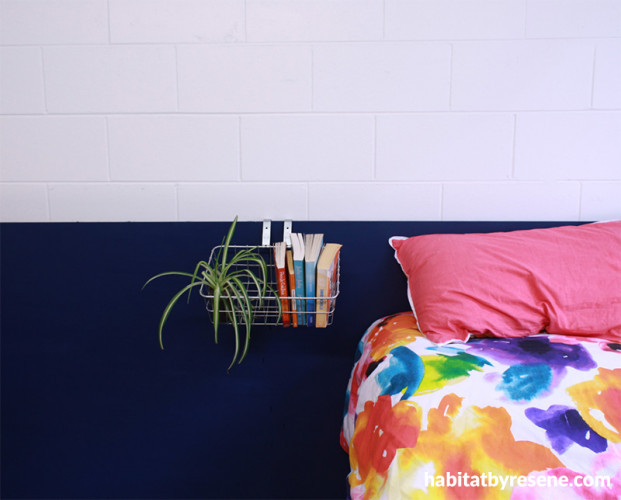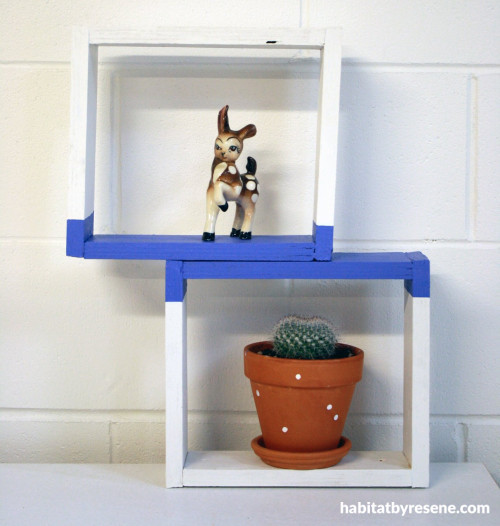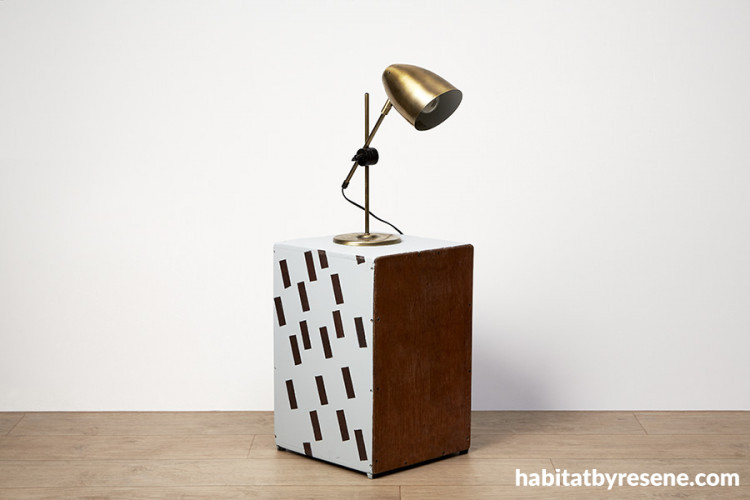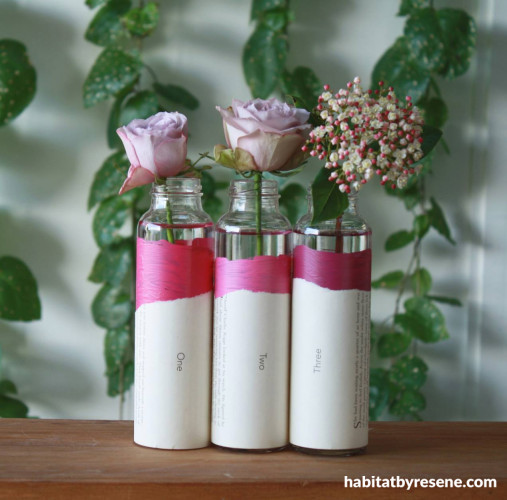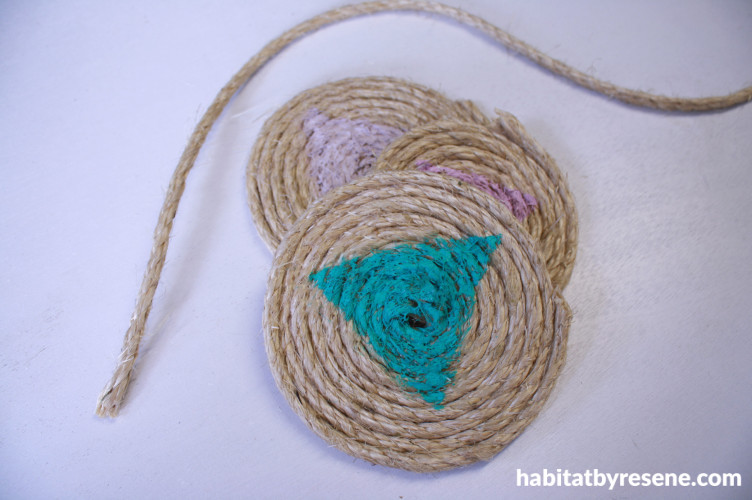 DIY paint ideas for the bedroom
There's much satisfaction that comes from creating with your hands, which is why the do-it-yourself trend is one that's really sticking around.
If you're new to the game, making furnishings for your bedroom is a great way to start. It's a personal space where you can be free to play with colour combinations and treasured finds, and find your feet in the DIY world.
Getting started
It's so easy. Fill a notebook with colour swatches, pages from interior magazines and other mementos that catch your eye. Head outdoors and take note of colour combinations that lift your mood.
On the web front, start a look book and pin featured houses on our website that appeal to you. Sift through Pinterest for pattern and other ideas and keep an eye out for what friends and family are sharing on social media.
Being clear on styles and colours that you love will make it easier to shop for your DIY project.
Trash is treasure
DIY-lovers are always popping into a favourite junk shop or local demolition yard, knowing which ones are frequently replenished. And even if you don't walk away with anything at the time, it certainly gets the wheels in motion. Ever thought to turn bricks into geometrically-painted bookends? We did – click here to see the result.
Look out for furniture with raw or sanded wood, as it's a wonderful surface to paint – but take heed when buying from junk stores as there may be borer lurking within. Borer is a pest that literally bores through wood, making it weaker... and you don't want it entering your home. If you see small holes in a cluster, think long and hard as to whether the piece is worth it – you may be better to opt for something else.
Shop for DIY
Think MDF offcuts for sturdy headboards, sisal rope for coasters, and hammers, nails and sandpaper for when inspiration hits.
Resene testpots are of little cost, so stock up on your favourite colours for when you find that perfect piece to paint.
Here are fun projects that only took a single afternoon to complete.
Never want to miss a paint project? Follow us at www.facebook.com/habitatbyresene.
Published: 07 May 2015
Do you have a home full of wonderful Resene paint and colour? Send us some snaps by emailing [email protected].
Lampshade makeover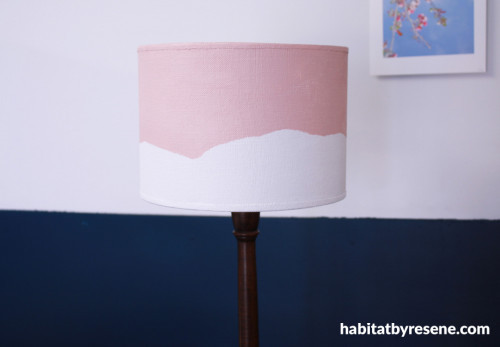 Fashioning zig zags and stripes using masking tape and Resene testpot paint is a fast, assured way to a great pattern. Here's another neat trick: use torn paper or wallpaper as a stencil for the soft, hilly effect shown on this lampshade. We've used a base of Resene Black White, painting the rest in Resene Sakura – ready for any pastel-lover's bedroom. Back wall in Resene Black White and Resene Tangaroa.
Feeling blue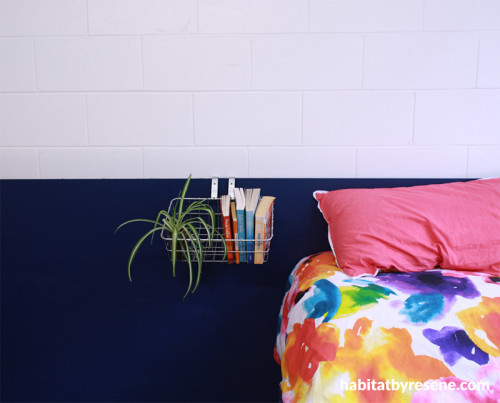 Indigo blue and dark teal are having a moment, and cropping up on interior walls everywhere. If you're hesitant to take the plunge, start small with something like this headboard, made from MDF and painted with Resene Redemption Blue – a dark delicious indigo.
Box plants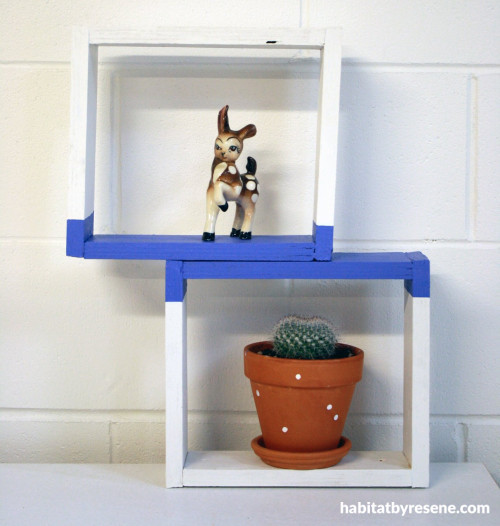 Frame boxes are so easy to make, and they're a neat way to display your flowers and indoor plants. Screw together four even pieces of scrap wood, and paint. A strip of punchy colour (we've used Resene Gypsy Queen here) gives it that trendy geometric look.
Keep it original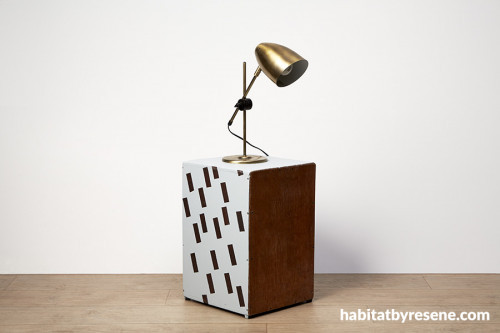 It's no secret that discarded crates and wooden boxes make for chic side tables. The base colour of this box is lovely, so we used it as part of the pattern – masking off pieces of the wood and using a roller to paint over it with Resene White Thunder. The result is Scandinavian-cool.
Pretty in pink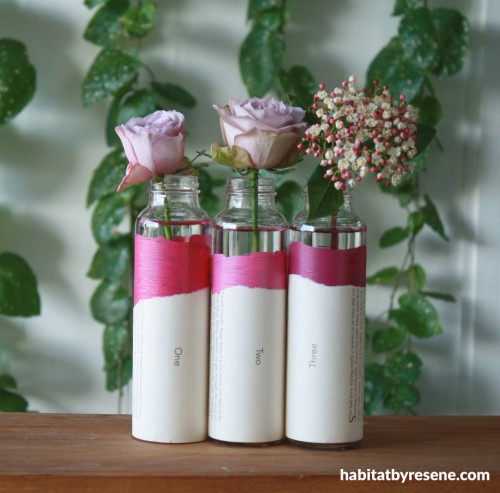 Brighten up your days with these pretty vases made from empty glass bottles, testpot paints from Resene, and pages from an old book (using tape to seal at the back).
We used (from left) Resene Scrumptious, Resene Smitten and Resene Smooch, from the Resene The Range fashion colours 16.
Rustic coasters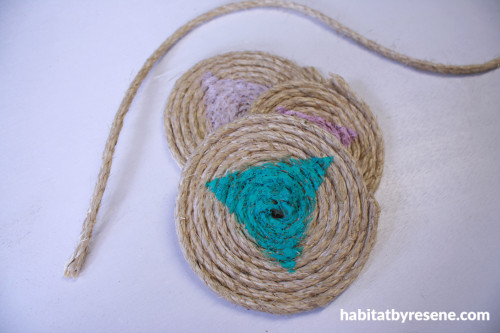 For this you'll need a hot glue gun, half a metre of 6mm sisal rope, a fine pointed paint brush and Resene testpots (using colours of your choosing). To start, glue the tip of the rope. Make a small circle with the rope and continue to weave around the circle once. Place glue around the edges, press, and repeat the process. Seal at the end with the glue gun.
Once dry, paint a pattern – we painted the triangles freehand with Resene Dali, Resene Boutique and Resene Ditto, cutting any loose strings afterwards.
pictures
Ideas and styling by Leigh Stockton.
the look
If you're stuck on what
colour to use or need colour
advice, try out the Resene
Ask a Colour Expert service.