►
◄
latest
habitat tv
blog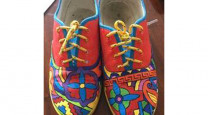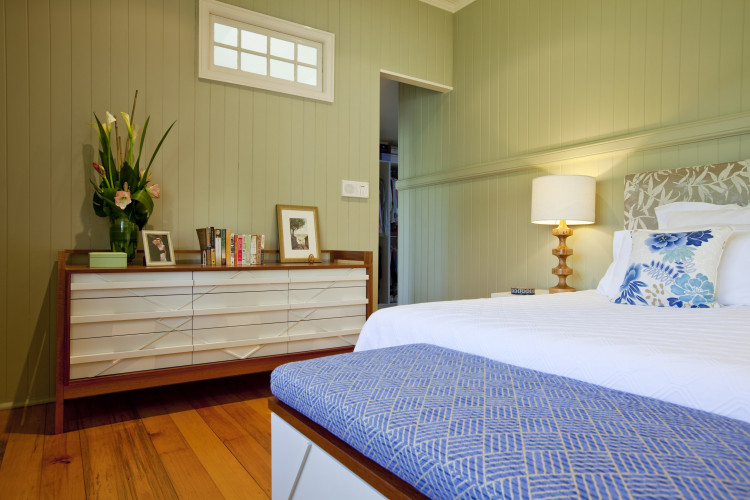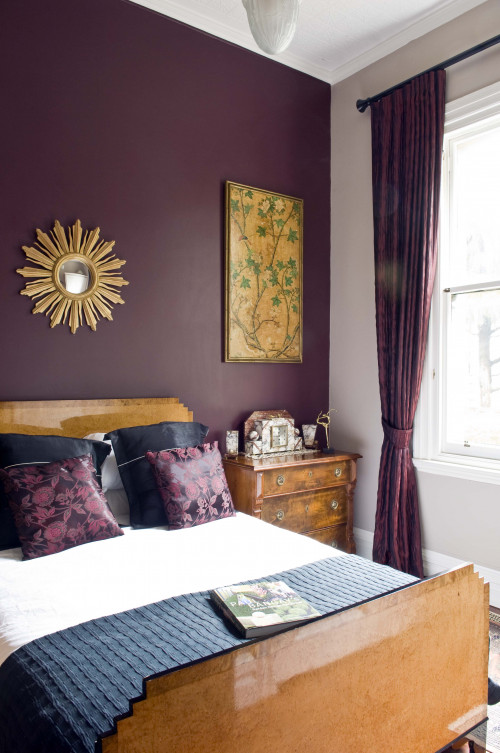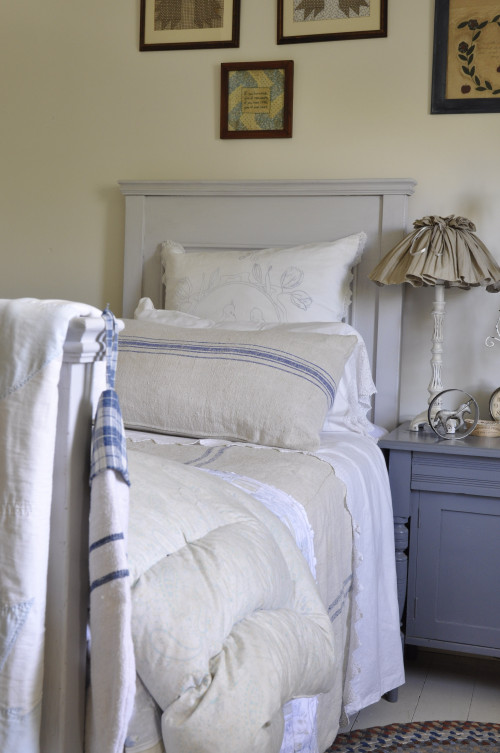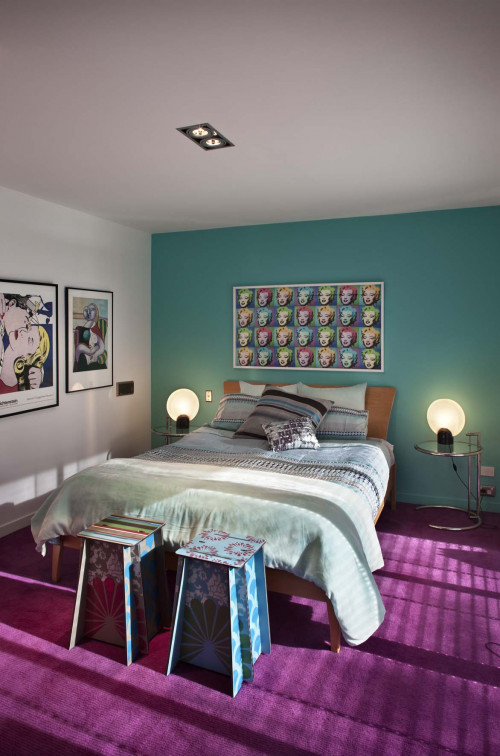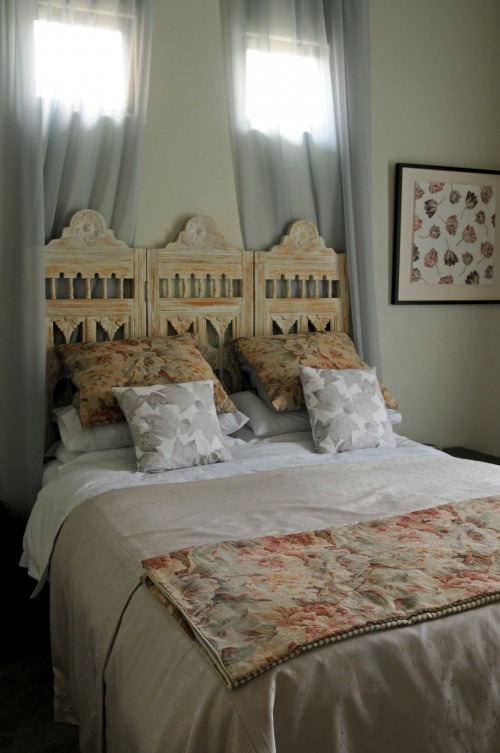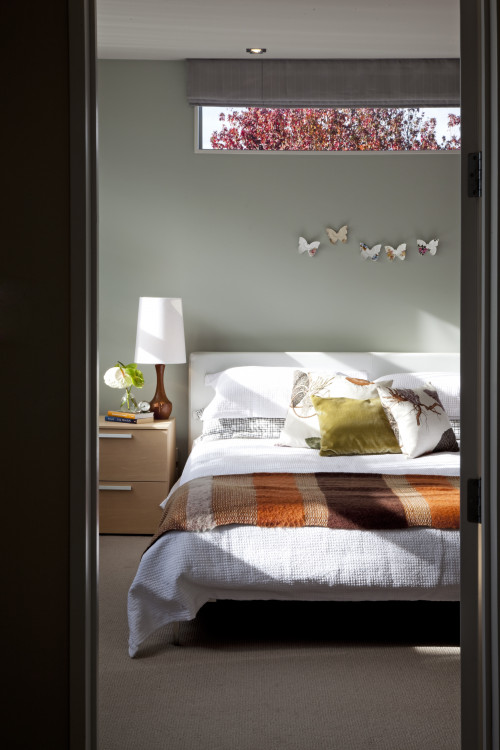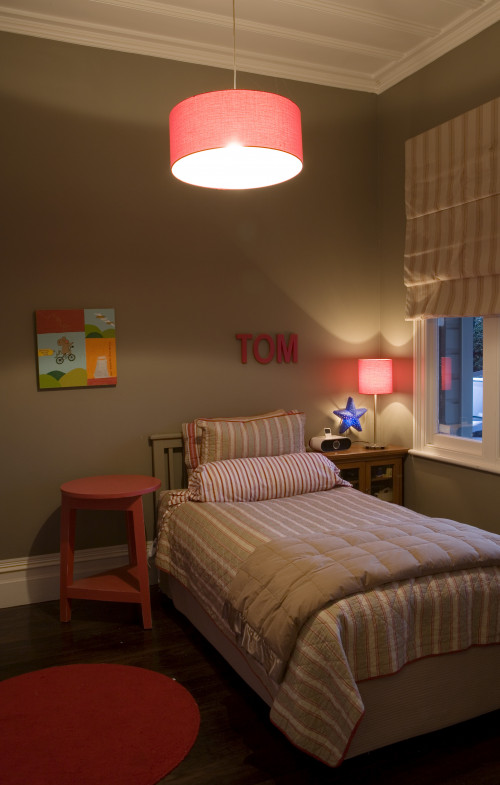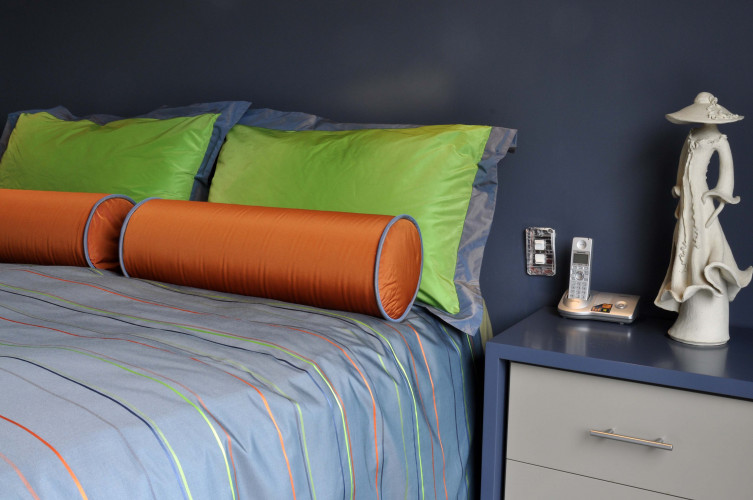 Don't let your bedroom send you to sleep
01 Aug 2013
Do you have a home full of wonderful Resene paint and colour? Send us some snaps by emailing [email protected].
Tucked away doesn't mean it has to be boring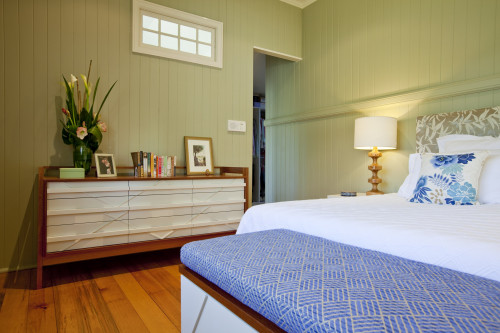 Bedrooms are ultimately very personal spaces so we can do what we like with them, really. Some of us grab on to that decorating freedom and go all out, while many of us want these rooms to integrate with the rest of the house. And want our bedrooms to be havens or relaxation, an escape from our hectic lives. It seems that when we grow up, we cast off the heavily themed bedrooms of our childhood and get more demur. But that doesn't mean boring.
Colours that work
Well, just about any colour works in a bedroom – except you might want to avoid having too much red and other similar 'hot' colours like orange and bright pink. These are are stimulating shades so might keep you awake rather than help you sleep. If you love these colours and have to have them, use them as a feature colour on the bedhead wall so that you don't see them when you lie down.
If you're stuck for colours, maybe use a duvet, bed cover or rug as a starting point, pulling out one of the colours to inspire your scheme.
Soothing colours are obviously good for bedrooms - look to the Resene Whites & Neutrals collection for inspiration. Dark, moody colours, like Resene Mondo, with a dash of brown are particularly helpful for creating intimate cosy spaces.
Blue is a relaxing, soothing colour however light or dark. Deep inky blue, like Resene Avalanche, is very on-trend and perfect for bedrooms.
Another relaxing colour is green, particularly muddied (try Resene Boulevard) or pale soft green (Resene Kandinsky), and is popular for bedrooms.
Tonal schemes are also soothing, so using varying shades of a warm grey (Resene Friar Grey) for example on the walls, a feature wall, and the ceiling.
His and hers – striking the balance
When you share a bedroom, it can be hard to settle on a decorating style that works for both of you. My apologies for being décor-sexist (assuming that just because of gender, you like a particular decorating style) but I doubt my hubby would feel comfy sleeping in a pink room festooned with frills and florals. Mind you, neither would I.
Here are some looks that work both ways:
· Rustic - with smokey brown walls in Resene Half Masala and beaten-up looking furniture, cow-hide rugs, and sepia photos on the wall.
· Beachy - pale sea-blue walls in Resene Half Breathless, white painted furniture and nautical accessories. Or fun summery colours and an old surfboard on the wall.
· Zen - with restful green walls in Resene Nirvana, dark timber, Eastern-inspired accessories
· Scandinavian or mid-century modern - with quirky designer furniture, fun colours and pale timbers.
· Resort style - mid-toned neutral walls in Resene Half Truffle, a sleekly made bed, minimal accessories.
Making small bedrooms look bigger
Bedrooms are the spaces that are often sacrificed in a floor plan when it comes to space. We reason that these are rooms that we only go to, to sleep. If you end up with a small bedroom to decorate, here are some tips:
· Encourage lots of natural light so use lighter window dressings.
· Use mirrored wardrobe doors to give an illusion of a larger space and to reflect light around the room.
· Paint the ceiling a half strength of the wall colour, but only if it's a pale or mid-toned colour. This will help raise the ceiling and make the room seem more airy.
· Keep furniture to a minimum - use a bed with drawers underneath, a fitted wardrobe and build shelves into the wall behind the bed to act as a bedhead.
· Likewise, use fewer cluttery accessories, eg use wall lights by the bed instead of bedside lamps.
pictures
Bedroom designed by Coop Creative, www.coopcreative.com.au, using Resene Double Linen walls.
Art Deco style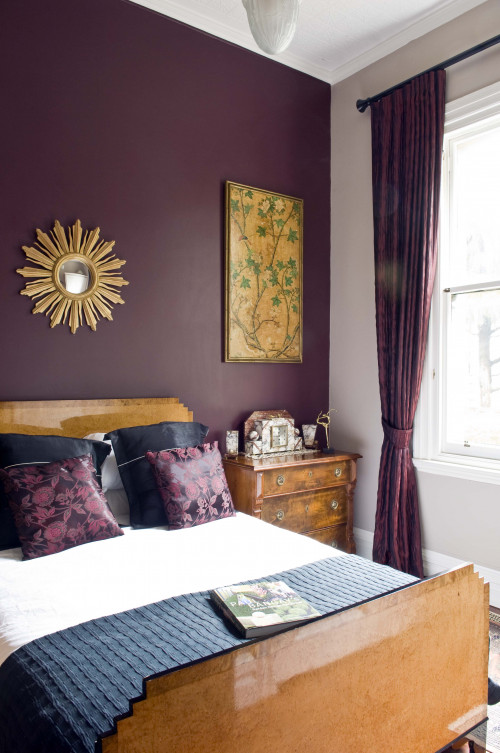 Subtle themes work perfectly in adult bedrooms. This one has Art Deco influences with its furniture as well as the Resene Claret feature wall. Other walls are in Resene Tana.
pictures
Photograph by Mark Heaslip
French country appeal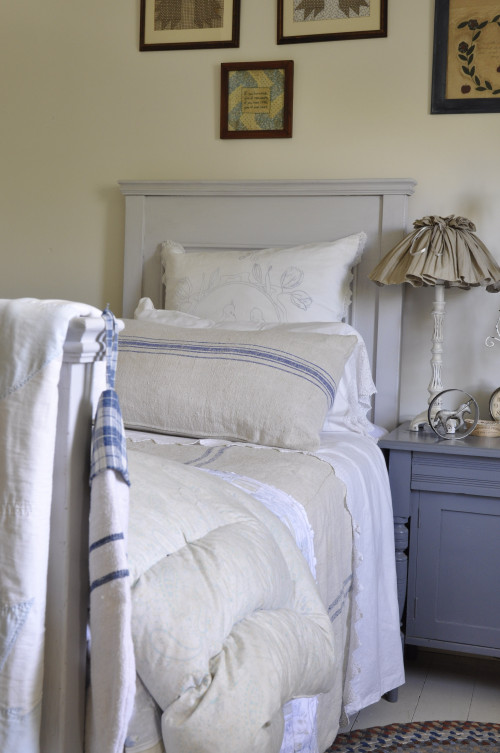 French country is a soft theme without getting too girly or pretty-pretty. Here, painted furniture includes a bedside table in Resene Hemisphere, with walls in Resene Quarter Parchment. The bedlinen is from Tully House Linens, Akaroa.
pictures
Photograph by Juliet Nicholas
Poppy mid century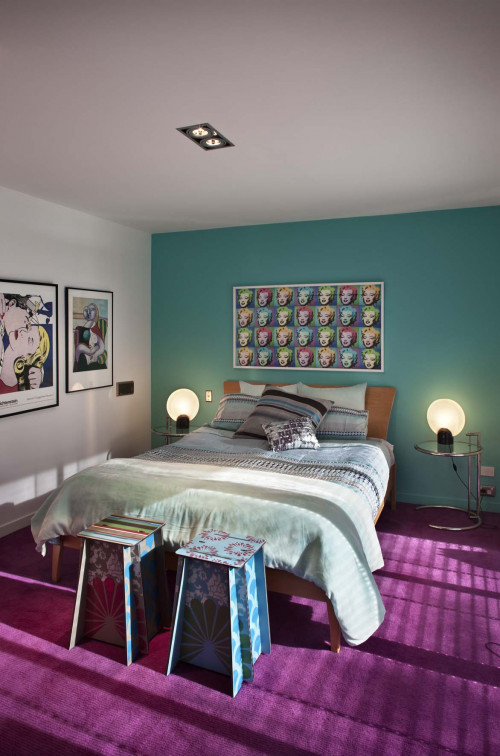 A mid-century pop art theme brings life to this room, along with a Resene Downy feature wall. It's in a house designed by architect Malcolm Taylor from Xsite.
pictures
Photograph by Simon Devitt
A romantic mystical look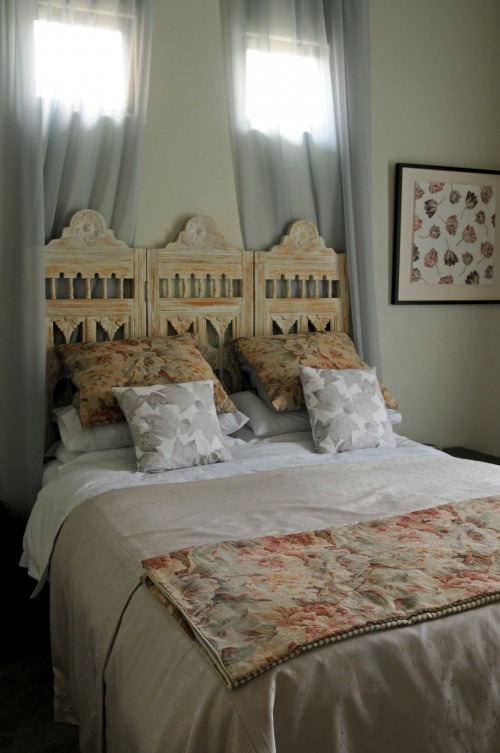 This time it's a romantic eastern or Moroccan theme with a feature headboard of carved timber and soft drapery. The walls are in the soft green-gold of Resene Celeste.
pictures
Photograph by Rossi Gannon
Soothed to sleep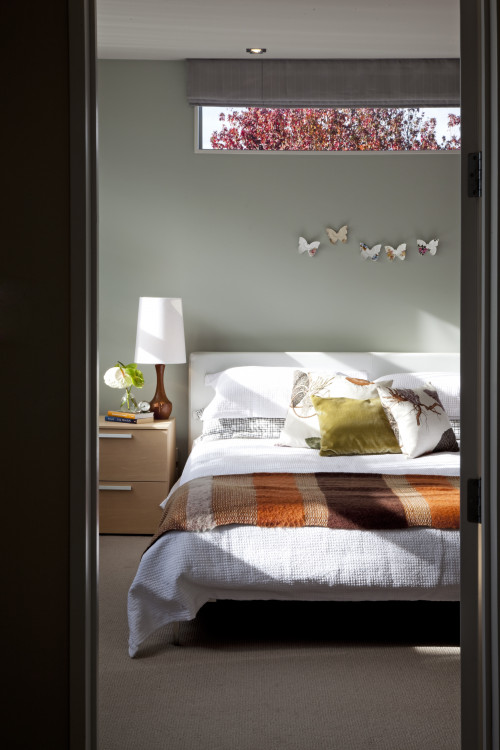 Muddied greens are perfect soothing shades for a bedroom. Here, Resene Tasman becomes the backdrop for warm rust-coloured accessories. The room was designed by Trinity Design.
pictures
Photograph by Jeff Bass
Cosy neutrals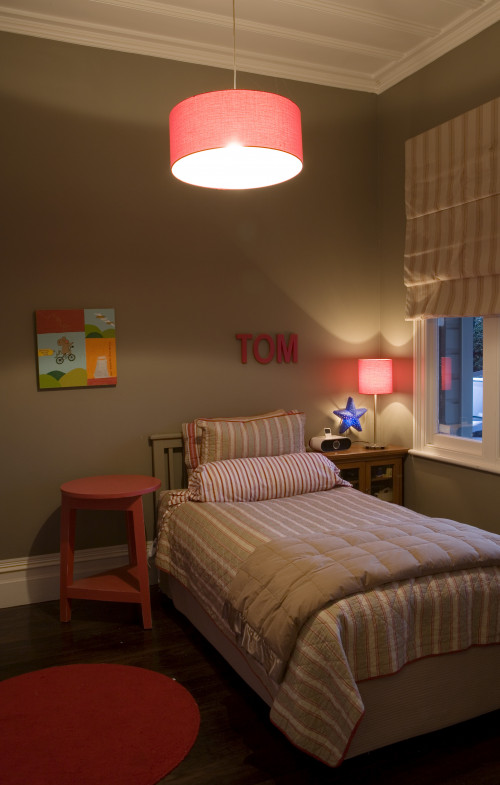 Toasty neutrals are perfect for bedrooms. Here, Resene Double Taupe Grey is used for teenage boys room along with red accents.
pictures
Photograph by Frances Oliver
Like the night sky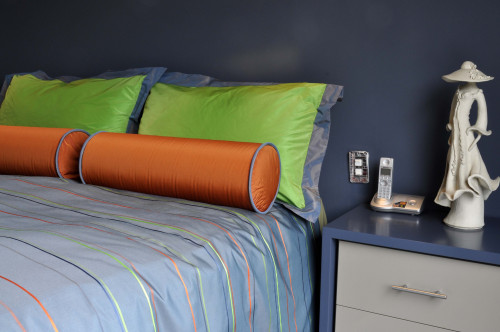 Inky blues, like this Resene Rhino, are perfect for creating soothing bedrooms – they mimic the night sky. This wall is offset by luxe satin bed linen, and was designed by Wendy Campbell.
pictures
Photograph by Juliet Nicholas