►
◄
latest
habitat tv
blog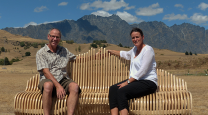 Embrace a pop of colour: Get brave with colour
Adding colour to a room is a quick and affordable way to update your home and add energy and vibrancy to a space. But for first-time decorators choosing colours can be overwhelming.
Instead of chickening out and opting for timeless, and safe neutrals – grow confident with colour with some simple tricks for beginners.
From upcycling furniture with pops of colour to two-toned murals for teens – these colour pops will help even the most ardent neutral devotees experiment with bright and beautiful Resene shades.
Give old furniture a new look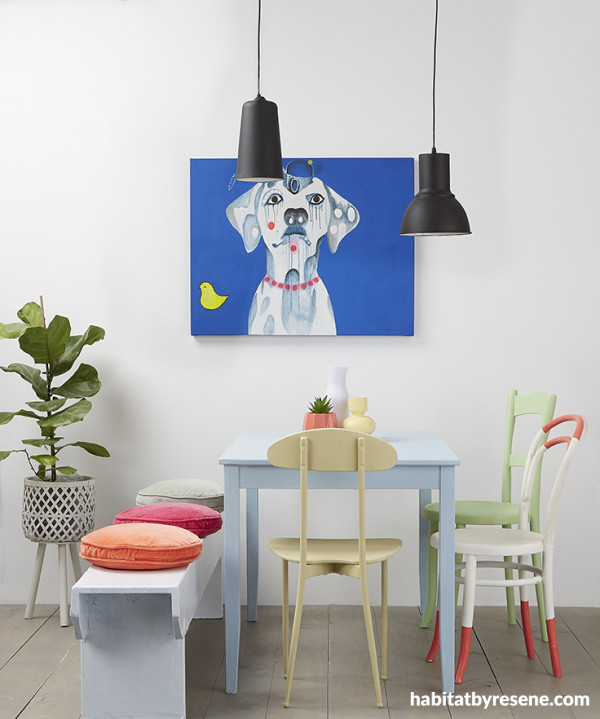 Sorbet colours mixed with spicy tones create a playful dining experience. Create this fun look by layering colour starting with the cool grey-blue Resene Frozen on the table enhancing the warm yellow Resene Spring Fever on the chair at the front with the fresh green hue of Resene Anise on the back chair and the white chair painted in Resene Bubble White with accents of Resene Rapture. The bench seat in Resene Pattens Blue provides a gentle contrast to the table. Jug vase in Resene Blue Chalk, tall vase in Resene Frozen, small plant pot in Resene Rapture and pendant lamp in Resene Nero. Balance the look with neutral walls in Resene Double Alabaster and flooring in Resene Colorwood Mid Greywash for a crisp, contemporary finish. Plants from Give Plants, cushions from Castle and Things, Dalmatian artwork by Jessie Breakwell. All other props are stylist's own. Project by Annick Larkin, image by Bryce Carleton.
While hitting the second-hand stores over the past few years has turned into a competitive sport, upcycling is incredibly rewarding and can give your home the x-factor.
Upcycling pre-loved furniture pieces lets you create unique, eclectic, playful pieces for your home without the expense of buying new. It's surprising what can be found in a Recycling Shop next to the local landfill or Salvation Army Store. There is a simple joy in compiling a table and set of dining chairs that have their own special style and which blend harmoniously together. A dining table and chairs is a good place to start for DIY beginners. The bench seat dining style is a trend that adds a cool, casual character, and they are easy to buy new from a gardening centre or pre-loved. Customise with pops of Resene paint to create a beautiful eating space that is bound to be a talking point at your next dinner party.
How to create a colour palette
Define your Resene colour palette before you begin. Pretty pastels and sorbets pair elegantly with saturated and striking hues in spicy, full-fruit colours completing a refined, contemporary feel. Resene has made palette selection easy with the Resene Colour Palette Generator. There are two ways to find your unique colour palette:
Copy and paste the URL of your favourite Resene swatch, select, then start working your way through your preferred colour chart or choose 'All charts'. Then select from either 5-10 colours or 5-20 colours. The smaller number is ideal for choosing your upcycling paint colours, and the larger number is a smart way to unlock more colours which would work for accessories such as lamp shades, vases, plant holders, soft furnishings such as cushions and help in selecting artwork.
Find an image online that piques your interest (scroll through Habitat's Homes/inspiration content here to kickstart a colourful world of imagination), or take a photo using your phone in good light, then upload it into the Resene Colour Palette Generator and follow the same steps above.
Find your teen spirit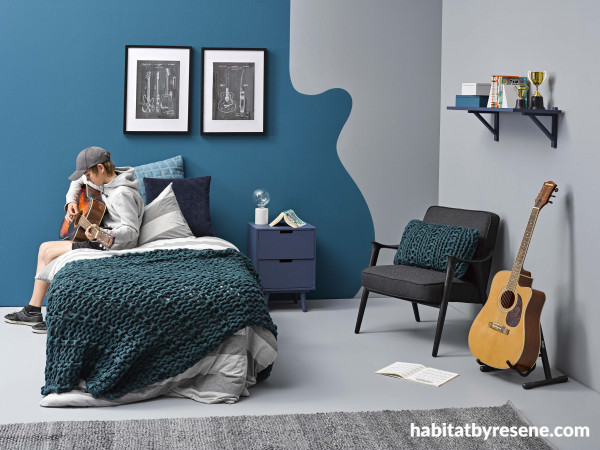 Get your kid's bedroom in tune with their interests by painting their favourite instrument on the wall. A guitar silhouette painted in Resene St Kilda creates a bold backdrop for a blue-themed room. Keep the colour scheme simple by using Resene Half Raven on the other wall on the floor to create a strong contrast. Build up the blue tones with Resene Licorice on the bedside table and add a pop of white with Resene Surrender on the lamp base. Quilt cover from Kmart, pillowcase from Country Road, navy cushion from Shut The Front Door, Akori peacock cushion on chair from Freedom Furniture, grey rug from Adairs, armchair from Nood, artwork from Etsy. Other items stylist's own. Project by Melle Van Sambeek, image by Bryce Carleton.
Lockdowns and pandemic restrictions mean kids and teens might spend more time in their rooms, so styling their space to suit their interests is a good project. If no one idea jumps out, get creative with themes and shapes that would suit a simple two colour 'profile' treatment. Think animal head, surfboard, musical instrument, tool, Minecraft figure or an image inspired by nature such as the sun, a tree or flower. The trick is to simplify any element to its most basic shape. When stuck, emojis have done the hard work already and have a rich pool of inspiration with hundreds of shapes to choose from.
Start skirting around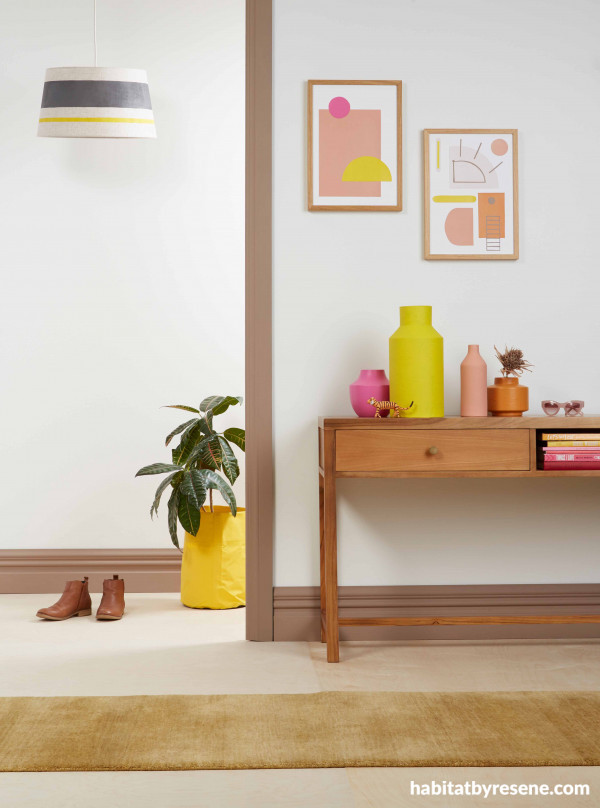 Trims in Resene Tablelands contrast with Resene Rice Cake and ply flooring finished in Resene Aquaclear. Introduce bold colours on painted objects; the large vase is in Resene Hive and the smaller vases are in Resene Twisted Sister and Resene Smitten. DIY artwork echoes the vase paint selection in Resene Tablelands, Resene Smitten, Resene Ethereal, Resene Twisted Sister, Resene Hive and Resene Just Dance paired with a lampshade painted in Resene Quarter Bokara Grey and Resene Hive. Teak console from Freedom Furniture, floor runner from the Ivy House. Project by Kate Alexander, image by Bryce Carleton.
Going all out with colourful walls is not for everyone but there are lively ways to dip your toes into the thrills of the colour pop decor trend. One of the most daring ways to flirt with colour in unexpected ways is on trims and skirting using Resene paint, bolstered by courageous colours resulting in a cheeky play of contrast. The result is elegant interiors that feel polished and create impact, making any space visually interesting and restful. The most obvious contrasting colours are black and white but the starkness can be too cold for many. Look instead to warm neutrals to contrast with a palette of vibrant primary yellows and warm summer fruit tones balanced by a light charcoal grey.
In choosing accessories to paint such as vases, plant-pot holders, and light shades and bases, seek out objects with different heights and shapes. Create a little matching artwork Get inspiration from the world's most celebrated art collections in online galleries such a IMMA and MoMA. Easier styles to replicate are mid-century modern, pared back cubism, artists such as Mondrian and Malevich or simply using shapes, circles and lines in uncomplicated layouts. Use Resene paint on a linen matte canvas or cotton rag paper ready for framing.
Let's talk in circles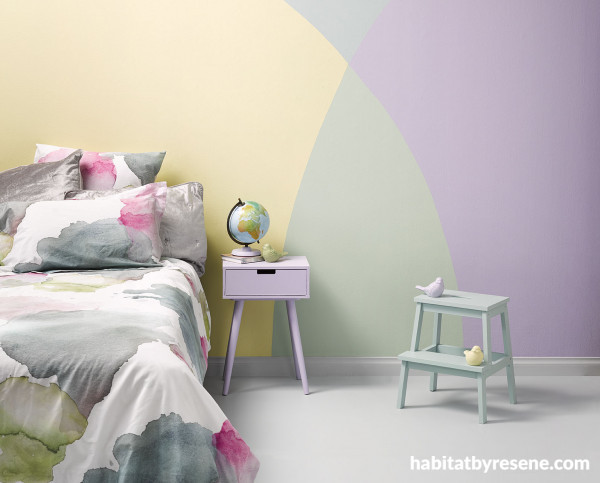 Wall in Resene Half Opal, circles in Resene Half Moonbeam, Resene Surf Crest and Resene Poet, floor in Resene Loblolly, bedside drawer in Resene Poet, step ladder in Resene Half Opal, bird ornaments in Resene Half Moonbeam, Resene Surf Crest and Resene Poet. Duvet set and pillowcases from Wallace Cotton. Globe stylist's own. Project by Megan Harrison-Turner, image by Melanie Jenkins.
While geometrics have been a trend leader, circles have eternal charm. For colour-loving kids, this intersecting circles wall treatment using favourite Resene colours is modern and fun and creates a cute contrast with bedding.
Begin by anchoring a long piece of string cut to the desired height at the top of the circle with a short pencil tied at one end and masking tape used to attach to wall skirting. Then, with a steady hand, create the half circle. Step back, check that the size is what works in the room, then create the other circle in a place where the intersection best works. Explore with circle size by lengthening and shortening the string. Both circles need not be the same. Use alternative Resene colours for each painted circle, and for the negative space, use one consistent colour. Use the Resene Colour Palette Generator for colour inspiration.
Contrast cool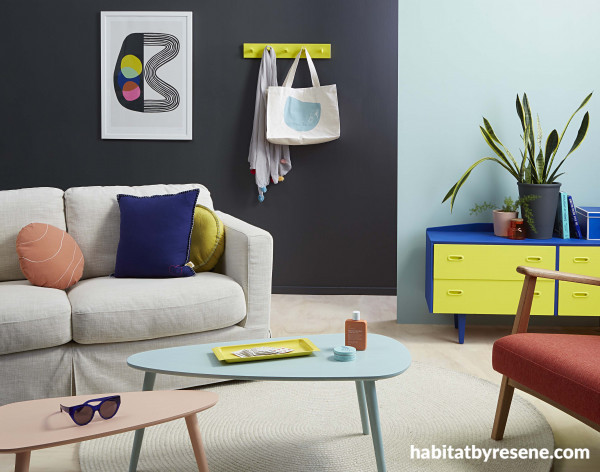 Resene Nocturnal on the back wall adds depth and drama against the pale blue Resene Ashanti on the feature side wall and plywood flooring in Resene Colorwood Whitewash. The retro coffee table painted in Resene Ashanti brings a dash of the wall feature colour into the room without overwhelming the space when sitting side by side a smaller coffee table in blush pink Resene Sakura. The upcycled retro sideboard adds a playful element painted in Resene Space Cadet and Resene Gorse. Tall pot in Resene Nocturnal and small pot in Resene Sakura. Sofa and armchair from Freedom Furniture, rug from The Ivy House, sunglasses and sunscreen from Good Thing, Modular in Yellow artwork by Inaluxe from Endemic World. Other items stylist's own. Project by Kate Alexander, image by Bryce Carleton.
Using charcoal paint on one wall anchors a living room and is a good starting point for introducing contrasting colour to a room. Use primary colours in sunny flower yellow and cobalt blue set against an everlasting sky blue feature wall in Resene Ashanti.
A deep, rich and moody charcoal such as Resene Nocturnal is balanced by a warm neutral tone on the floor, created using Resene Colorwood Whitewash. The overall look is one of effortless bachy chic. When it's time to switch it up at a later date, all that's required is switching out the blue wall while keeping the room's depth with the mature dark grey.
Published: 11 Mar 2021
Do you have a home full of wonderful Resene paint and colour? Send us some snaps by emailing [email protected].