►
◄
latest
habitat tv
blog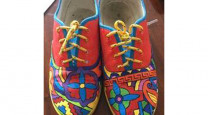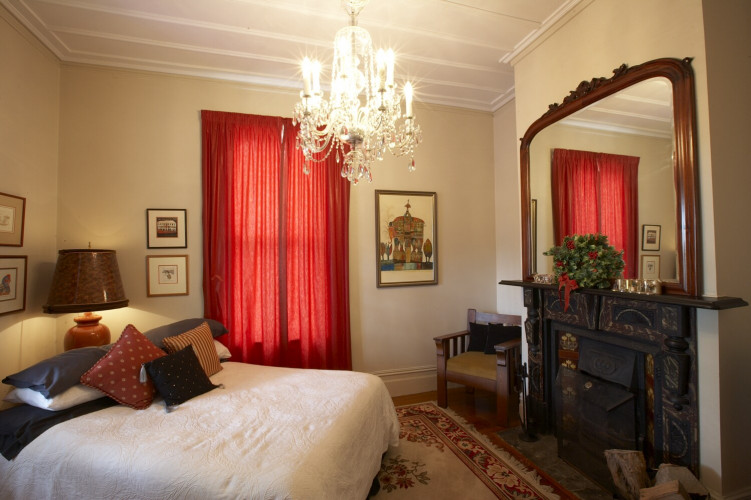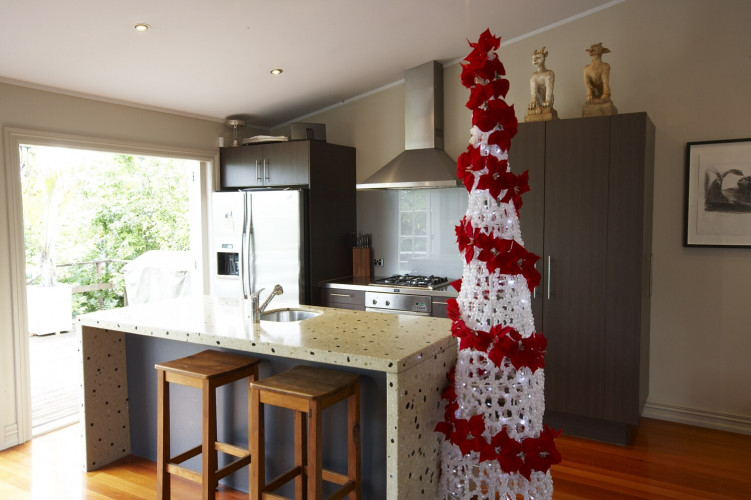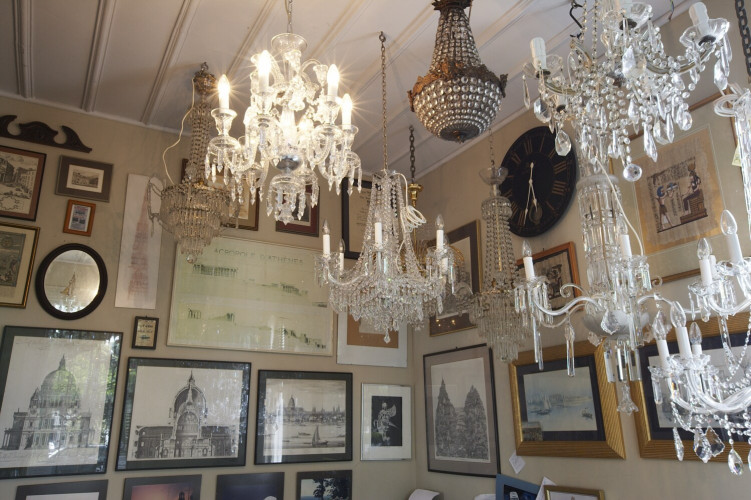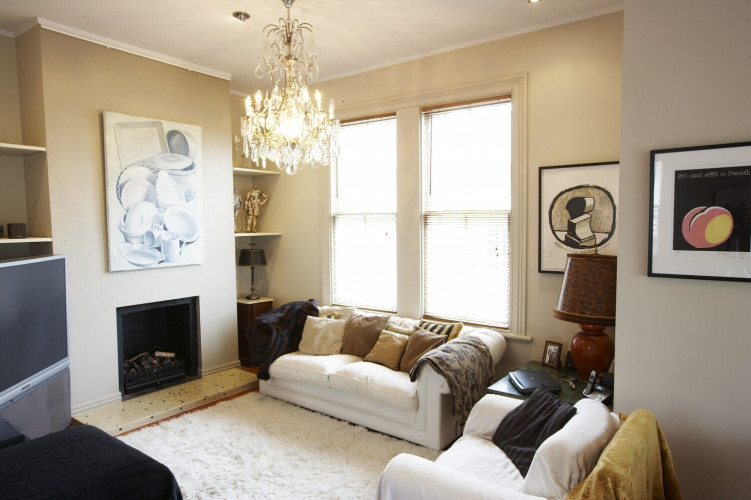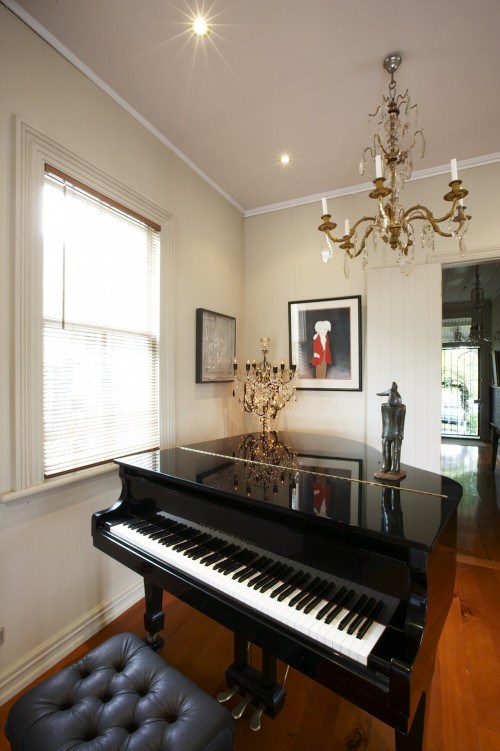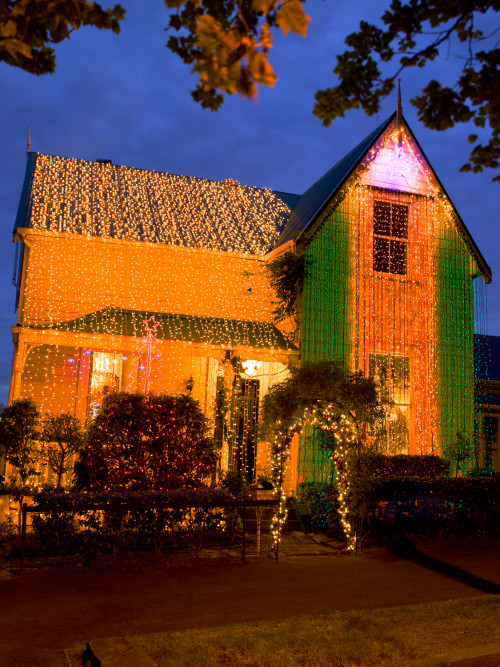 Roscoe's Fabulous Franklin Road Home
23 Dec 2010
Do you have a home full of wonderful Resene paint and colour? Send us some snaps by emailing [email protected].
House of lights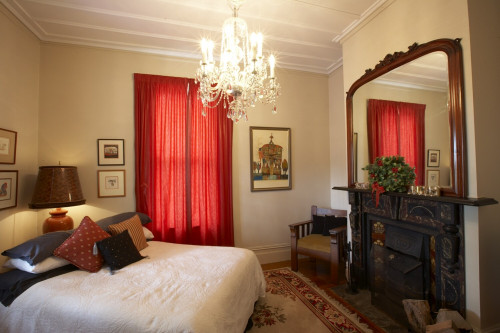 Every room in Ross Thorby's Ponsonby home has at least one chandelier. It is hard not to be wowed by their beauty, glamour, and sparkle. Especially in the room that has a dozen of them hanging clustered together. This is his workshop; Roscoe (as he is affectionately known by almost everyone) makes these opulent works of art himself.
Roscoe's eye for classic beauty is evident throughout his home – he has painstakingly restored many aspects of his two-storey abode, including the century-old zinc panels which line his hallway, the original kauri floors, and the front deck, which has needed to be completely replaced several times since he bought the house 21 years ago.
Originally built in the 1860s, the house is currently bedecked in neutral colours (Resene Tea and Resene Porcelain inside, Resene Pipi and Resene Armadillo outside), but that is subject to change, because Roscoe is constantly renovating and changing. The front bedroom, for example, was entirely painted red not long ago. The living room had a stained glass ceiling for a while. And Roscoe is currently contemplating mirrored doors and modern wallpaper.
But for now, the colour comes from the Christmas decorations, for which Roscoe is locally famous. As the founder and organiser of the Franklin Road Christmas Lights (a spectacle which involves Auckland's Franklin Road transforming into a magical fairyland of lights), his home is fittingly covered in 40,000 light bulbs which flicker on and off in time to music, while his garden is filled with literally hundreds of shiny red and green baubles.
How would you describe your design style? Eclectic!
Why did you make the colour scheme choices you did? One colour throughout the house means that the walls don't compete with art or objects. Resene Tea is great because it changes subtly with the light.
What was your greatest success with the renovations? Building the room on the rear of the house, which expanded the living area and brought the trees within reach!
What is your advice for someone trying to achieve a similar look? Keep it simple. My last house was packed to the rafters with objets d'art, and it was time to trim down! My advice is, work out what is important to you, and get rid of the rest.
Where would you like to live next? In something ultra-modern: a steel and concrete house. I visited a home recently that was totally minimalist and industrial; a chandelier was the only bit of bling in sight. It looked amazing.
pictures Photography by Dallas Pickering www.dallaspickering.com Ross Thorby Chandelier Cleaning, phone 09 360 2578 Duvet cover from Household Linens www.household-linens.com
No man is an island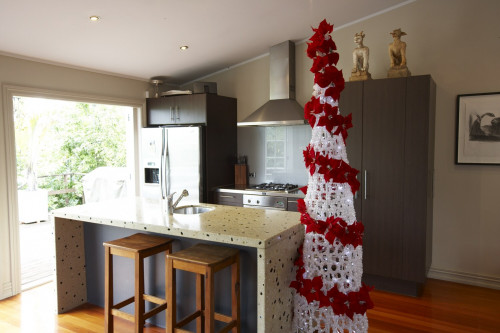 In the kitchen, the bespoke concrete island was made with Roscoe's personal selection of stones thrown in to the mixture, adding sparkle and interest: greenstone from New Zealand, agate from South Africa, Carrara marble from Italy, and blue Greek glass. In this way, he feels that it represents all of the countries that he has a connection with.
pictures Concrete island made by Winstone Cabinets by Kitchen Studio www.kitchenstudio.co.nz Stools from Country Theme countrytheme.co.nz Sculptures by Bronwyn Cornish
Trip the light fantastic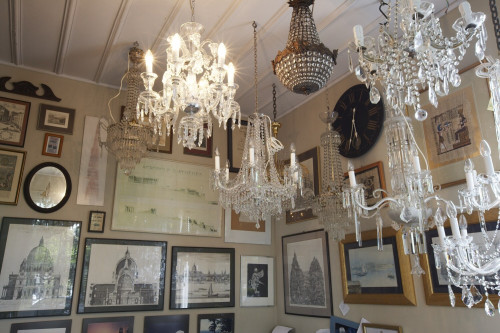 Like a room from another era, Roscoe's workshop is filled with chandeliers, vintage prints and antique photographs.
pictures Ross Thorby Chandelier Cleaning, phone 09 360 2578
Lighten up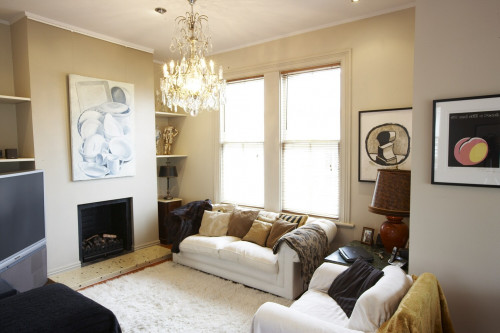 Roscoe's living room walls used to be emerald green, but he felt that the space needed a lighter colour, so he has repainted them Resene Tea, paired with Resene Porcelain on the ceiling.
pictures Chandelier from France Flokati rug from Greece Antique lamps bought in Australia Fireplace hearth made bespoke by Winstone
Piano by candlelight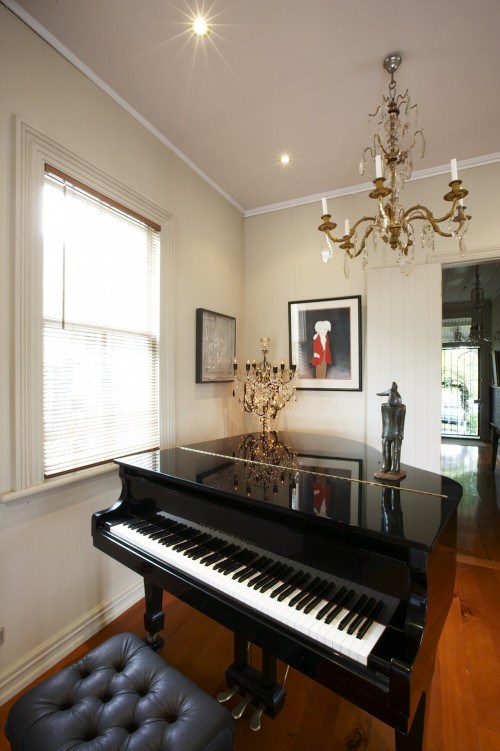 Above the Alex Steinbach baby grand piano hangs an ormolu chandelier, made in 1760, that once hung in Baron de Rothschild's house in Bedford Place, London.
pictures Paintings by Greg Hyde and Gordon Crook Sculpture on piano by Bronwyn Cornish
Let there be light!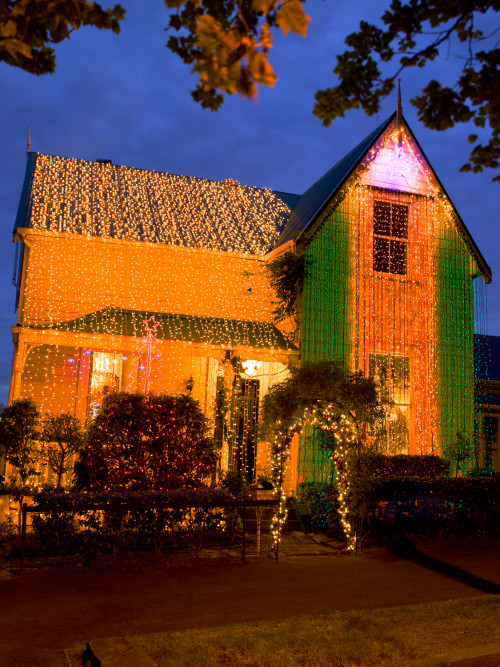 On from the 1st to the 31st of December, the 40,000 light bulbs covering Roscoe's house require an extra two circuit boxes for the power!
pictures Photograph by Warren Payne
the look
If you're stuck on what
colour to use or need colour
advice, try out the Resene
Ask a Colour Expert service.