►
◄
latest
habitat tv
blog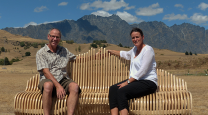 Five feature wall ideas to give your home the X-factor
If you're looking to add instant wow-factor to a bland room, a feature wall is calling your name. They're relatively simple to create but can pack a punch in terms of impact. A strong feature wall can transform any room, drawing the eye to a focal point in living rooms, dining rooms, bedrooms – even bathrooms. Take a look at our feature walls below created with Resene colours and wallpapers. From tropical wallpapers to bold battens and clever paint effects, there's a wall to fit every home style.
Why add a feature wall?
A feature wall can add a surprising amount of impact for a straightforward and affordable project. It can open up a space, stamp your personality and bring a modern feel to a room. Feature walls can evoke images of the 70s, where interiors embraced abstract paintings on walls, earth tones and groovy ceramic vases. They popped up again as a major trend in the late 90s. The feature wall has made a real comeback in recent years in various contemporary formats, from the classic paint look to bold wallpaper and high-tech panelling in different materials.
A room with every wall decorated in one colour or pattern can offer a sense of cohesion, but sometimes it can feel underwhelming or cold. By identifying a wall to add a bit of personality to, you can change the mood and feel of a room quite quickly. You can spice up your home without the price tag of redoing an entire room. Living rooms and bedrooms – especially children's rooms – offer great potential for exploring with paint and wallpapers to create a focal point. Designed well, they can even offer the illusion of a larger space.
Take time to consider the material and design you're using for your feature wall. Done in a rush, they can be distracting and make a room feel smaller. Take time to gather the inspiration and settle on a colour palette so you can ensure it's something you'll love in years to come.
Tips for creating a feature wall
Find your focal point: Walls should be selected with a purpose to highlight, not randomly selected. Let the existing architecture of the room be your guide. Aim to highlight where the eye naturally goes, i.e. the existing focal point. For example, where a fireplace sits, a mantel, bed headboard, mirror etc.

Embrace wallpaper: Wallpaper can be a little intimidating if you haven't used it before – and there is plenty to choose from. Know that wallpaper can change the tone of a room entirely, it's an immediate way to add flair, pattern and scale – but you don't have to go bold. There are plenty of options that are subtle, like a paintable Anaglypta wallpaper such as Resene Wallpaper Collection RD80026 painted in a neutral shade such as Resene Triple Sea Fog, or try a textured neutral like Resene Wallpaper Collection 467505.

Avoid crowded rooms: Try to steer clear of rooms that are already crowded with objects. You want to create a sense of cohesion and calm, not confusion. There needs to be breathing space in the room to take in a feature wal
Big and bold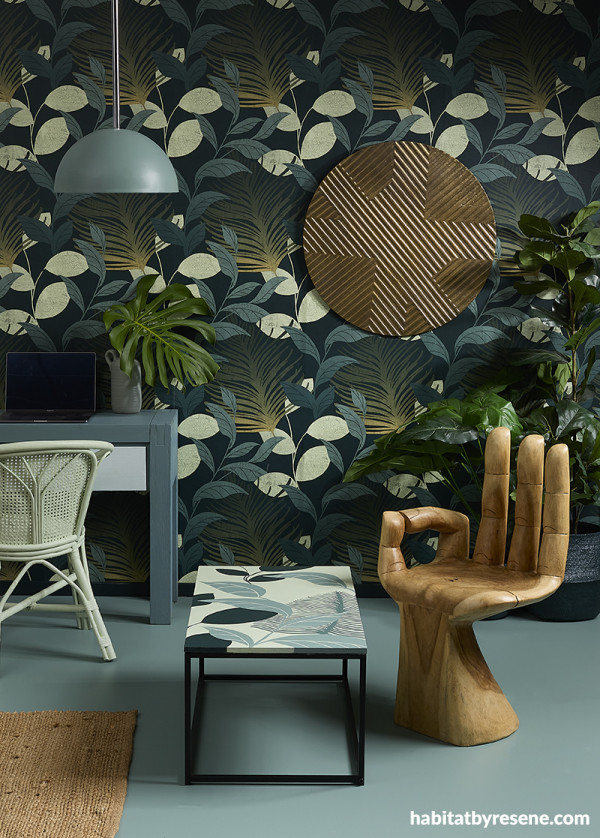 Resene Wallpaper Collection 47404 is a stylised botanical which is ideal for creating drama and interest to an office or living room. Embrace the maximalist trend by mixing patterns by reversing out the pattern on the coffee table painted in Resene Pale Leaf (background), Resene Thor (vine leaves), Resene Swamp (large simple leaf) and Resene Green Meets Blue (palm leaf). Pendant light, floor and desk (side and top) in Resene Thor, desk drawer in Resene Casper and hand chair stained in Resene Colorwood Driftwood (applied with rag). Artwork from Nood Project by Megan Harrison-Turner, image by Bryce Carleton.
Wallpaper as a feature wall can add warmth, character and life to a room, and is available in a huge number of patterns and colours. The fun part is picking your design. The boldness of wallpaper can aid in drawing an eye to a focal point, and away from parts of the room you don't want the eye to focus on. Sometimes a print can be overwhelming if applied all over a room, but works well on one feature wall as a statement. Keep in mind that small prints can help calm the emptiness of a large room, and larger prints can make a smaller room look larger.
Wallpapers with tropical motifs have recently become popular again, palm fronds and birds gracing the walls in our homes once more. Resene Wallpaper Collection 47404 offers an exotic escape. Pair bold wallpapers with Resene Alabaster on trims for a chic finish.
Top tip: If you're hoping to paint other walls or floors in similar tones to your wallpaper, you can find Resene paint colours to specific hues in your wallpaper design using the Resene
Colour Match tool. Pick out specific colours from your wallpaper and use them to inspire your complementary Resene paint hues.
The Tuscan dream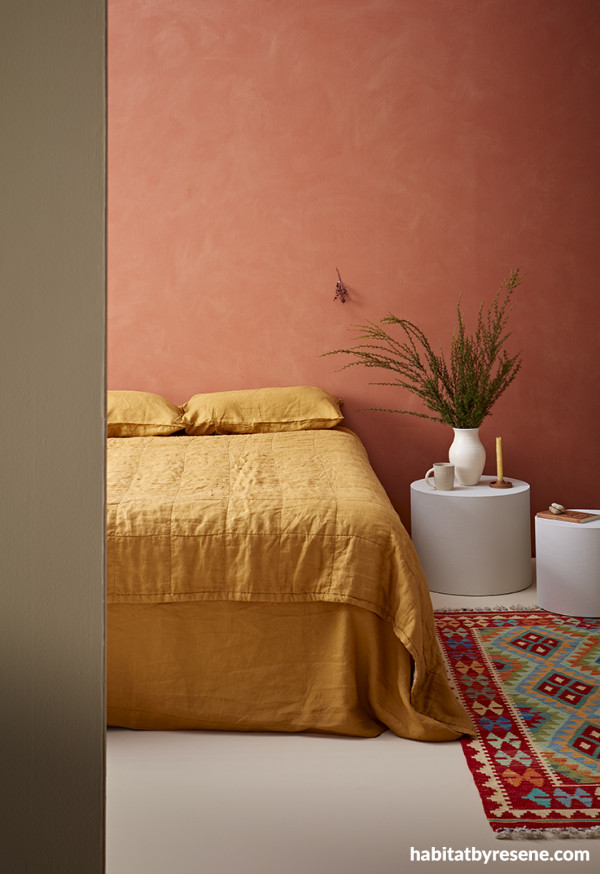 Channel the look of Spanish Colonial architecture and homes built with adobe by using Resene Wild West and Resene FX Paint Effects medium mixed with Resene Sante Fe. Bedside tables in Resene Bianca and Resene Blank Canvas, door in Resene Bitter and flooring in Resene Bianca. Vases in Resene Sand and Resene Blank Canvas. Bedlinen from Foxtrot Home, rug from Città. Project by Gem Adams, image by Wendy Fenwick.
Choosing a solid colour for a wall can also add impact to a room, whether you're hoping to create a cosy zone or a calm zen den. Consider the space, and make sure the colour complements and accentuates the rest of the room. If you're going to go for something bold in a living room, for example, consider the mood that exists currently by looking at your furnishings and surrounding wall colours. Can't decide on one colour – try blending two tones with Resene FX Paint Effects medium. This product can be used to emulate the look of limestone, adobe or stone.
Bold tones like reds, dark blues, greens and even black can be striking against neutral-coloured walls. You can tie in curtains, cushions and rugs to bring the room together and ensure the design is cohesive. Resene Wild West and Resene FX Paint Effects medium mixed with Resene Sante Fe creates the look of Spanish style adobe – your living space will feel sun kissed no matter the season.
Top tip: Don't be afraid of dark colours for feature walls. They can work in every room, from bedrooms to dining rooms. Play with matte blacks, navies and deep sea blues, such as Resene Indian Ink, Resene Nocturnal or Resene Midnight Moss.
Hallelujah for herringbone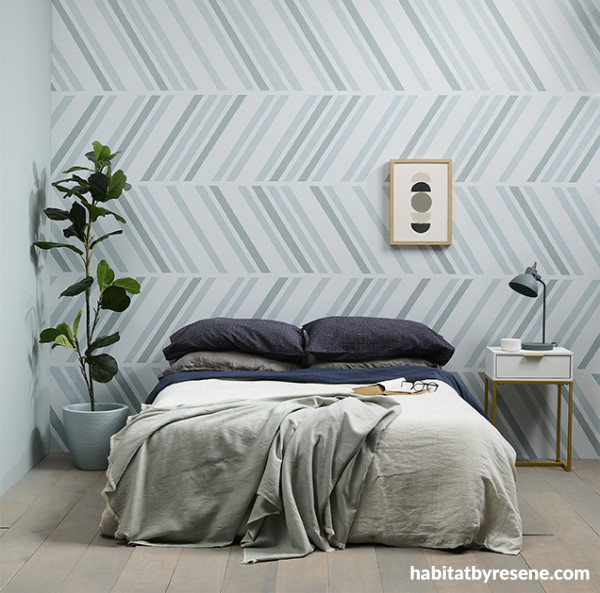 Don't reserve herringbone patterns just for your floor – try painting this design on your walls for a creative twist on a classic pattern. Wall base colour Resene Quarter Duck Egg Blue with angled/herringbone stripes in Resene Duck Egg Blue and Resene Inside Back. Flooring in Resene Colorwood Mid Greywash and side wall in Resene Inside Back. Duvet cover, pillowcases, throw, cushions, timber plinth nightstand, smoked glass lamp and moon lamp from Città Project by Laura Lynn Johnston, image by Bryce Carleton.
Try painting a dynamic herringbone feature wall that adds plenty of personality to your space. Adding a pattern can be a wonderful way to inject energy and life into a room, or create a sense of balance and harmony. There are plenty of patterns to choose from in the Resene Wallpaper Collection, but painting a pattern is another DIY option. It doesn't stop at herringbone, you can customise the size, shape and colours to create a look that's entirely unique to you and your space. The gentle blue tones in this bedroom ensure the pattern isn't too overwhelming.
It's a bit of an optical illusion: although it may appear at first glance this design is made up of four or five colours, there are only two accent colours – Resene Duck Egg Blue and Resene Inside Back – used on top of the background painted in Resene Half Duck Egg Blue. It's the use of negative space that creates the illusion.
To create this pattern use a level and a pencil to draw straight horizontal lines across the wall. Use these pencil marks as a guide for when you apply your masking tape. Then mark 15cm increments across the horizontal lines and mask up lines at 45-degree and 135-degree angles using 24mm wide professional quality washi-style tape, available at your local Resene ColorShop. Then paint. Remember to remove the tape once the paint is touch dry.
Make it 3D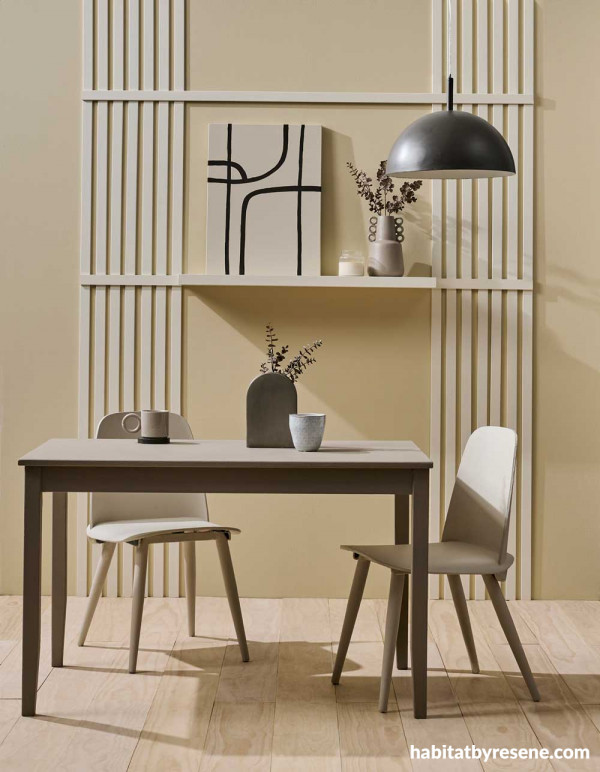 Create depth in a neutral room by creating batten details. The back wall is in Resene Triple Spanish White with battens and floating shelf in Resene Half Spanish White. Dining table in Resene Stonewashed and dining chairs in Resene Tea and pendant lamp in Resene Ironsand. Vases and accessories in Resene Stonewashed, Resene Triple Napa, Resene Ironsand and Resene Villa White. DIY artwork in Resene Tea with lines in Resene Ironsand. Coffee mug from Cotton On. Project by Vanessa Nouwens, image by Bryce Carleton.
A DIY batten feature wall is easy to create and hugely effective. Trim work adds visual interest and character in a way a flat wall often can't. Wall panelling has become a big design trend in the last few years. Batten walls frame furniture pieces like couches and beds well, and the symmetry, cosy texture creates a relaxing mood. Battens can be either glued or screwed straight into the wall and can be arranged in an array of directions. Vertical patterns will add height to a small room, or try an asymmetrical arrangement for a mid-century inspired look. A criss cross design can evoke the weave of fabric creating a snuggly feeling. Battens painted in a creamy white like Resene Spanish White will create interest on a neutral wall.
Bring the world to your doorstep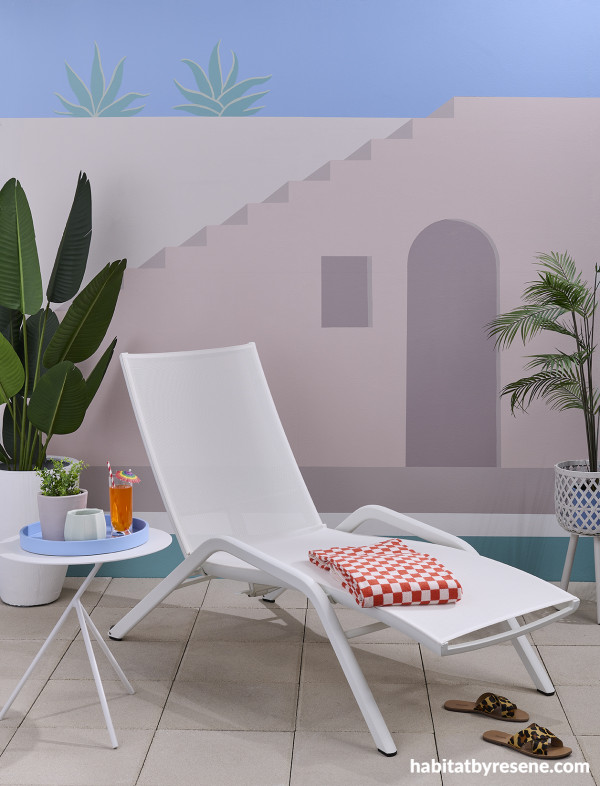 Visit the Hotel California without leaving your home with a Palm Springs-inspired mural that would add some razzle dazzle to a plain a courtyard. The mural is painted in Resene Polo Blue (sky), Resene Paradise (pool and agave), Resene Rainee (agave), Resene Soothe (main wall), Resene Swirl (left wall), Resene Martini (ground, step sides), Resene High Tide (door and window) and Resene Half Black White (pool edge). Patio pavers in Resene Concrete Stain Bleached Grey, large plant pot in Resene Half Black White, rattan plant stand in Resene Half Black White, tray in Resene Polo Blue and vases and pots in Resene Rainee and Resene Soothe. Sun lounger and side table from Poynters, towel from Tessuti, bird of paradise and palm plants from Nood, sunglasses from Le Spec. Project by Laura Lynn Johnston, image by Bryce Carleton.
Ever wanted to feel like you're on holiday year round? A mural wall could be just the ticket. Design a wall based on a country, city or area you love and enjoy the mood it instantly creates. It's a good idea to start out by drawing your design first on paper, then labelling the different areas with the hues you intend to use. It can also help to lightly draw your mural – or at least certain elements of it – on your wall first so that you can adjust the scale and shape of certain aspects before you even dip your brush.
If you're poolside, concrete pavers can be finished in Resene Concrete Stain Bleached Grey if they need a refresher too.
Whether it's for a bedroom or your outdoor area – a feature wall can add interest, personality and colour to your home.
Published: 17 Mar 2022
Do you have a home full of wonderful Resene paint and colour? Send us some snaps by emailing [email protected].