►
◄
latest
habitat tv
blog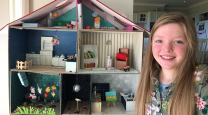 Franny's home goes from blah to bold
After six years living in a "dull and dreary" home, Franny had finally had enough and decided it was high time to bring more of her personality into the interiors – and this meant lots of colour.
From a stripe of Resene Decadence, a rich indulgent blue, in the front entrance to a laundry room glowing in Resene Scrumptious, Franny hasn't held back. And with a base tone of Resene Quarter Tea throughout the home, it means the splashes of colour excite rather than overwhelm.
It took Franny 18 months to paint the whole home, which she did herself (a first-time painter). She saved on costs by upcycling items such as frames for artwork and the cupboard in the laundry, both painted in Resene Lustacryl waterborne enamel in Resene White.
She tells us more.
How did you decide on the overall look of the interiors?
I think my theme is 'colourful clash'. I decided that if I liked something, I would display it somewhere, rather than putting in a cupboard. The more colour, the better – like the sarongs that I have hung from the curtains, or the pompoms around the TV, and my collection of feature art on the wall behind the TV.
I also went for the idea, mainly in the family room, that for any direction you stand there is a hero to look at – not just one hero piece in the room.
I wanted every colour to be connected to another spot, such as the turquoise on the dining table, the kettle, the feature wall in the garden and pieces of artwork in the hallway.
What Resene colours and products have you used?
The main colour used throughout the house is Resene Quarter Tea. The house was originally built and painted in Resene Tea. When I first started painting I thought that I'd just revamp one room and so just chose a lighter shade of the same tone. I didn't plan to repaint the whole house, but I found Resene Tea was too dark in my interior, and so I eventually painted all the rooms.
My laundry is Resene Scrumptious – I wanted something super bold and girly for when I'm in the laundry. It's also our back entrance so it's like a 'welcome home' when we come in through the garage.
The front entrance has a wide stripe in Resene Decadence. I wanted a bold colour that would contrast against all sorts of colourful art. These are some of my own street art photos that I have collected and printed – ones with a strong female theme.
I let my son choose his own colours for his bedroom, as I wanted him to know that I believed in his ideas, and I promised to do whatever he asked. I was initially a bit shocked about his choice of Resene Adrenalin and Resene All Black that he requested as a diagonal wall, but I really love the result!
My master bedroom has a feature wall in Resene Bullitt. I wanted a feature that would make my headboard pop out, and make it the clear hero of the room rather than getting lost in the white.
The bathroom is Resene Morning Glory and is such a fresh, delicious colour.
What part of the house are you happiest with?
To be honest, I'm really happy that I did it all myself. And I'm really pleased with my crisp clear cutting in with the paint job.
My favourite part is the garden art outside. The stencil work took me a really long time, and the knitting was a project that my mum and I did together over a few months. It's nice that there is a visual interest now to look at from inside – full of colour and flowers that don't need any work.
I also really love the wall of framed art though it was a challenge to get it aligned perfectly to satisfy my OCD. The frames are from second-hand stores, painted in Resene Lustacryl in Resene White.
What is your advice for someone trying to achieve a similar look?
Go for it. (But be yourself and don't copy my look!) Start collecting stuff, and go with the philosophy that if you like it, buy it and you'll find a place for it later.
What was the biggest challenge for this project?
This was the first interior project that I had undertaken…. I started on the garage first so that I could learn how to roll and cut in. I knew it would annoy me if I didn't have clean lines and good paint technique. I just worked slowly through the house, one room at a time, so that it didn't feel like a challenge to do the whole house.
Do you have a favourite colour, and if so why is it your favourite?
I really love turquoise… it's gender neutral and vibrant, and makes me feel happy.
Published: 03 May 2018
Do you have a home full of wonderful Resene paint and colour? Send us some snaps by emailing [email protected].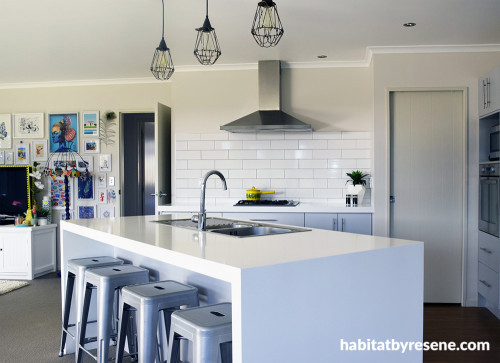 The kitchen is painted in Resene Quarter Tea, a neutral base for the splashes of colour seen throughout the home.
pictures
Jessica Judge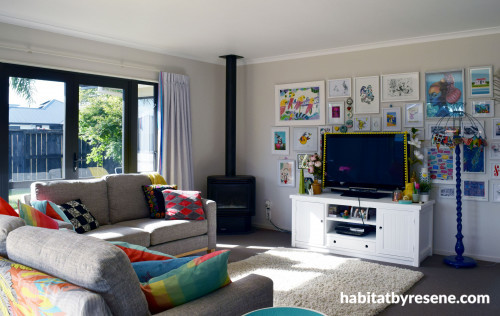 The lounge is also painted in Resene Quarter Tea, and filled with Franny's signature colour accents, from yellow pom-poms hanging on the TV to a navy blue floor lamp.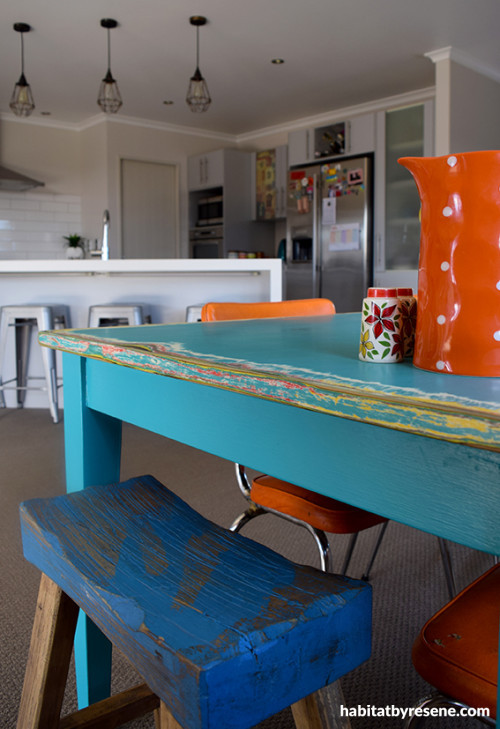 The dining table was Franny's parent's old table painted over using lots of Resene testpot colours. She decided on using Resene Hullabaloo as the top colour, with colourful undercoats showing through. Franny wanted the table to be imperfect so that it would feel like a welcome space for people to use and not worry about it getting ruined.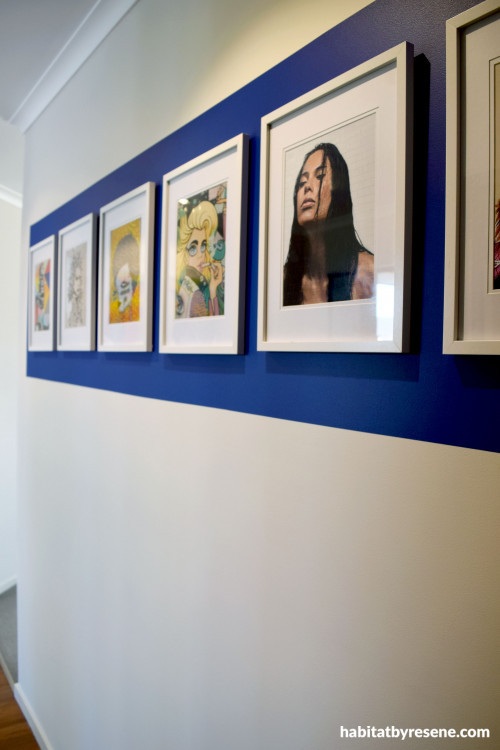 The front entrance has a bold strip of Resene Decadence against a wall in Resene Quarter Tea, which frames Franny's art work. The frames are painted in Resene Lustacryl tinted to Resene White.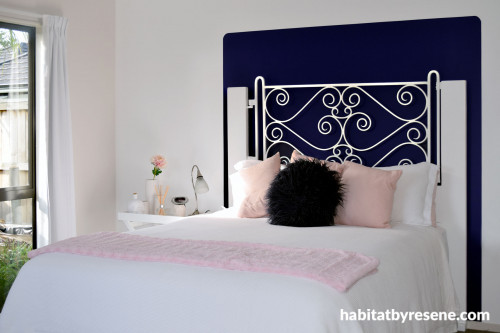 The bedhead in Franny's bedroom is made from an old gate from the house that she grew up in and scaffold planks. It's painted in Resene White, with a block of dark blue behind it painted in Resene Bullitt. The rest of the walls are painted in Resene Quarter Tea.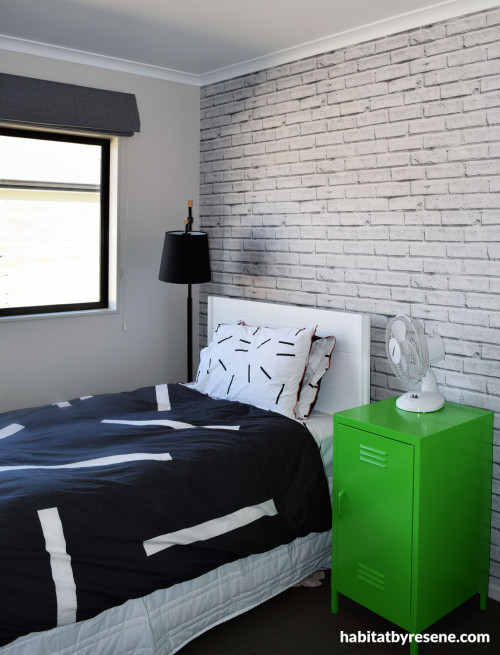 One of the kid's rooms has a feature wall of faux brick, using Resene Wallpaper Collection pattern 9078-37 from Resene ColorShops. The rest of the walls are painted in Resene Quarter Tea.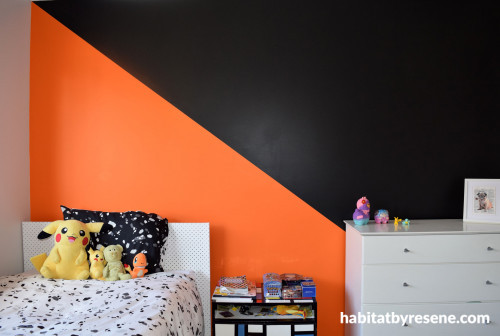 Her other son was given free reign over the colours in his bedroom, going bright with Resene Adrenalin and Resene All Black in a diagonal feature wall. The rest of the bedroom is painted in Resene Quarter Tea.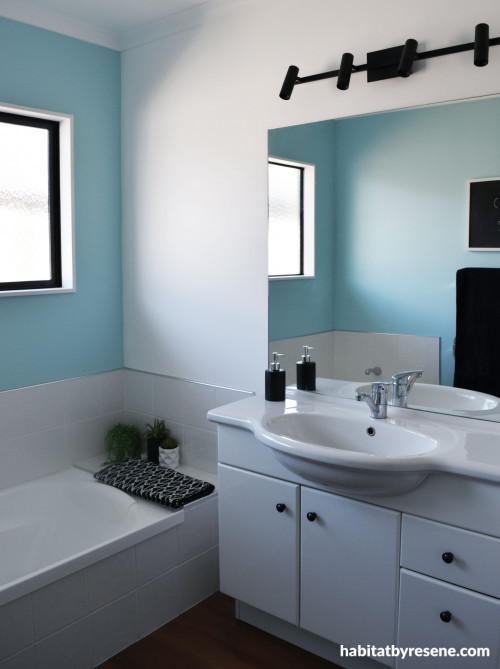 The bathroom is painted in fresh Resene Morning Glory, with accents of black and walls in Resene Quarter Tea.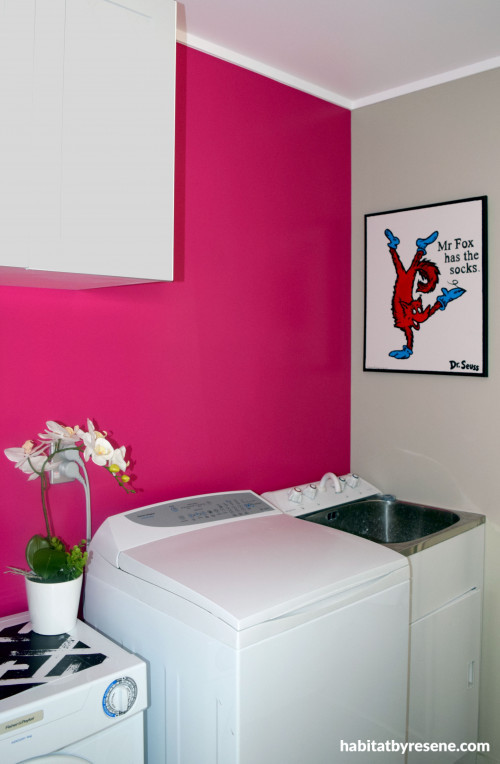 Resene Scrumptious brings a girly edge to the laundry.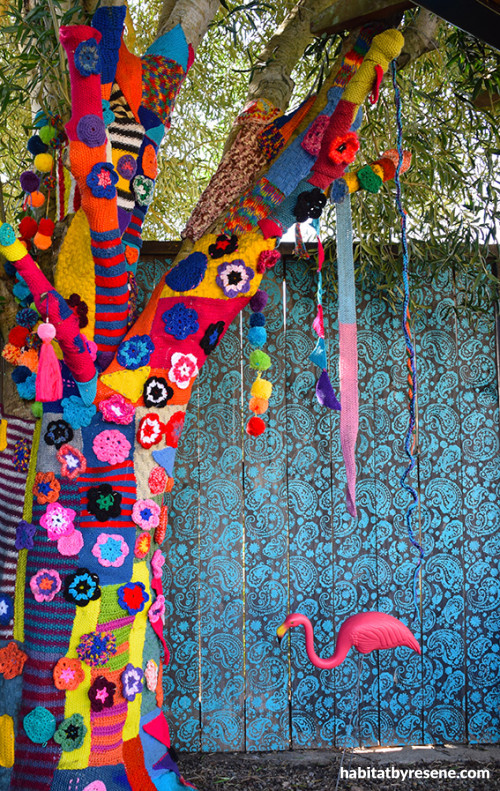 The garden is Franny's favourite part of the home. She painted the stencilled artwork on the fence herself, using Resene Hullabaloo. The knitting on the tree was a project that she did with her mother.
the look
If you're stuck on what
colour to use or need colour
advice, try out the Resene
Ask a Colour Expert service.