►
◄
latest
habitat tv
blog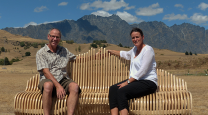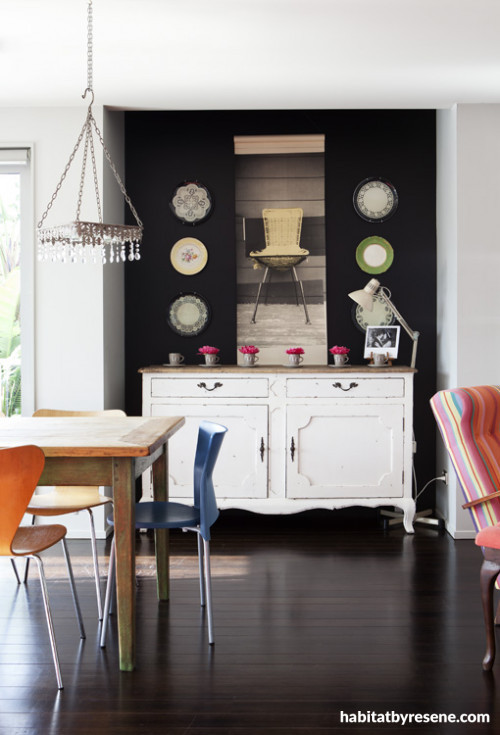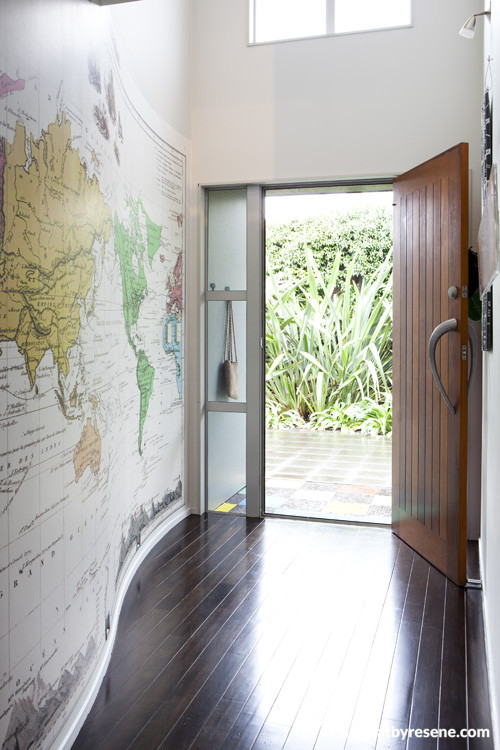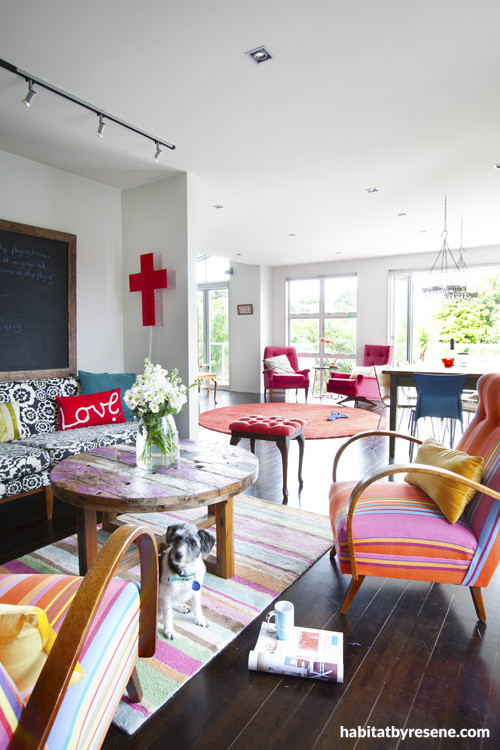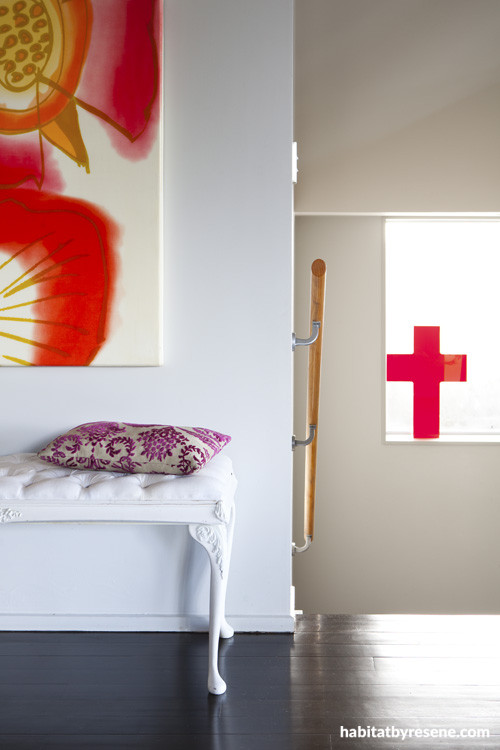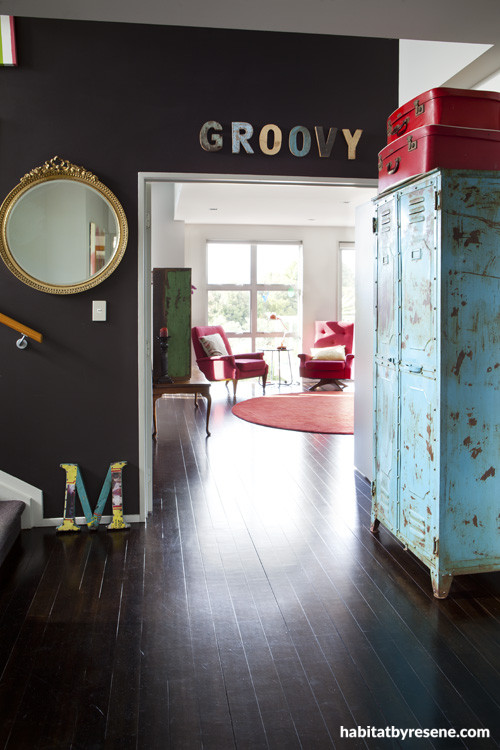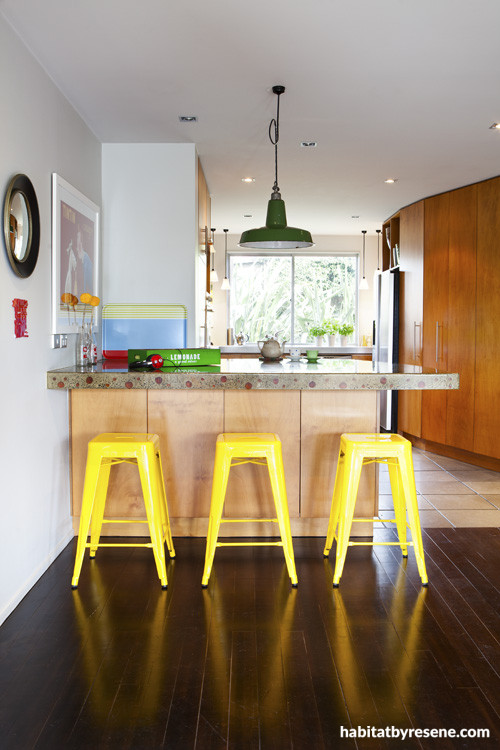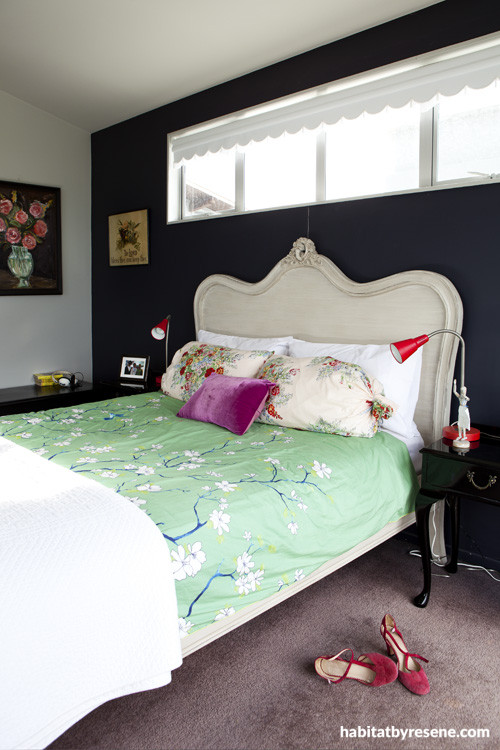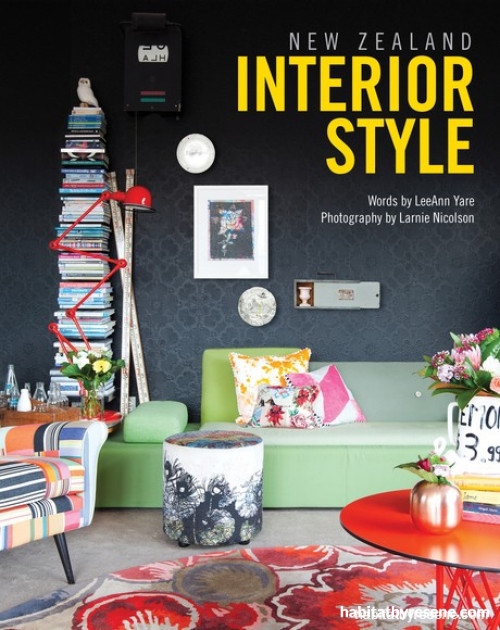 Gay and Jon mix old and new
A newly built home was the perfect canvas for a makeover using Resene white, black and grey.
House hunting is never an easy feat, and for most couples checking off the wish list is always fraught with compromise. Having previously renovated and built from scratch many homes, Gay and her husband Jon Gaskell were no strangers to getting stuck in and doing the hard yards to satisfy their own wish list. But in 2003, with four teenagers in tow, the time was right to take advantage of someone else's endeavours.
"Andy, Victoria, Luke and Emily were between 12 and 19 at the time, so at that busy stage of life we were really thrilled to find a house that was firstly big enough for us all to have space, and secondly that was designed to our taste," says Gay. "It was such a perfect fit that I would regularly send the previous owner Christmas cards thanking her so much for selling it to us."
Only 18 months old, the house had been built by the previous owners after they removed an old cottage from the site. "The space was perfect, and with the addition of a couple of walls we gave the kids a bedroom each, and even managed to incorporate a home office so Jon and I could run our businesses from home," says Gay, who was a practising interior designer at the time.
The house is in Stanmore Bay on the Whangaparaoa Peninsula just north of Auckland city and the location really suits the Gaskells. "We love living on the Hibiscus Coast, it's close to Auckland but far enough removed from the hustle and bustle to ensure a laid-back lifestyle," says Jon. "We love living in a coastal area – there are so many lovely beaches for a morning walk, the people who live here are mostly as relaxed as we are, and it's super close to my work," adds Gay.
Having worked independently in the interior design business for about 10 years, fitting work in around being a busy mum of four, Gay's dream of owning her own design store came true when their youngest left school. "It was a moment of now or never, so I took the plunge. I had spotted the shop well before it became available and thought it would be just right for what I had in mind, so we opened Floosie NZ Design Store in 2009. It combines everything I love – people, lovely house things, clothing and jewellery, working with a great team and inspiring people to have fun in their homes and not take things too seriously," says Gay.
"I am inspired by Deborah Bowness wallpapers, vintage maps and modern design sitting alongside vintage pieces, and I love the mix of old things in a new setting."
This attitude is certainly showcased in her own home, where the couple have painted and redecorated inside and out [with a scheme of grey, black and white in Resene Quarter Silver Chalice, Resene Nero and Resene Alabaster], using their own collection of eclectic furnishings in a casual and comfortable way. "I have always loved fossicking for cute things at op shops and often have pieces of furniture reupholstered because they have a cool shape, or I have found a great piece of fabric I want to use," says Gay.
Obsessed with collecting cute vintage things that catch her eye, and then cleverly mixing them with new homewares from her store, she continues: "I really try to convince clients to have a home that inspires them to have fun with colour and expresses the personalities of the family who lives there." Decorative signs such as Dream or Groovy are hung around the house, and along with weekly quotes on the blackboard they are there to inspire everyone in the family.
The vintage rusty blue locker is one of Gay's favourite pieces, and it inspires a running joke with her brother-in-law. "He hates it, so always jokes around saying he will give me $10 for it, but I adore both the colour and knocked-about look of it. It's perfect for storing old quilts, cake stands and other pretty things used for occasions," says Gay.
The swimming pool was another big drawcard that has paid its dividends, as Jon explains: "The easy flow from inside to out, along with the casual spaces it provides, several decks and courtyards means there is always somewhere to relax outside and with a family of six this has been important." The pool is used all summer long – it is the place where the entire family loves to relax on the weekends, and has seen its fair share of fun times surrounding many family occasions.
Despite buying a home designed and built by someone else, Gay insists it's all about the right timing. "The best money we spent was on buying a house that was well designed and built to a very high standard. We have utilised every inch, and it has stood up to a busy family life and really thrived," says Gay.
Published: 15 Oct 2014
Do you have a home full of wonderful Resene paint and colour? Send us some snaps by emailing [email protected].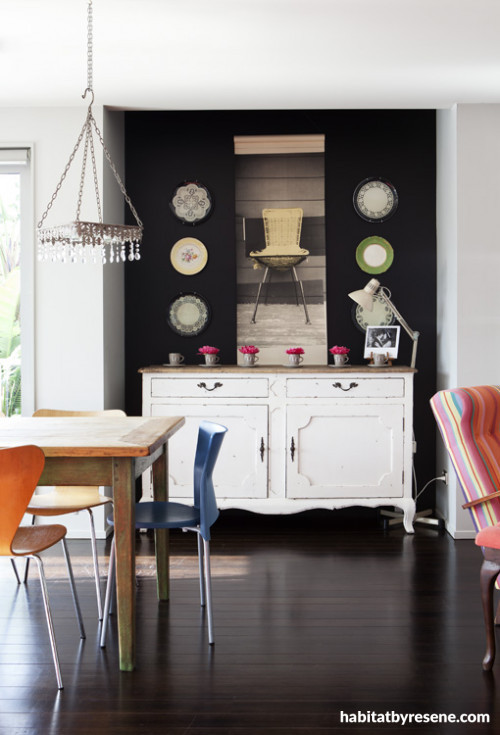 A nook in the dining room features a backdrop of Resene Nero paint to highlight a hand screen-print called NZ Chair by Deborah Bowness and a collection of vintage plates.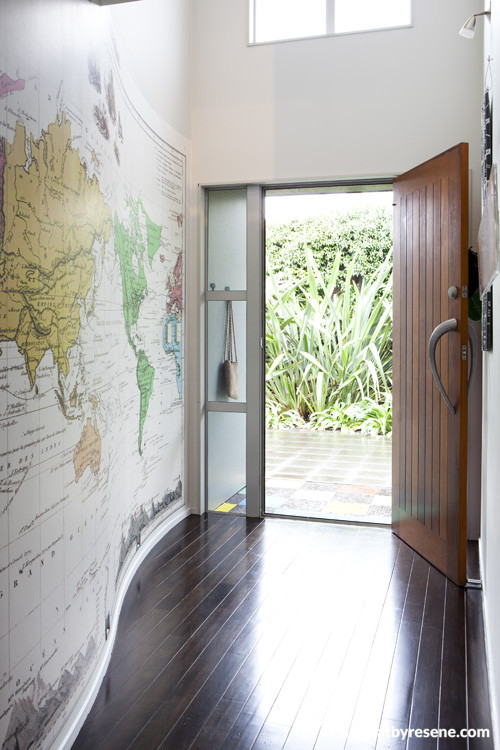 A world map wall mural stands out on a curved wall of Resene Alabaster in the entranceway.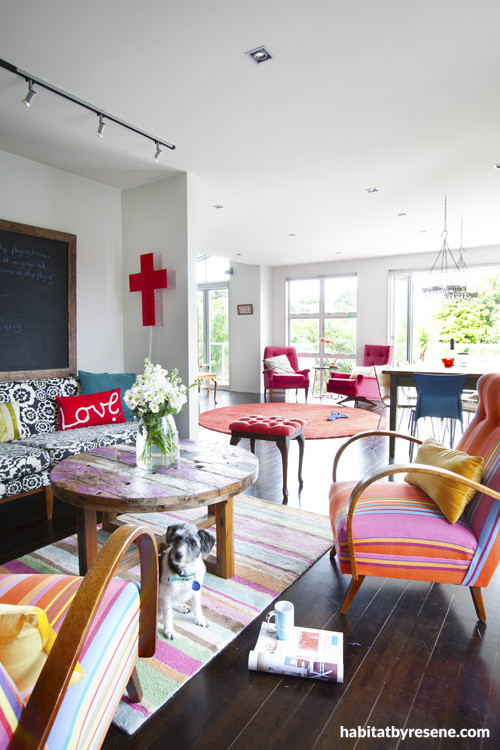 The family room is filled with vintage seating that has been recovered in modern patterned fabrics with a punch of bold colour. The Resene Quarter Silver Chalice walls are a quiet backdrop.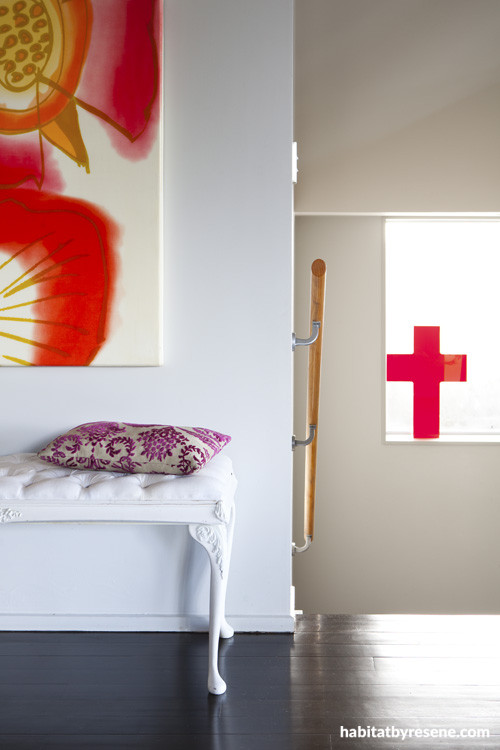 Modern art sits comfortably above an antique bench seat, on a wall of Resene Alabaster. The stairway walls are painted in Resene Quarter Silver Chalice.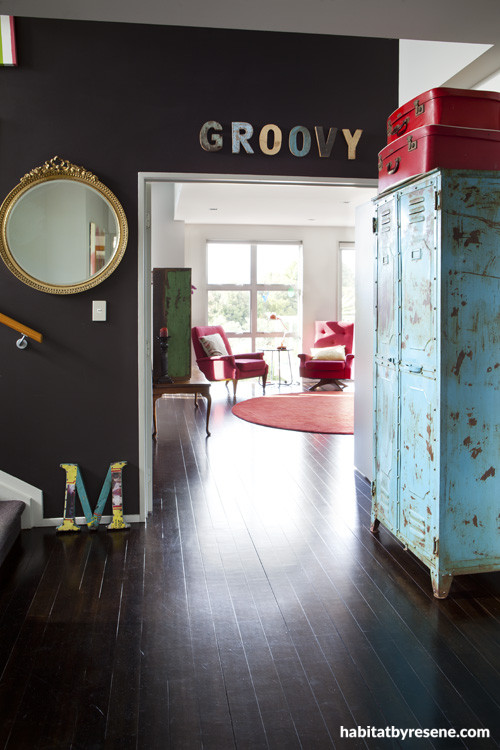 The recycled wood letters spelling out GROOVY say a lot about the Gaskell family's fun attitude to life. They sit on a Resene Nero wall while the battered blue locker is one of Gay's favourite pieces.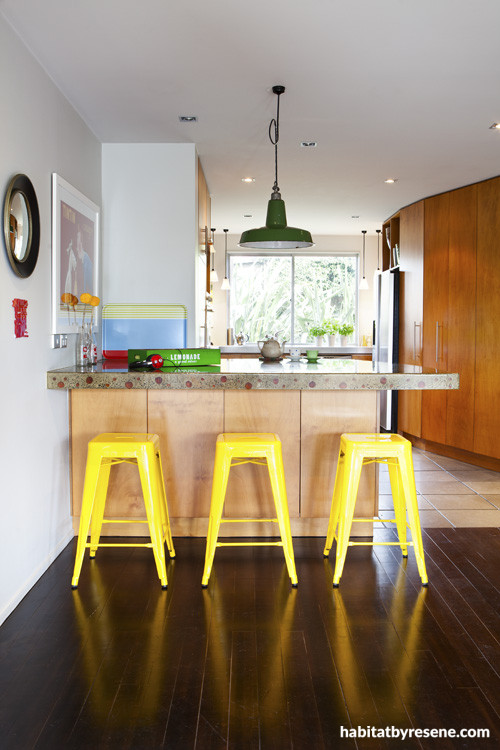 The open-plan kitchen and family area is Gay's favourite room, as it's where everyone congregates. The walls are pale grey of Resene Quarter Silver Chalice.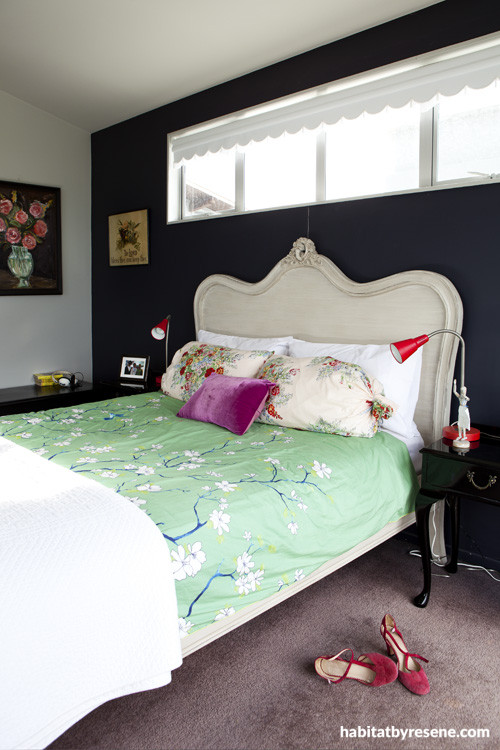 The bedroom has a striking feature wall in Resene Nero while the modern window blinds are given a vintage twist with a scalloped edge and fringing.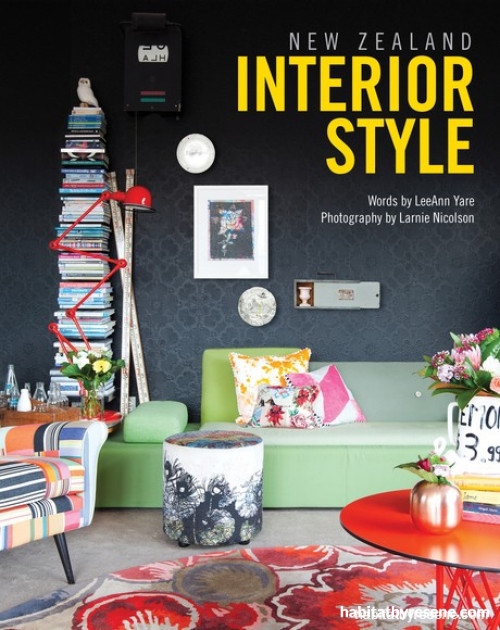 Reproduced with permission from New Zealand Interior Style by LeeAnn Yare and Larnie Nicolson. Published by Penguin Group NZ. RRP $65. Copyright © text LeeAnn Yare, 2013. Copyright © photographs Larnie Nicolson, 2013. Also look out for LeeAnn and Larnie's new book, Rooms to Love, being launched next week.
the look
If you're stuck on what
colour to use or need colour
advice, try out the Resene
Ask a Colour Expert service.
the look
If you're stuck on what
colour to use or need colour
advice, try out the Resene
Ask a Colour Expert service.