►
◄
latest
habitat tv
blog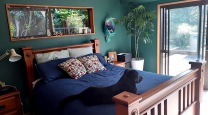 Georgian-style heritage home gets a light and breezy refresh with Resene Double Sea Fog
When it comes to an expensive lunch in the Hunter Valley Scott Bentley and his partner Guy may hold the record. However, it wasn't an expensive shiraz which blew the budget on a trip to New South Wales' wine country, but instead an 1860s Georgian home in need of a little TLC.
The bones of the house were there, but Scott and Guy were keen to give the heritage do-up a colour revival using Resene paints and wood finishes.
"We purchased the home on a whim one Saturday," says Scott.
"What attracted us to the house was that all the original windows and joinery were still in place. The wrought iron lacework on the exterior came from England and was used as ballast in a ship. We've owned Queenslanders and other period homes, but this is the oldest we have ever lived in."
Serial renovators, Scott and Guy, let their experiences from doing up previous heritage homes inform their design choices on the Georgian house. Resene Double Sea Fog and Resene Double Alabaster were in their bag of renovation tricks.
"I first used Resene Double Sea Fog and Resene Double Alabaster more than ten years ago and have used it in four homes since," says Scott.
"It's one of the most calming colours I've ever seen; white enough to be bright and happy, grey enough to be moody and luxurious. A lot of heritage homes are dark, and this colour lifts every room. I'll use it in all of my homes, it just works".
Resene Double Sea Fog is a particularly apt name for the primary interior colour given the house's nautical history. Not only was the wrought iron lacework from a ship, but the home's first owner was also a shipping engineer. The home was later used as a private hospital. A medley of subsequent owners altered the house further building a lean-to, dining room and laundry. It was important to Scott that the interior colour scheme worked together to create a cohesive look, despite a myriad of additions and add-ons in the past 160 years.
The upheaval of the global pandemic was challenging for the couple when Scott found himself out of work in April. However, the silver lining was it gave him time to complete the renovation and funds from a planned holiday were invested in the renovation project.
Scott loves colour, and when he's decorating a home, he sees endless possibilities. "I walked into the formal lounge for the first time and pretty much pictured it the way it looks now. Resene Bel Air is a soft green/grey that pairs perfectly with Resene Double Sea Fog."
"The upstairs guest bedroom/library painted with Resene Tarawera is one of my favourite rooms. I wanted something moody that would complement a large amount of timber in the room. The colour is so deep but calming".
The dining room underwent the most significant transformation, changing from a pea green with yellow trim to a bright room painted in Resene Double Sea Fog and Resene Double Alabaster.
"It's a great room to sit back in or to have a wonderful dinner party."
As Scott and Guy's home is a heritage home, the New South Wales Local Environment Plan (LEP) has recommendations on what can be altered in the building. The plan advises that bare timber should be left unpainted to retain the original character, although clear coats such as Resene Aquaclear are permitted. Following these guidelines, Scott touched up the cedar joinery, skirting boards and doors but left them unpainted. The wall colours complement the warm cedar. "I love heritage homes and the craftsmanship that goes into them," says Scott.
"We tried to make everything look like it has always been there."
As for Scott's favourite colour, there are no surprises there: "Resene Double Sea Fog. It's turned every house into a tranquil oasis."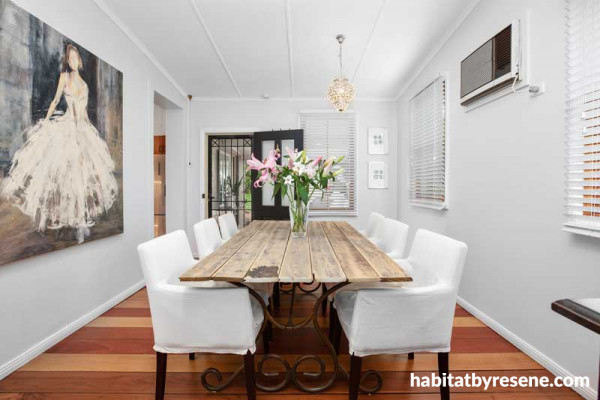 "I love the way every room turned out," says Scott, "but the dining room was the best transformation." Resene Double Sea Fog on the walls, Resene Double Alabaster on the trims and Resene Ceiling Paint in white brightened up the room.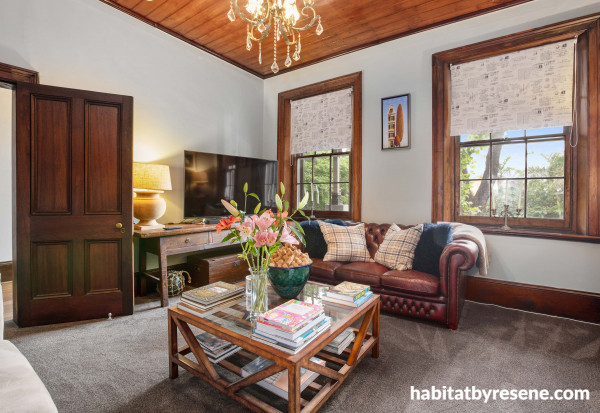 The lounge walls are Resene Bel Air. The green grey shade works well with the heritage timber window frames and ceilings and also works with Scott and Guy's collection of antiques and vintage furniture.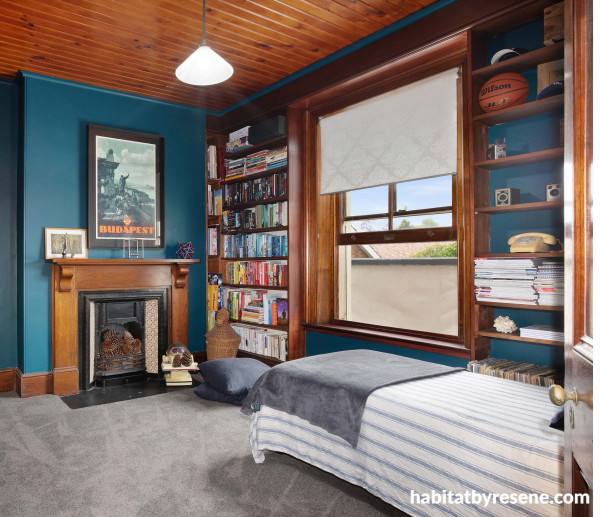 The upstairs bedroom and study are painted in Resene Tarawera. If Scott needs to relax for an hour or two, this is where Guy and Norma B their pet greyhound will find him. "It's a space where I can lay down, read a book and feel completely detached from the world".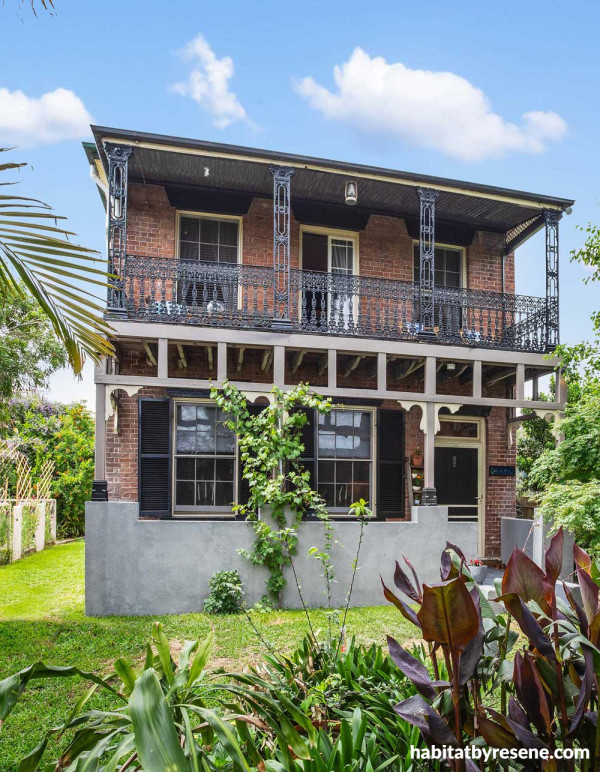 Renovating the 1860s Georgian home back to its former glory had its challenges. Local heritage conservation guidelines recommend that the exterior look of the home must stay the same. To touch up heritage filigree, prep the surface then work Resene Rust-Arrest into the surfaces with a brush before topcoating with Resene Hi-Glo or Resene Enamacryl.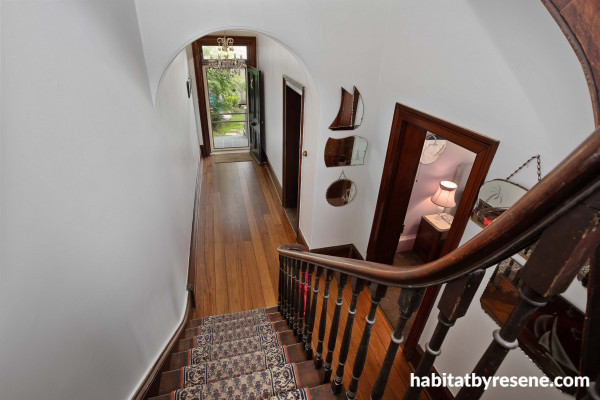 The walls of the hallway are Resene Double Sea Fog which complements the timber trims and stairs. "The house has conservation guidelines, and we aren't supposed to paint any bare timber including the joinery, skirting boards and doors are cedar, so we left them as they were."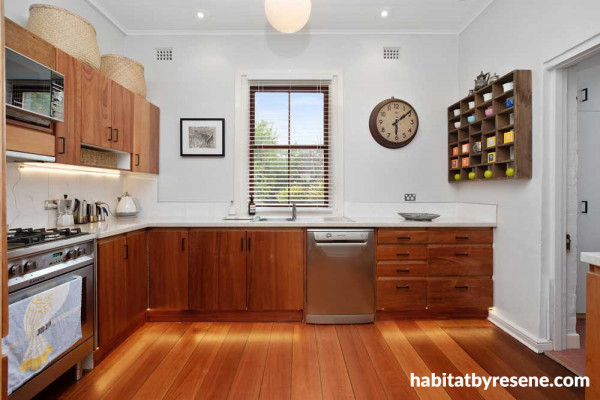 Scott and Guy chose to use Resene Ceiling Paint in White throughout the house, with Resene Double Sea Fog on the kitchen walls. Accessories (and tins of tea) add pops of colour against the gentle palette.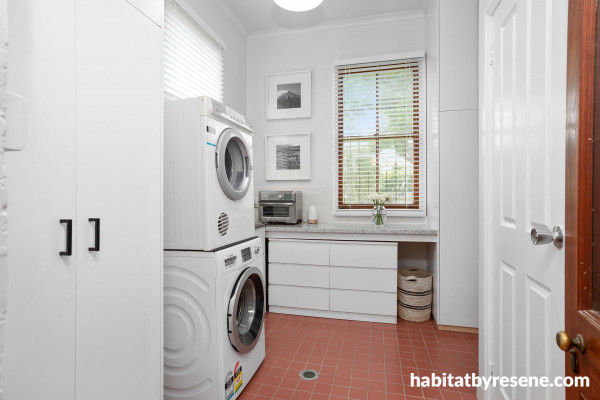 The kitchen, toilet and laundry room are all painted in Resene Double Sea Fog - an easy choice for Scott. "It was a given due to our previous successes in other homes." Keeping the styling crisp and neutral gives the room a clean, modern feel while keeping with the preserved heritage touches.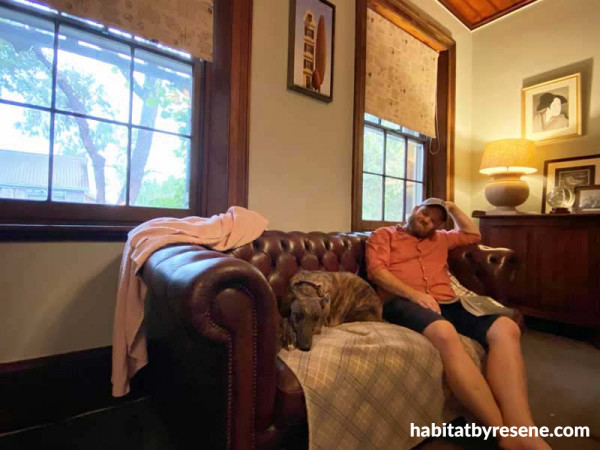 Scott with Norma B the greyhound in the lounge painted in Resene Bel Air. Norma B was less than helpful during the renovations, dipping her tail in the paint.
images Jamie Wicks
Published: 02 Dec 2020
Do you have a home full of wonderful Resene paint and colour? Send us some snaps by emailing [email protected].
the look
If you're stuck on what
colour to use or need colour
advice, try out the Resene
Ask a Colour Expert service.