►
◄
latest
habitat tv
blog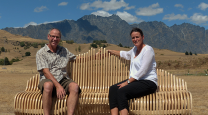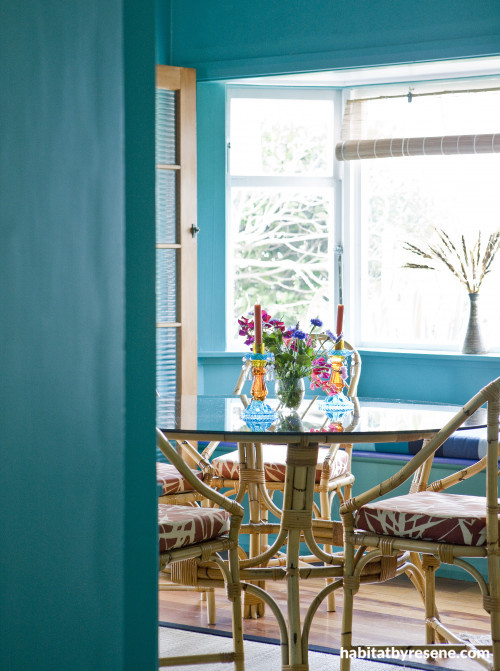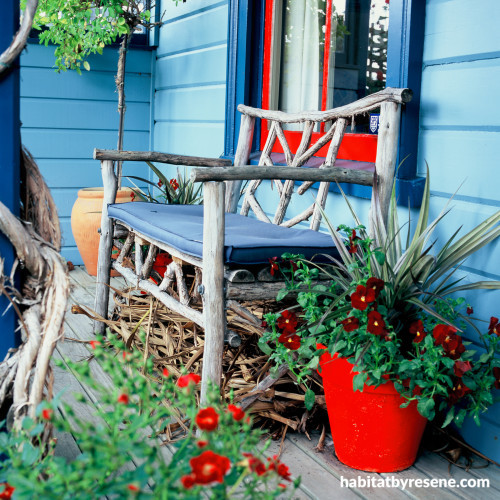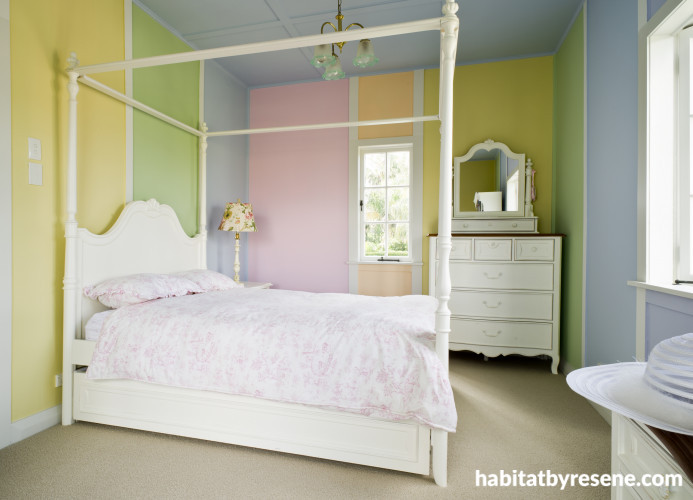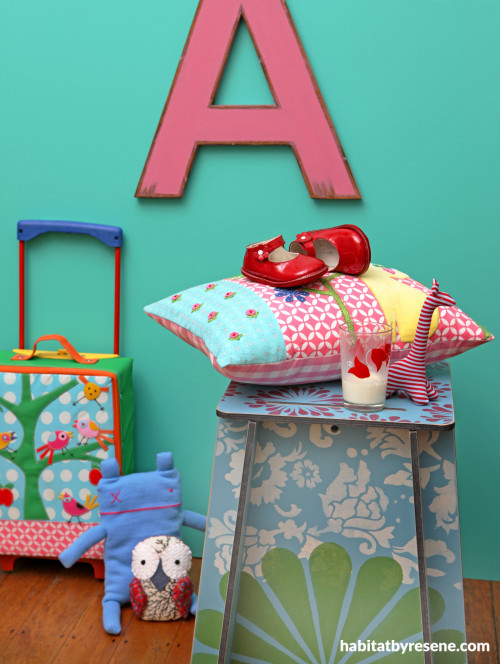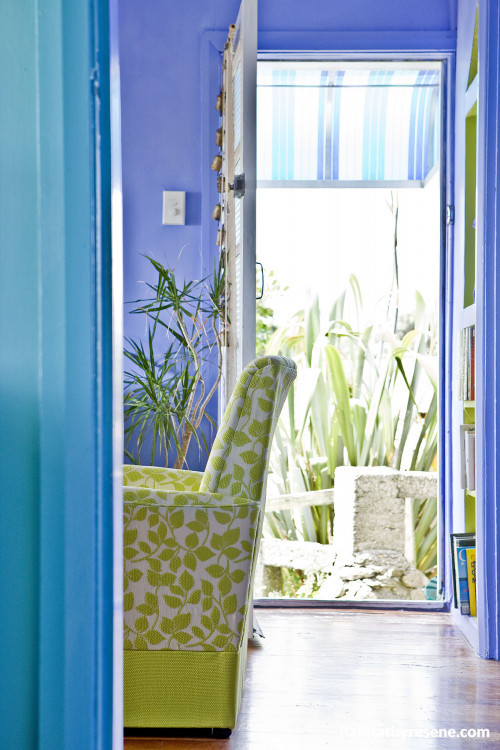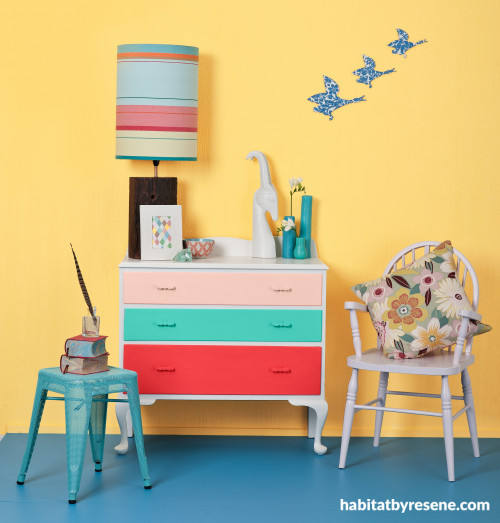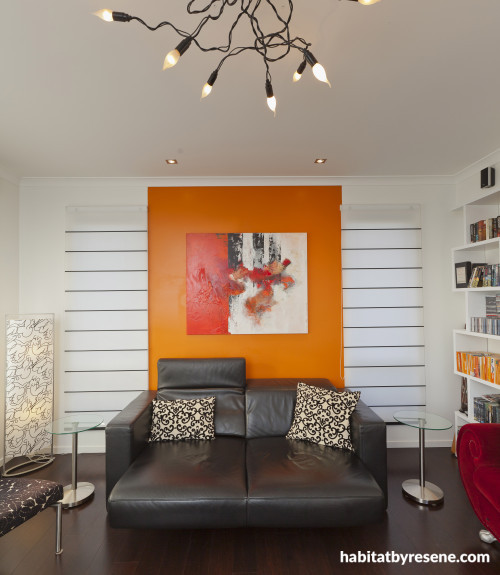 Get the summer lovin' look
Published: 14 Mar 2013
Do you have a home full of wonderful Resene paint and colour? Send us some snaps by emailing [email protected].
Bright bold seasonal colours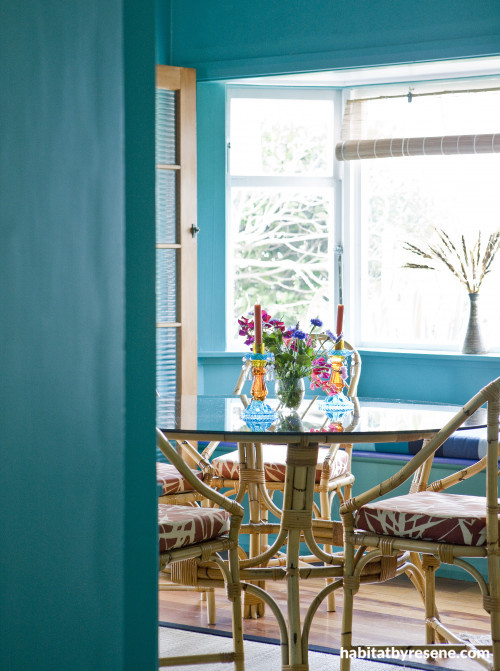 As the days sizzle on and the sun stays out to play, it's hard not to be inspired to surround ourselves in bright summery colours. The sorts of colours that lift our mood, inspire fun times and bring a bold edginess to our interiors.
We often consign bright colours to our children's rooms but if you bring them out in the open, you'll be surprised how well they work with a contemporary or retro-inspired interior - just like this delicious dining room with its vintage cane furniture and Resene Atoll walls. The latest Resene The Range fashion colour fandeck isn't afraid, as usual, to show off some bold and sparkling colours.
Here's what a shot of bright Resene colour can do for you:
Yellow – the colour of sunshine
Not many people are brave enough to paint a room bright yellow. But yellow is the ultimate in pick-me-up colours. Nothing says sunshine and summer quite as much as a zesty, sharp yellow. When you paint a room in yellow, however, it will intensify quite dramatically as each yellow wall will reflect off the other. Go for a true daffodil yellow with Resene Wild Thing (see our Colour of the Week below), add a touch of green for a cool look (Resene Southern Cross), or a touch of red for a more creamy custard effect (Resene La Luna).
Rejuvenating, zingy green
Brighter greens stretch from acidic limes like Resene Limerick through apple and mint greens to lush emeralds like Resene Home Run. Rejuvenating and energetic they bring the outdoors in, extending the feel of your garden. These colours look great with the warm tones of timber and with fresh whites. Current trends have seen mint greens being used to paint distressed-style furniture, while emerald is Pantone's colour of the year – very current if you want to have a fashion-reflecting home.
Fresh fruity red
Red is the colour of hearty appetites and delicious summer fruits. Bright red is a colour that's never far from our walls and interiors, blazing back with regularity into our kitchens, accessories, feature walls and on to our front doors. Bright red is a passionate, saucy colour often seen in dining areas, but oddly enough not bedrooms where it will keep you awake. Bright red can tip from tomato as with Resene Havoc, through to magenta, like Resene Knock Out. If those are a bit much, try the richer slightly deeper tone of Resene Red Tape.
Orange, a tangerine dream
Orange has been a go-to colour in recent years to inject a bit of bright into a colour scheme. It's a colour that lasts the ages and styles but in particular looks great with the current retro trend. It works beautifully with soft aqua and is made zingy with crisp white. For a real summery look, team it with hot pink!
Try it on a feature wall or on accessories, and if you are going all out and putting orange on all of the walls, temper this by using simple and calming furniture – it looks great with pale timbers. Have a look at the fluoro orange, Resene Daredevil or its more classic fiery cousin Resene Flashback.
Blue - from sky to cobalt
This is one of the most flexible colours when you pair it with the word 'bright'. Bright blue can be anything from intense sky blue to saturated cobalt (Resene Elvis) and sapphire. The paler shades are more common in interiors and give a true summery feel – have a look at Resene Zephyr. Darker blues are less common on our walls although we wouldn't be surprised if clean, clear navy (Resene True Blue) starts appearing more often, following on from this summer's fashion affair with the colour for clothes. Team lighter blues with glossy white for a fresh look but as the blue gets darker, make your trims and accents a little creamier for balance. Pale blues look superb as a monochromatic scheme using ice blue/white through to sky.
Turquoise, the season's on-trend colour
We've added turquoise to the list because it's such an on-trend summer colour.
Playful and lively, fresh and crisp, turquoise is a bolder version of the seafoam greens and washed aquas we've seen so much of – try the refreshing and oceanic Resene Renew. To soften the hard edge of turquoise, pair it with soft pretty colours like soft greens, dreamy pinks and shell whites. For a more masculine look, put it with charcoals or deep browns. Or for a fun androgenous look, try turquoise with red or orange.
pictures
Photograph by Nicola Edmonds
Wow, is about all you can say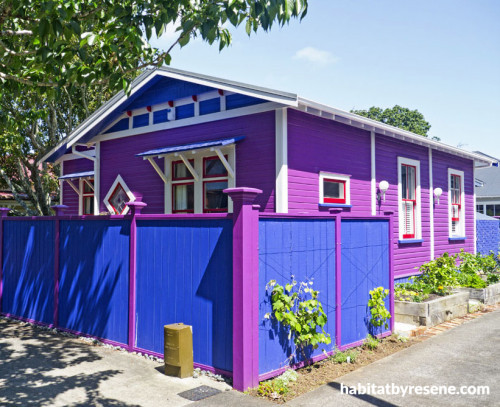 How's this for a courageous scheme? Homeowner Fiona Sheffield certainly didn't hold back when she painted her Auckland house a combination of Resene Troubadour (purple), Resene Deep Koamaru (blue), Resene Jalapeño (red) and Resene Vista White.
pictures
Complements of the Your Home & Garden / Resene Colour Home Awards
A flash of red
Another bold exterior, by Christchurch homeowner Robyn Kilty has weatherboards in Resene Bermuda Grey and trims in Resene Madison, with Resene Guardsman Red trims and plant pot. A manuka seat is a whimsical touch.
pictures
Photograph by Juliet Nicholas
A rainbow of colour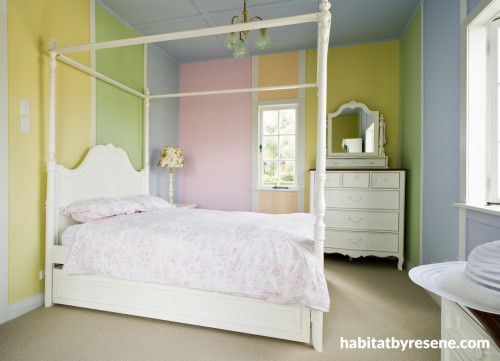 A more restful scheme but still summery and fresh is this one by designer Debbie Abercrombie inspired by a child's request for a 'rainbow'. Debbie interpreted this with panels in Resene Heartbreaker (blue/mauve), Resene Oxygen (ice blue) Resene Soft Apple (green) Resene Mellow Yellow, Resene Frangipani (pale orange) and Resene Pink Lace, with Resene Milk White trims.
pictures
Photograph by Mark Heaslip
Turquoise for boys and girls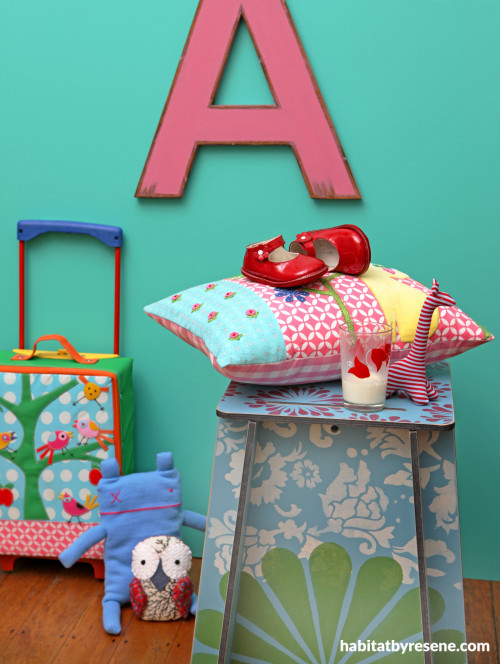 Another child-friendly space uses walls in Resene Zomp, a great colour for a more unisex child's scheme.
Fresh as a summer's day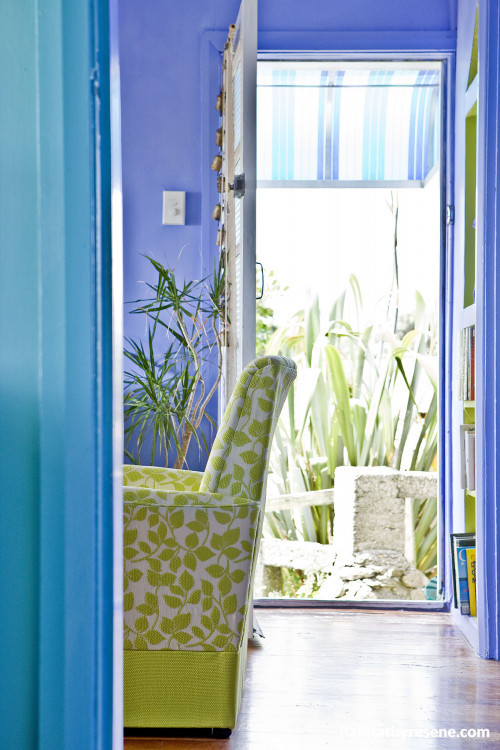 Another shot of a Kapiti Coast bach renovated by Robyn Renouf (our main shot is from the same house) using foreground walls in turquoise Resene Atoll and purply blue Resene Chetwode Blue behind. Both are beautifully offset by fresh lime green and white upholstery.
pictures
Photograph by Nicola Edmonds
Lovely lolly shades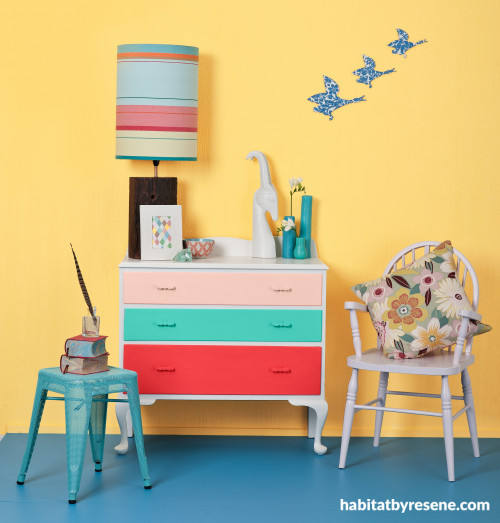 This setting we created for the cover of our last issue of Habitat magazine has all those delicious fruity, candy shades so suited to summer. The drawers are painted in Resene Rapture (bottom drawer), Resene Renew (middle) and Resene Sentimental (top) with surrounding edges and top in Resene Double Bianca. The chair is in Resene Bambina, the wall is in Resene La Luna and the floor is in Resene Hemisphere.
pictures
Photograph by Tony Brownjohn
A zesty feature wall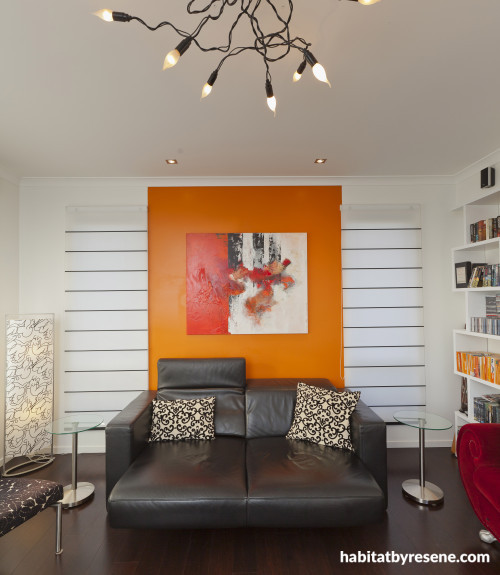 Designer Lian Bruce's house features in the latest issue of Habitat and features this fun wall in Resene Clockwork Orange.
pictures
Photograph by Chris Parker
the look
If you're stuck on what
colour to use or need colour
advice, try out the Resene
Ask a Colour Expert service.