►
◄
latest
habitat tv
blog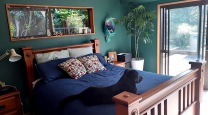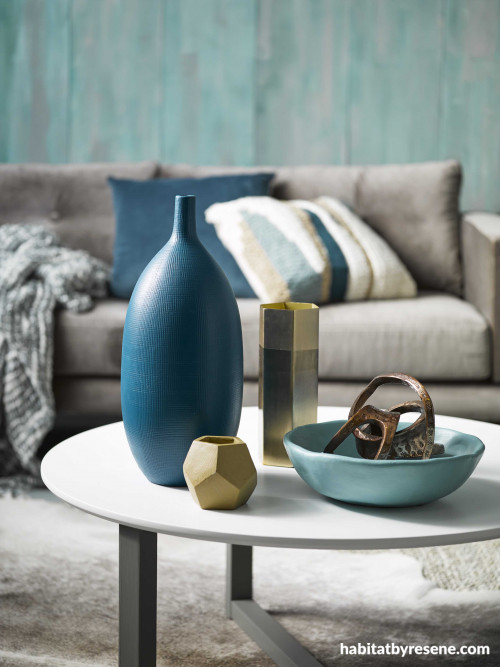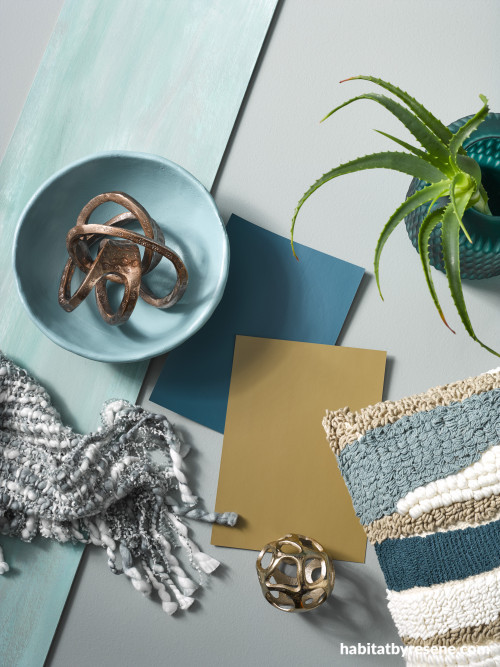 Get the cover look
Resene sea greens and the rich texture of wood come together on our latest cover, a rich backdrop to this contemporary, colourful living room styled by Claudia Kozub.
To create the striking look of the feature wall you will need ply sheets cut into 300mm-wide 'planks'. For the colourful, wood grain-texture, we painted the planks in a basecoat of Resene Inside Back, and roughly over brushed each one with Resene Gulf Stream, Resene Stromboli and Resene Half Opal.
The trick here is to switch up the amount of colour you use on each – some have a bit more Resene Stromboli, while others are softer with extra brushes of Resene Half Opal.
To finish, we topped up with rough strokes of Resene Inside Back to further anchor the colour scheme to the floor, painted in the same colour. Adding more of the neutral also takes it from being too summery and green, to a colour combo you will enjoy all year round.
For your own colour scheme, choose a base colour plus three to four other colours to use on top. Use Resene testpots to try out your colour combination on a test plank first.
Here are a few colour combos we love for this look:

Dusky Resene Wafer and warm terracottas make a delicious colour combo, perfect for a dining room.

Purples are the colour du jour for 2018 – stick with greyed hues to keep the colour palette modern and liveable.

For a nursery or young child's bedroom, go with a playful basecoat and top with soft, tonal colours. We love Resene Fringy Flower for this look.
Published: 08 Mar 2018
Do you have a home full of wonderful Resene paint and colour? Send us some snaps by emailing [email protected].
We created this high-texture feature wall by painting plywood 'planks' in a basecoat of Resene Inside Back, and roughly over brushing with Resene Stromboli, Resene Gulf Stream and Resene Half Opal.
It's been complemented with furniture in beautiful neutrals, from a side table painted in Resene Bianca to the table top painted in Resene Alabaster. The floor is painted in Resene Inside Back.
pictures
Melanie Jenkins, styling by Claudia Kozub. Hansen 3-Seater in Mouse Grey Velvet and Tate Day Bed in Petrol Blue Velvet from Me and My Trend. Te Oka Floor Rug in Silver and Brazillian Cowhide in Gris Grey from Indie Home Collective. Sig Décor Honeycomb Column Vase in Teal from Allium Interiors. Michela Vessel in Brass, Pruitt Decorative Ornament in Copper (in bowl), Cacti Framed Canvas, Yasmine Throw in Grey, Broadway Cushion (plain) in Harbour, and Celera Cushion in Natural/Blue from Freedom Furniture.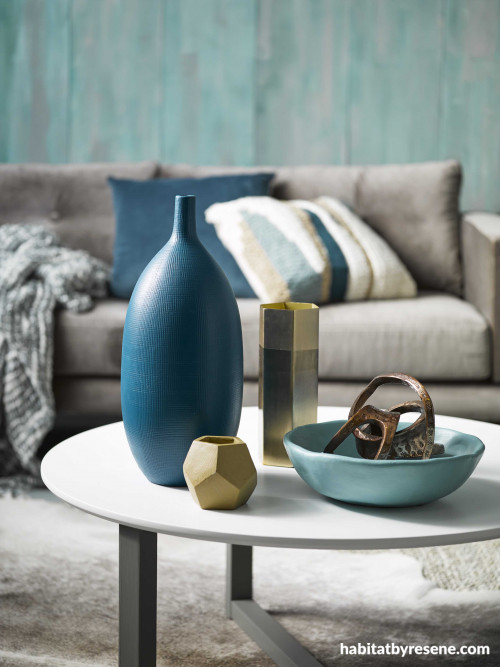 Modern Resene blues and gold-tinged browns give the living room a contemporary feel. The tall vase is painted in Resene St Kilda, the bowl is painted in Resene Wishlist and the small vase is painted in Resene Road Trip.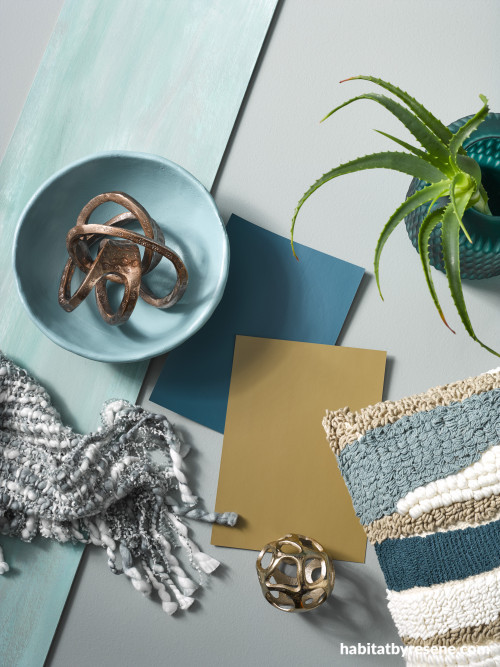 Try out your colour combo using Resene testpots on a test plank and have a play around with matching accessories. The bowl is painted in Resene Wishlist with A4 drawdowns (view in the colour library at your local Resene ColorShops, or you can order in store or from the Resene website if you want to take them home) in Resene Billabong and Resene Road Trip.
the look
If you're stuck on what
colour to use or need colour
advice, try out the Resene
Ask a Colour Expert service.