►
◄
latest
habitat tv
blog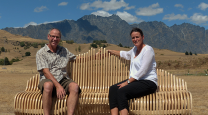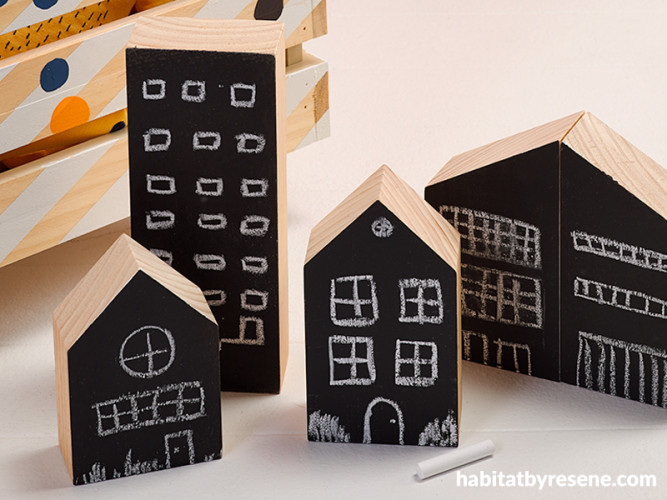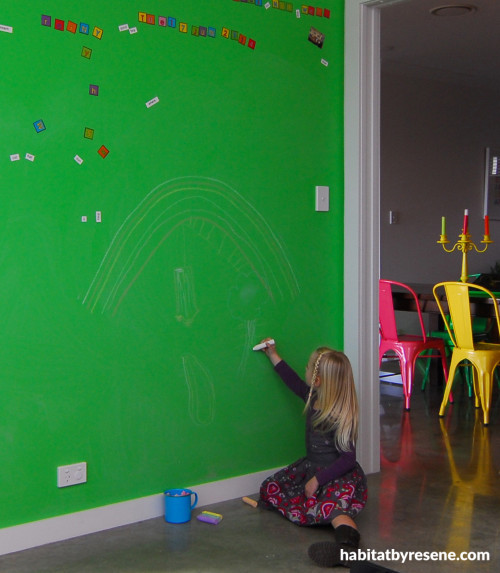 Good looking... and clever
Resene paints are certainly known for their good looks and high quality. But aside from the startling array of colours and the regular fashion colours fandeck launches, Resene also has many clever paints that often work silently to perform very special functions. Some of them make your life easier; others make it more fun.
There are paints that sunscreen your house, make flies think twice about sitting around, keep mould at bay, make paint stick to weathered timber, that you can draw on, and stick magnets to.
Resene Kitchen & Bathroom
This range of paints combines anti-bacterial silver protection with MoulDefender to minimise unwanted nasties in kitchens, bathrooms and laundries. The paint comes in a range of finishes (gloss, semi-gloss and flat) suitable for trims, walls and ceilings.
Resene Fly Deterrent
This can be added to decorative waterborne paints. It's especially useful for ceilings and discourages flies from sitting on the surface. The less they sit the fewer and smaller the fly spots, which helps your paint look cleaner.
Bug Juice
Another paint additive that contains an insecticide designed to eliminate crawling and flying insects on both interior and exterior surfaces. It's odourless, lasts for about four years, doesn't affect the paint properties and is great for kitchens and pantries.
Resene CoolColours
Just like us, dark coloured exteriors can over-heat in the sun, affecting not only the paint but also risk warping or cracking whatever cladding or substrate the paint sits on. It's why some claddings have warrantees that are only valid if you use paint colours with higher percentage LRVs – this stands for light reflectance value. Black has an LRV of 0% and absorbs all light. In contrast, white has an LRV of 100% and keeps a building light and cool. All colours fit within these two extremes.
Resene CoolColours™ look the same as standard colours but are formulated to reflect the sun's energy and have better heat and total solar reflectance properties. They reflect the same visible light as a standard colour but reflect significantly more heat, keeping the coating, substrate and building cooler.
Resene Magnetic Magic
This paint is exactly as it sounds – it provides a magnetic surface so that the wall or whatever can be used as a noticeboard without having to stick pins in it. Just make sure you use good quality magnets. It's applied as a base coat finished with your choice of Resene topcoat in whatever colour you fancy. Or you can use it as a base coat to Resene Blackboard Paint… see below.
Resene Blackboard Paint
Homeowners have really cottoned on to the wonders of this paint, and are not necessarily sticking to the classic black finish. Resene Blackboard Paint comes in a few different colours, but if none of those suits your scheme or tastes, you can also create a chalkboard by simply using Resene SpaceCote Low Sheen paint in any colour. Resene Blackboard Paint comes in a handy 500ml size for smaller projects.
Resene Write-on Wall Paint
The third handy paint product in the 'noticeboard' range, this one is a topcoat that can go over any light colour to give you a write-on surface. Use a quality whiteboard marker, such as the Maxflo range… and get your list going.
Resene StainLock
In this age of upcycling furniture, Resene StainLock is particularly helpful. It makes sure that existing stains on timber, concrete, furniture or walls don't bleed through and ruin the look of your topcoat.
Resene Wintergrade
If you've ever decided to redecorate in the depths of winters, you'll know that the paint can take a long time to dry. Resene Wintergrade gets around the problem by being able to cure at very low temperatures. So now you don't have to wait until summer…
Published: 01 Jan 2015
Do you have a home full of wonderful Resene paint and colour? Send us some snaps by emailing [email protected].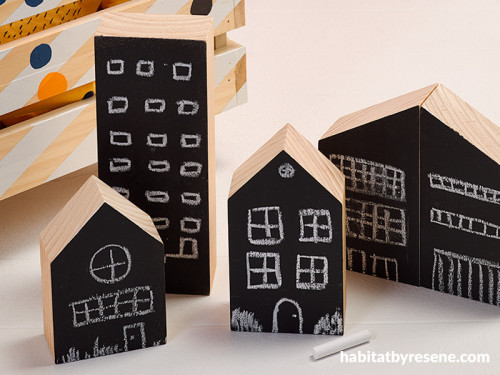 Use Resene Blackboard Paint to make this cute blackboard city – watch the video and see how.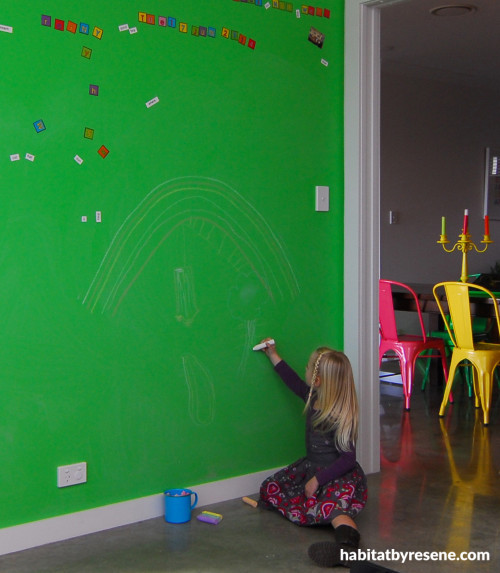 Create a colourful chalkboard with the matt finish of Resene SpaceCote Low Sheen, tinted to Resene Wham.
the look
If you're stuck on what
colour to use or need colour
advice, try out the Resene
Ask a Colour Expert service.
the look
If you're stuck on what
colour to use or need colour
advice, try out the Resene
Ask a Colour Expert service.