►
◄
latest
habitat tv
blog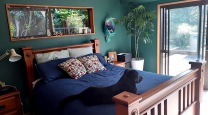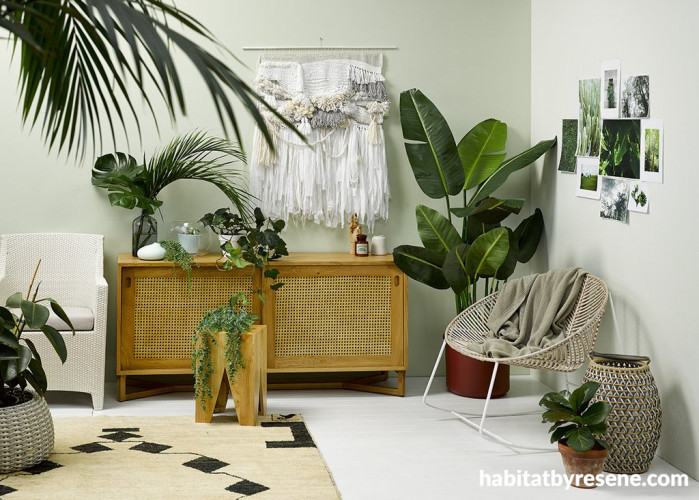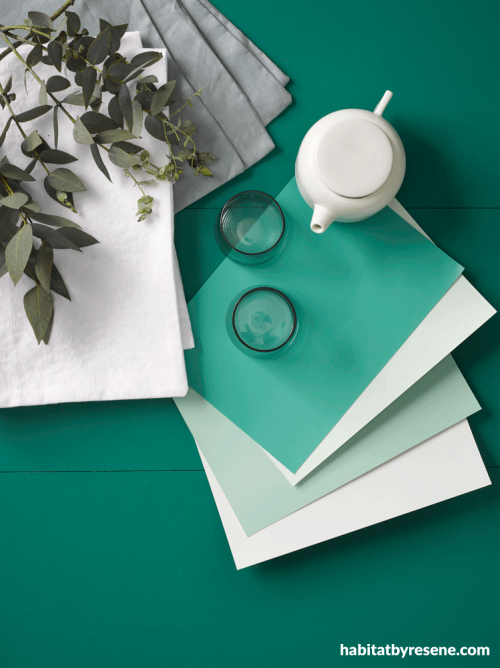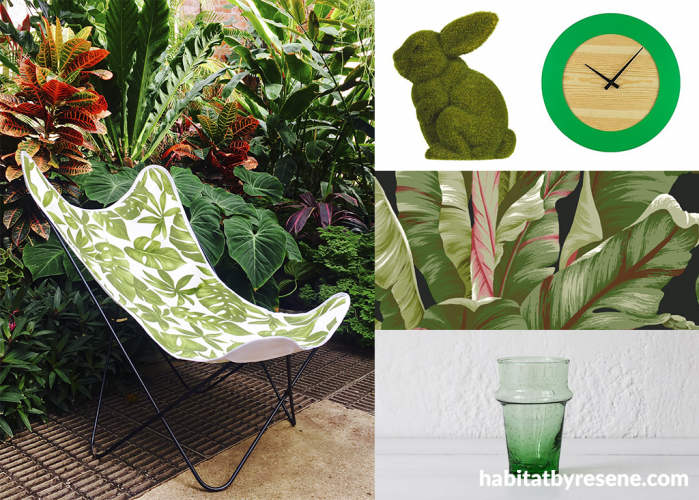 Green goes lush
As we transition into a new season, so do the colour trends. And while khaki greens have been the darling of winter, coming into summer we are turning to more tropical greens... which will also be trending well into 2018.
The colour of the year has served us well, turning our attention to the versatility of green and looking beyond it as an accent colour. We've seen it come into its own, being used to paint walls and floors, using muddy and grey greens to create cosy spaces such as this beautiful bedroom by Vanessa Nouwens.
But the tides are changing. Greens for the new year are becoming brighter, more citrusy, and leaning towards a mix of teal and grassy greens. Think sports fields in mid-spring, the deep waxy green of tropical plants, and the bright tropical green of Resene Tree Frog.
While greens this year have been mostly about being moody, the next round of greens is all about uplifting and bringing the harmony of nature indoors. Layer them up as you see them in the garden, with varying types of greens – apple, grassy, blue-edged, light, dark – and pair them with natural materials, from white linen to wicker chairs.
Here are other ways to use this new wave of greens:
Natural greenery is an easy way to bring this trending colour into the home. From large palm fronds to fiddle leaf fig trees, they will help make your home feel alive with colour.
If you're not into house plants, choose cushions with big tropical motifs.
Greens look particularly great with timber floors and furniture.
If you want a fresh look, pair your green with a clean white such as Resene Alabaster on the trims and accents. For a more muted look, use a green-edged white – look to Resene Rice Cake.
Did you know… that at the back of the index in the Resene The Range Fashion Colours 18 fandeck, there are certain colours listed with the code TL? This means 'trending longer'. Use this as a guide for greens trending for 2018. The chart is available at Resene ColorShops.
Published: 26 Oct 2017
Do you have a home full of wonderful Resene paint and colour? Send us some snaps by emailing [email protected].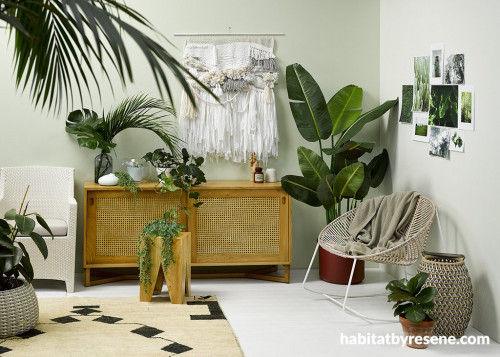 Stylist Amber Armitage shows the beauty of next season's tropical-inspired greens, in this living room for Remix magazine. They're brighter and more uplifting. The walls are painted in Resene Cooled Green, and the pot is painted in Resene Sanguine Brown.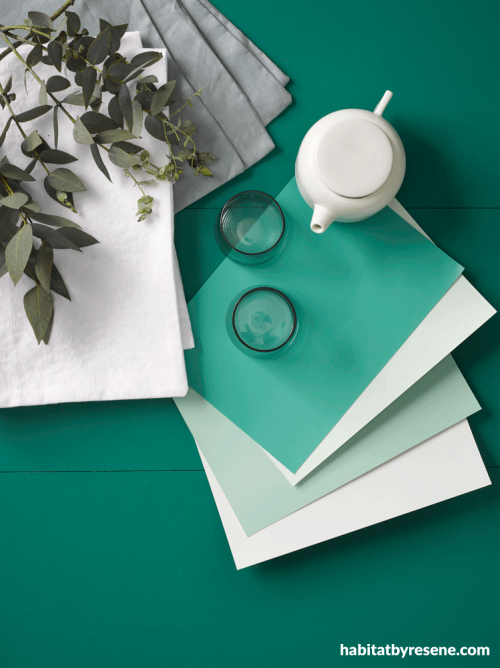 Layer up greens as you see in nature, in harmonious tones. These teal greens and sage greens look great with white linen. The background is painted in Resene Aquamarine, with A4 paint samples (from top) in Resene Leap Year, Resene Surf Crest, Resene Summer Green and Resene Ottoman.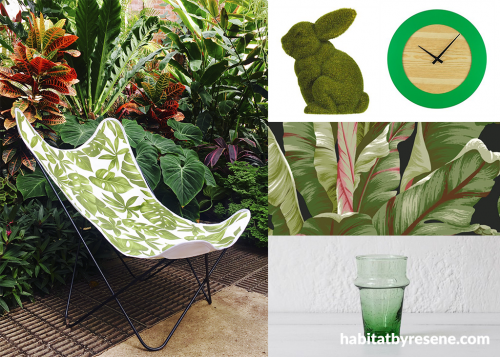 When shopping, look out for bright, citrusy and grassy greens, and fabric with tropical motifs. Pictured from left: NZ-made Flutter Chair Tropicana by Flutter Design, Moss Bunny and Ottoh Clock from Freedom, wallpaper from Resene ColorShops (code AT7071), and Organic Moroccan Tea Glass from Indie Home Collective.
the look
If you're stuck on what
colour to use or need colour
advice, try out the Resene
Ask a Colour Expert service.