►
◄
latest
habitat tv
blog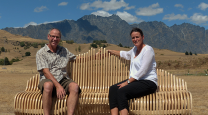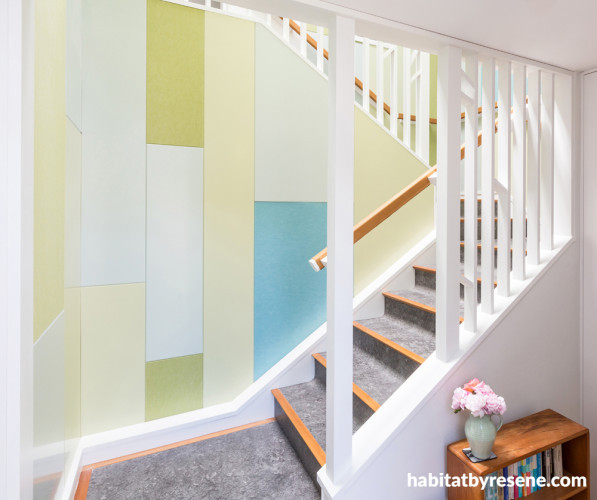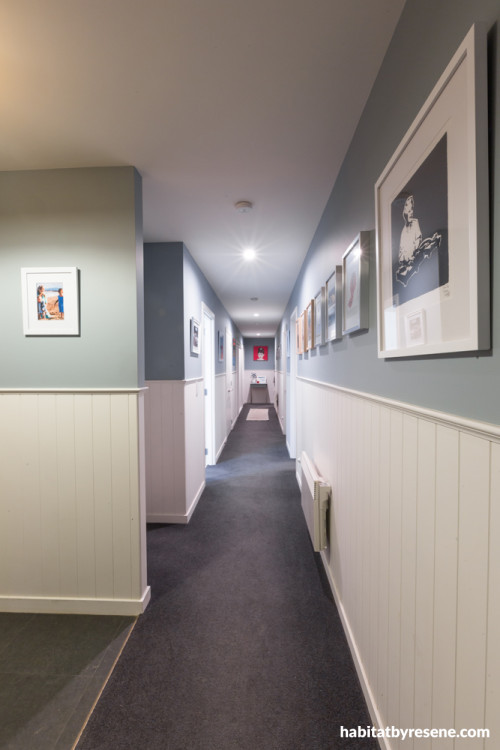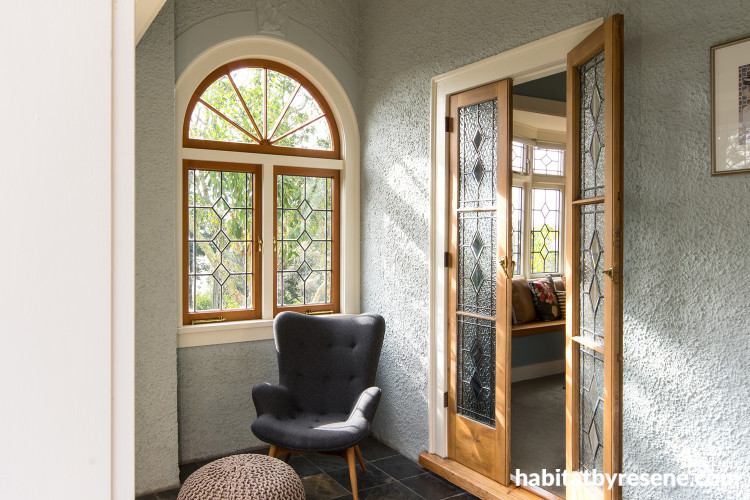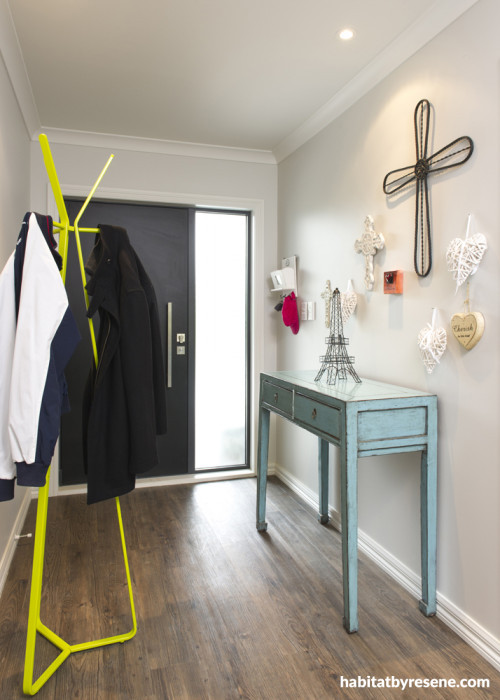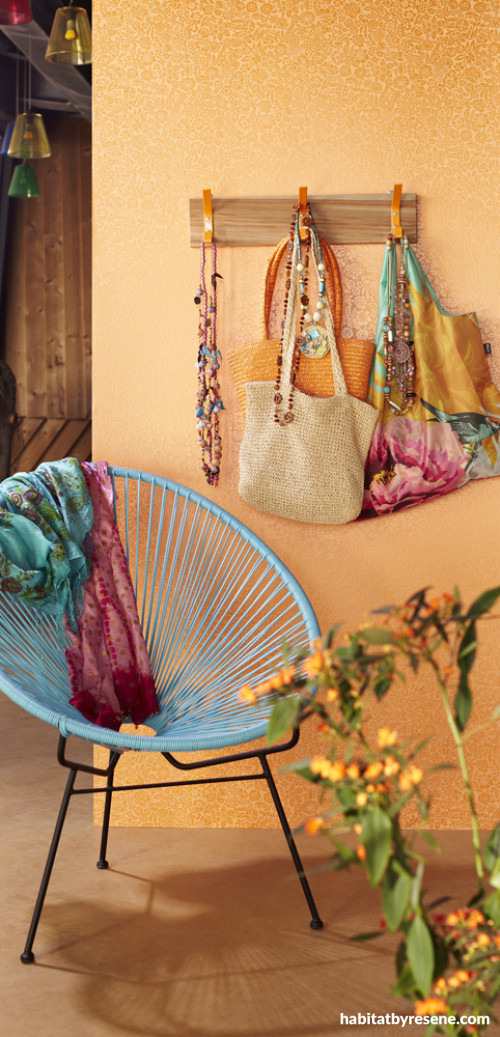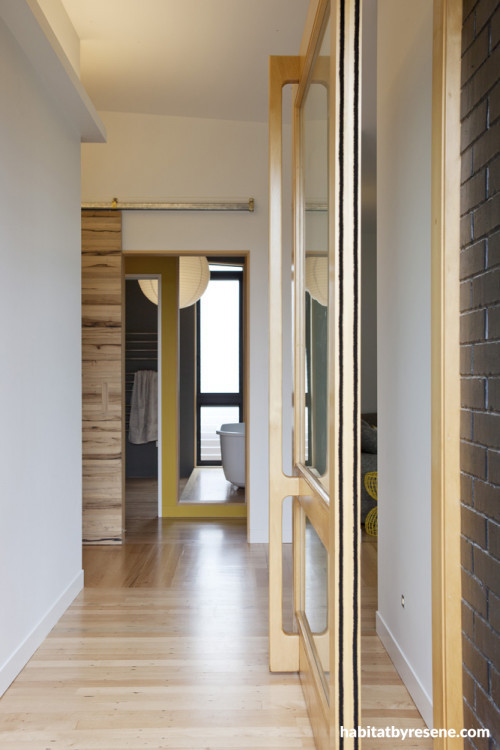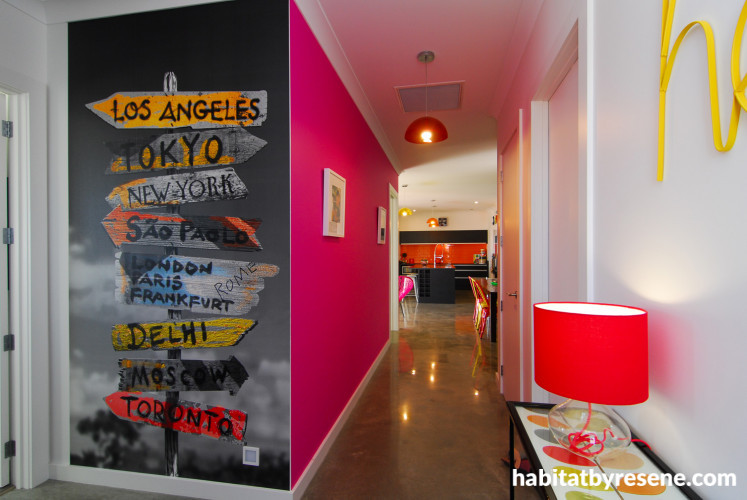 Hallway decorating tricks
It may be a lot smaller than a conventional room, but the hallway and entrance of your home is just as important as any other space in the house.
An entranceway says 'hi there' to visitors, and sets the tone for your interiors. Because both entranceways and halls are somewhere you don't linger – transitional spaces – you can be bold with Resene colour and have some fun with your walls, floors and ceilings.
Entrance foyers
Create a sense of arrival and surprise with bold colour in your entranceway. You may not want to go all out on the walls but the front door is a perfect spot for a bit of vibrant colour. Use Resene Enamacryl to do the job; it has a glossy finish for added impact and is a hardwearing waterborne enamel for what is probably the most used door in the house.
Have a bit of fun by using a bold colour on the walls. If the entranceway is naturally dark, don't fight it; paint the walls a dark cosy colour and add good mood lighting or just a standard lamp on a table.
Or you might like to add a piece of painted furniture – a chair to sit on while you put on your shoes, a hall table for a vase of flowers, a coat stand or coat rack, or a framed mirror to check your lippy as you leave. If you don't have a 'proper' entrance, adding a piece of furniture can help define it as well as be practical.
How about adding a coloured ceiling, or a stencilled floor?
If your entranceway then morphs into a straight hallway, like it does in villas, and ends in a wall, consider making a feature of that wall by painting it a different colour. A darker or warmer colour will make a long hallway appear shorter and more intimate.
Hallways
Hallways sometimes seem a waste of space, literally. Certainly in smaller homes, designers try to minimise halls so that more floor space can be given over to the actual rooms.
But depending on your home's layout, halls may be necessary. They not only provide a way to get to the various rooms but also provide a buffer between those rooms.
It's not essential to co-ordinate the colour of your hall walls to the rooms leading off it but for a more cohesive look, try to link the colours or themes in some way.
If the hall is particularly narrow, paint the walls a light colour to make it appear wider, and go for a higher sheen level, like Resene Lustacryl or a Resene Metallic in selected areas, to bounce light around a bit more. For a hall that connects bedrooms and a bathroom, add tread lights low on the wall attached to a sensor for night-time wanderers. If the ceiling is standard height (2.4m) simple downlights are best, but if the ceiling is high, some statement pendants will look great. Another trick for high-ceilinged halls is to paint a bold stripe along the wall about two-thirds of the way up the wall to break it up visually.
Halls are a perfect place for art, particularly hung gallery-style, or in a row. A collection of family photos and portraits looks great here.
Also see the gorgeous hallway setting recently created for us by stylist LeeAnn Yare.
Published: 26 Feb 2015
Do you have a home full of wonderful Resene paint and colour? Send us some snaps by emailing [email protected].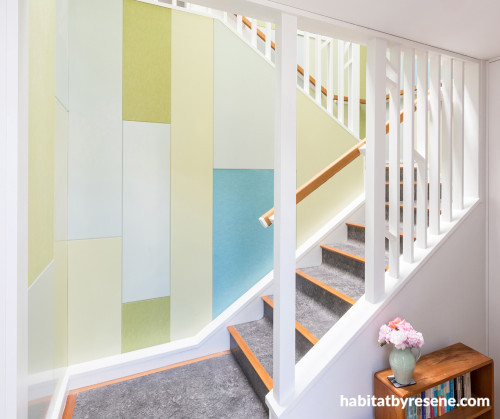 This stunning stairwell was added into a 1960s Wellington house, which had been divided into two flats. The owners wanted it to honour the house's original style and so were open to the ideas of architect Elinor Harvey McDouall of Drawingroom Architecture & Design, who suggested a panelled finish with Echopanel (a textured acoustic product), alternating with painted panels in Resene Half Robin Egg, Resene Nirvana (green) and Resene Wan White. Other retro touches include leather-wrapped handrails, leather door catches and marmoleum flooring. Contact Elinor on [email protected].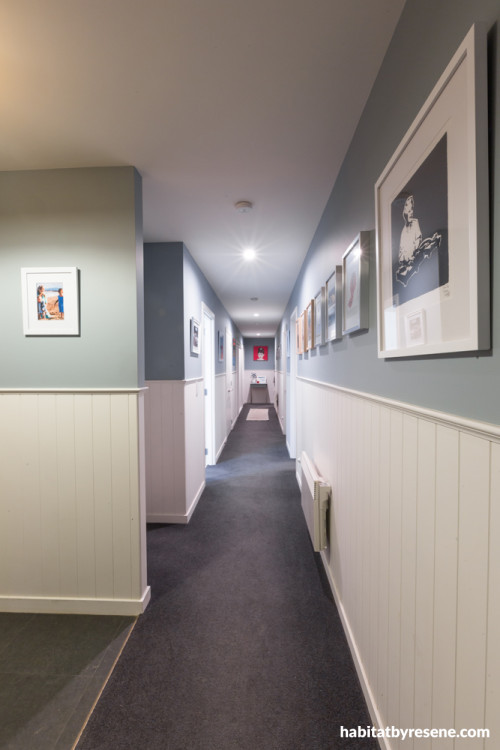 Long hallways like this can look easily look boring but by adding character features to what is actually a new house, designer Annabel Berry of Design Federation not only gave it visual interest but tied it to the style she used in the rest of the house. The tongue-and-groove panelling is painted in Resene Half Milk White while the walls above are Resene Powder Blue. The home featured in issue 21 of habitat magazine.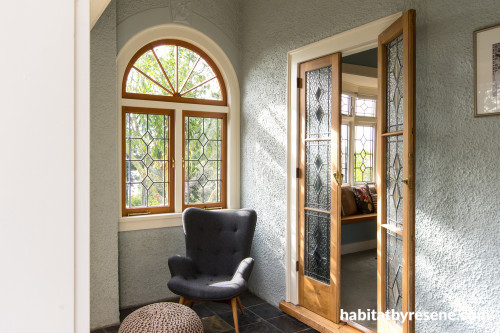 This is actually a sun porch but could easily be an entry hall. Resene Mystic was chosen for its soft and calm feel but also because it has a gentle elegance. It's part of a renovation done by Rogan Nash Architects.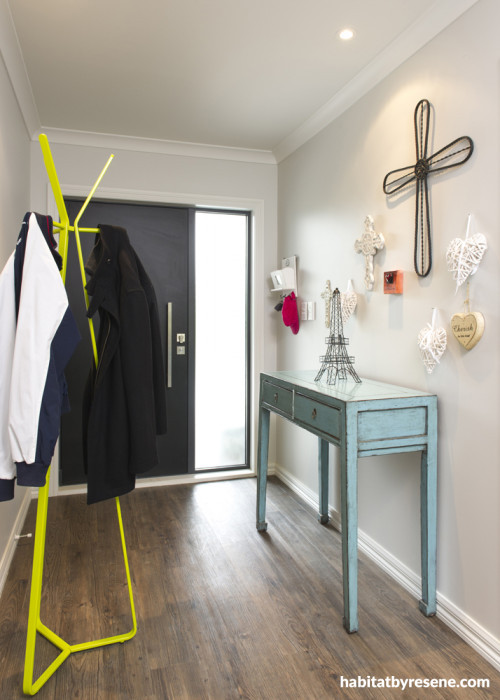 The cool tones of Resene Sea Fog on the walls of this entrance way are a great backdrop for the bright lime-yellow coat rack and the weathered blue sideboard.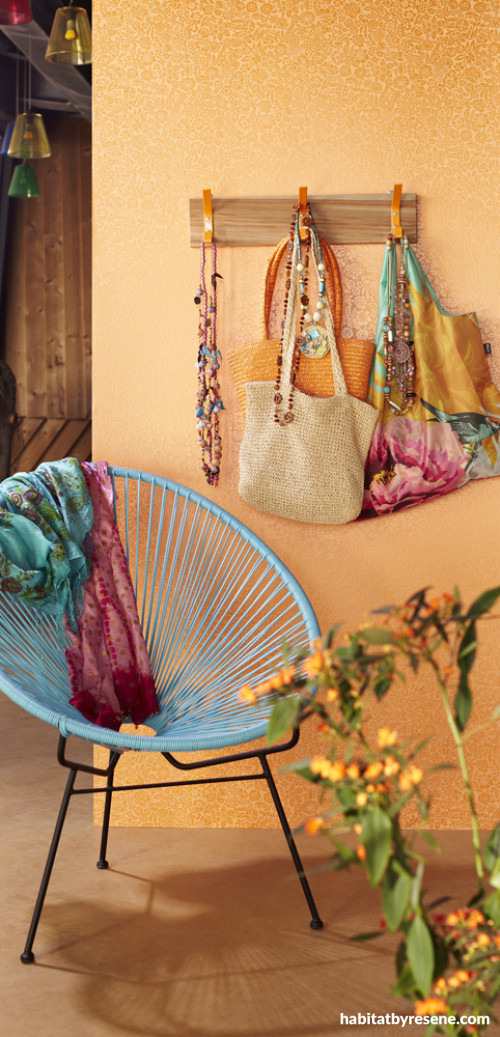 A place to hang your hat – or bag – and a chair to sit in while you put on your shoes. This entrance space has an eclectic and colourful global vibe, with Eijffinger Ibiza wallpaper (code 330214) from Resene ColorShops.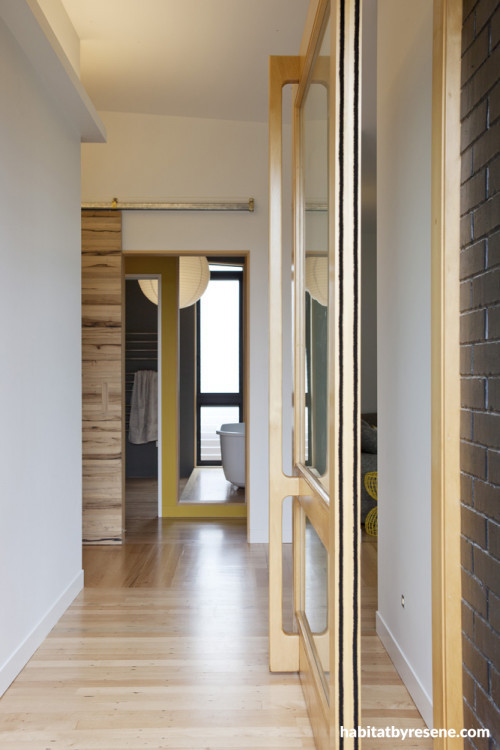 Having your bathroom opposite the front door wouldn't normally work but in this beautifully conceived holiday home, the sculptural pivoting front door opens to reveal an externally hung sliding door and the bathroom beyond where Resene Gravel and Resene Wazzup (yellow) feature. The interior is designed by Yellowfox.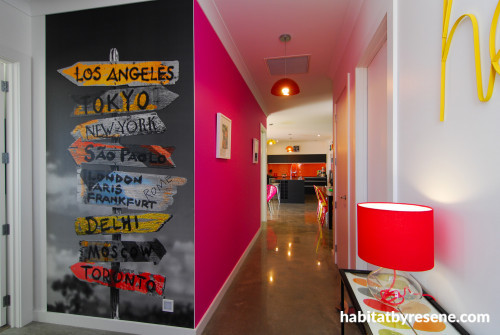 A fun signpost mural and a wall in hot pink Resene Smitten welcome you to a home that is rich in colourful pops of colour. The home featured in issue 21 of habitat magazine.
Resene Half Robin Egg Blue
the look
If you're stuck on what
colour to use or need colour
advice, try out the Resene
Ask a Colour Expert service.