►
◄
latest
habitat tv
blog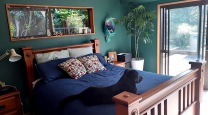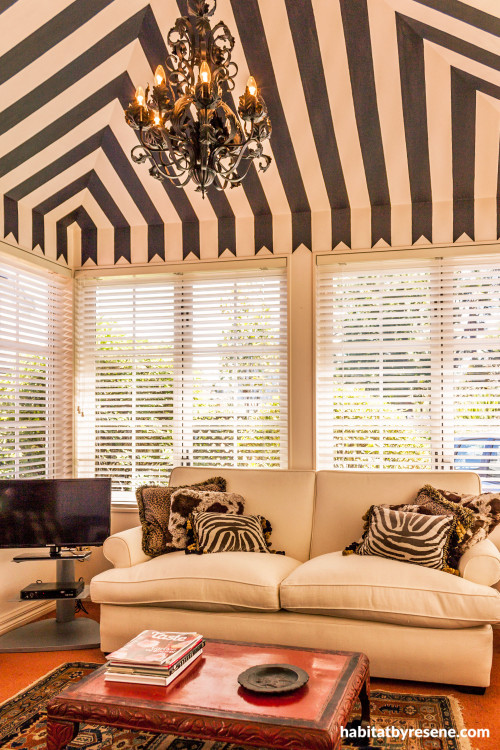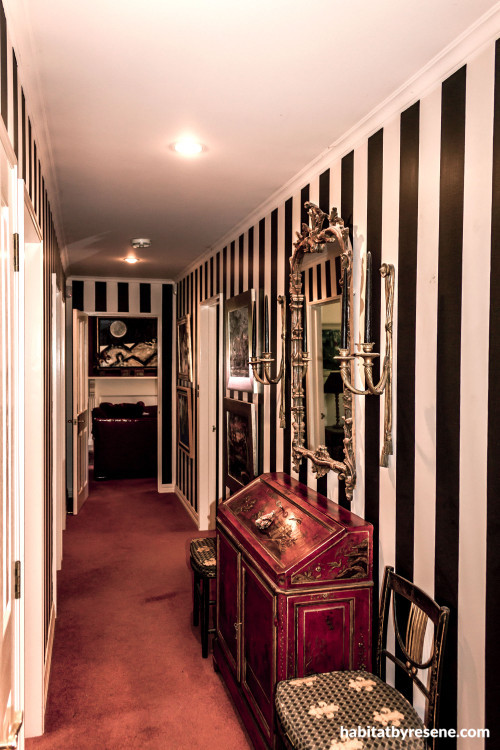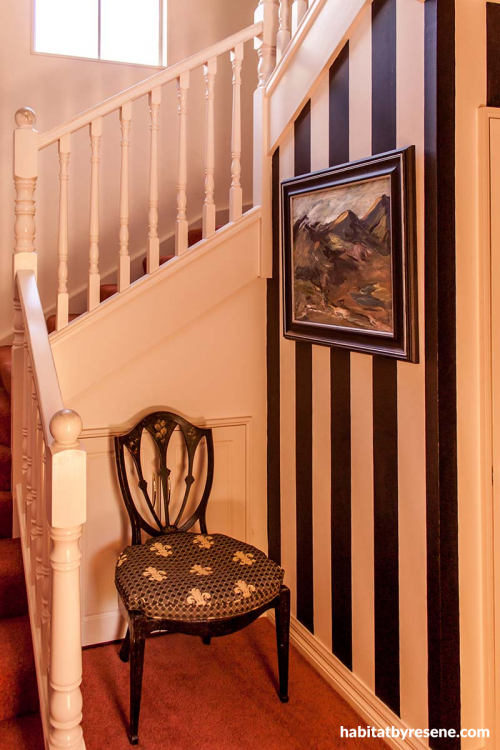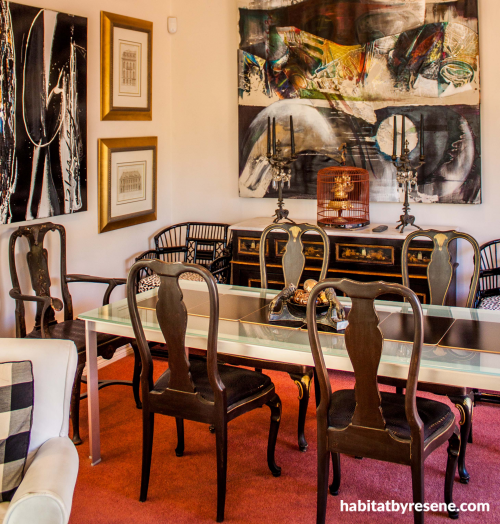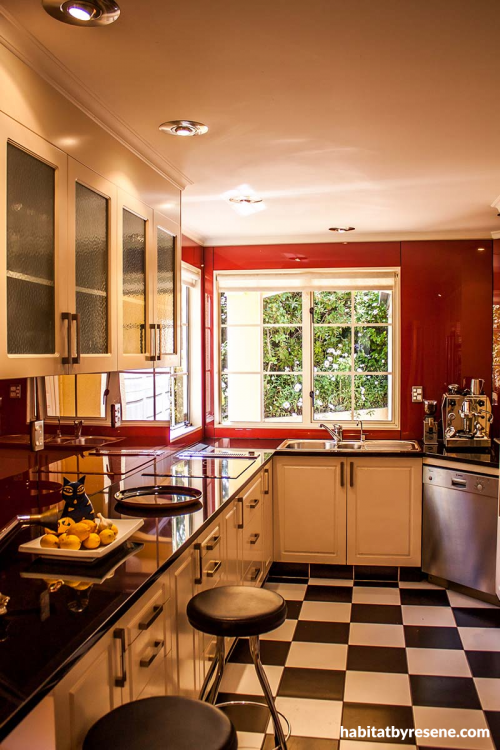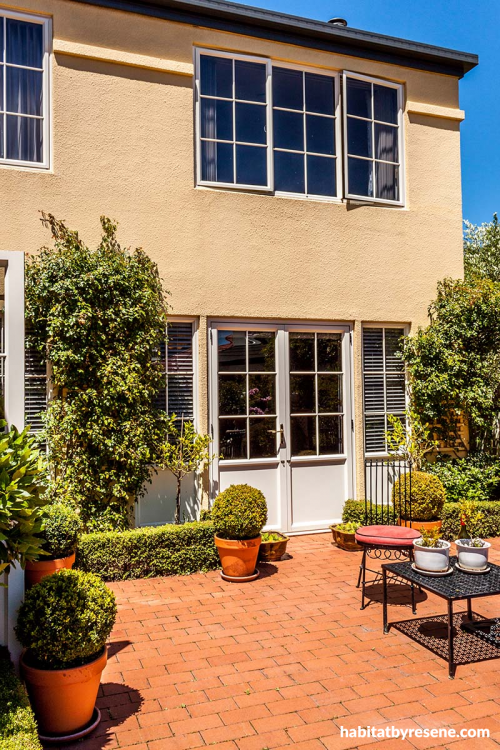 Harley's sumptuous French-style home
With rich red walls, a tent-like painted ceiling, a paint-striped hall and a collection of opulent furnishings this house was never going to be ordinary.
"Minimalist and plain have never been for me," declares retired interior designer Harley Hansen. And with the help of Resene paint, and his artistic flair, he has created a sumptuous Parisienne style home in Nelson.
The ceiling of Harley's casual sitting room is stunning – he painted it by hand in Resene Eighth Pearl Lusta and Resene All Black. Working with the lines of the ceiling, the tent-like result is accentuated with V-shaped ends to the black lines. "The V-shaped ends remind me of the ribbon ends my mother used to cut on my sisters' hair ribbons. It adds just another bit of interest."
The hall also has a hand-painted black and white stripe. Says Harley: "By using a paint effect I've turned what could have been a bland and uninteresting passageway into sophistication. It's so easy; you just have to think outside the square. Look at a space, look at the architecture, see how it's talking to you, how it wants to be represented using colour. This hall never wanted to be narrow, a passage to nowhere. It needed to be relevant."
Harley used a pencil and ruler to create fine lines as a guide to cut into with paint; he never uses masking tape, preferring a hand-painted look. "The vertical lines create height in the hall and in the entrance foyer it provides immediate interest for guests.
"I chose Resene Eighth Pearl Lusta rather than a more definite white because it's softer. I've used it throughout the house; it's a perfect background to the art."
Top tip: If you have a less sure hand than Harley and opt to use masking tape for your stripes or other shapes, look for low-tack masking tape at your local Resene ColorShop – it's easy to remove and won't harm painted surfaces.
In contrast, he chose the rich red Resene Cha Cha in the main sitting room where he does much of his large scale entertaining. "It gives a warmth and depth to the room. It's a colour you never tire of regardless of whether it's a fresh, brisk winter day or scorchingly hot summer evening. The colour makes the room welcoming."
Harley has an eclectic approach to furnishing, mixing French pieces with antique Chinese, porcelain with mirrors, gilt with patent leather. The result is a feeling of opulence. Says Harley: "If you can't buy what you want, get it made. We have artisans in New Zealand who'll make anything." The coffee table was locally made with a metal base finished in Resene Basalt metallic, and a mirrored top. "There are myriad reflections and light changes depending on the time of day. It's interesting and always a talking point. "
The kitchen reflects more of Harley's unique design style. The bench top is black granite, the surrounding walls are glazed with Resene Flash Point painted beneath, and the floor has checkerboard black and white tiles. The glazed walls are functional and easy to clean yet ever-changing in colour and reflection as the light changes and moves through the day.
"It's a technique I have used from time to time and clients loved it. Of course, if you tire of the colour it's easy to remove the glass and repaint in another Resene colour.
"The colours work well for me. They create an ambience that's suited to entertaining with a crowd of my rowdy friends or equally to a day nestled with a book and a wine under the 'tent' ceiling. It's fun. I love it. I'm always happy to be at home surrounded by colour."
photography and words Jill Wild
read more How to paint stripes
Published: 28 Apr 2016
Do you have a home full of wonderful Resene paint and colour? Send us some snaps by emailing [email protected].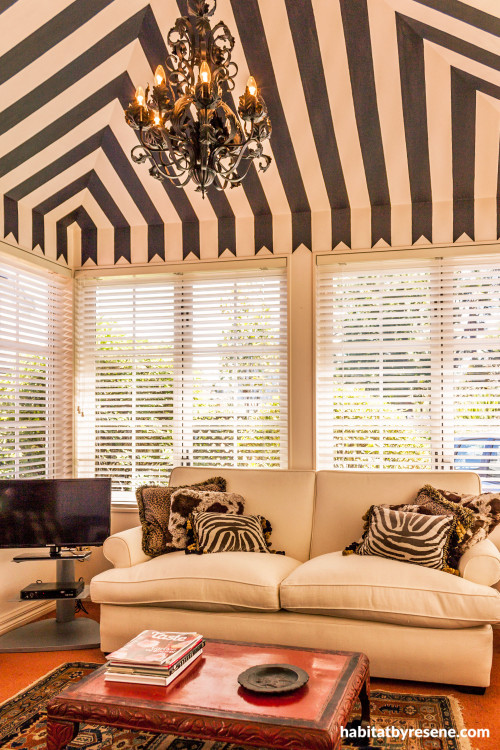 Harley Hansen painted his tent-style ceiling, with its 'ribbon' end stripes, by hand in Resene Eighth Pearl Lusta and Resene All Black.
The more formal living room has a lavish look for entertaining, with Resene Cha Cha walls and an eclectic mix of unusual furnishings, art and ornaments.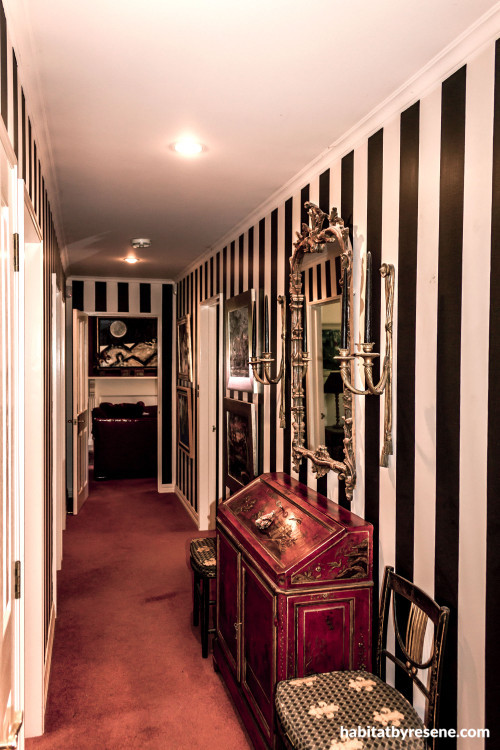 Vertical painted stripes add interest and grandeur to the hall, hand-painted in Resene Eighth Pearl Lusta and Resene All Black.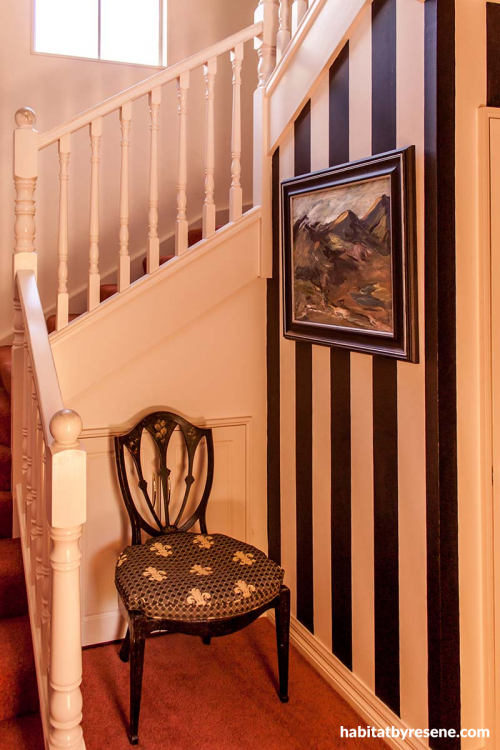 Harley's stripes extend into the foyer beside the stairwell, where the banister is painted in Resene Black White.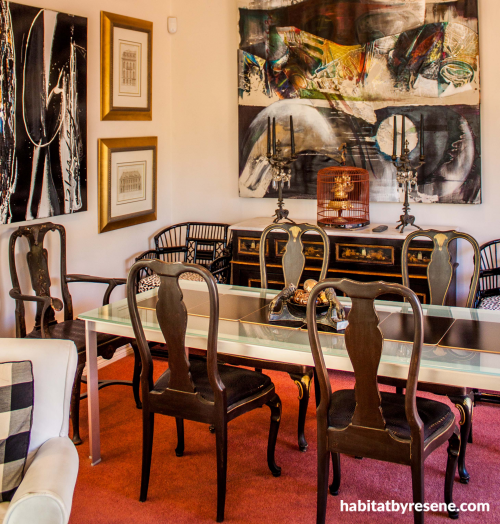 Aside from his red living room, Harley used varying strengths of Resene Pearl Lusta throughout his home, including in the dining room.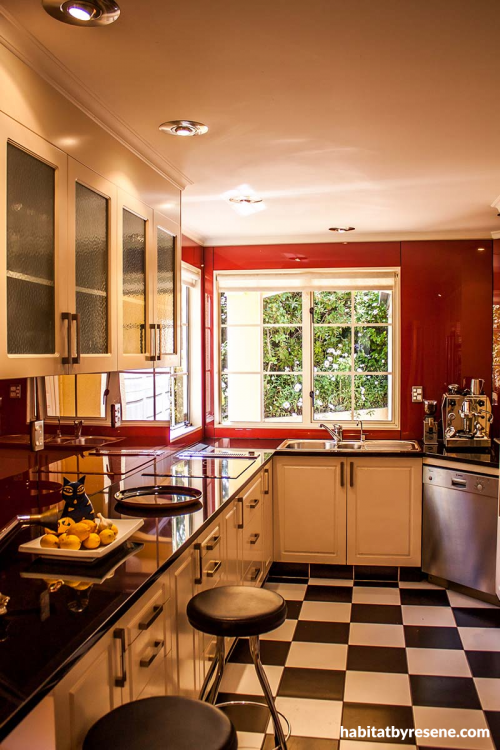 The kitchen walls were painted in Resene Flash Point, then covered in glass. It's not only practical but versatile, and changes with the light.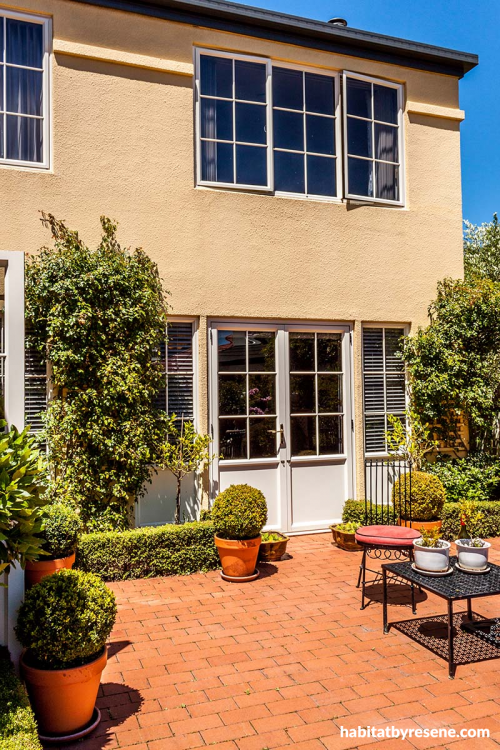 On the exterior, Harley chose to fit in with neighbouring homes, using Resene Half Colonial White with window frames in Resene Black White. The outdoor furniture is painted in Resene Black Bean and the pots on the table are painted in Resene Black White.
Resene Eighth Pearl Lusta
Resene Half Colonial White
the look
If you're stuck on what
colour to use or need colour
advice, try out the Resene
Ask a Colour Expert service.