►
◄
latest
habitat tv
blog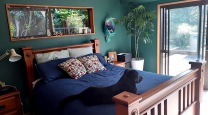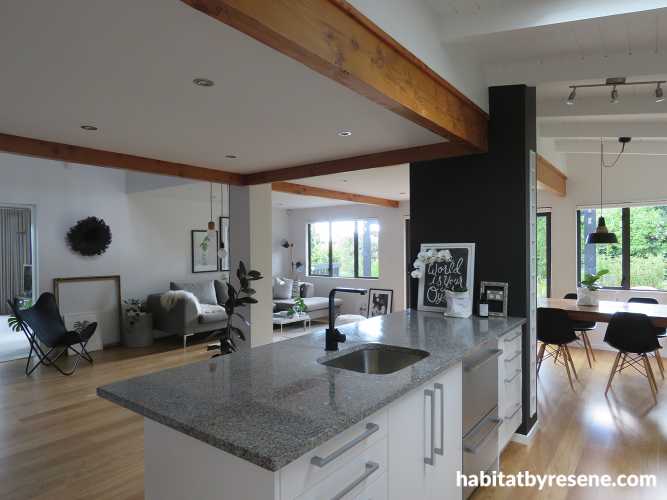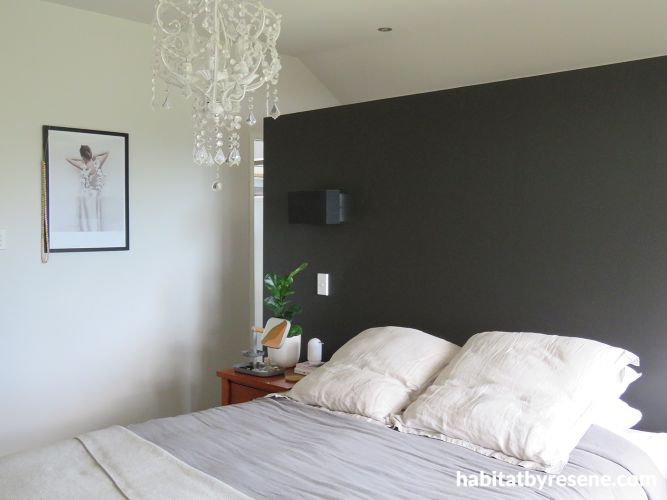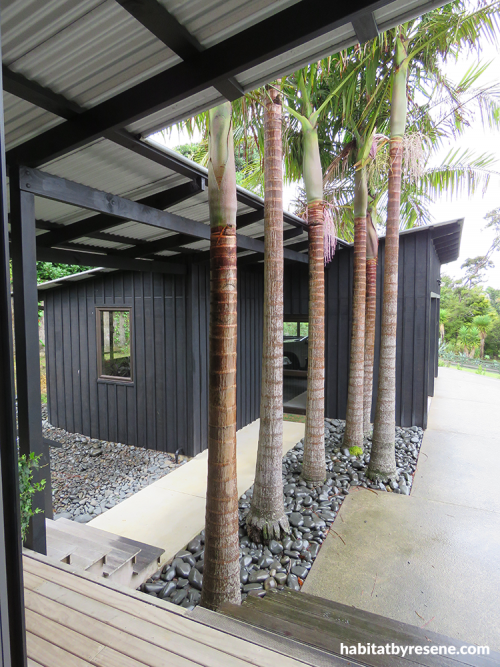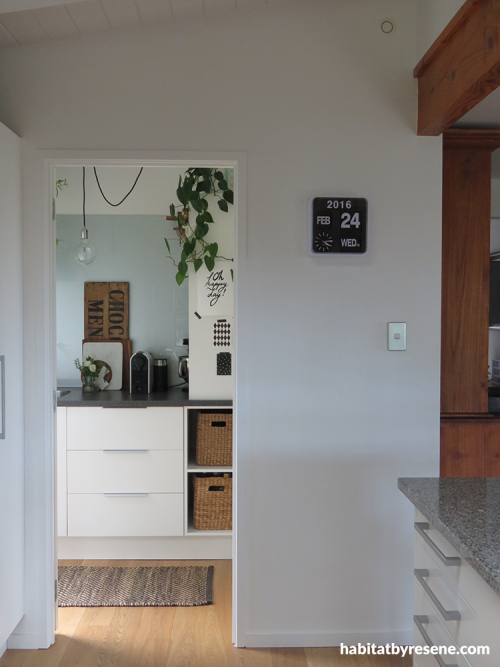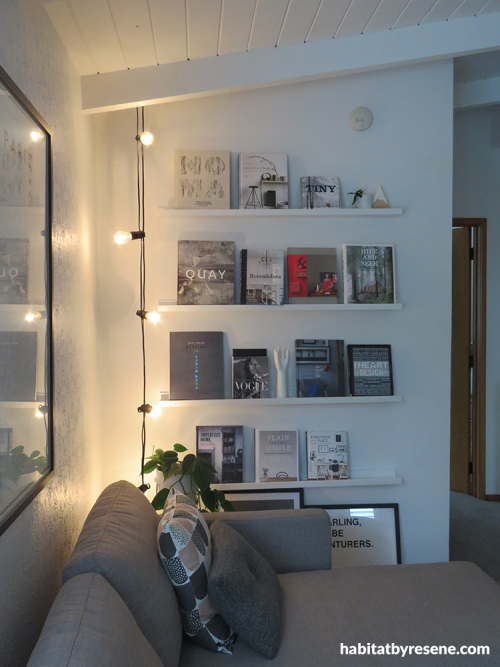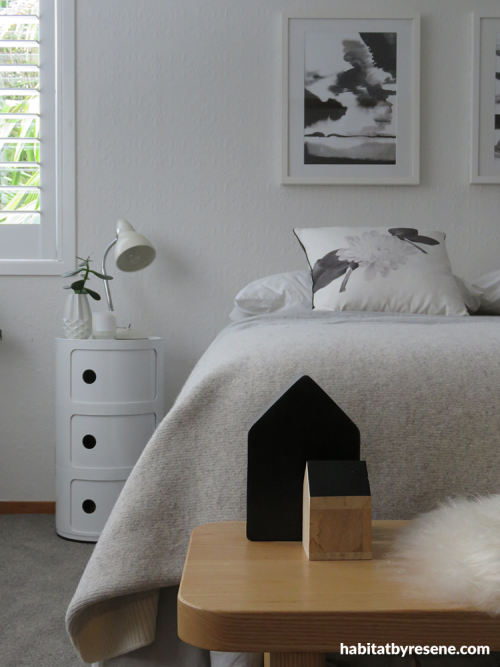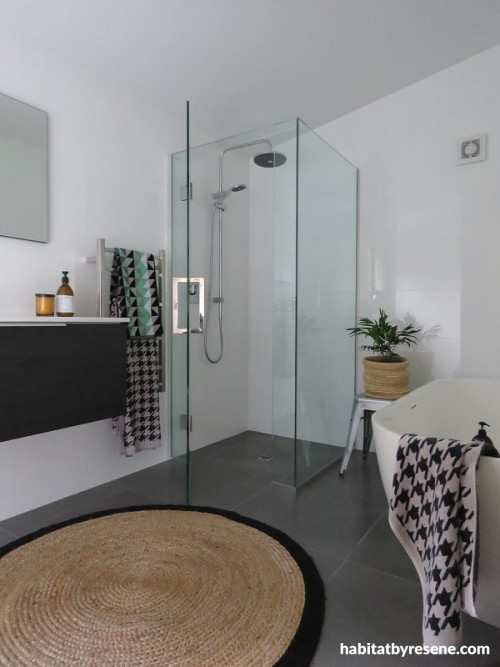 Hayley and Darryl find peace with white
Designer Hayley French of Crush Interior Design loves white. She's used Resene Black White and Resene White Pointer to transform a 1980s kitset cottage north of Auckland into a calming family home.
Says Hayley: "White has infinite power in an interior. It makes spaces appear bigger and brighter by reflecting light. You can use white in modern spaces to create that arty cool look; in rustic spaces white combines and accepts the layers and textures; and in romantic spaces it works with floaty white fabrics. When you add colours to a white interior, they appear truer. White is timeless! We added our kitchen 10 years ago using white and a grey granite. People still ask me if it's a brand new kitchen."
Bought 10 years ago, the house has been extended twice to triple its original size and extensively renovated for Hayley, husband Darryl and their son Nick.
What Resene colours and products have you used, in which rooms, and what inspired those choices?
We chose Resene Black White for the interior. It's the perfect backdrop when I photograph products and it picks up shadows and other colours beautifully with the changing light. I find it very calming.
For the master bedroom and formal living area we chose Resene White Pointer. I had used this colour in a Community House renovation and was awed by its soothing qualities. The architraves, skirtings and doors are a mix of paint finish in Resene Black White and natural rimu in other areas.
The house and garage exterior is stained in Resene Waterborne Woodsman Pitch Black using Resene CoolColour technology to help protect the timber from the effects of the sun. The roof is Resene Aluminium and the fascias are Resene Winchester.
The windows are bronze aluminium, however we are currently painting the exterior of them in black for a seamless effect.
How did you decide on the overall look of the interiors? What was your overall philosophy?
My design philosophy is always to do what you love, what makes you happy. I do encourage people to use a designer to make sure the interior is harmonious. You can have a mix of styles, and a riot of colours and patterns but by using scale and proportion and focal interest you can usually pull it all together.
My style is based on the calm Nordic look. I love Scandinavian furniture design, but I mix it up with 'organic modern' because I adore texture and I love to add in a little vintage or quirk in accessories just to surprise and personalise.
What part of the house are you most happy with?
The open-plan kitchen, dining and living is perfect for entertaining. It flows directly to the outdoors, which is always home to extended family soccer games in summer. When we talked about adding a pool, my nephews were horrified!
We recently added oak flooring, which has lifted and lightened the area and echoes the exposed timber beams.
What is your advice for someone trying to achieve a similar look?
Evaluate your space and how it will be used then work the design around the function and flow of the spaces.
Neutral colours work best as a base then add other colour after you have lived in the space for a while and get to know what it needs.
Use natural elements whenever you can as they add depth and character.
Choose your lighting wisely. Don't rely on downlights. Create interest and drama with unusual lights.
Use nooks and crannies to your advantage for built-in desks or extra storage.
What was the biggest decorating, renovating or building challenge for this project?
Our first renovation was over winter and we were tight on funds so we literally lived on a building site, cooked in a microwave and washed in a bucket. It was cold and wet. Life changes and now we would be able to do things much differently but the memories of that experience itself was something that I will treasure and I am sure it will keep us humble.
How did you find working with Resene paint and colours?
I never think to use anything else. I am so comfortable with Resene paints if someone asks me what would work in a space I can usually just rattle off the name.
Read more about Hayley's home at www.mylittlehouse.co.nz/my-home/.
Published: 16 Aug 2016
Do you have a home full of wonderful Resene paint and colour? Send us some snaps by emailing [email protected].
New oak flooring is beautifully complemented by walls throughout the open-plan living room in Resene Black White. The fin wall at the end of the kitchen bench is Resene Bokara Grey.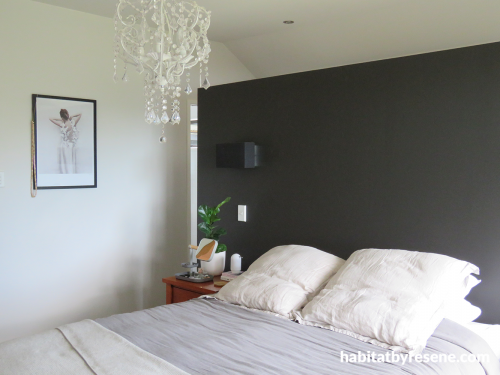 The master bedroom has a feature wall in Resene Bokara Grey with the other walls in Resene White Pointer – "I'm awed by its soothing qualities," says Hayley.
The board and batten on the house and garage exterior is stained in Resene Waterborne Woodsman Pitch Black using Resene CoolColour technology to help protect the timber from the effects of the sun. The roof is Resene Aluminium and the facias are Resene Winchester.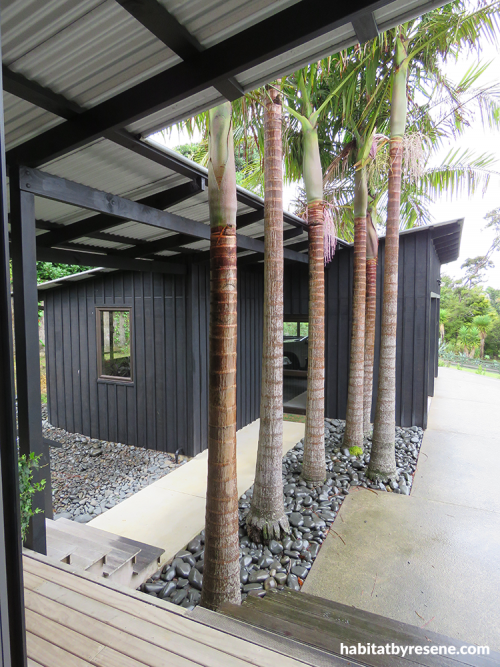 The main house and garage/workshop are linked by a covered walkway lined with palms. The cladding is finished in Resene Waterborne Woodsman Pitch Black.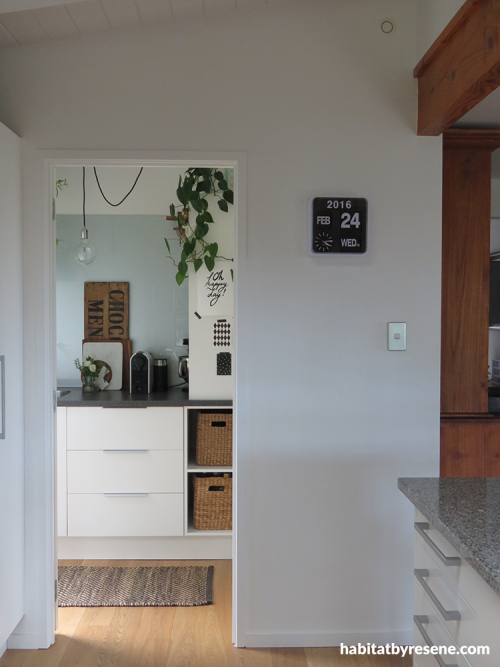 Looking through the timeless kitchen into the scullery. The walls are Resene Black White.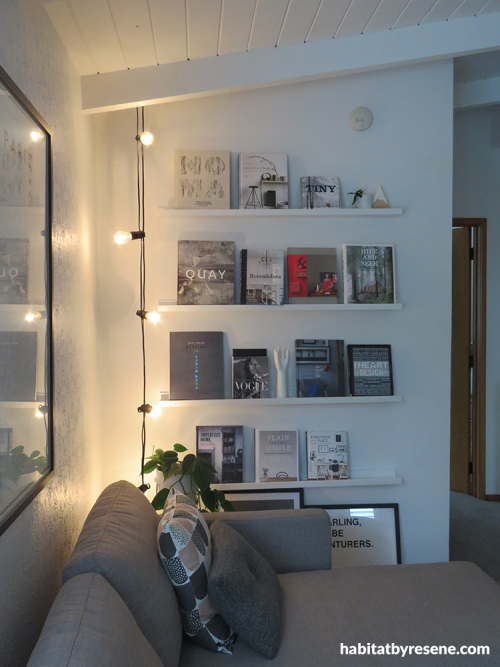 Resene Black White was chosen as the perfect backdrop colour for the walls and ceiling. In the mezzanine living area, an anaglypta wallpaper from Resene was used to disguise less-than-perfect walls.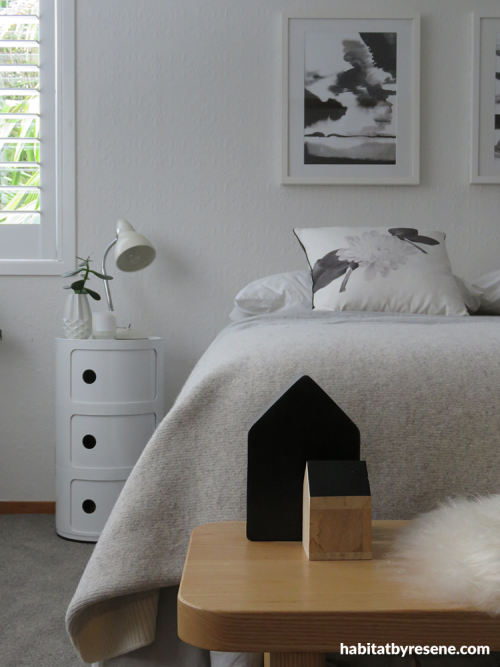 Resene Black White continues its restful backdrop into this bedroom.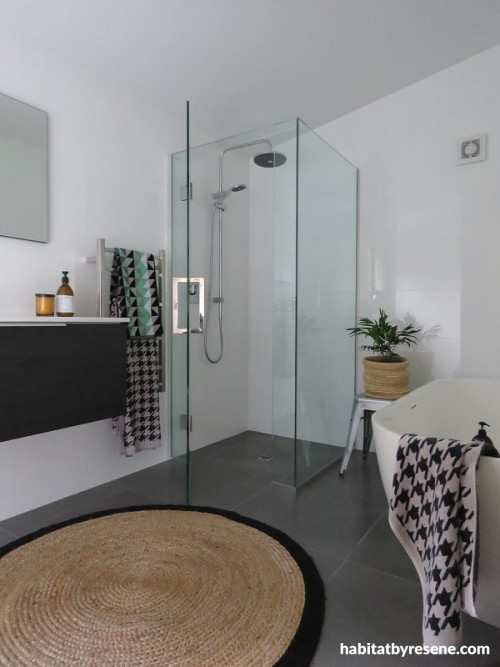 Clean lines and a neutral colour scheme make the bathroom feel light and spacious.
the look
If you're stuck on what
colour to use or need colour
advice, try out the Resene
Ask a Colour Expert service.