►
◄
latest
habitat tv
blog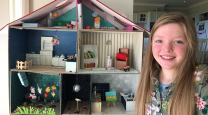 High-octane summer colours make a vivid statement in interiors
Take a lead from nature's summer colours – whether it's the crimson shots of pohutukawa flowers to the brilliance of bougainvillea, amping up the dial in your home is easy with the Resene colour palette. Maybe it's just a feature wall in a vivid jewel tone, or you go big and bold with an entire room. Inspiration is everywhere, and here are some starters.
Compare and contrast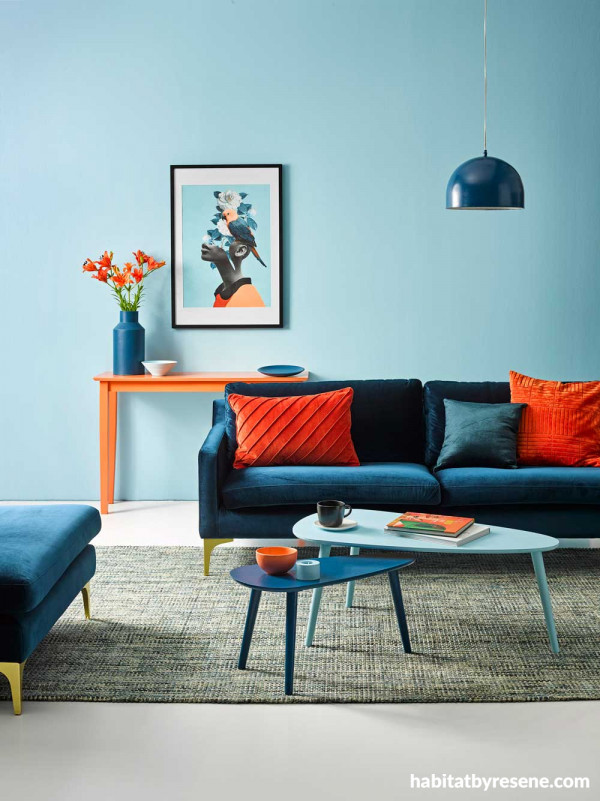 Decorating with complementary colours can be a challenging look to pull off, but when everything comes together, the results are memorable. In this space the pendant lamp, vase, dish and small retro nesting table in Resene Wishing Well provide high contrast with the Resene Bluetooth walls and large coffee table, against the Resene Jailbreak console in vibrant orange. The small bowl in Resene Japonica brings in a softer orange to balance out the look and play off tones in the artwork. Neutral flooring in Resene Alabaster lightens things up and keeps the bold tones from becoming overpowering. Sofa from Contempa round bowl (on coffee table) in Resene Japonica, rug from Freedom, cushions and shoes from H&M Home. 'Girl with Parrot' artwork print by Dada22 from Pop Motif.
Project by Vanessa Nouwen, image by Melanie Jenkins,
A great way to mix bold tones is to look to the opposite side of the colour wheel. If you have blues in a room, mix in some oranges and reds. It will immediately inject a space with more energy. Keep in mind that these colours can (and should) be used on different textures like furnishings and fabrics.
Because of their energising powers, bold colours work well in spaces that are not constantly lived in. Dining rooms, hallways, powder rooms or libraries are all great spaces to infuse with bold colour for that reason. Or use a softer colour like Resene Bluetooth and let the accessories do the work, by using a vivid orange like Resene Jailbreak on an accent piece.
For an alternative colourway, opt for the classic green and red combination, but turned on its head. Instead of going for a neutral green as your main background wall colour, go for a deep blue red as the dominant colour and use the grey-greens as your accent colour, in accessories or even around windows. Alternatively, go for warmer, more unusual sage greens.
Go bold in the bathroom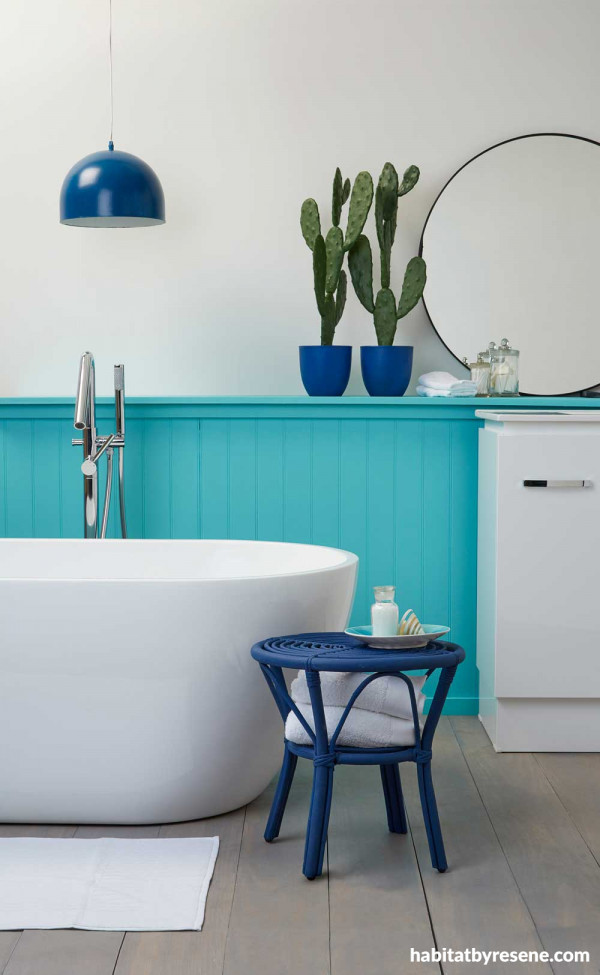 Bathrooms don't have to be all-white affairs, in fact there is often so much white in the fittings that the bathroom makes a perfect setting to introduce strong hues. A vibrant mid-tone aqua blue in Resene Yes Please on the tongue-and-groove paneling and shelf is paired with the strong notes of Resene King Tide a true blue and complemented with Resene Elderflower, a fizzy warm white, hinting of lazy days and sunshine. Floor is in Resene Colorwood Mid Greywash, pendant lamp in Resene Wishing Well, Cacti pots in Resene Submerge. Bath, bath filler and vanity from Plumbing World. Project by Megan Harrison-Turner, image by Bryce Carleton.
Vivid colour looks even better against a frame. Bathrooms can be a great area to splash colour around because the expanses of white of basins, bathtubs and showers make it a great backdrop to a standout colour. Blues are an obvious choice here, try Resene Yes Please or Resene Retreat.
For classic whites to showcase the hero colours, try Resene Alabaster or Resene Black White.
Bright fantastic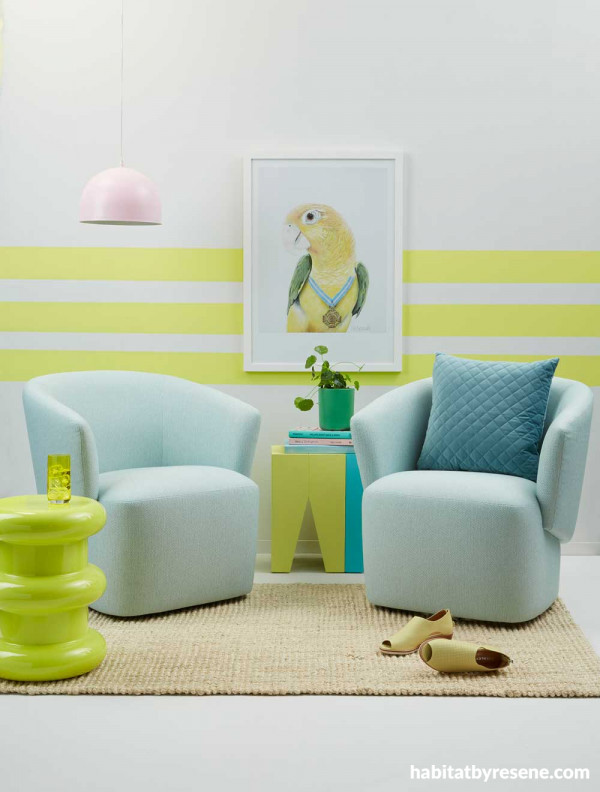 Canary yellow packs a powerful punch in the Resene Honeysuckle stripes on the wall which contrast with electric aqua like Resene Yes Please on the stool, Kelly green like Resene Away We Go on the plant pot, and pop pastel pink like Resene Princess on the pendant lamp. All have an undeniably 80s flair to them and each looks completely at home in the space thanks to the parrot artwork by Margaret Petchell. A simple setup like this one with retro-contemporary statement furnishings gives a nod to the Memphis Design movement and works well with the minimalistic Resene Sea Fog walls and flooring. The faded blue of the quilted Mulberi cushion and the natural fibre floor rug provides some balance and grounding to keep the vibrant colours from overpowering. Picture frame in Resene Alabaster. Stool from Kartell. Margaret Petchell Hendrikse Parrot artwork from Endemicworld, armchair, stools and rug from Freedom, cushions from Furtex, plant pot from Kmart.
Project by Kate Alexander, image by Bryce Carleton
80s pastel tones are always on trend. Beyond the powdery blue and pink palette, try bright jewelled or spicy tones in vivid lemons and vibrant mustard yellows, or even mellow golds, both in layered paint tones and accessories. These shades work especially with the brighter, tomato-tone reds.
Other unexpected colour combinations are reds layered with intensities of bold fuchsia, particularly with bluer toned reds, and different shades of vibrant orange with yellower-toned reds. Try Resene Smitten or Resene Clockwork Orange.
Modern manners
This inspiring contemporary space draws upon elements of mid-mod style brought to life with a vibrant and cheerful colour palette. Neutral walls in Resene Black White have been completely recharged with a colour blocking scheme of Resene Turbo and a few splashes of Resene Roadster and Resene Party Zone painted accessories. But it's not just the high energy colours that make this room shine – it's also the repetition of shapes and finishes. The floating shelf and flooring have been coated in high gloss Resene Noir to play off the marble coffee table, and the round circles appearing in the artwork, plant pots, table, tray and cushions bring it all together. To bring a high gloss finish to colourfully painted flooring, use Resene Polythane, a solventborne moisture-curing polyurethane, or Resene Aquaclear for a waterborne finish. The tan leather sofa from Cintesi has a decidedly masculine feel – another element that's common in mid-century modern design. Hints of pink add accents, including the rug from The Ivy House, a vase painted Resene Sorbet and the organic shapes in the artwork. The smaller artwork on the Resene Noir floating shelf is titled 'Morning Sun' by Inaluxe. To link the palette together further, the bold statement painting uses Resene testpots in the same colours used throughout the room – Resene Noir, Resene Sorbet, Resene Party Zone, Resene Turbo and Resene Roadster. The frame around it is painted Resene Sorbet. Cushions from Bolt of Cloth. Project by Kate Alexander, image by Bryce Carleton.
Mid-century modern design was first made popular in the post-war Western world after designers sought to shift away from the fussy looks of the Edwardian era. The style is defined by a combination of playfulness and utility – clean lines and stripped back forms paired with eye-catching colour palettes in red, orange, teal, blue, yellow, brown and black while materials like brick, metal, glass, wood, stone, leather, and ply were combined and contrasted to reflect the height of the 'space race'. Vivid and high-octane colours are perfect for this look.
A great way to use a bold colour without painting a whole room is to paint the doors and the trim. It brings a limited amount of colour without feeling overwhelming. To avoid it feeling random, use a main colour like a vivid pink and then layer the room in different shades, such as blush and pale pink, pulling it together with fabrics and furnishings.
Try Resene Pink Lace or Resene Pot Pourri.
Rich, red and rewarding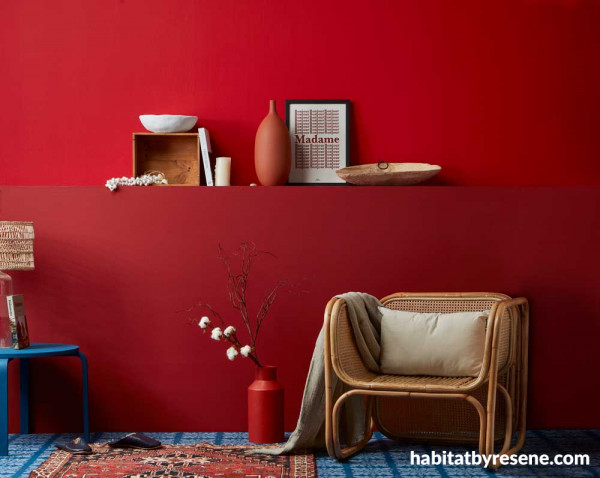 This boldly beautiful space showcases two striking reds, which have been cleverly used together for added dimension. Resene Poppy has been painted on the upper wall and Resene Dynamite is on the lower wall. To add to its richness, we added further layering of red with a floor vase painted in Resene Raging Bull, the shelf vase in Resene Moccasin and the exotic earthy toned rug. A Moroccan-style stencil is used to pattern the floor and amp up the texture, painted in a base colour of Resene Wishing Well with Resene Time After Time over top. Coffee table in Resene Wishing Well and bowl (on box) in Resene Elderflower. The red tones are dramatically combined with a blue floor painted in a base colour of Resene Wishing Well, also used in the matching side table. The use of an overlayed stencilled floor pattern in Resene Time After Time is a clever way to add texture and interest to the space, cooling down the reds, while still enhancing their impact. Chair from Indie Home Collective, slippers from Paper Plane Bonjour Madame Print, bowl, rug and lamp from Father Rabbit, stems, branches and throw from Flux Boutique, cushion from Freedom. Project by Gem Adams, image by Wendy Fenwick.
No longer consigned to feature walls from the 1990s, modern reds can be layered through a whole room for a dramatic but inviting and cosy look. Elegant furniture and accessories in natural tones and textures, work in perfectly with these dramatic background colours, adding a lightness and simplicity, without sacrificing style and elegance. On this side of the world, with our clear, bright, natural light, we have traditionally opted for bluer, deeper reds such as the Resene Dynamite used here on the lower wall. By pairing it with a truer red such as the Resene Poppy seen here on the upper wall, the overall effect is much less oppressive and in fact opens the room up.
Top tip: Create the effect of Moroccan tiles, for a fraction of the price with Resene Walk-on flooring and paving paint. Simply paint the floor in your base colour and blot the contrasting paint colour on through a stencil using a dry sponge. Put only a small amount of paint on the sponge to ensure the paint does not seep or run beneath the stencil. You may want to pencil in some guidelines to help keep the stencil straight. Paint stencils are available online or create your own using cardboard and a craft knife. Then finish with Resene Concrete Wax to protect the floor.
.
Published: 19 Jan 2022
Do you have a home full of wonderful Resene paint and colour? Send us some snaps by emailing [email protected].