►
◄
latest
habitat tv
blog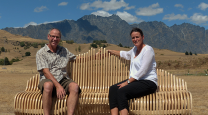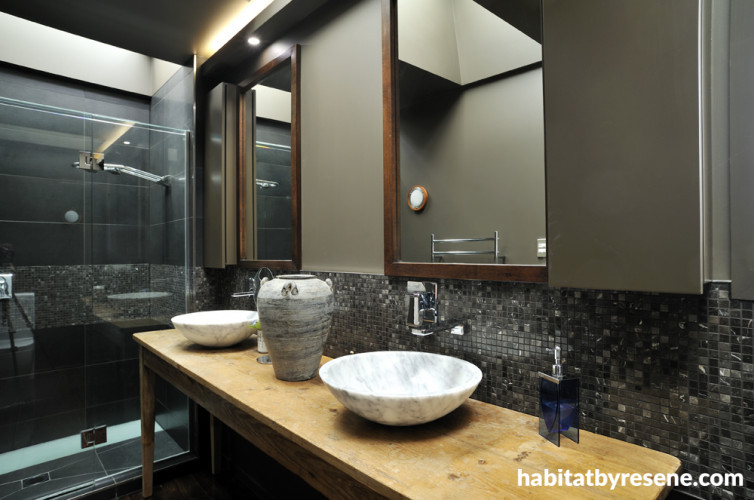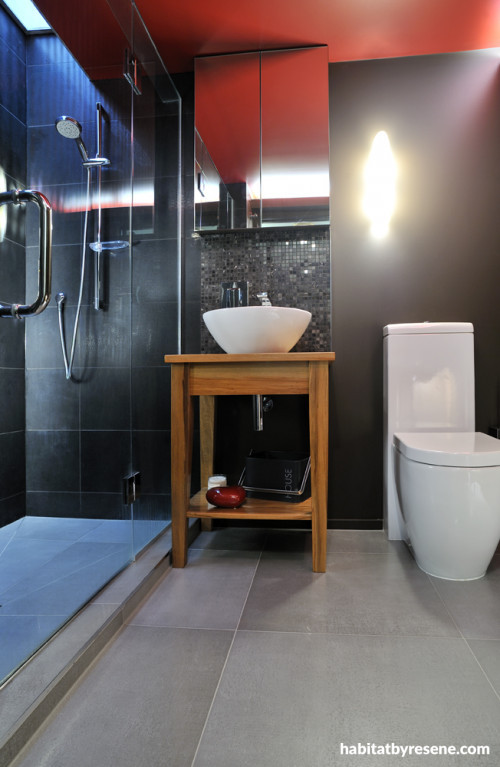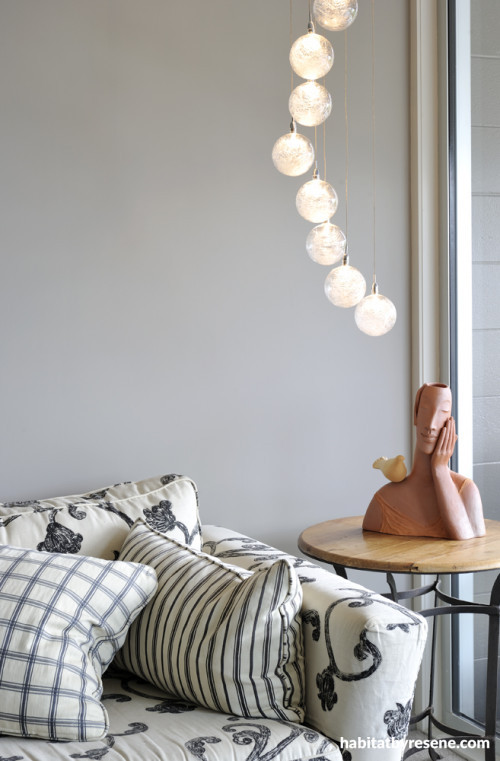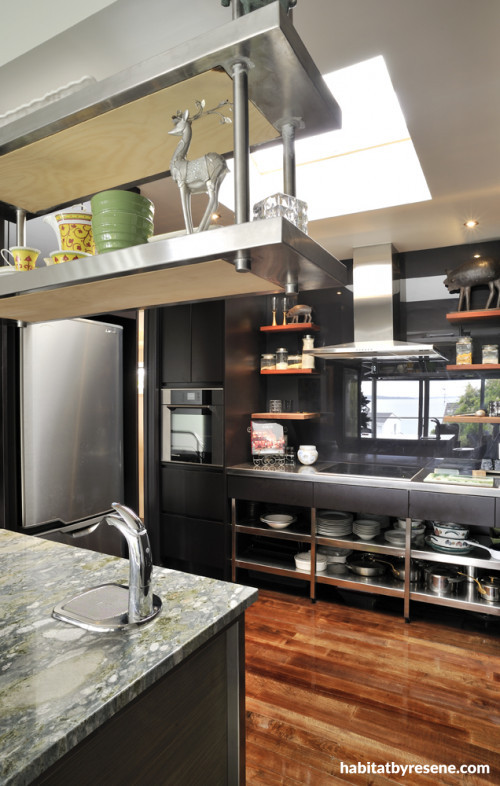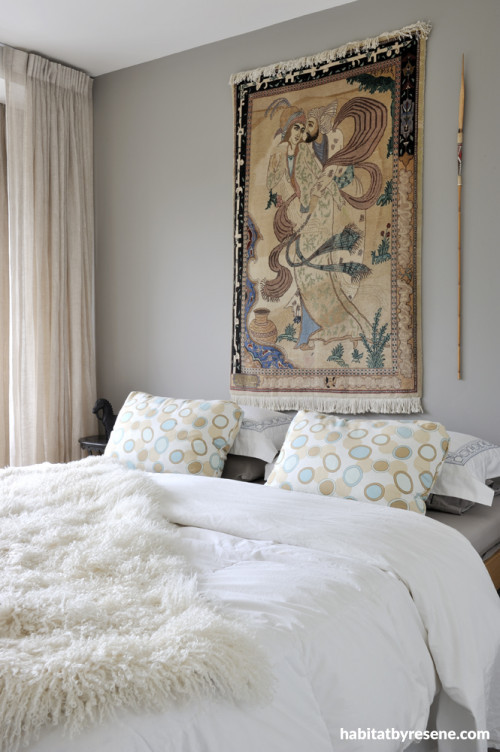 A Surprising Home Interior Inspired by a Chinese Lacquer Box
Published: 26 May 2011
Do you have a home full of wonderful Resene paint and colour? Send us some snaps by emailing [email protected].
Oriental minimalism and French antiques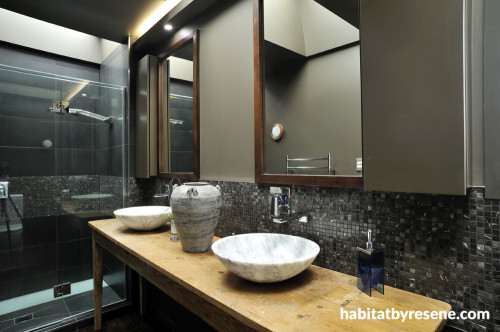 When renovating, most people try to make their kitchen and bathroom appear bigger and more modern by painting them light and bright - often white. But the owner of this compact city townhouse decided to do the opposite, painting the master bathroom (above) in deep brown Resene Triple Mondo and choosing black cabinetry for the kitchen. "We just didn't want to do the obvious. I think the darker the room, the darker you make it, so it feels like a little jewel box." In keeping with this jewel box theme, architect Lloyd Macomber was told to use a Chinese lacquer box as design inspiration for the bathrooms. Gleaming glass mosaic tiles, a brilliant Resene Red Berry ceiling in the guest bathroom, and the use of glowing uplights, create the desired rich, glossy and luxurious feel.
The bathroom and kitchens were only a small part of this renovation, which required a complete change in the floor plan of the 1960s townhouse. A narrow guest bedroom was made shorter to allow space for a guest bathroom, while two small bedrooms were turned into one large master bedroom with a walk-in wardrobe and spacious bathroom. This master bathroom features an antique French table paired with two marble sinks and contemporary stainless steel taps - a surprising, visually stunning combination.
How would you describe your design style? Baroque, oriental minimalism – probably in reality eclectic is the easiest definition!
What did your home look like before the renovation? White, small spaces designed for three people but only holding one in comfort. Now it can hold a family.
Which space do you get your greatest satisfaction from? The master bedroom suite - we wake up with the sun to a space that works for us.
Why did you make these colour choices? The home is flooded with sun, green and blue from the exterior, so warm, earthy shades balance the light flood and provide a tranquil interior, while the dark colours add drama and elegance.
What is your advice for someone trying to achieve a similar look? Go with what you love, not just with the fashions of the day.
To read more about this home, and see more photos of the stunning bathrooms, pick up a copy of the latest Habitat magazine from your local Resene ColorShop.
pictures Architect: Lloyd Macomber at Salmond Reed Architects Photography by Mark Heaslip Get the look: To ensure your coloured walls are easy to clean, choose Environmental Choice approved Resene SpaceCote Low Sheen waterborne enamel. Combine this with Resene Enamacryl gloss waterborne enamel on trims and joinery for a high gloss contrast or Resene Lustacryl semi-gloss waterborne enamel for a more subtle sheen variation.
Seeing red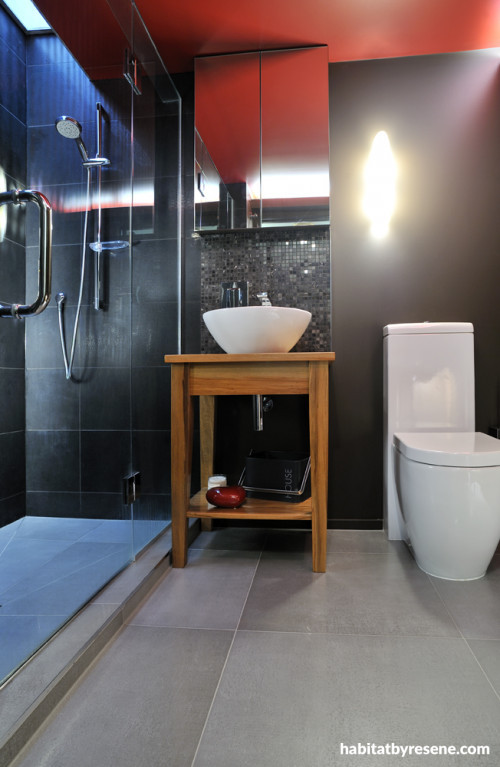 The guest bathroom features a ceiling painted Resene Red Berry and walls in Resene Sambuca. The blue glow in the shower is thanks to a frosted glass skylight.
Enlightenment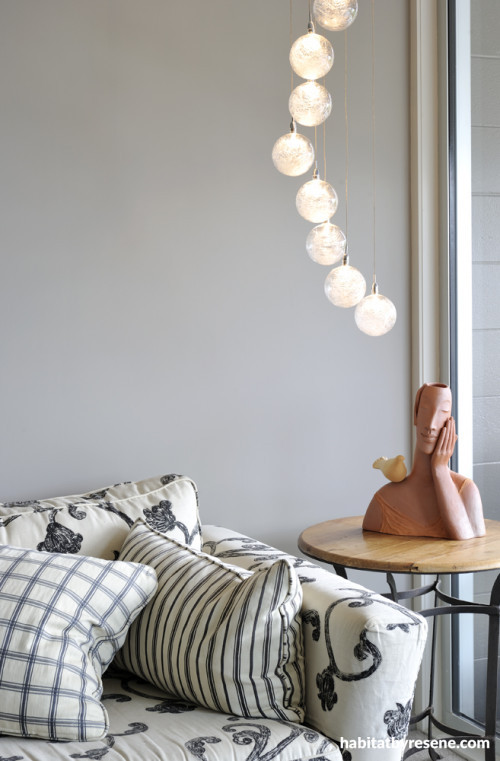 A beautiful arrangement of lights in the living room is always an attention-grabber.
Black beauty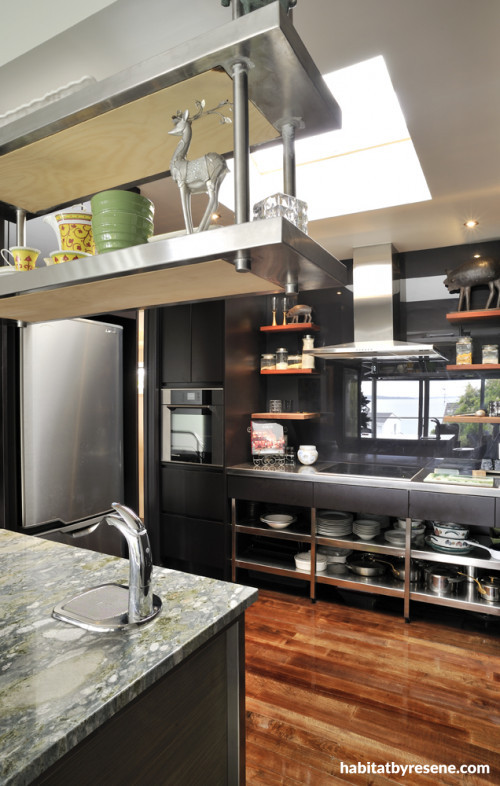 Black cabinetry, stainless steel fridge and shelves, marble counter and polished wood floors create a sophisticated kitchen look.
Magic carpet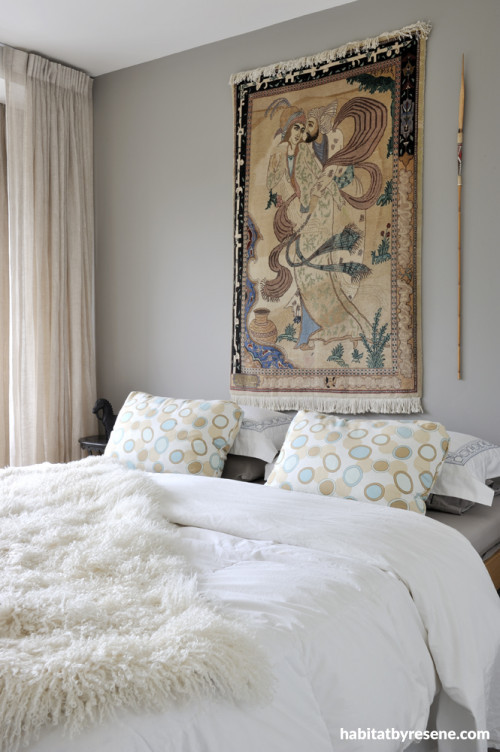 A sheepskin on the bed and tapestry on the wall give the master bedroom a warm and cosy look.
the look
If you're stuck on what
colour to use or need colour
advice, try out the Resene
Ask a Colour Expert service.