►
◄
latest
habitat tv
blog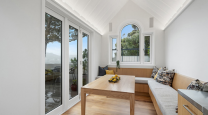 Master Builders' Chief Executive David Kelly shares his tips for building in the challenging climate.

Planning... more
How to dip your toes into braver colour choices
Stylist and creative director of Places & Graces, Kate Alexander, shares her tips on how to embrace a variety of colours in your home, in ways beyond the walls.
When I moved into my current home, there was a strict plan for it to only be graced by tones of black and white: Resene Black White and Resene Blackjack to be precise. Over the years, slithers of colour snuck their way in – starting with the primaries, yellow and red, followed by their close cousin orange and most recently joined by blue and green from the cool family. Slowly my monochromatic backdrop morphed into a colour-filled oasis. Turns out, I love living with colour. But, I understand that painting walls and making what may seem like permanent changes to your environment can be daunting – though remember, it is only paint and it can easily be painted over if you change your mind later on down the road.
Below are my top five tips for dipping your toes into the colour jar.
Start small
Most homes are made up of large surfaces enhanced with small details. Start by adding colour in through those details. Swap your white vase for a purple one (try Resene Poet as a gentle start), add a couple of patterned cushions to your bed, or try coloured cord for your light fitting. As your colour-joy builds, increase the size of your details. Small furniture items are a great option – think lamps, stools and dining chairs. Then, when you're ready, go large – we painted one wall of our lounge in Resene Smoky Green – before painting the whole room in a darker shade (we went with Resene Green Meets Blue) the next year.
Published: 23 Apr 2020
Do you have a home full of wonderful Resene paint and colour? Send us some snaps by emailing [email protected].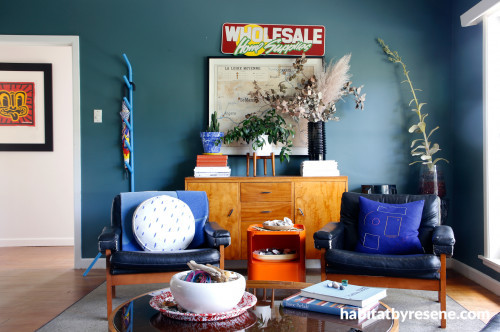 Kate balances both large bold colour - the walls of her lounge are painted in Resene Green Meets Blue - and small details, like the stack of red-spined books topped with a yellow tray and paint splattered pot in Resene Torea Bay and Resene Shakespeare. Trims in Resene Alabaster and wall beyond in Resene Black White.
Use the 'stuff of life'
You'd be amazed at how much colour makes its way into our homes just through everyday living. The kettle, shoes sitting at the front door… hey, even the kids' school bags. For items that have a permanent life 'on show' like the toaster and coffee machine, make a conscious decision to include these in your overall colour scheme. That way, they will add beauty to your space, rather than distract. Stacks of books are my favourite everyday object for delivering colour in a room, as are items from the wardrobe – my pale pink cowboy hat (which is almost a perfect match to Resene Soothe) adds a soft hue to the wall of my bedroom when it's not being worn.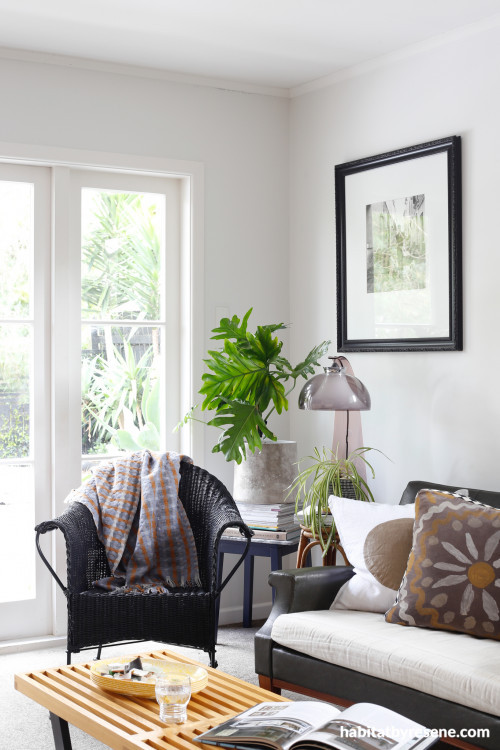 Kate has added earth-toned colours to her living room through furniture and accessories, including her cane chair painted in Resene Blackjack and stool in Resene True Blue. Walls in Resene Black White and ceiling and trims in Resene Alabaster.
Stick to a chosen palette
A colour-filled home can feel calm and inviting if you combine tones and hues that sit comfortably side by side. We build our interior palettes by starting with the givens – things you can't easily change, like the floor and cabinetry.
Next, add reference to the outdoor view. Resene Family Tree and Resene Mother Nature are lovely tones to use if the view out your window is native bush. Then, take some cues from a favourite artwork or feature furniture item. Part of building your palette is to also identify what's outside your colour bubble.
Once you have your chosen bundle of preferred shades, find ways to repeat each colour, in some form, in each room to weave a consistent colour story all the way from the front door to the back one.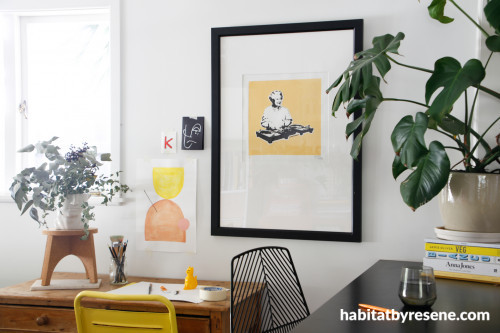 While white is the dominant colour in this room, yellow makes an appearance through art, furniture, book spines and objects. It could just as easily be blue, green or even pink. Experimenting with colour in small details is a safe way to test your enjoyment of a particular shade – look to vibrant versions such as Resene Bright Spark, Resene Spotlight or Resene Wild Thing for a similar look. Wall in Resene Black White and trims in Resene Alabaster.

Build layers
Using various tones of a chosen colour and assorted methods for delivery will give your home depth and intrigue. When I started to allow colour into my home, it began with a trickle of yellow. Those with a keen eye will notice that each time it appears, I've used it in different shades and ways. Some yellow is bright, like the painted spines of my doors in Resene Turbo. Occasionally it appears in combination, like through tints of yellow within an artwork or fabric pattern. Other times it sits on or under other items, such as a Resene Hive yellow tray on top of my blue dining table.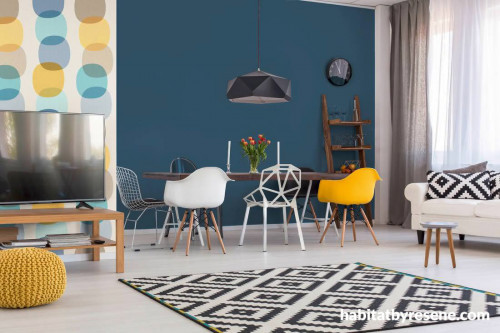 Scandinavian design is the perfect model for bringing bursts of colour. Try pairing Resene Wallpaper Collection 35590-1 (left) with a rich turquoise wall in Resene Billabong to play off its blue hues. Then, add just a few pops of Resene Turbo, such as on a dining chair, ottoman and vase, to connect those items with the yellows in the design. Keep the rest of the space neutral with blacks and whites such as Resene All Black and Resene Alabaster.
Be brave and experiment
Certain colour combinations work better than others. But more importantly, 'colour joy' is subjective. Everyone will have different preferences and hues that they fall in love with.
If you're 'umming' and 'aahing' about whether a terracotta-toned stool in Resene Sunbaked will work in the same room as a classic blue like Resene Wet N Wild, the first question you should ask yourself is, "do I like it?" And if you're not sure, experiment. Start with something small and easily changeable. Paint a couple of items, such as plant pots and picture frames, then try them in different rooms of your home. Resene testpots are fantastic for painting objects and furniture. Colour can be nudged in different directions by both natural light and its surroundings, so before you add paint to more substantial surfaces, be sure to experiment in a small way first.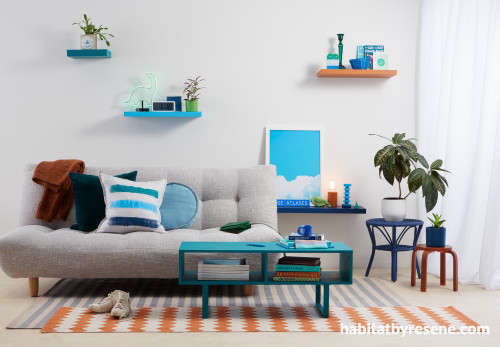 Bringing in colour by painting smaller surfaces can be a great strategy for wetting your toes in the vibrant hue pond. Walls in Resene Rice Cake, floors finished in Resene Aquaclear, coffee table in Resene Yowza, side tables in Resene Wishing Well and Resene Moccasin, shelves in (from highest to lowest) Resene Yowza, Resene Bi Hoki, Resene Tomorrow and Resene Wishing Well, plant pots in Resene FOMO, Resene Alabaster and Resene Wishing Well, lamp in Resene Bi Hoki and striped cushion in Resene Yowza, Resene Tomorrow and Resene Wishing Well.
For more of Kate's top tips, check out the Places & Graces blog.
styling Kate Alexander
images Kate Alexander, Bryce Carleton