►
◄
latest
habitat tv
blog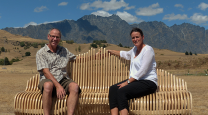 How to embrace your inner maximalist with a carefully curated collection
Thanks to Marie Kondo's 'KonMari' method, the successfully organised among us have managed to minimalise our homes to stark perfection. And while elegant neutral walls, soft curves and earthy, homespun accessories are still high on interior design inspiration boards, a more maximalist approach is also raising its head.
With its colourful interiors, pattern overload and gallery-like collection assembly, maximalism has, in the past, been lumped together with hoarding. It's an unfortunate and incorrect comparison, because what separates a hoarder from a maximalist is deliberate and thoughtful curation of items worth hanging on to.
Minimalism and maximalism, while polar opposites in their finished looks, share some common objectives – the main one being an emphasis on selecting things for your space that make you happy. The only difference is, with maximalism, there's no limit to how many items that might be.
With the renewed focus on home we've all experienced as of late, there comes a similar focus on acquiring objects with soul, character and history to help develop an interior look with more authenticity. Gone are the days where we replicate mass-produced interior looks season after season. Instead, we're much more drawn to unique items with stories behind them.
Maximalism, a style that thrives on personalisation and unabashed confidence, is known for its curated collections of items with charm and singularity. Stylist Kate Alexander of Places and Graces says, "there is definitely no right or wrong way to do it, but it is harder than it looks to mix mass produced and artisan items together seamlessly." We've got a few top tips to help you create a cohesive collection: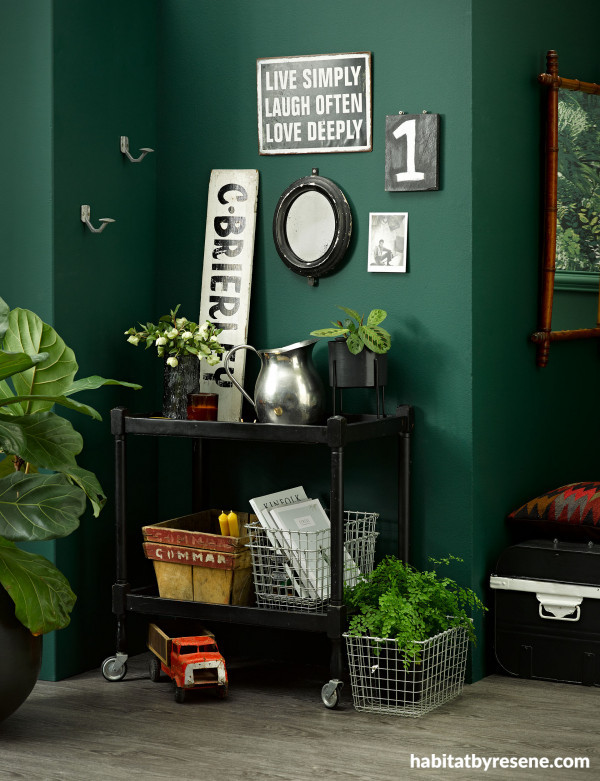 Maximalism stands firmly in the mindset that being 'extra' is not something to apologise for. Rich colours reign in this style and a 'more is more' approach is celebrated. In this space the vibrant hue of Resene Family Tree adorns the walls with the floor stained in Resene Colorwood Tiri. Pot, trolley, small potted stand and trunk all painted in Resene Noir, with trim on trunk in Resene Alabaster.
Find balance
New and old, big and small, bright and neutral – balance is particularly important in preventing a collection of items from appearing too one dimensional.
Kate suggests starting with your favourite pieces from popular interior stores as the base of your display. Once these are in place, you can show off your more unique pieces around them. "A one-off object deserves to be put on display, so give it pride of place," she says.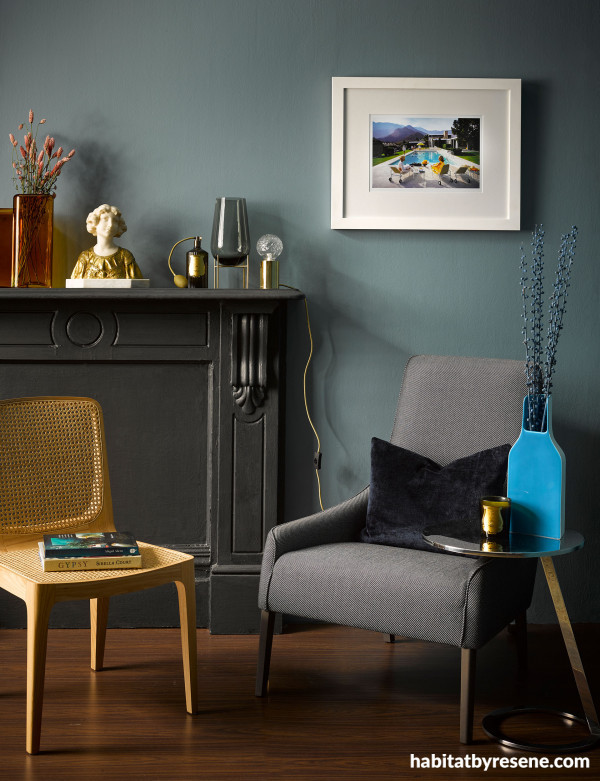 The mantel of a fireplace is a natural space for displaying a curated collection. The wall in Resene Blue Bayoux and fireplace in Resene Bastille create a striking and moody backdrop for warming hues and shiny materials to stand out. The floor is stained in Resene Colorwood Cedar timber stain.
Think about where your collection will be displayed. For example, if it will be the hero on a shelved wall, consider what colour the wall will be and how it will balance with the items on the shelves. While white walls are a fail-safe option in this scenario, richly saturated hues or pale pastels can work just as well to make a collection sing.
A display of elegant white Crown Lynn pottery will make an eye-catching statement against an inky blue wall like Resene Indian Ink, an assemblage of metallic or glass pieces will pop against a stormy grey backdrop in Resene Blue Bayoux and pictures in crisp white frames painted in Resene Alabaster will create an eye-catching statement on a pale peach wall like Resene Soulful with coral shelving in Resene Just Right.
Balance in shape and size should also be considered. Don't allow all your pieces to be the same height or the same form, mix it up with arches, geometric shapes and detailed and blocked items – and don't forget to allow for negative space, a jumble of items can quickly start to look like a mess, instead of a masterpiece.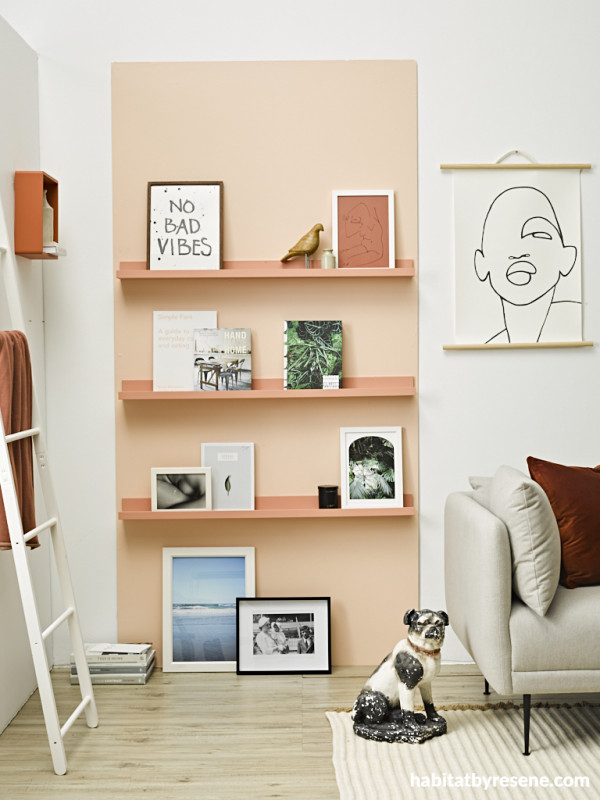 Showcase a collection of favourite coffee table books or small artworks on lipped shelves, making it simple to remix your pieces regularly without the need to put any more holes in the wall. Walls in Resene Alabaster with a painted 'bookcase' wall feature in Resene Soulful, shelves in Resene Just Right, floor in Resene Colorwood Whitewash.
Create repetition
Repetition is one of the key principles of interior design and the secret to creating a cohesive space. It's accomplished by echoing shapes, patterns, colours or themes within a room and it works best in conjunction with another key interior design principle; the rule of three.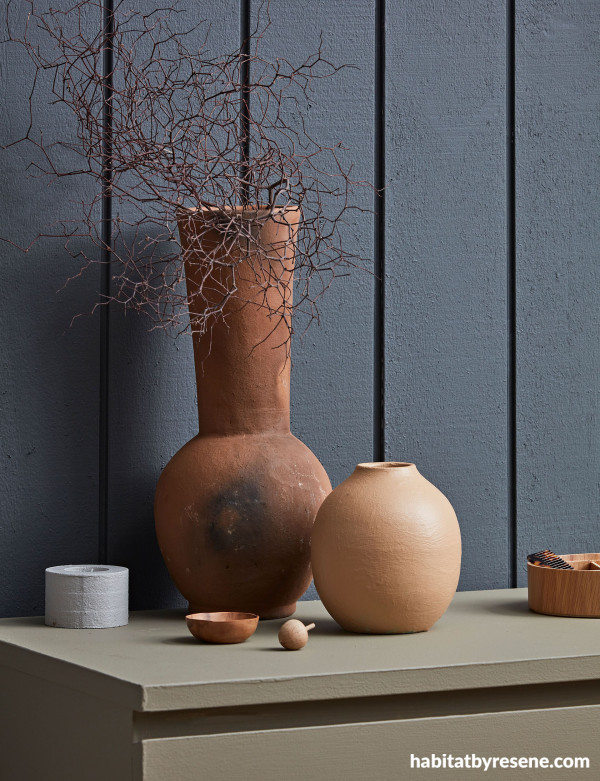 Repetition doesn't have to be done with identical objects. In this collection of vessels, rounded forms are repeated but the rule of three applies to the use of colour with warm rusty brown appearing on the tall vase, the small bowl and the round bowl to the right. The rest of the colours in the palette serve to complement this hue with drawers in Resene Lichen, tea light holder in Resene Neutral Bay, round vase in Resene Negroni and wall in Resene Armadillo.
When applied to a curated collection, this rule is fairly easy to achieve. Simply look to repeat either colour, shape or pattern at least three times in your selection of pieces.
If colour is your chosen theme, ensure the main hue is repeated with complementary colours adding to the chorus. For example, in a palette of bright yellows and pinks – where yellow is your hero hue – employ a shade such as Resene Hive for your largest object and repeat it twice more around the room, a tonal line-up of pinks and oranges on smaller items in the space will play stylish supporting roles.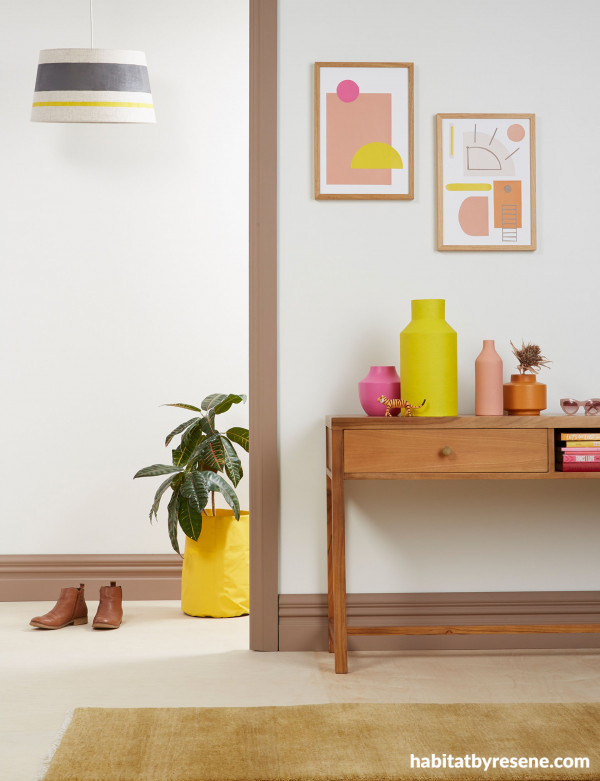 Vases in Resene Smitten, Resene Hive, Resene Just Dance and Resene Twisted Sister make up the curated vignette on top of this console table and tie directly into the DIY artwork in Resene Tablelands, Resene Smitten, Resene Ethereal, Resene Twisted Sister, Resene Hive and Resene Just Dance and lampshade in Resene Quarter Bokara Grey and Resene Hive. Walls in Resene Rice Cake, skirting boards in Resene Tablelands and ply floor finished in Resene Aquaclear.
Take your time
The trick to a truly thought-out curated collection is time. "Embrace a life-long approach rather than a trend," says Kate. "A home of curated objects cannot be created overnight. Work hard to decipher what is really you and what brings you pleasure to look at."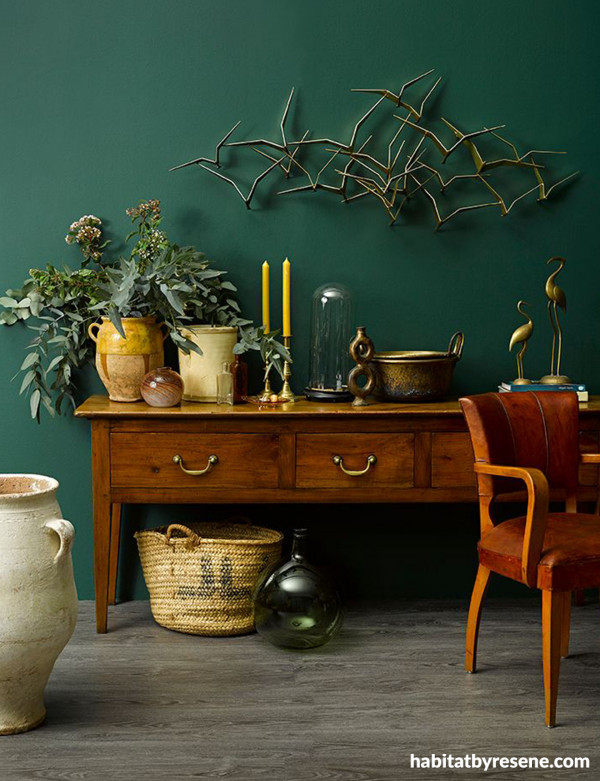 Incorporating antiques and vintage items into your décor – especially ones that have special meaning to you, or things you may have inherited from a family member – is a beautiful way to being depth, texture and richness to a space while saving useful objects from ending up in the landfill. A wall in Resene Mother Nature provides a rich backdrop for the brass items in this collection to stand out. The floor is stained in Resene Colorwood Tiri.
Always be on the lookout as you never know when a gem might pop up where you least expect it. While vintage shops are sure to turn up previous relics, second-hand charity shops are also veritable treasure-troves for this sort of thing.
Don't forget to look past an object's face value. If it's clearly been made with skill and quality materials, the colour shouldn't hold you back from an item you're drawn to – you can always breathe new life into it with a fresh coat of paint. Either keep it simple with a single colour with a favourite Resene testpot or pick up a few, give your creative side free reign and try your hand at painted patterns or unexpected colour combinations.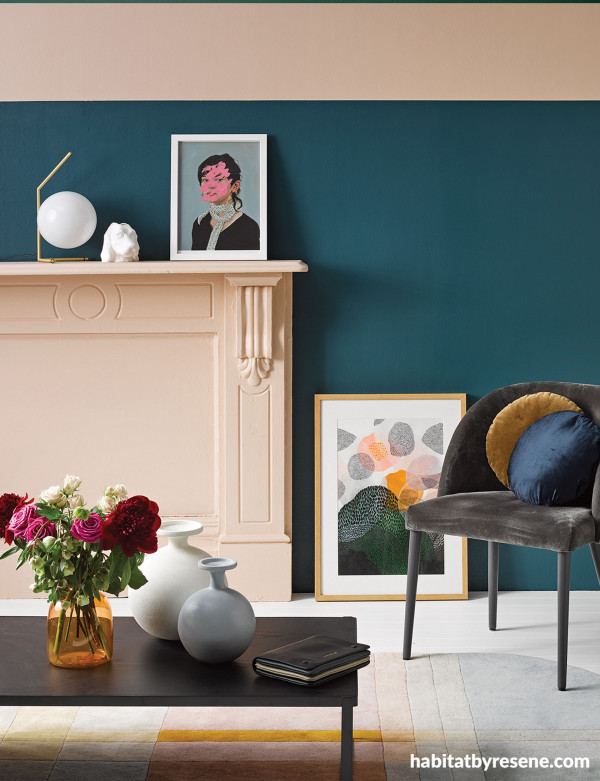 Keep an eye out for vases and objects with interesting shapes in second-hand stores and remember that they can always be painted for a fun and modern new look. The vases on the table have been painted in Resene Alabaster and Resene Longitude to work in with the modern, eclectic nature of this lounge. The main wall has been painted in Resene Fast Forward on the bottom half and Resene Shabby Chic on the top half and on the fireplace. The floorboards are painted in Resene Alabaster.
styling Gem Adams, Kate Alexander, Amber Armitage
images Bryce Carleton, Wendy Fenwick, Melanie Jenkins
Published: 19 Aug 2020
Do you have a home full of wonderful Resene paint and colour? Send us some snaps by emailing [email protected].