►
◄
latest
habitat tv
blog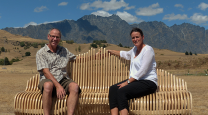 How to turn your indoors into an earthy oasis
The oft-repeated phrase 'bring the outdoors in' always has its merits. Plants calm, clean and reduce stress, so much so that the benefits of home-friendly foliage have breathed life into a seemingly endless raft of empty corners. Yet there's also a lot to be said for the earth's less verdant tones – soft browns, full-bodied ochres and crisp greys.
Whether you're considering a tropics-inspired spin on your living room, wanting to create an at-home oasis (sans the sand) or are simply eager to bring nature closer, we've put together some useful tips to help your home feel more grounded.
Hero natural textures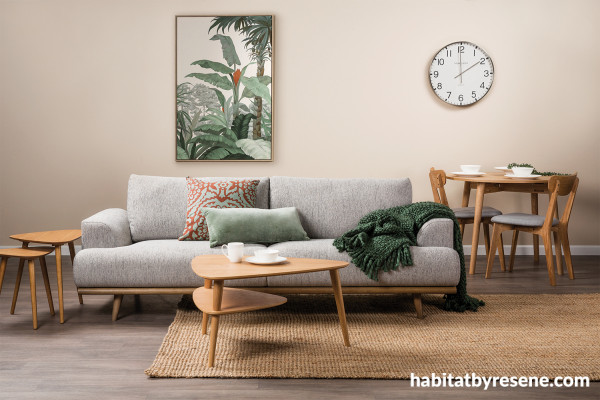 Wall painted in Resene Biscotti. Furniture includes a 2 Piece Barber Nest Table in Oak, Montemart 2 Seat Sofa in Grey, Barber Coffee Table in Oak, Vintage Palms Framed Canvas, Printer Flower Cushion in Blue/Rust, Askam Velvet Cushion in Duck Egg, Forley Weave Throw in Dark Green, all from Nood.
Championing natural textures inside is a simple – and unobtrusive – way to organically wash your home in a warm glow. Natural or raw fibres (woven baskets and carpets, natural wood furniture, linens and throws with tassels are just a few) combine especially well with neutral tones, in part because pale greys, creams and beiges are congruous with them, and in part because they help bring in a light air. Try Resene Tide, Resene Biscotti or Resene Bon Jour and throw in pops of pastel grey-green for a complete look.

Find comfort in stone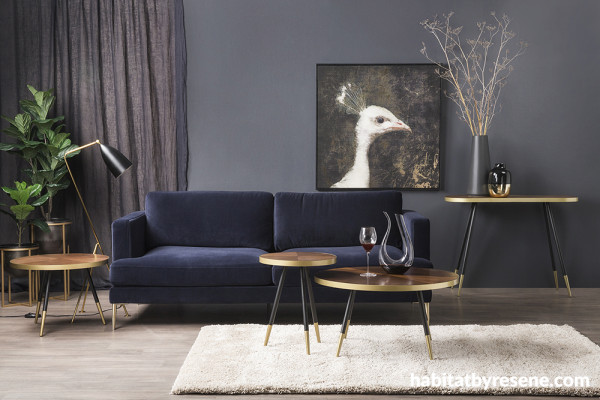 Wall painted in Resene Gumboot. Furniture includes Cross Planter Stand in Black/Gold, 61cm Arthur Coffee Table in Black, Nod Floor Lamp, Harris 3 Seat Sofa in Dark Blue, 44cm Arthur Side Table in Black, 81cm Arthur Coffee Table in Black, Fino Lead Free Crystal Red Wine Glass, Arielle Wine Decanter, Regal Bird Framed Canvas, Taper Vase in Black, Elenor Vase in Black/Gold and Monty Shag Rug in Cream, all from Nood.
Choose a colour that takes cues from stone – somewhere on the dark, cool spectrum of inky greys and charcoals – and you'll be treated to a space that's equal parts moody and restful. The sheer versatility of a colour like Resene Gumboot means your walls will also lend themselves to a host of décor choices, from monochromatic pieces to history-rich antiques. Try a velvety sofa bedecked in a colour similar to Resene Violent Violet for a plush living-room staple which promises aesthetic harmony and a hint of edge or incorporate a cream rug for a tactile point of interest.

Incorporate darker woods
Resene Biscotti on the main wall area complements an Austin Sideboard in Smoke, Nod Desk Lamp, Monty Shag Rug in Anthracite, Austin Coffee Table in Smoke, Replica Eames Bird in Black, Taper Vase in Mustard, Immerse 2 Seat Sofa in Charcoal, Potted Desert Rock Framed Canvas, Potted Desert Framed Canvas, Avril Standing Mirror in Black, Mellor Weave Throw in Old Gold, Askam Velvet Cushion in Old Gold and Diamond Fringe Cushion in Light Grey, all from Nood.
Darker timbers that tonally veer towards chocolate or walnut have a surprising knack: they simultaneously give a home a fresh start and leave the impression that they, the furniture, have been there forever. This is particularly valuable to those who want twin worlds – old and new, classic yet modern. Mix with walls in beige Resene Biscotti and colours like ochre yellow Resene Apache and sienna brown Resene Kalgoorie Sands to give a subtle sense of play.

Elevate your greenery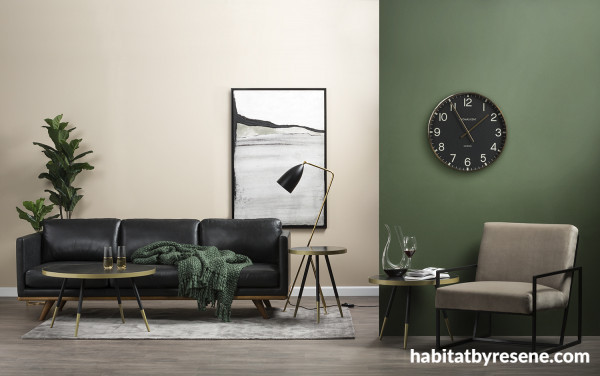 Resene Biscotti and Resene Olive Green make for a perfect pairing on the walls as abackdrop to an Aspen 3 Seat Sofa in Black, 81cm Arthur Coffee Table in Black, Forley Weave Throw in Dark Green, Peninsula Framed Canvas, 44cm Arthur Side Table in Black, Nod Floor Lamp, 61cm Arthur Coffee Table in Black, Crofter Wall Clock in Black/Brass, Arielle Wine Decanter, Fino Lead Free Crystal Red Wine Glass and Moxie Armchair in Suede, all from Nood.
While plants are often a first point of call when it comes to thinking about greenery, a dark-green wall is quintessentially chic. For a sophisticated contrast, pair a feature wall in Resene Olive Green with a gentle beige that works to complement the yellow base, such as Resene Biscotti. Include a light scattering of black Resene Nero and a glossy hint of Resene Gold metallic to subtly heighten the feel of luxuriousness.

Turn to terracotta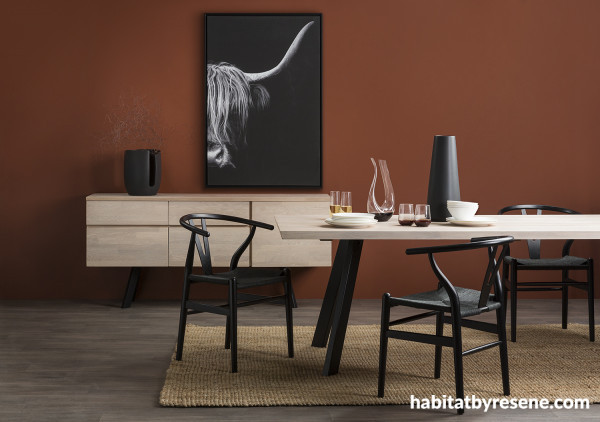 Resene Mocha on the wall brings a striking depth to this dining room, and is styled with a Calais Sideboard in Large, Segment Vase, Cow in the Dark Artwork, Calais Dining Table, Flo Dinner Plates, Flo Entrée Plates, Flo Salad Bowls, Vida Stemless Champagne Glasses, Vida Stemless Wine Glasses and Arielle Wine Decanter, all from Nood.
It's easy to cast a matte ochre as clay-like, even muddy, but the right sort of red can be much sweeter, reminiscent more of burnt orange or cinnamon. Bring in warmth with the terracotta-esque spirit of Resene Mocha and temper it with lighter hues like oak timber – they'll bring your space a quiet balance, as will their opposites (think floorboards stained with Resene Colorwood Greywash to resemble aged wood).

images Nood
Published: 30 Sep 2020
Do you have a home full of wonderful Resene paint and colour? Send us some snaps by emailing [email protected].