►
◄
latest
habitat tv
blog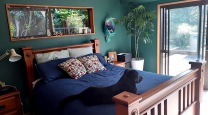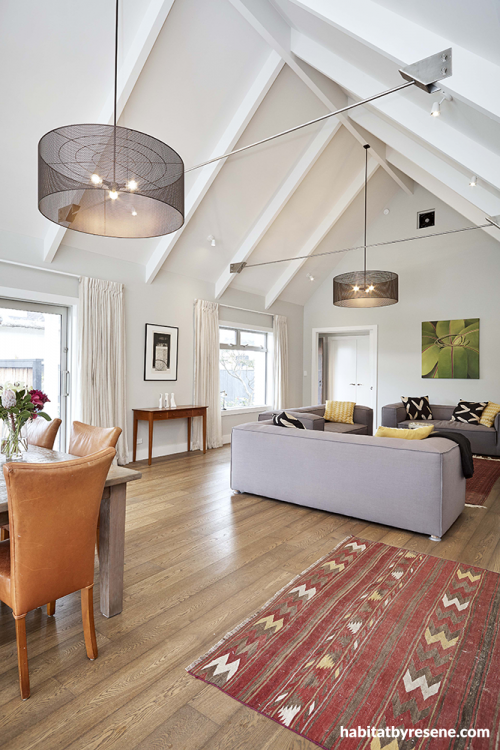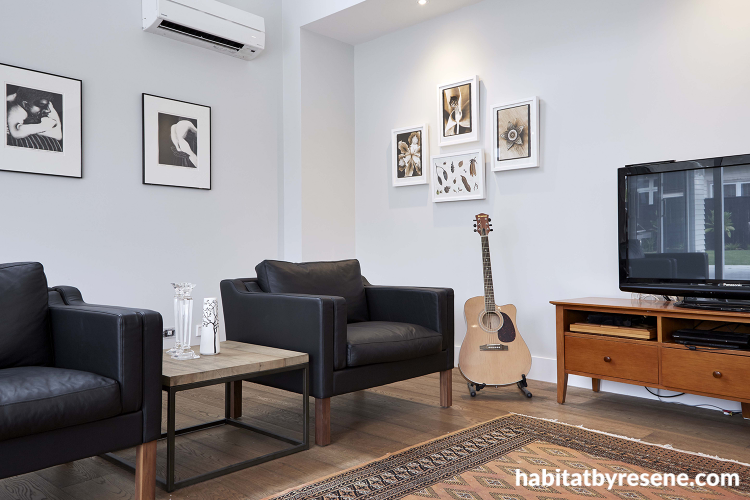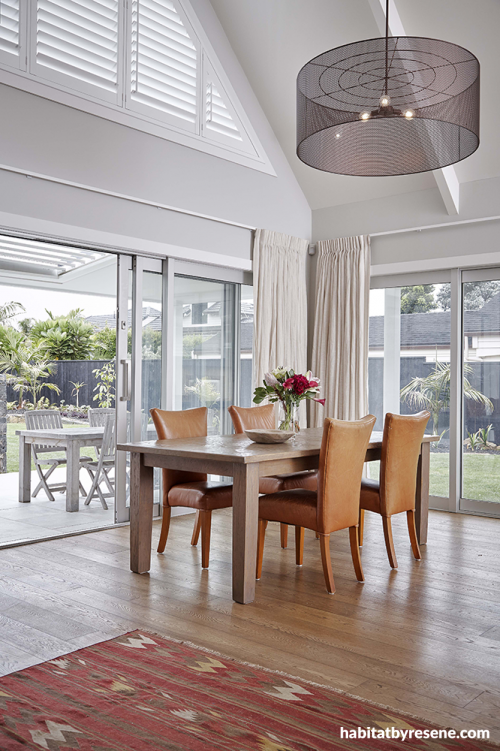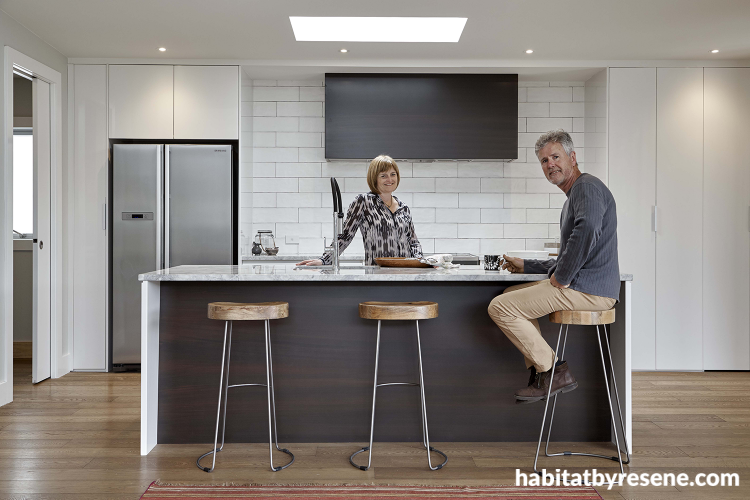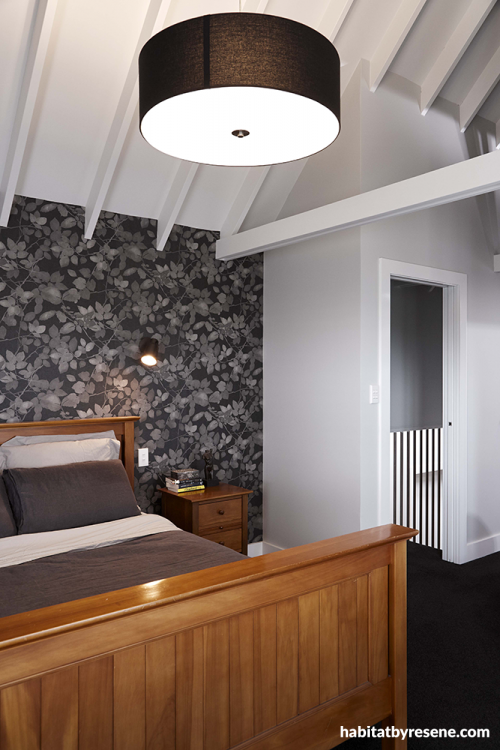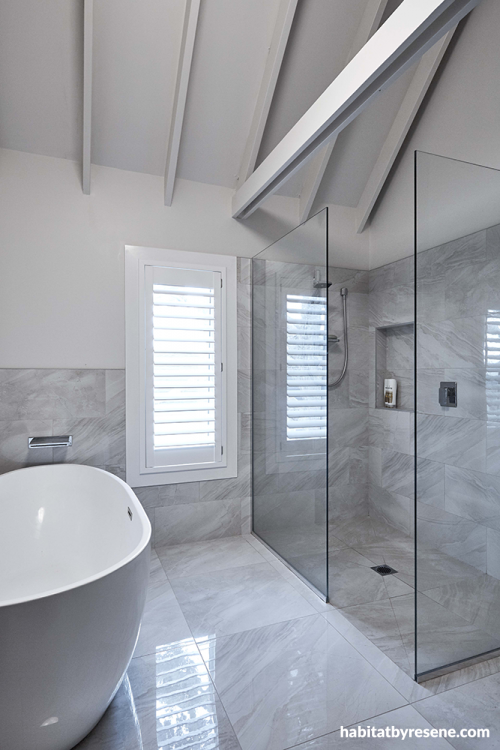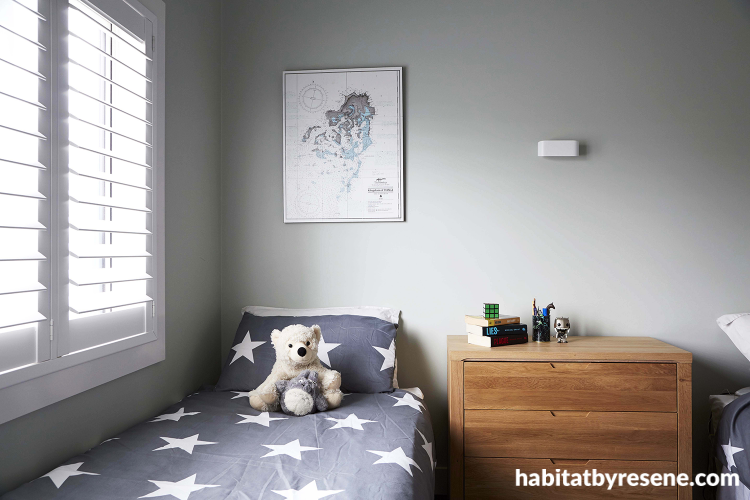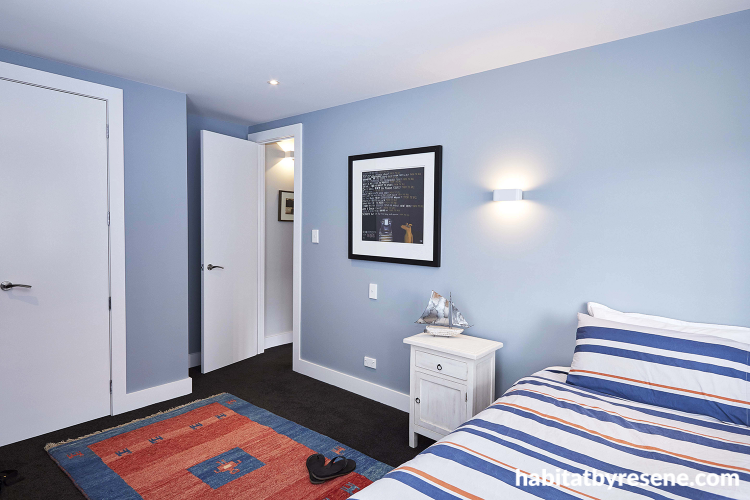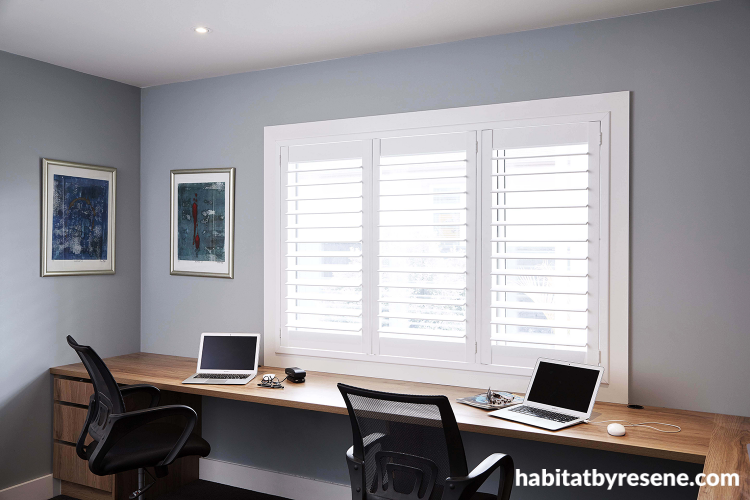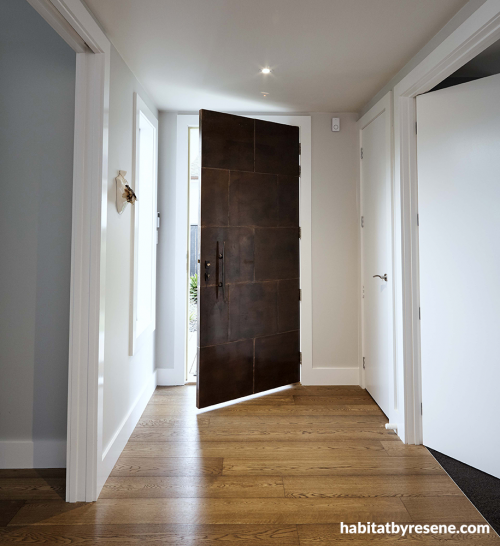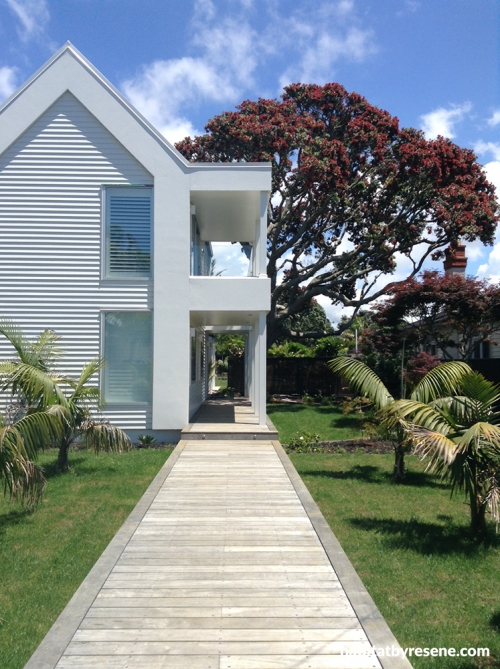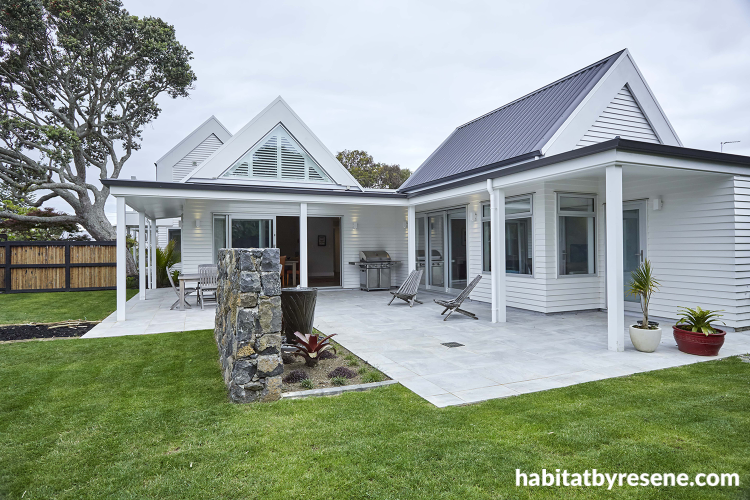 Ian and Sharon's breezy seaside scheme
When Ian and Sharon first saw their house, it had lumpy plaster cladding, dark rooms and multiple levels. It was retro 70s… but not in a good way. Today, it has a whole new look along with a breezy scheme of Resene colours.
Working around two main issues – a steep 45-degree pitch roofline and a huge pohutukawa tree – they reclad the house, evened out the levels, reorganised the layout and redecorated throughout.
Click here for Sharon's smart renovating advice, learnt from this project.
What Resene colours and products have you used, in which rooms, and what inspired those choices?
We wanted a neutral palette but not one that was boring (we've never been keen on all-white interiors) so chose Resene Quill Grey as the main colour – it's a soft feathery grey.
A good place for stronger colours are bedrooms, so our sons got Resene Dusted Blue and Resene Tasman, while our own bedroom has a feature wallpaper with a black and grey leaf pattern (Khroma Silence collection, Forest Night SIL501, from Resene ColorShops).
The home office was tricky. We went dark at first but then pulled back to using a mid grey called Resene Hit Grey.
For the trims, we chose Resene Quarter White Pointer and used Resene White Pointer in the bathrooms. I love this whole family of colour; it has a real warmth and changes depending on the light and situation.
We debated the outside scheme long and hard. There was a temptation to use a different colour on the Rockcote panels that frame the house but in the end we used Resene Sea Fog for this, and the weatherboards. We're really glad we did, letting the difference in texture between the two cladding materials add the interest.
How did you decide on the overall look of the interiors?
We live quite near the sea and we also knew that the large garden would have quite a visual impact on the property once it was established. We had 'modern plantation' as a theme in our minds. Light and airy, with vaulted ceilings, oak floors and internal window shutters.
What is your advice for someone trying to achieve a similar look?
Stay with colours in the same tonal band and with the same quality, either clear or greyed off.
If you're using a neutral scheme, play up some features. We used Resene Spark metallic on the balustrade rod, had a copper front door made, created a paint-effect on the kitchen rangehood, and used perforated industrial sheets to make the main light shades. These elements give the house a lift.
What part of the house are you most happy with?
Our bedroom and ensuite are a real pleasure to be in. It's funny – the space used to be a living area which none of us used, but now we love hanging out in the bedroom, reading or watching Netflix. The second living room has come into its own over summer, and now that the landscaping has been done. It has a tropical vibe that we love.
What was the biggest decorating, renovating or building challenge for this project?
The sheer scale of the project. It started as a renovation and ended up as a rebuild and, of course, took much longer than we anticipated. We had hoped to live in one half of the house during the process, but that didn't work out so we lived in a series of rumpty rentals instead.
Also, we thought long and hard about how to get the front of the house looking good from the street, with having to keep the steeply pitched roof. Framing it in the Rockcote panels makes it look less like a witch's hat. Our friend and architect David Simiona came up with the idea of switching the entrance to the other side of the house, which made such sense, made the pohutukawa tree a feature and made the house look much more balanced. Landscape designer Sandra Batley of Flourish Garden Concepts added the boardwalk, which gets a lot of comment and goes with the seaside location.
Do you have a favourite colour, and if so why is it your favourite?
We love blue/grey colours like Resene Dusted Blue and Resene Duck Egg Blue. They're so soothing and suit our environment so well. Having said that, if we owned an old villa, we'd be tempted to paint the rooms a variety of different jewel colours like jade, amethyst and ruby. Ian had always wanted a tobacco-brown bedroom but after painting part of one wall in Resene Kina Brown, he lost courage and decided to stick with Resene Quill Grey. Using the wallpaper on the bedhead wall makes it look a bit moodier instead.
Published: 16 Mar 2017
Do you have a home full of wonderful Resene paint and colour? Send us some snaps by emailing [email protected].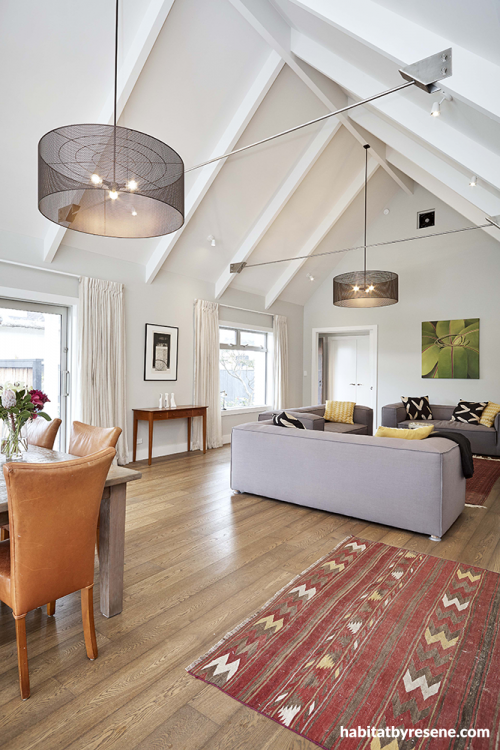 Ian and Sharon wanted a neutral palette, without it being an all-white interior. They decided on Resene Quill Grey, a soft feathery grey, as the main colour with Resene Quarter White Pointer on the trims.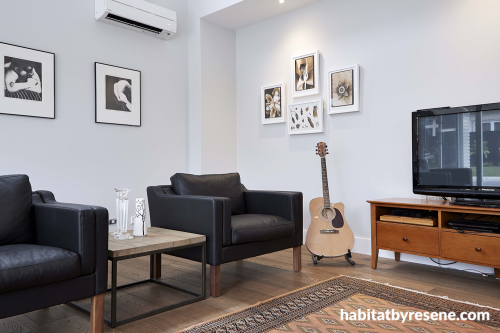 The family room carries the same scheme, painted in Resene Quill Grey on the walls and Resene Quarter White Pointer on the trims.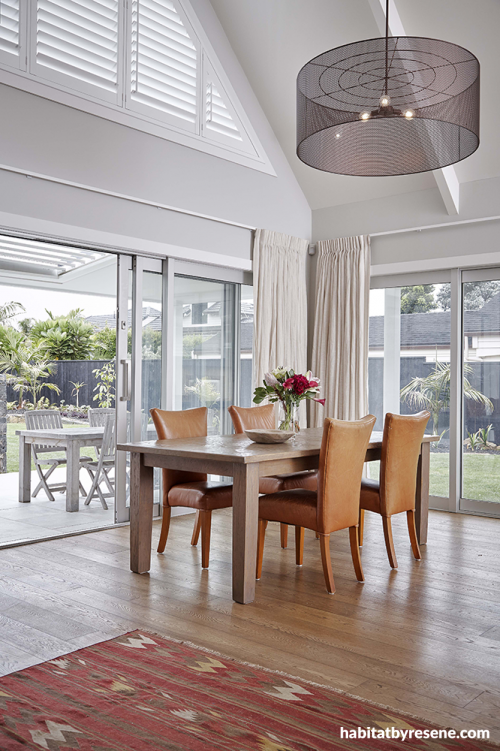 The large garden is a beautiful backdrop to the dining room and family room. Inside, the walls are painted in Resene Quill Grey and the trims are painted in Resene Quarter White Pointer.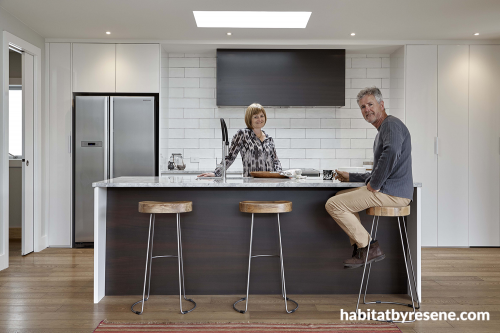 The homeowners in their new kitchen, painted in Resene Quill Grey.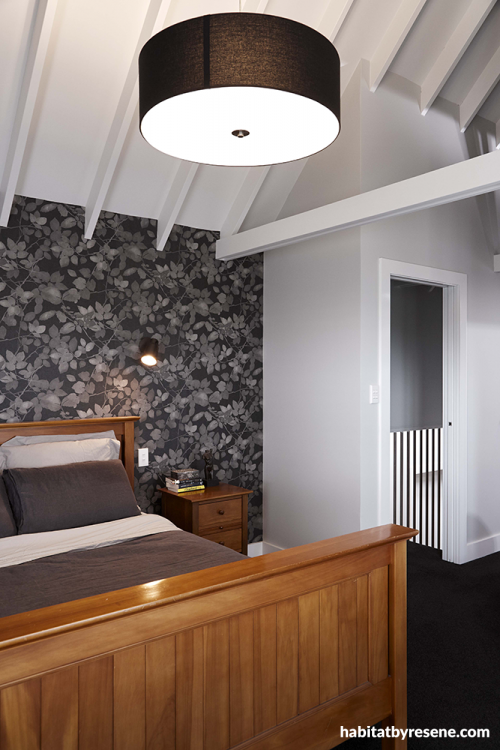 Upstairs, Ian and Sharon's bedroom is also painted in Resene Quill Grey, with feature wallpaper in a black and grey leaf pattern that lends a moody feel. The wallpaper is from the Khroma Silence collection, Forest Night SIL501, from Resene ColorShops.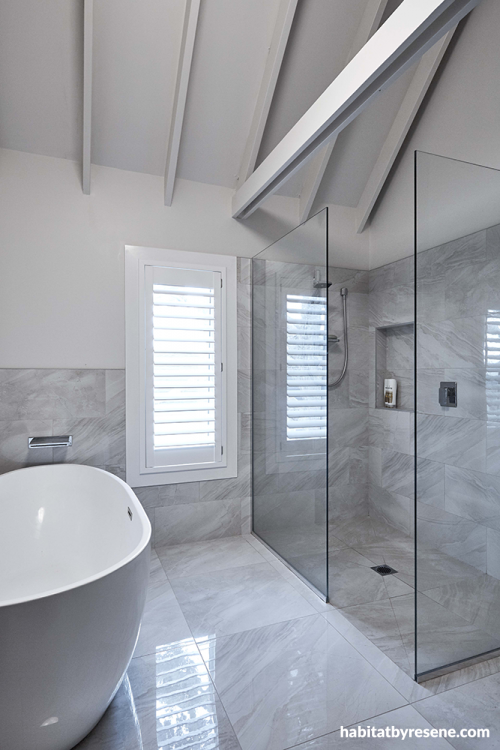 In the ensuite, they used Resene Kitchen & Bathroom paint tinted to Resene White Pointer, which protects the bathroom from mould and bacteria.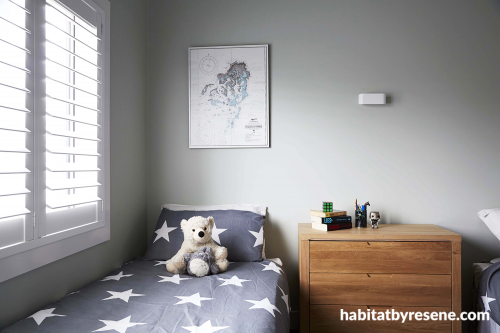 They decided on stronger colour for their sons' bedrooms, painting one in Resene Tasman.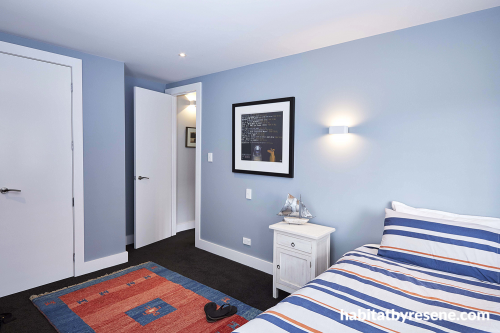 The other bedroom is painted in Resene Dusted Blue, a beautiful grey-blue.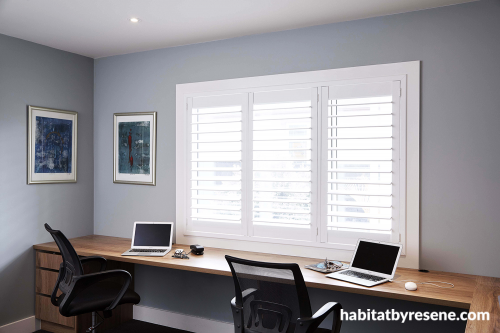 The office is one of the darkest places in the home... Ian and Sharon went from painting it a dark colour to opting for Resene Hit Grey instead.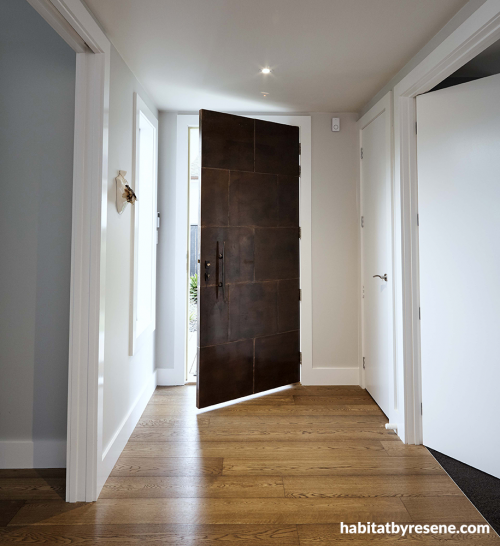 The copper paneled front door is a striking feature. The entranceway is painted in Resene Quill Grey, with trims in Resene Quarter White Pointer.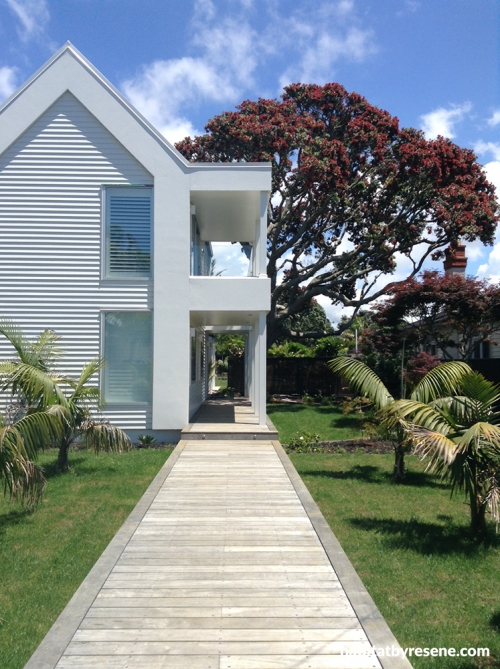 The exterior was painted in Resene Sea Fog. The Rockcote panels helped disguise the 'witch's hat' look of the house.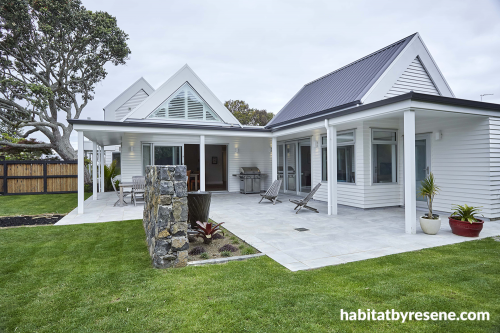 The rear of the house, where the large garden has a big visual impact. The exterior is painted in Resene Sea Fog.
Resene Quarter White Pointer
the look
If you're stuck on what
colour to use or need colour
advice, try out the Resene
Ask a Colour Expert service.