►
◄
latest
habitat tv
blog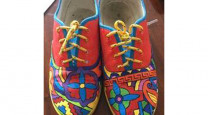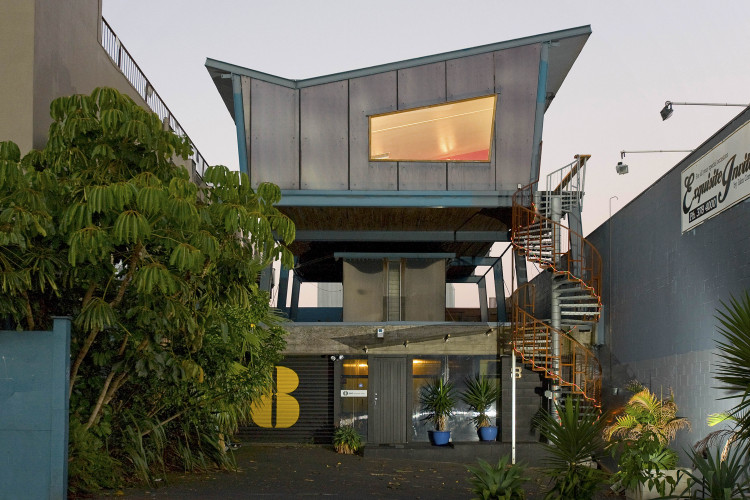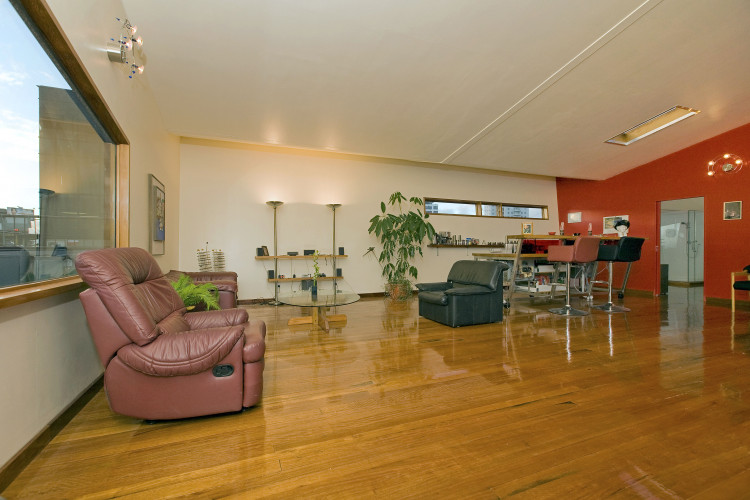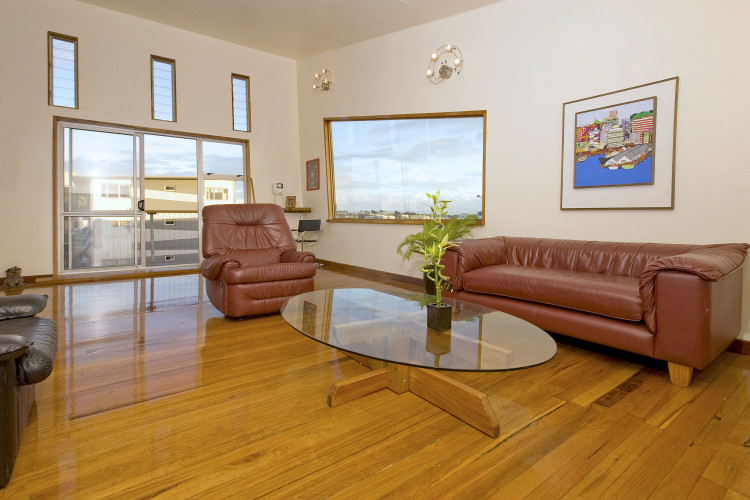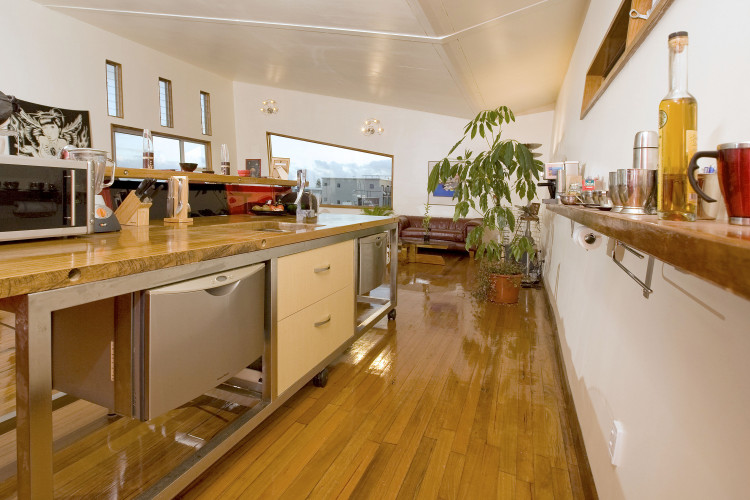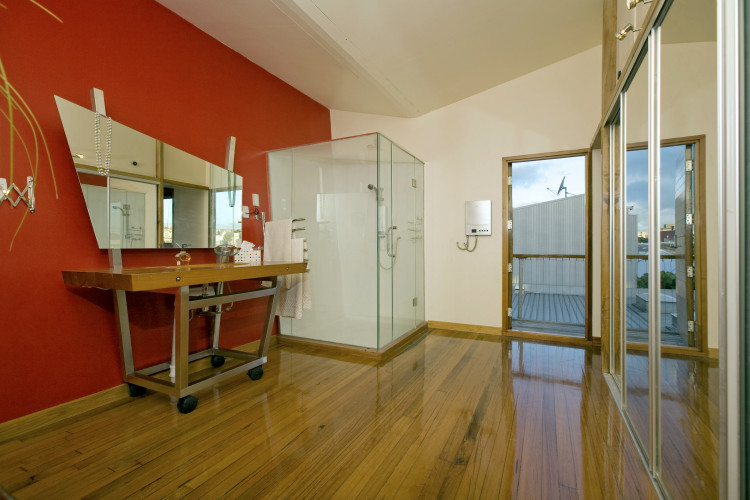 David's Industrial Zen Apartment
11 Oct 2010
Do you have a home full of wonderful Resene paint and colour? Send us some snaps by emailing [email protected].
David's Industrial Zen Apartment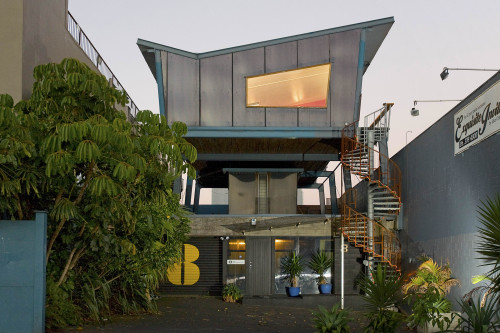 Most of us would love to have a one-kilometre commute to work. But David Payne is the kind of guy who thinks that if something is already pretty good, it could be even better. So when the opportunity came up to build an apartment right above the Newton warehouse he already owned, he figured a roll down the stairs was better than driving 1000 whole metres to work every day.
His open-plan, one-bedroom apartment, designed by architectural designer Mark Callender of CreativeArch straddles the warehouse on sloping legs, which are reflected by the complementary sloping walls. David built it himself, two years ago, and made material choices that reflected his personality: practical. "I'm an engineer, so I put function ahead of form," he says. For the exterior, intense blue and bright yellow add impact to the steel façade. Inside, he kept the interiors simple and bold, with an emphasis on pale wood, stainless steel and a punchy Resene Jalapeno wall colour.
What did you want to achieve with your interiors?
Practical, but with colour. I wanted to keep it as minimal as possible, but you can be practical and stylish as well.

Why did you make the colour scheme choices you did?
I wanted to combine, stainless and wood for an industrial feel. The red and black colours are a Chinese theme. I like China. I've been there about four or five times, for business, but I like it as a place to go.

What was the biggest challenge?
The floor. It's held together by bolts that are seven metres long that pass through all the boards. It's an Australian hardwood, so you can't glue it. It was a very big job to put it up.
What was the greatest success in the build?
Finishing it!
Which space do you get your greatest satisfaction from?
My bedroom… Rather than a door, there are two tunnels either side of the wardrobe that you walk through to enter the room. It makes it a very cosy little room.
pictures
Architect: Mark Callender of CreativeArch
Room to move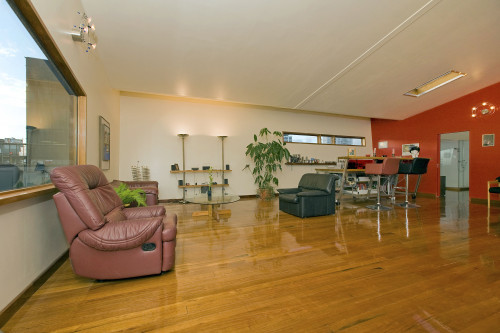 The main living space of the house is open plan, with the red feature wall drawing the eye to the unusual sloped walls and roofline. Many of the furniture pieces were sourced through TradeMe. The red and black bar stools came from BBQ's and More in Ellerslie.
pictures
Architect: Mark Callender of CreativeArch
Views of the city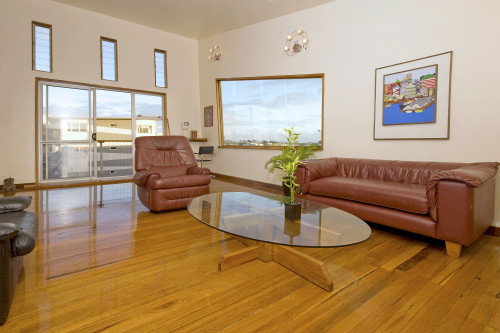 A cityscape by New Zealand artist Fiona Holroyd Whyte hangs on the living room wall. The lines of the windows, framing their own cityscape, are deliberately canted to play off the roofline.
pictures
Architect: Mark Callender of CreativeArch
A kitchen to go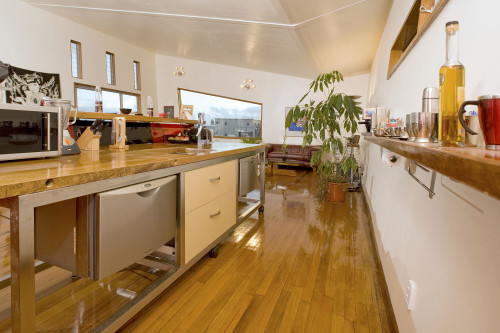 The movable stainless steel island bench in the kitchen was custom-made by RH King. Owner David Payne built the timber using remnants from the hardwood flooring timber.
pictures
Architect: Mark Callender of CreativeArch
A red-hot hideaway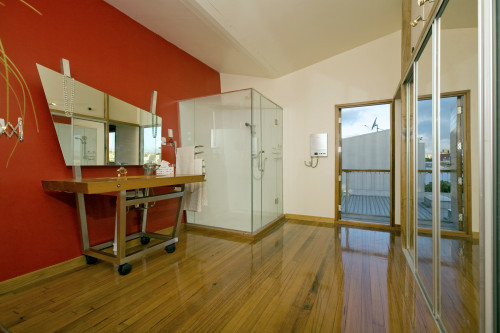 David's bedroom has an outlook to Auckland Hospital and Mt Eden, although he admits he doesn't get to see it much during the day, and at night he's most likely to be watching his ceiling-mounted television.
pictures
Architetct: Mark Callender of CreativeArch
the look
If you're stuck on what
colour to use or need colour
advice, try out the Resene
Ask a Colour Expert service.