►
◄
latest
habitat tv
blog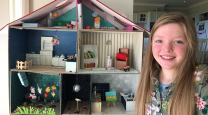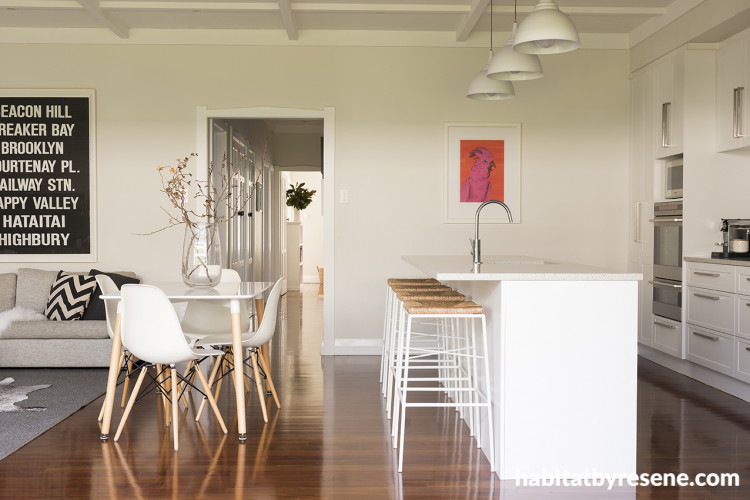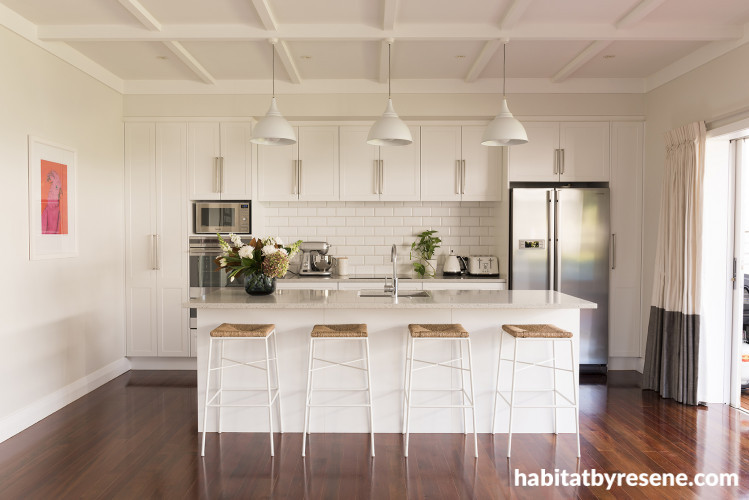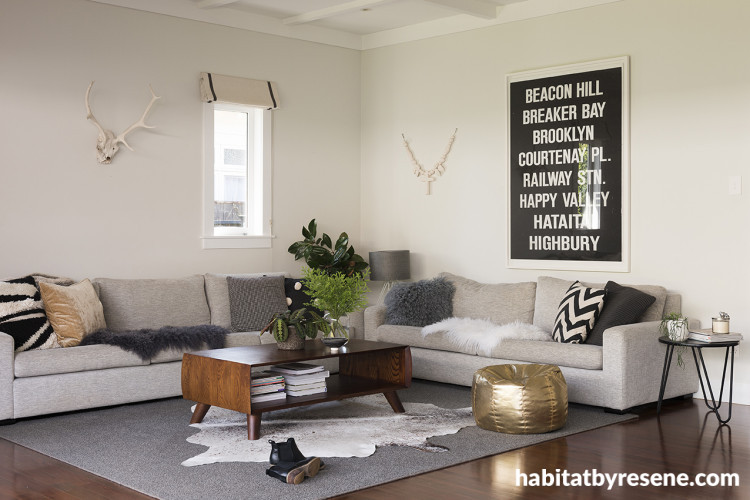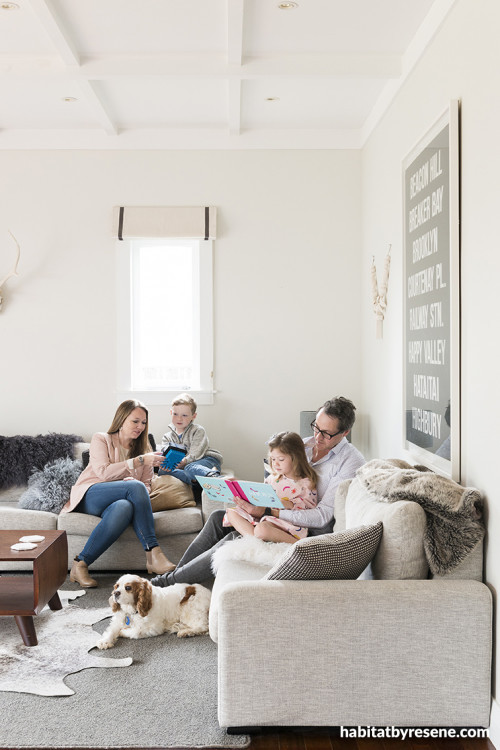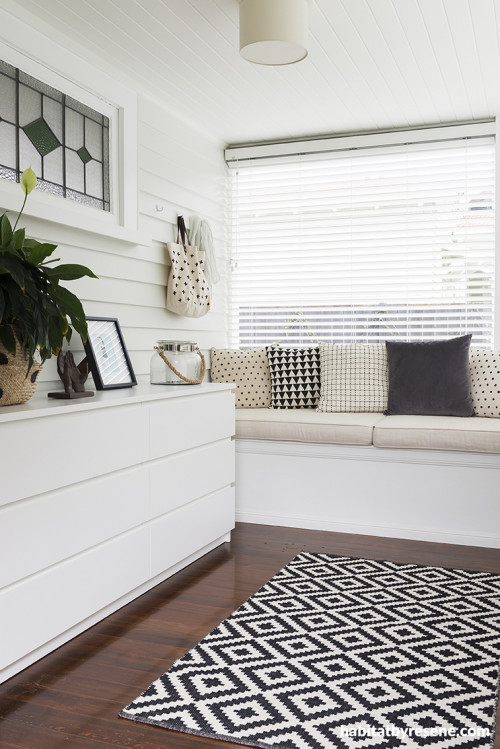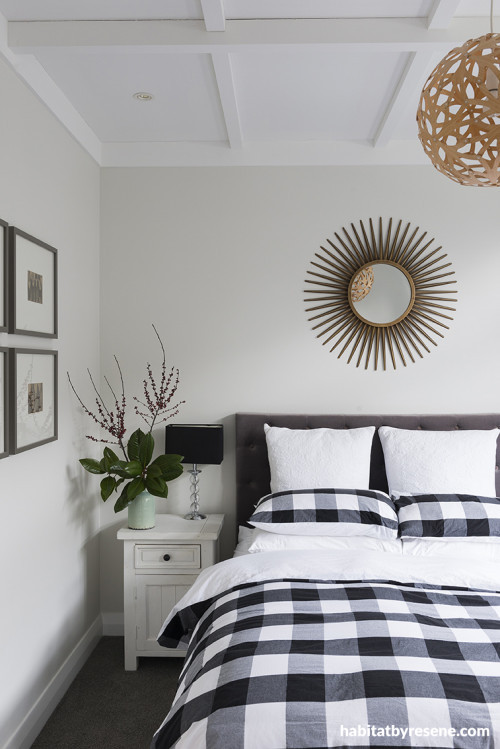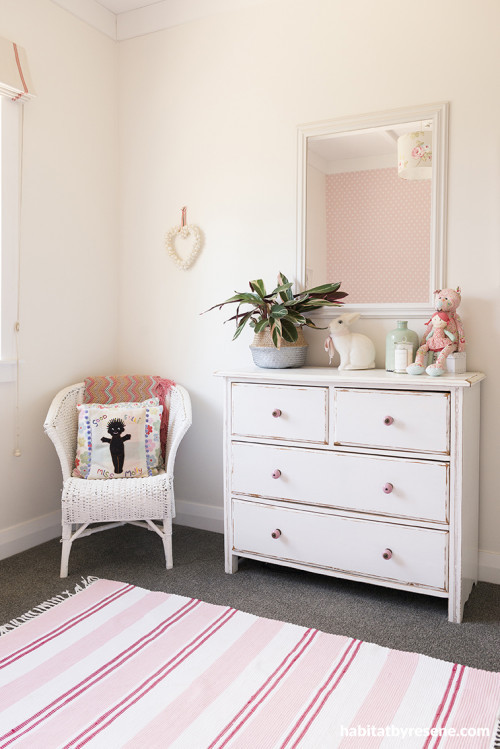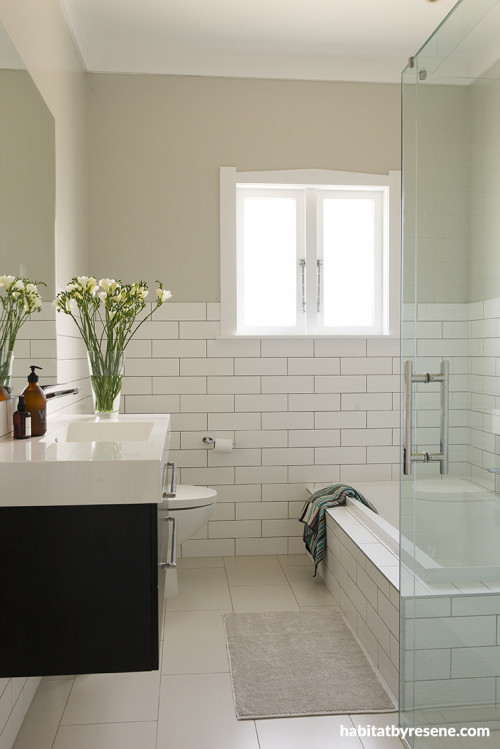 Jamie and Harriet find the perfect white
When Harriet Booth saw how beautiful Resene Merino looked on the walls of her sister's house, she knew that this was it… the perfect white for her home.
Harriet and her husband Jaime's 1920s bungalow was due for a touch up and so they painted most of the interior in Resene Merino, an off white with a green undertone, with trims in Resene White.
The couple are both designers, which feeds through into the styling of the house, from graphic art prints to statement furniture that bring each room alive.
Harriet tells us more.
How did you decide on the overall look of the interiors?
It sounds easy but choosing a white paint isn't as simple as it seems. As a graphic designer I knew that one of the most important things to understand is that each white has an undertone. It's not immediately apparent but when you look closely you can see the tone that lies beneath. Resene Merino is a versatile off-white with a green oxide undertone.
We deliberately introduced a second white because we did not want the bungalow's lovely features to be lost by painting everything in one colour. We went for a high gloss for the doors, skirting and architraves to help the bungalow's period detailing pop out. We selected Resene White, because it looked good against Resene Merino. The two whites are just different enough to keep the white-on-white scheme interesting. It's a subtle difference but just enough of a difference.
What part of the house are you happiest with?
The open-plan kitchen, dining and lounge that we added to the rear of the house in 2013. The white gives this space a calm and serene feeling so instead of using colour to grab attention I've created interest through texture and contrast. I like the way natural elements such as wood and the contrasting fabrics in the cushions add interest and texture to the monochromatic scheme. It's these touches that keep the space from looking one-dimensional.
What is your advice for someone trying to achieve a similar look?
When you are choosing a white paint for the interior of your home, keep in mind that the natural light in each room will have an impact on it. Check out the natural light in each room of your home. Even the same colour can look quite different.
Our main living area faces south and we have a second lounge that faces north, which is a very bright, sunny room. Resene Merino looks completely different in this room, almost like a pale grey.
We painted over textured wallpaper in that room so that's another reason why it looks so different to the other rooms in the house.
What was the biggest decorating, renovating or building challenge for this project?
We lived onsite during the build in a temporary house on wheels in our back garden. I was pregnant with Charlotte at the time and Sam was four-years-old, so it was mildly stressful. It was during winter, as well, so it was not the best time of year to be camping.
The upside was being there for any queries the builders had. Either Jamie or I would have a meeting with them every morning before we went to work to make sure everything was going smoothly.
Is there anyone else you would like mentioned?
Our builder Leon Nott, from Sika Homes, was amazing. His dad's a builder so it seems to be in his blood. The quality of his build was extremely high, and he had an attention to detail that Jamie and I appreciated. Plus working with an old home meant there was not a straight line in the house, so that was a challenge in itself. But one of the special things about Leon was that he could see other options when he looked at our plans and we went with what he suggested every time.
Published: 29 Mar 2018
Do you have a home full of wonderful Resene paint and colour? Send us some snaps by emailing [email protected].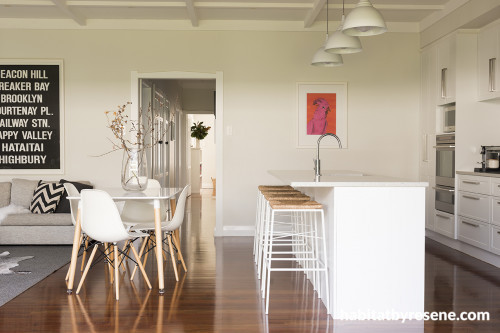 Harriet chose Resene Merino for the walls of their 1920s bungalow, after seeing the shade in her sister's home. The ceiling and trims are painted in Resene Merino.
pictures
HelenBankers/Cave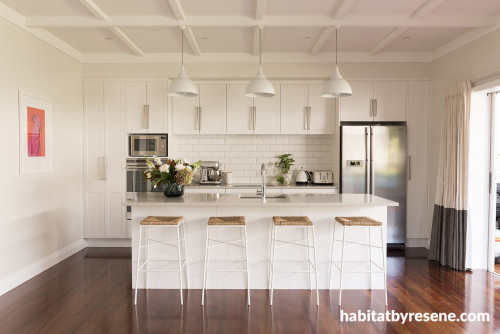 She didn't want the period detailing of the bungalow to get lost in a white-on-white scheme, so mixed Resene Merino on the walls with high gloss Resene White on the doors, skirting and architraves.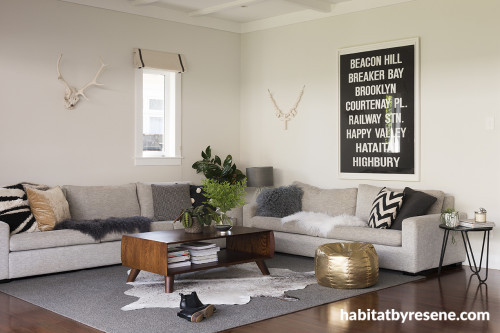 The living room is part of an open plan layout with the kitchen, painted in Resene Merino.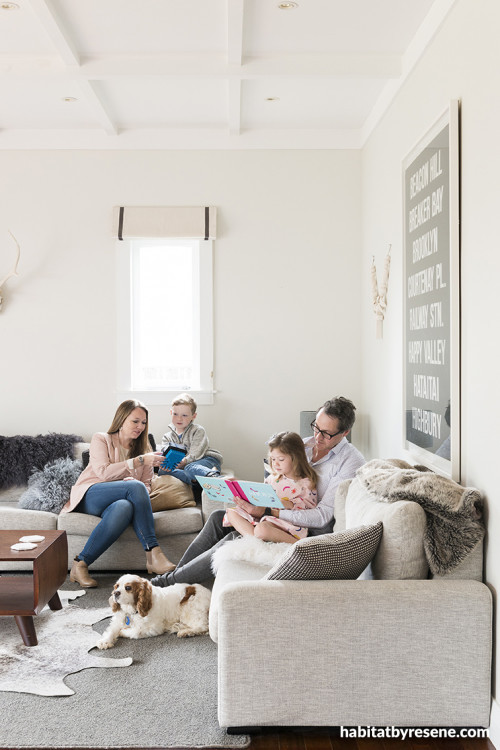 Harriet, Jamie and family enjoying their home, painted in Resene Merino.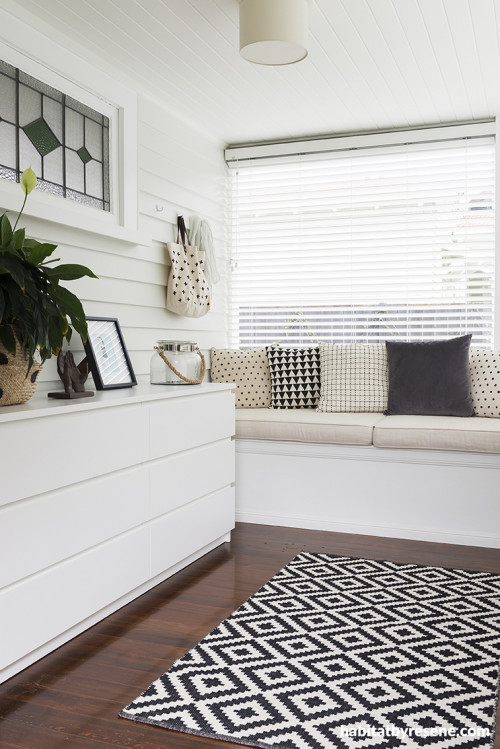 The house has second north-facing living room, filled with natural sunlight. The walls are painted in Resene Merino.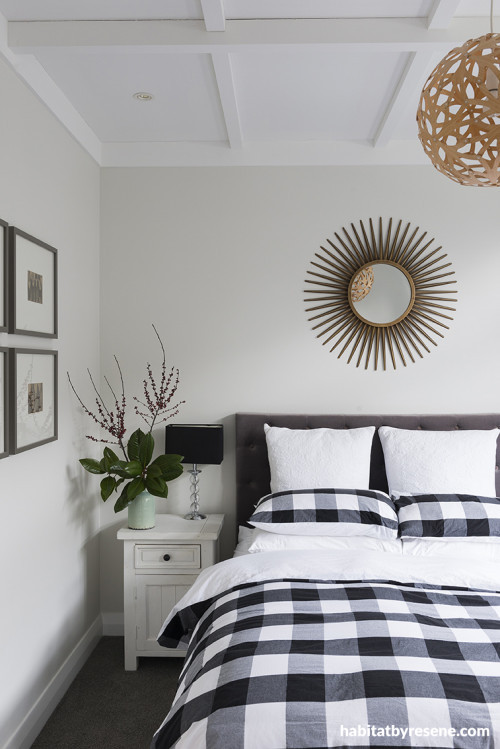 The designers have filled their home with statement furniture and graphic decor, such as this sunburst mirror in the master bedroom. The walls are painted in Resene Merino.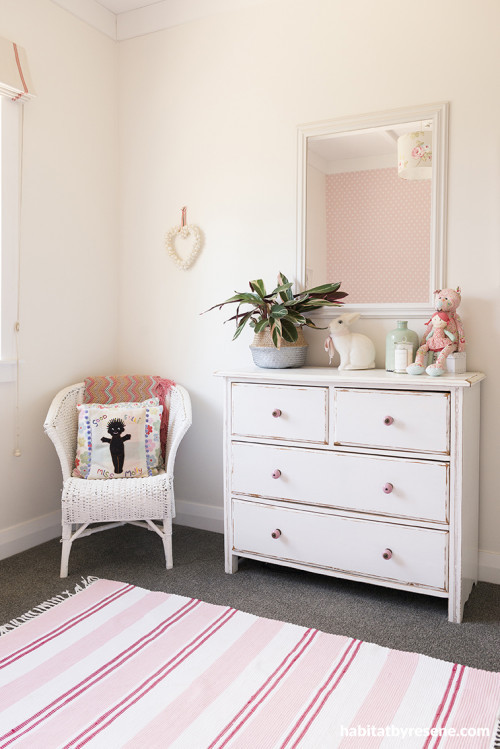 Daughter Charlotte's bedroom is the only home in the house not painted in Resene Merino, instead painted in creamy Resene Villa White.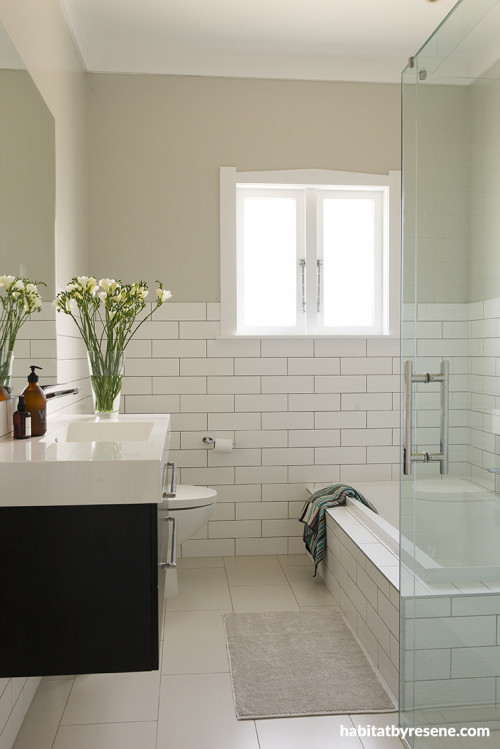 The bathroom has had a stylish and modern makeover, painted in Resene Merino.
the look
If you're stuck on what
colour to use or need colour
advice, try out the Resene
Ask a Colour Expert service.