►
◄
latest
habitat tv
blog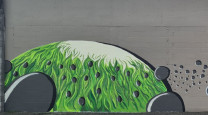 Janice and Eddie's brave use of bold colours pays off
Now that their top-to-bottom renovation is done and dusted, Janice and Eddie Cowley are happy to be living their most colourful lives – thanks to a whole spectrum of Resene paint colours.
Janice, a school teacher, and Eddie, a self-employed home handyman, first purchased their home in Tahunanui, Nelson back in 2000.
"It was very tired, but we made a few basic alterations and enjoyed living in it while my three teenage boys were there, slowly adding and altering some things as we could afford to," says Janice. "We always hoped to be able to renovate it fully, as it had a warm, homely feel with solid rimu throughout. It is close to the beach for walking our dogs Poppy and Jess, close to my work and close to town.
In 2017, when the couple were left with an empty nest, they were able to undertake the renovation they had always dreamed of and created the home they wanted to take them into their retirement. To assist with the design, Janice and Eddie employed an old friend as their architectural draftsman, Dave DeGray.
"We went to his place, and using his surround screens, we moved walls and created new spaces. The biggest challenge/decision was where to site the kitchen. Once we decided that, everything else fitted into place."
On Dave's recommendation, the couple employed Keystone Building to do the building. "Mike Stephenson on and his builders were great to work with as we lived in amongst the renovations as they progressed over 9 months. The worst part of it was the portaloo – which we had on two extensive occasions," she laughed.
Janice tells us more.
How did you decide on the overall look for the renovation?
"The colours were inspired by my interest and my collection of art deco furniture but with a modern twist and beach theme as I feel a strong connection to the sea, hence the choice of backsplash. I am also a struggling minimalist – though inside the wardrobes says another story. Except for black curtaining in the main bedroom, the natural calico curtain fabric complements all the colours and gives a sense of continuity throughout the house."
What part of the reno did you feel was most successful?
"We love everything about our renovation. It suits all aspects of our lifestyle – whether there is just the two of us, when my boys come home for Sunday dinners and when we entertain. I love cooking and the kitchen makes it fun and helps me feel part of the conversation while I'm using it. The stainless-steel bench becomes my work station for grading school work and allows me to be connected to everything around me.
We also now have great indoor-outdoor flow with decks at each end of the living space so we can choose the best area to sit for sun or shade. Aside from a small section, with careful choice of planting, we have a green vista out each window."
What was the biggest challenge during the renovation?
"For us, it was deciding the positioning of the kitchen. Once we figured that out, everything else fitted into place.
"As the build progressed the other challenge was having to make snap decisions. An example was when we were putting in the bath floor tap where it had been planned to go, it turned out to be solid concrete so I had to decide quickly before going to work, like where should the tap go? There were a lot of last-minute decisions like that, particularly with the electrician: what height for the light above the bench? How many lights in the lounge, what size and where...?"
Do you have any advice for someone hoping to achieve a similar result?
"Be brave with colour! I love the 'adventure' of going from one room to the next. Also, live in the space for a time to understand exactly what you wish to achieve."
What is your favourite Resene colour?
"We have always loved Resene products and insisted that they be used throughout the house. All the colours we used are favourites, but for living in – as in, the room you spend the most time in – Resene Dauntless is an amazing colour. We used a half strength of it, and it is warm, relaxing, blends with all colours, complements all artwork, feels natural, emphasises furnishings…such a perfect colour."
top tip: If you like a Resene colour but find it a little too dark or bold check to see if a half or quarter version is available. There are many reduced strength versions of popular colours on Resene colour charts, or you can request a half or quarter strength be custom made for you for many other colours. Check with your Resene ColorShop staff.
Published: 30 Apr 2019
Do you have a home full of wonderful Resene paint and colour? Send us some snaps by emailing [email protected].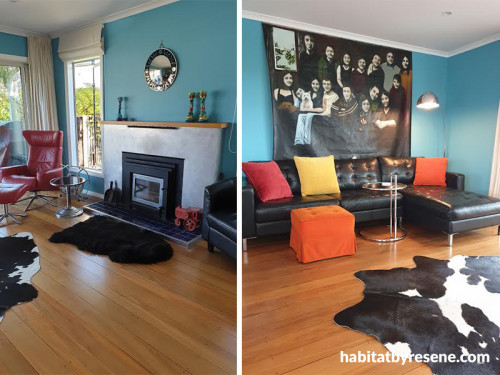 The couple picked Resene Dauntless, in half strength, for the walls of their main living space for its liveability and the way it blends well with so many other colours. The ceiling and architraves are in Resene White, a popular neutral.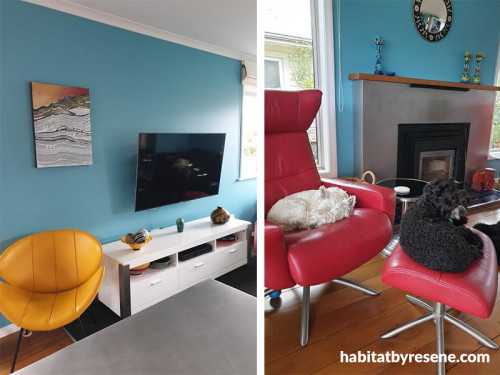 In the lounge, painted a half strength of Resene Dauntless, Poppy and Jess make themselves comfortable in the red leather recliner. The architraves and ceiling are in Resene White.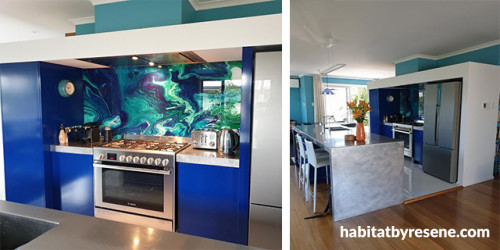 Janice and Eddie's kitchen cabinetry looks sensational in Resene Space Cadet – a deep cobalt blue – with a spectacular marbled backsplash and an architectural wall feature in Resene White framing them. The rest of the walls in the room are in a half strength of Resene Dauntless with Resene White trim and ceilings.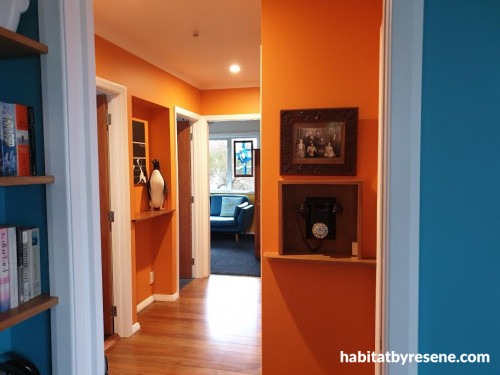 The hallway between the main living area – which is painted a half strength of Resene Dauntless – and the tv room is painted in Resene Tango, with trim and ceilings in Resene White.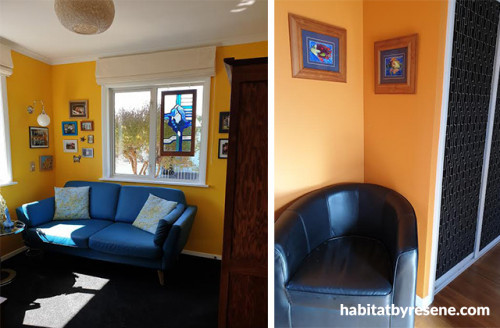 Resene Bright Spark lights up the tv room while the trim and ceiling have been kept neutral in Resene White.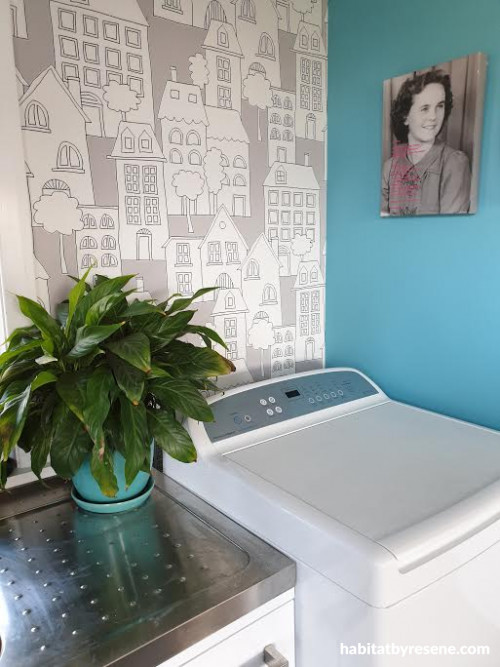 The laundry, located off the lounge/kitchen/dining area, is painted a half strength of Resene Dauntless with a feature wall in Resene Wallpaper Collection 503449, a pattern with an extra element of whimsy – some of the windows glow at night!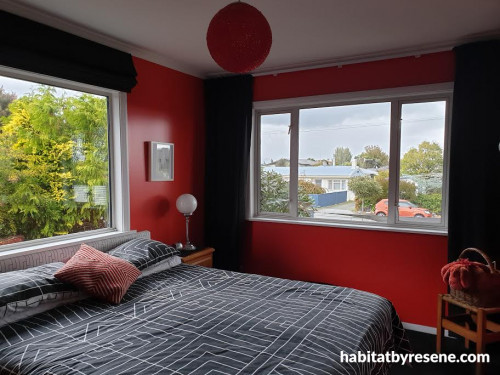 Resene Milano Red makes a statement in the master bedroom with trim and ceilings in Resene White.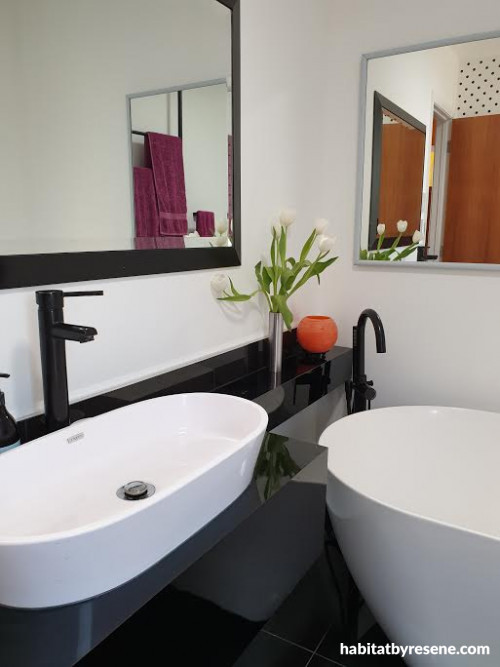 The ensuite was kept clean and classic in Resene White. Reflected in the mirror, you can catch a hint of Resene Wallpaper Collection AB1926 above the door.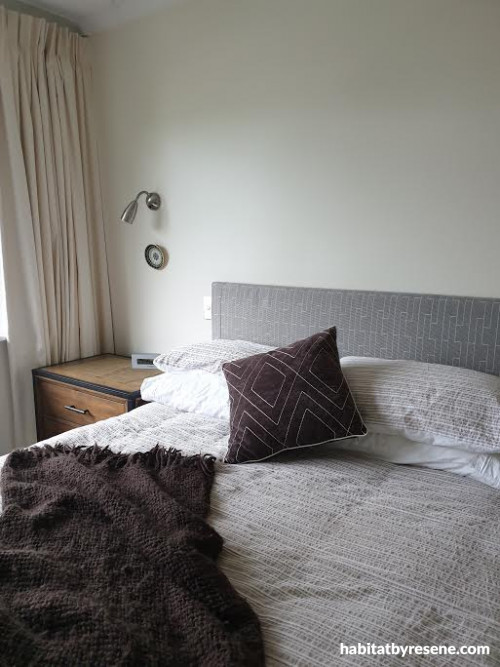 The spare bedroom looks restful in Resene Pearl Lusta.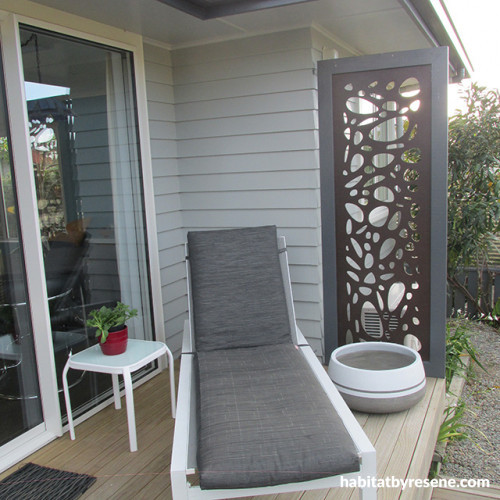 Outside, the cladding has been painted Resene Delta, with Resene Half Delta under the eaves and Resene Titania framing the windows.
images Janice Cowley




















the look
If you're stuck on what
colour to use or need colour
advice, try out the Resene
Ask a Colour Expert service.