►
◄
latest
habitat tv
blog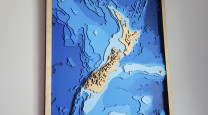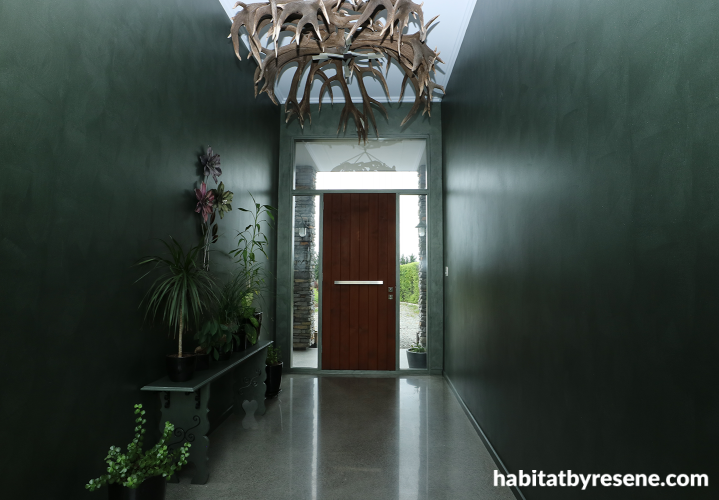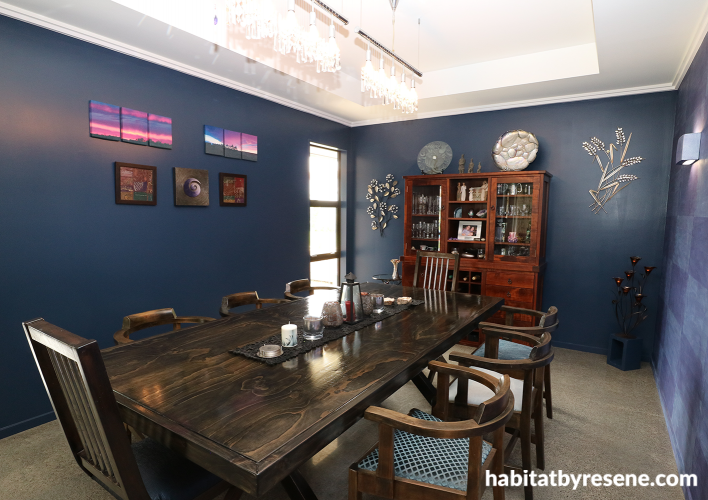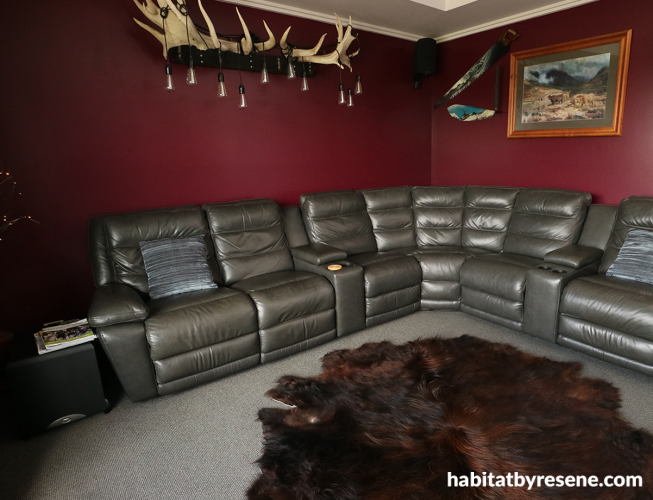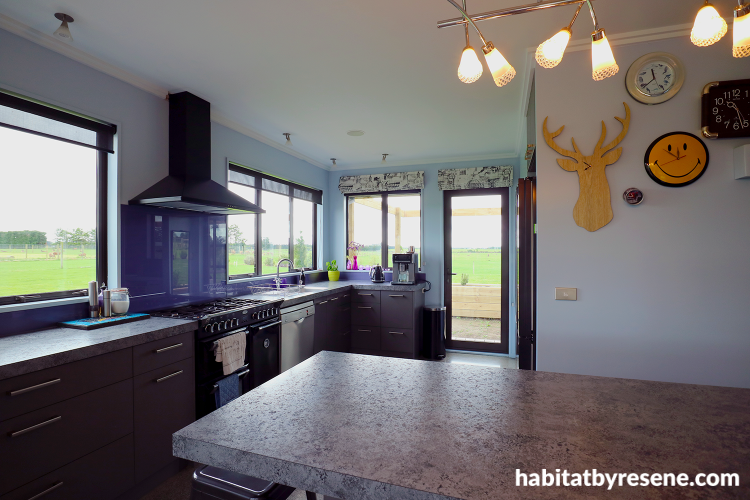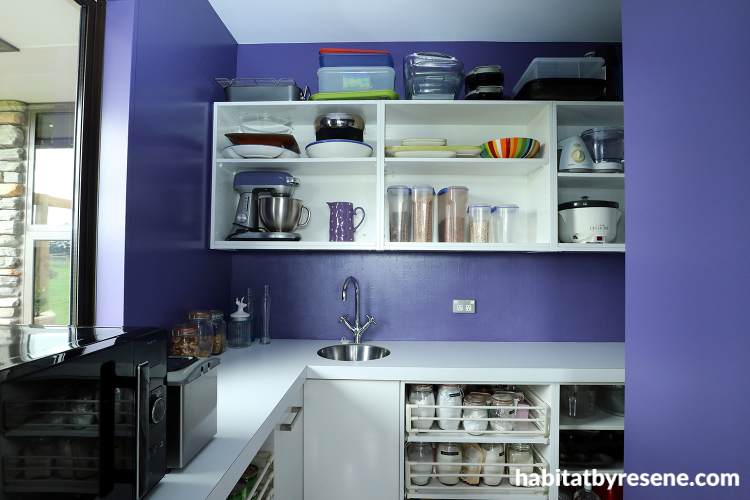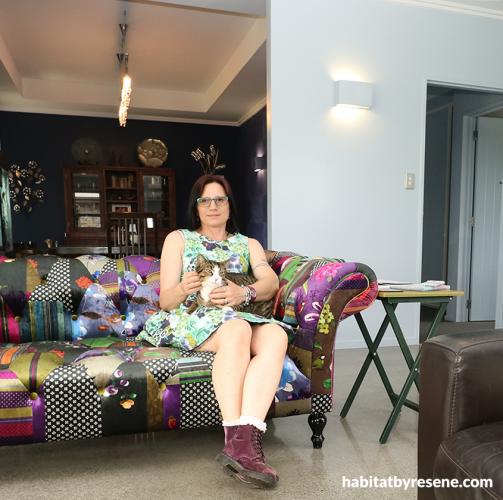 Jema and Peter turn tradition on its head
Jema Swann admits that grey would have been the more obvious for her home's entranceway. The deer farmer settled on dramatic Resene Magnetic from the Resene Metallics and special effects collection, instead. "When the sun shines through the big picture window the paint sparkles," she says.
Jema and husband Peter built their house in Ashburton around seven years ago. The layout is reasonably traditional, having a large stand-alone kitchen and dining room. The real fun is in the colour scheme.

Colour-wise, Jema knew she didn't want any white or cream so she went through Resene colour charts until finding a colour that she liked. She chose Resene Oxygen, a reasonably calm colour for the bulk of the house.
For the rest of the home, she went full-blown colour – from rich red in the cosy hunting lodge-style lounge to a bright purple pantry.
Jema tells us more:
How did you decide on the overall look of the interiors?
Our house doesn't have an overall 'look'... each room has its own identity which is how we like it.
The dining room is very 'me' with the purply/blue vibe. For this reason I wanted the lounge to be more masculine for my husband (this is also why it is so deer oriented in here).
We mainly use the lounge at night so a dark colour is fine. The study I wanted to be a bit playful hence the wallpaper with an antler light.
I like bold colours and try to keep the furnishings simple and not too cluttered so that the rooms can take the colour. I prefer colour on the walls rather than accessories. My design style is quite eclectic and I don't like to follow rules. I wanted our house to be individual and almost a surprise, as from the outside I don't think you would expect what you get when you walk through the door.
What part of the house are you happiest with?
I love my dining room! It is my favourite room in the house. Having said that, every room has a different feeling to it which reflects how we use it... so it is really difficult to say which room I am happiest with.
What is your advice for someone trying to achieve a similar look?
Go with your gut. If you wear a colour you will probably like it on the walls. Don't be scared of colour or experimenting. Step outside of the norm and do something because you like it, and don't worry about what other people think. You live in the house so you might as well enjoy it.
What was the biggest decorating, renovating or building challenge for this project?
It sounds silly but the biggest challenge for me was getting straight paint lines between light and dark colours, as I'm not a professional painter and not very good at cutting in. I may not mind imperfections in walls, but I cannot stand crooked paint lines. In the end I Googled 'how to get a straight paint line'. Once I did this, I haven't looked back and none of my lines annoy me.
Do you have a favourite colour, and if so why is it your favourite?
My favourite colour is purple so Resene Meteorite would be my favourite Resene colour in our house. Why I like it I am not sure. I just feel really comfortable wearing purple and love it on the walls. I would have more purple in the house but don't think my family would appreciate it.
Published: 14 Jun 2015
Do you have a home full of wonderful Resene paint and colour? Send us some snaps by emailing [email protected].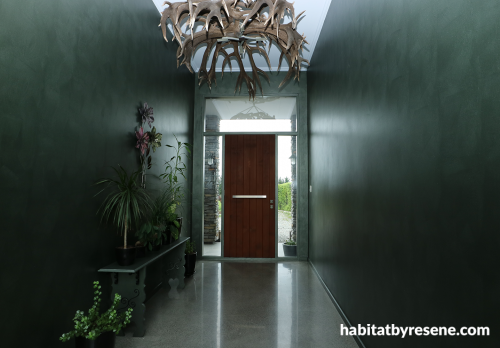 Jema and Peter's entranceway sparkles whenever the sun hits the walls... painted in Resene Magnetic from the Resene Metallics and special effects collection.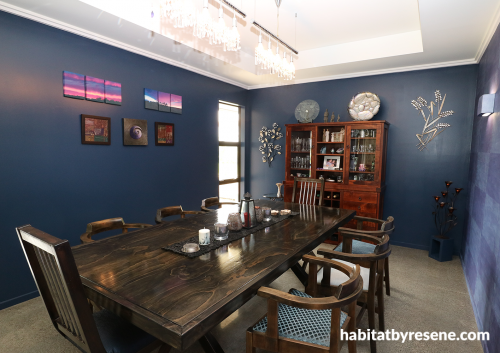 The Swann family eat in the dining room every night and Jema wanted it to have quite a rich feeling. She chose Resene Licorice as the hero colour and hand painted the grid patterned wall with Resene Zodiac and Resene Scotty Silver.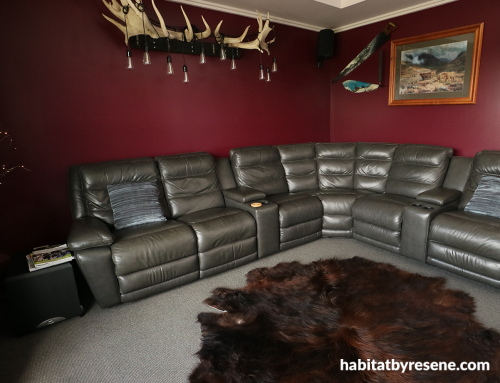 The lounge has a cosy-hunting lodge feel, painted in Resene Arthouse.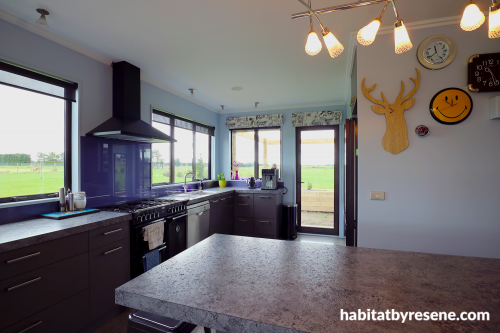 The kitchen is painted in Resene Oxygen, Jema's choice for a softer colour, with a splashback painted in Resene Zodiac.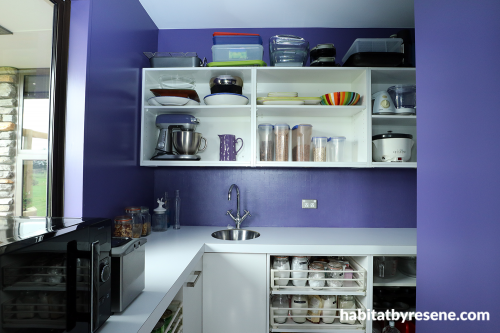 Jema says the colour of the pantry, painted in Resene Meteorite, always brings a smile to her face.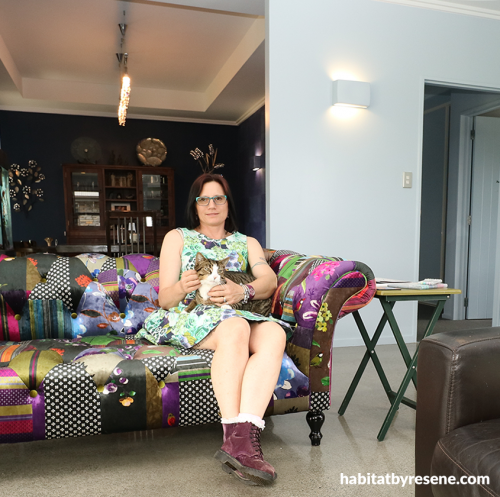 The main flow of the house, including the doors, is painted in Resene Oxygen. Its softness is a nice offset to the stronger colours used around the home. Pictured here is Jema, with Horse the family cat.




















the look
If you're stuck on what
colour to use or need colour
advice, try out the Resene
Ask a Colour Expert service.