►
◄
latest
habitat tv
blog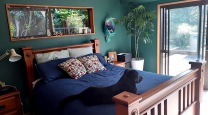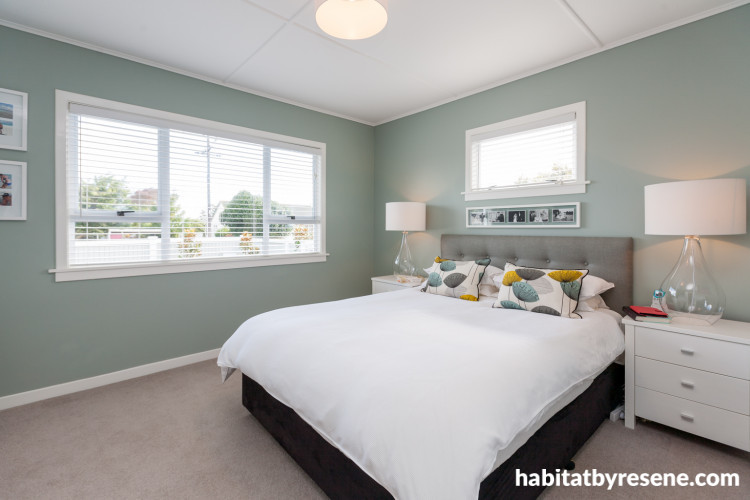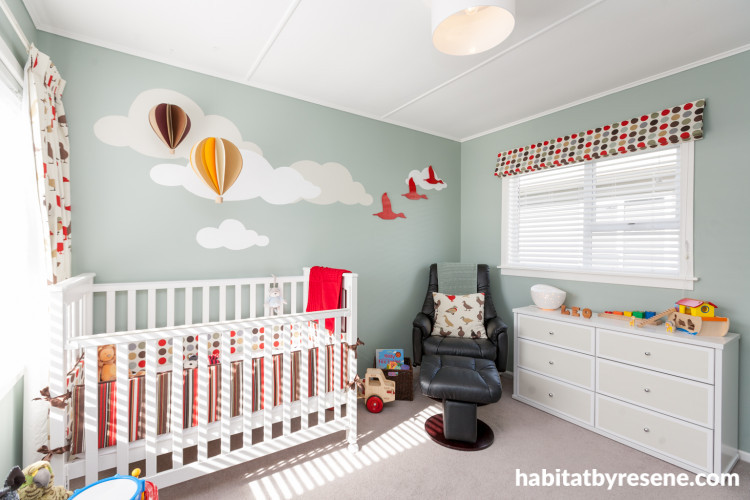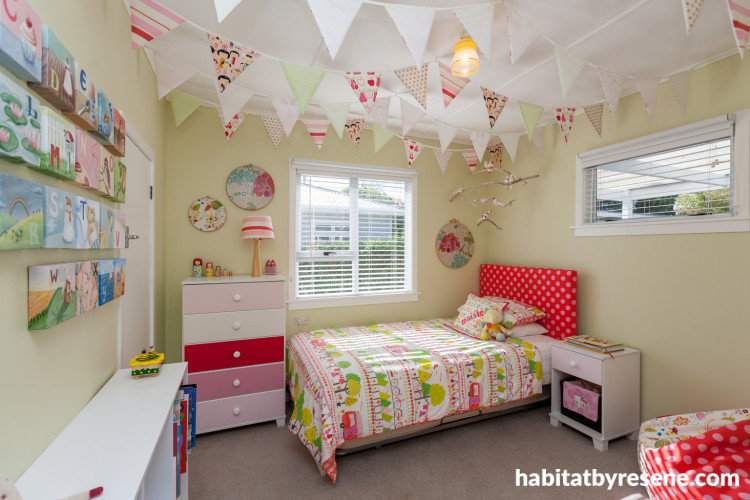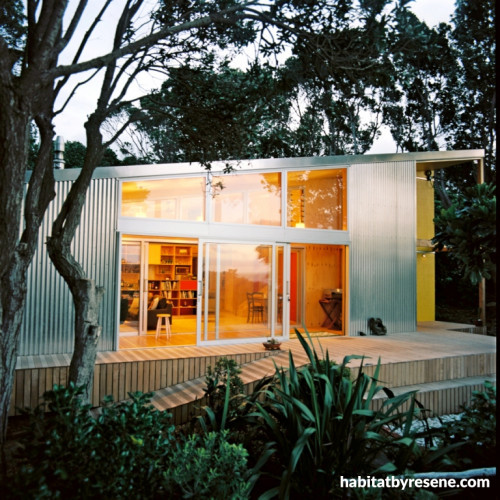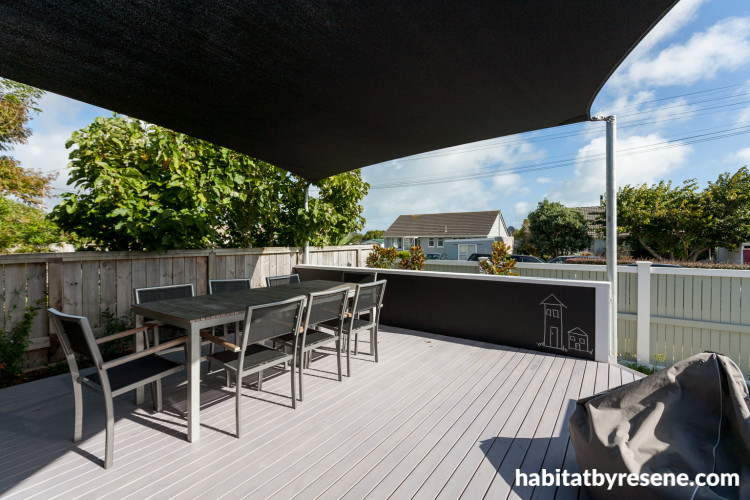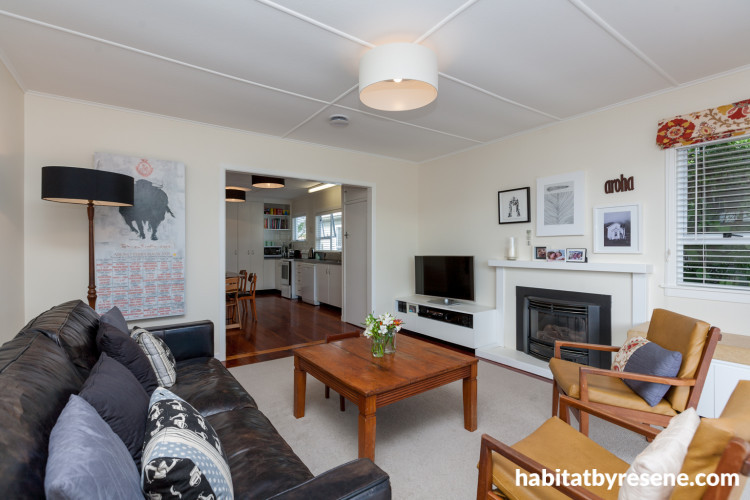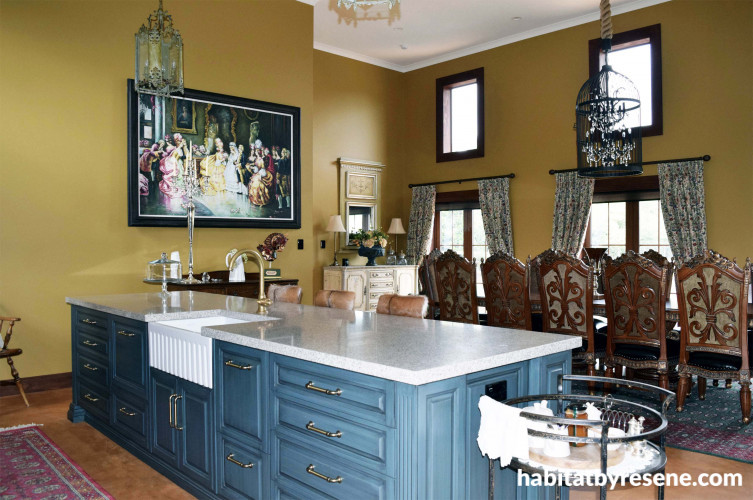 Kate and Adam's DIY delight
Published: 17 Apr 2014
Do you have a home full of wonderful Resene paint and colour? Send us some snaps by emailing [email protected].
Ex-Statey gets a fresh new look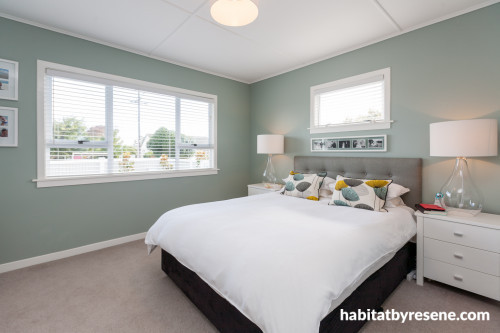 It was a typical first home - a humble mint and forest green ex-State house in Taranaki. Adam and Kate returned from their OE, bought the house, tore up the swirly brown and mustard carpet, removed layers of wallpaper and gave their home a fresh new look with Resene paint. Oh, and had a couple of kids, Maisie and Leo, who arguably now have the most adorable bedrooms in town.
Tell us about your home.
We have had a very special few years here, becoming a family of four and spending all our free time renovating. We both enjoy coming up with designs and Adam does the hard work of building them. Apart from a bit of plastering and plumbing, we did everything ourselves, with help from our parents.
What Resene colours and products have you used, in which rooms, and what inspired those choices?
In the kitchen, living room and hallway, we used Resene Pearl Lusta on the walls and Resene Quarter Pearl Lusta on the doors and skirting boards. We even painted away the nasty blue melamine kitchen cupboards, initially as a temporary measure but the gloss paint has lasted well during the past four years. In the bathroom and laundry, we used Resene Quarter Pearl Lusta on the walls to make them seem lighter.
We painted our room in Resene Robin Egg Blue - such a rich, restful colour. Maisie's room is Resene Mint Julep with extra blue tint added. I painted her drawers in various pink shades using Resene testpots.
Leo's room is Resene Robin Egg Blue too, simply because we had enough left over from painting our room. I used Resene White and Resene Ecru White testpots to paint the clouds on his wall and Resene Ecru White on his drawers. The three ducks are painted in a Resene Bright Red and coated in Resene Multishield+ Glaze. In each of the kids' rooms, I found fabrics I wanted to use and then selected paint colours to match.
Tip: Resene Multishield+ Glaze is a waterborne clear glaze used to give more durability to painted surfaces. Also check out Resene Pearl Shimmer, a pearlescent glaze ideal for creating shimmer and soft sparkle, or Resene Paint Effects, which is used to help create various decorative effects.
And the exterior?
We chose Resene Bel Air for the exterior but found once we'd done a whole wall, that we wanted it to be darker, so our local Resene ColorShop added extra black tint for us.
We had very bright white aluminium joinery, which was best matched by Resene Zircon. Using this around the windows helped make the aluminium joinery less obvious. The baseboards and doors are in Resene Blackjack and we used Resene Armadillo on the concrete steps to tie in with the existing green roof. We were really pleased with how this combination came together.
Tip: If you're looking for more inspiration for exterior colour schemes, pick up your free copy of the Habitat Plus 1 look 4 ways exterior colour schemes booklet from your local Resene ColorShop or selected resellers.
How did you decide on the overall look of the interiors? What was your overall philosophy?
We just chose things we liked but looking at everything now, I can see that our style is kind of friendly contemporary, rather than sophisticated. We don't like bright white bedrooms! We didn't have a big budget so our furniture is mostly retro bits and pieces we found on TradeMe and we built/sewed/painted most of the decor.
What part of the house are you most happy with?
I love the kids' rooms but the deck and front fence are my favourite because Adam built them and I think he made them beautiful rather than just functional. We copied our nice neighbours, who'd built gorgeous weatherboard walls around their deck then Adam painted the inside of the walls with Resene Blackboard Paint for the kids.
What is your advice for someone trying to achieve a similar look?
If you like colour, use it. It might be modern to paint everything white but colours are more fun. My preference is for slightly muddy colours rather than clean brights. Renee Coster at the New Plymouth Resene ColorShop has been amazing, helping us notice the subtle differences between colours and predict how they will look in situ.
What was the biggest decorating, renovating or building challenge for this project?
For me, it was scrubbing thick shellac off the interior doors and skirting boards with steel wool. I went through 14 bottles of meths. That was nothing compared with Adam's efforts to remove the 60-year-old glue and lino fluff from the kitchen floor. He spent many painstaking hours with a paint scraper, getting it all off.
Do you have a favourite colour, and if so why is it your favourite?
Resene Robin Egg Blue. I never get sick of looking at it.
Read more: Annabel and Simon bring coast to country
In the clouds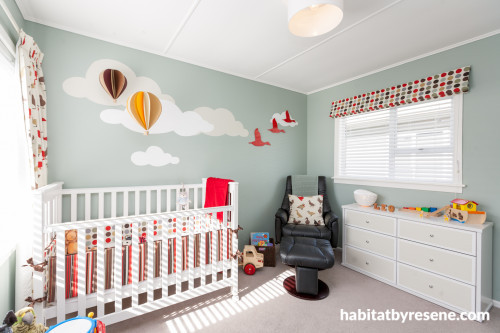 Like the main bedroom, son Leo's room is also painted in Resene Robin Egg Blue. Testpots of Resene White and Resene Ecru White were used to paint the clouds on the wall and Resene Ecru White was used on the drawers. The three ducks are painted in a Resene Bright Red and coated in Resene Multishield+ Glaze.
Fresh and minty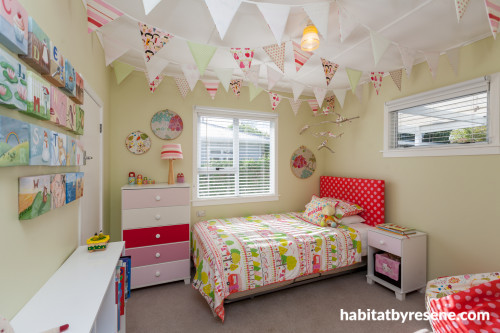 Kate used a slightly customised version of Resene Mint Julep in her daughter's bedroom and painted the chest of drawers using various Resene testpots.
A smart exterior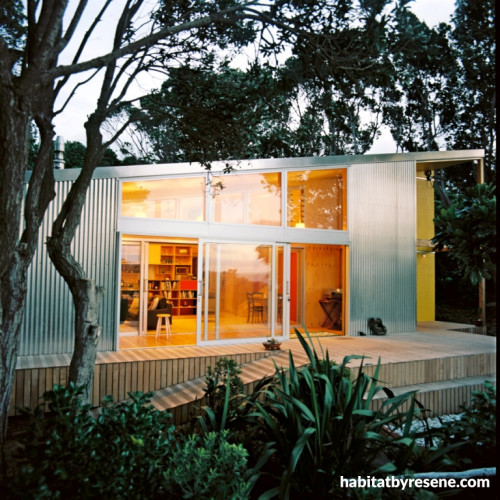 The exterior of the house is painted in Resene Bel Air for the weatherboards (darkened slightly by the local Resene ColorShop), Resene Zircon around the windows to blend with the aluminium joinery, Resene Blackjack for the baseboards and doors and Resene Armadillo on the concrete steps.
Drawing… outdoors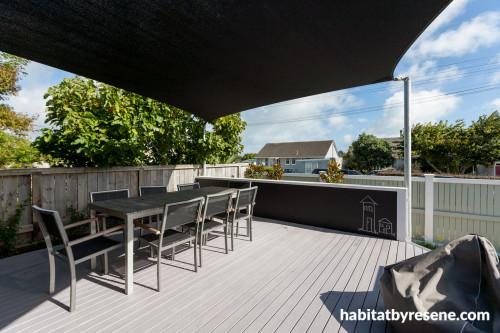 A clever addition to the deck was putting Resene Blackboard Paint on the reverse of the weatherboard balustrade to keep the kids amused.
A true classic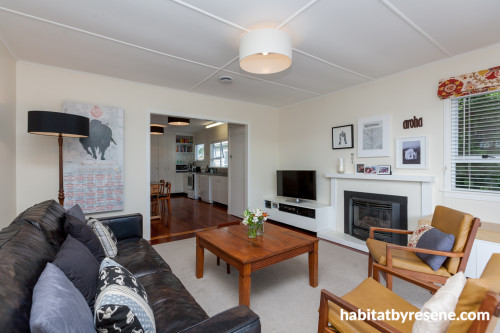 Adam and Kate used a fresh and light palette of a true classic, Resene Pearl Lusta, for the walls in the living room with Resene Quarter Pearl Lusta on the doors and trims.
A lasting effect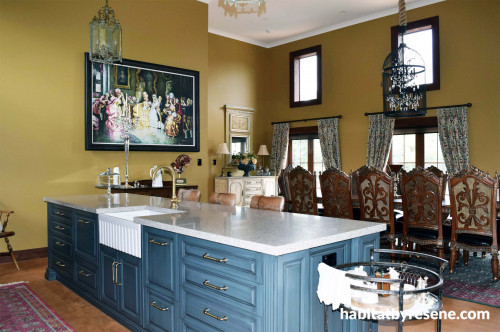 In the kitchen, a 'temporary' update of the cabinets using Resene Quarter Pearl Lusta became permanent when the Resene Super Gloss Enamel paint lasted so well.
Resene Quarter Pearl Lusta
the look
If you're stuck on what
colour to use or need colour
advice, try out the Resene
Ask a Colour Expert service.