►
◄
latest
habitat tv
blog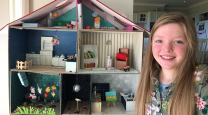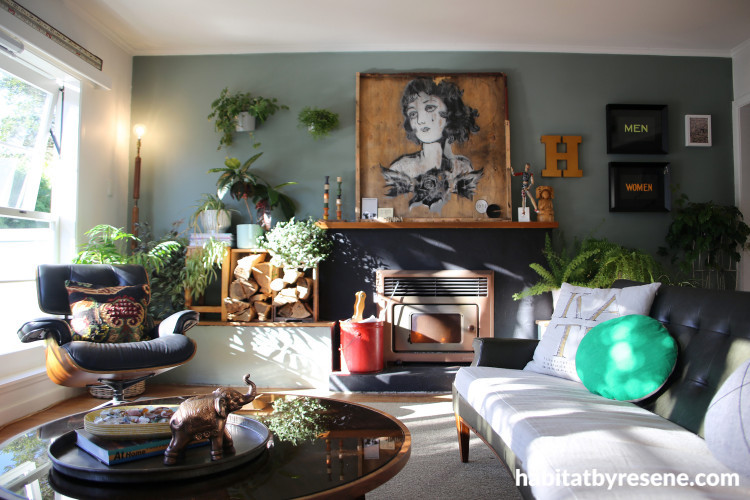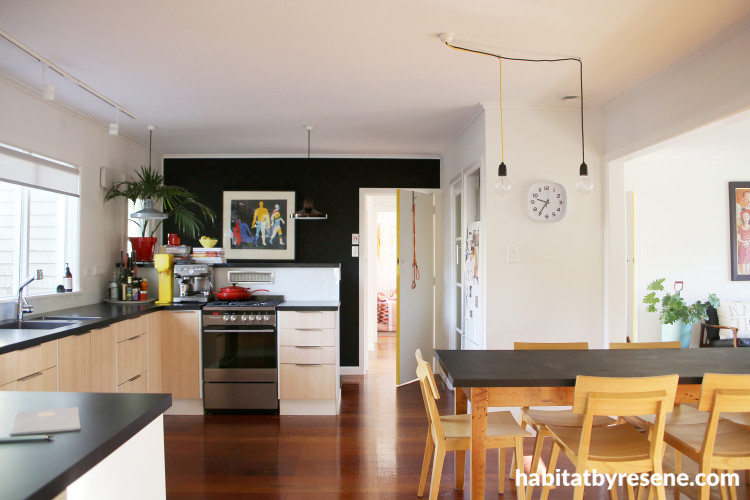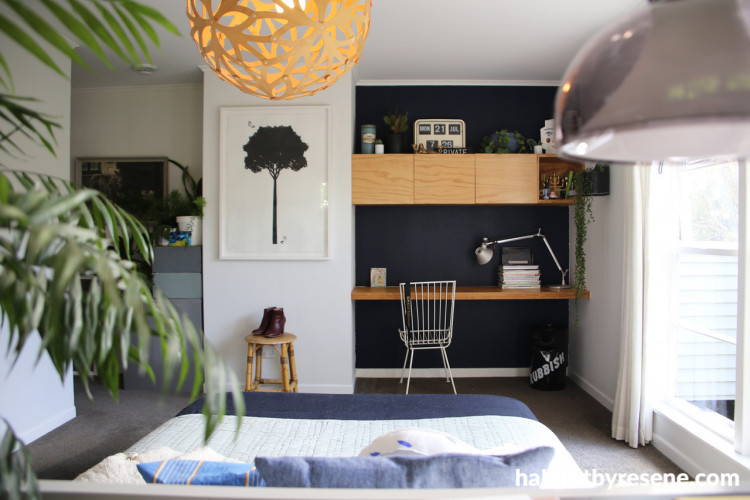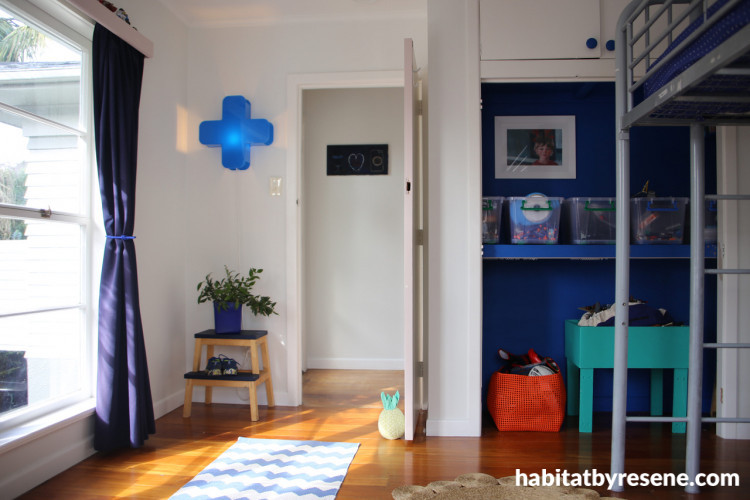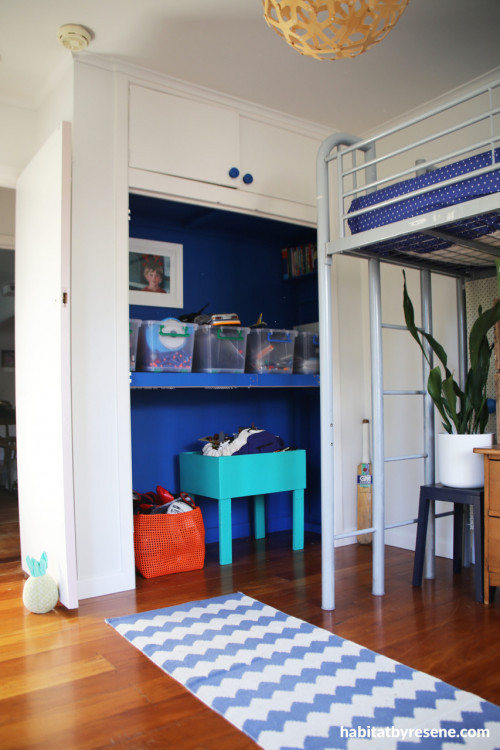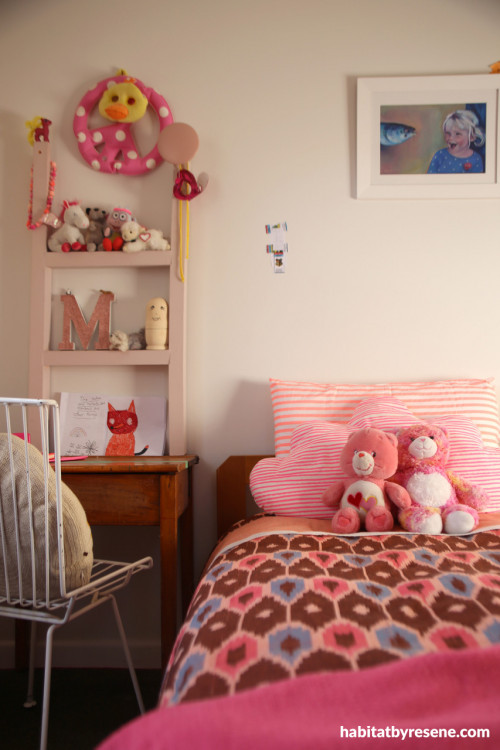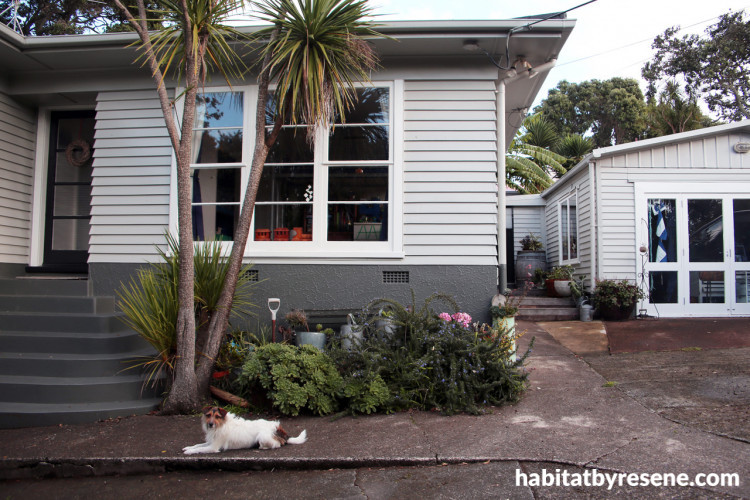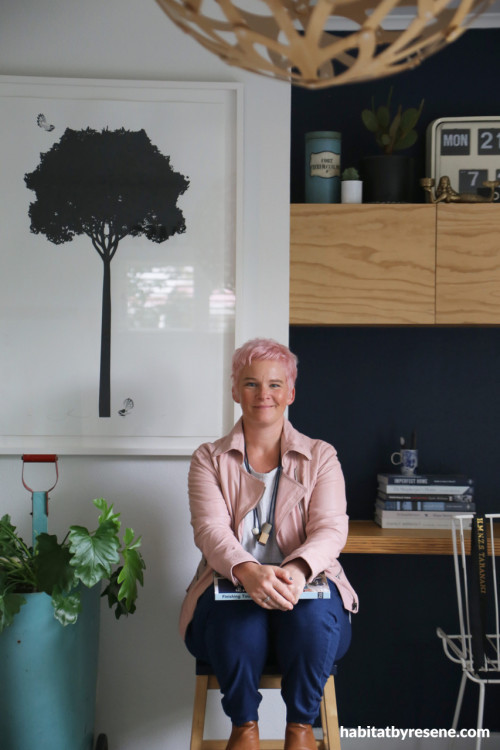 Kate and Matt's ever bolder colour adventure
Tucked down the end of a forking driveway, sharing a fence with the local school, Kate Alexander and Matt Kardos' home feels a long way from its urban location.
The 1950s weatherboard sits high on a block base, typical of houses built in the era... and as a result you feel like you're in the tree-tops, looking down on to our garden rather than out to it.
The couple bought the house six years ago, with kids Harry and Molly in tow. The first reno they did upon moving in was to paint the whole interior Resene Black White.
In the years since, they've gone more colourful with each room, from Resene Smoky Green in the lounge to Resene Celestial Blue in the study nook.
Kate tells us more.
What Resene colours and products have you used in your home?
The first thing we did was paint the whole interior Resene Black White with Resene Alabaster trim, slowly adding colour to each room over the years. We managed to save the old wallpaper in our kitchen, which we painted Resene Black.
I was inspired to paint our lounge wall Resene Smoky Green after a visit to Odette's Eatery in Auckland. We carried this colour out to our lounge deck.
The study nook in our bedroom is Resene Celestial Blue. This makes the space recede and brings the focus to the exposed upcycled pine desk.
When the kids were really young they shared a room. We took the doors off their wardrobe and built a platform, to make a cosy reading nook. Now this room is Harry's and the Resene Wet N Wild wall makes a great backdrop for his storage.
The ladder in Molly's room, which now serves as a display shelf, was once the ladder to the wardrobe nook in the kids' shared room. It is painted Resene Blanched Pink.
We recently painted the outside of the house. The scheme we chose is similar to what was there before – but a cooler grey rather than the warmer taupe, in Resene Foggy Grey.
How did you decide on the overall look of the interiors?
When we first moved in we made up mood boards, images cut and pasted from magazines on a large board, for each room. Looking back at these now there are a lot of things that are as we envisaged them – for example the blue wall in the master bedroom. I would say most of our look has evolved over time. Our house is a balance between function (the type of house, existing spaces and budget) and look (the things we're currently into and loving).
What part of the house are you most happy with?
We love all of it. The house works as a whole. We love living down a right-of-way, it's private and quiet. We love that the kitchen is central with views out to the garden in all directions. My personal favourite is the new outdoor potting bench. Matt built me this from old decking and a laundry sink found in my brother's backyard. It was the perfect place to use the gold tap I bought a year ago in Sydney.
What is your advice for someone trying to achieve a similar look?
Experiment. A house is for living in. Don't worry too much about something not working. You can always change it back. And often you don't know until you try.
Layer. Visitors often comment fondly when they visit our house. I think it's because we have lots to look at. The coffee table has a tray, magazines and a candle, not just the candle.
Upcycle. Find new ways to use old things. Our pine desk is made from their old bathroom cabinets.
Combine old and new. I love old things, because I'm sentimental and you can't buy those things any more... they are limited. But I also love new things, the crispness and smell you get from something new, especially linen. Used together you get a nice balance. Not too shiny not too dusty.
You can never have too much art or too many indoor plants. My current count of plants is 73. They come home between styling projects so I can have anything between 5 and 100 plants at one time. Sometimes I get overwhelmed by the watering schedule but then when one leaves for a project I can feel the gap, and I miss it. Same goes for art.
What was the biggest decorating, renovating or building challenge for this project?
My biggest challenge is patience. Thankfully Matt is fantastic at figuring out how things work and the best way to do things. I have the creative vision. Together we get it done. Generally I leave him alone on building projects because nothing happens fast enough for me. Then I'm usually the road block to getting things finished because I've moved onto the next project. Hence we still don't have door handles five years after planning to change them.
Do you have a favourite colour?
My favourite colour changes with the wind. If you look at my most recent interiors and wardrobe purchases there is definitely a common blue theme. However, since returning from India I have a new appreciation for turmeric and emerald.
Published: 29 Jun 2017
Do you have a home full of wonderful Resene paint and colour? Send us some snaps by emailing [email protected].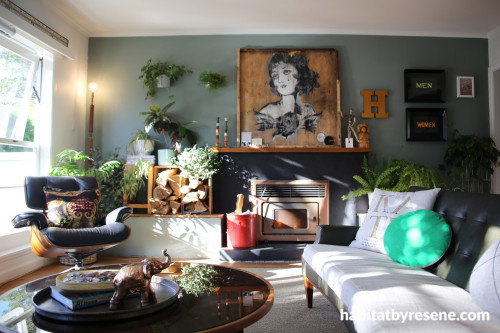 The lounge is painted in Resene Smoky Green, a great backdrop for Kate's many potted plants (73 and counting!).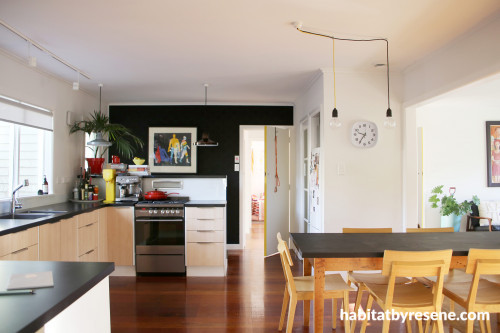 The light and airy kitchen is painted in Resene Black White, with trims in Resene Alabaster. The back of the kitchen has a feature wall painted in Resene Black.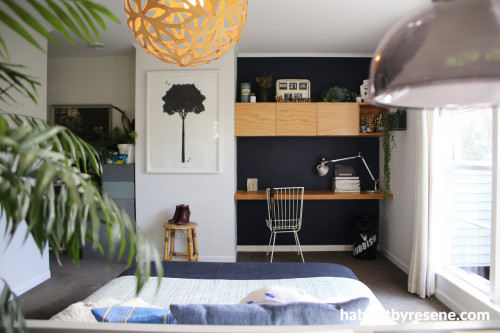 A study nook in Kate and Matt's bedroom is painted in Resene Celestial Blue, bringing focus to the upcycled pine desk. The bedroom is painted in Resene Black White.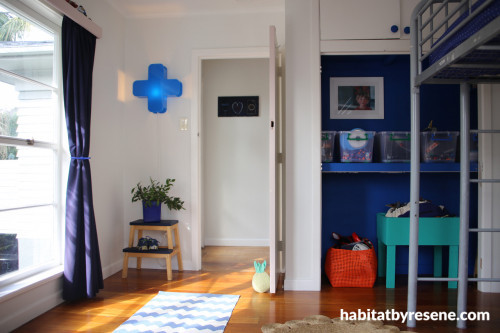 In Harry's room, the wardrobe was turned into a study nook, painted in Resene Wet N Wild. The bedroom is painted in Resene Black White.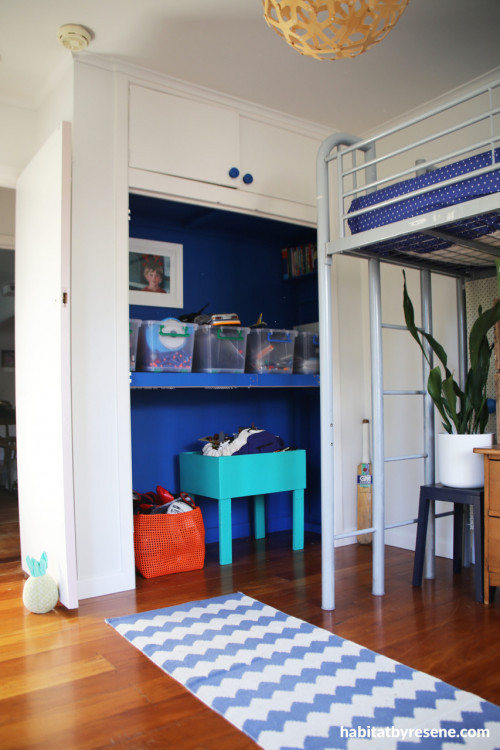 Using only the top half, the bunk bed gives plenty of space for storage underneath. The walls are painted in Resene Black White, with a feature wall in Resene Wet N Wild.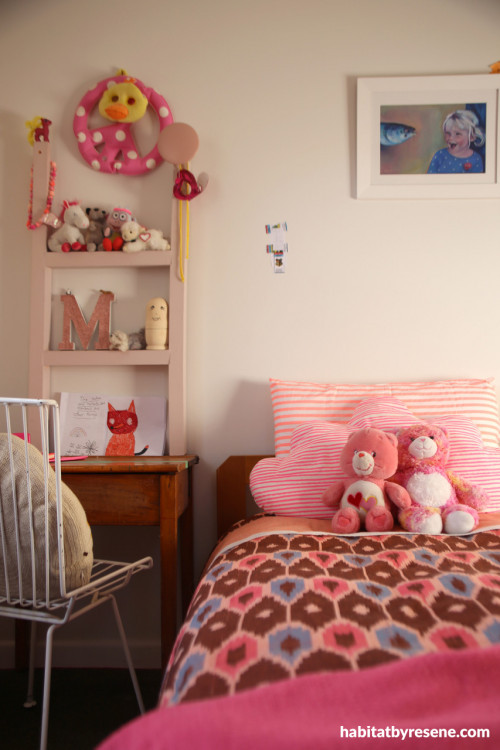 Molly's bedroom, painted in Resene Black White, features a ladder upcycled into a display ladder painted in Resene Blanched Pink.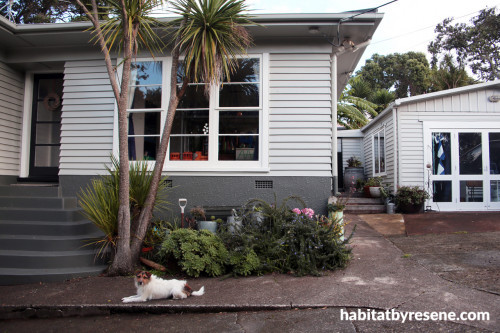 The family's dog Mindy poses in front of the 1950s weatherboard home, painted in Resene Foggy Grey. The roof and doors are painted in Resene Blackjack, the base is in Resene Gravel, and the trim is in Resene Rice Cake.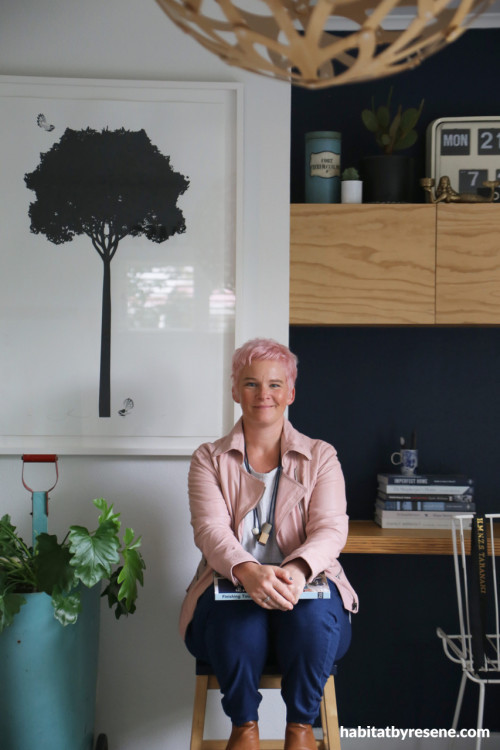 Kate is a stylist, owner of Places and Graces, and author of interior styling book Finishing Touches. Here she is in her bedroom, painted in Resene Black White and Resene Celestial Blue.
the look
If you're stuck on what
colour to use or need colour
advice, try out the Resene
Ask a Colour Expert service.