►
◄
latest
habitat tv
blog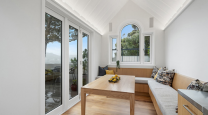 Master Builders' Chief Executive David Kelly shares his tips for building in the challenging climate.

Planning... more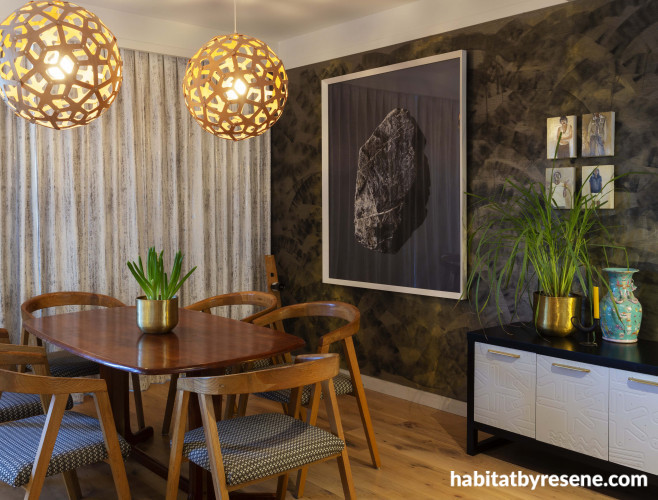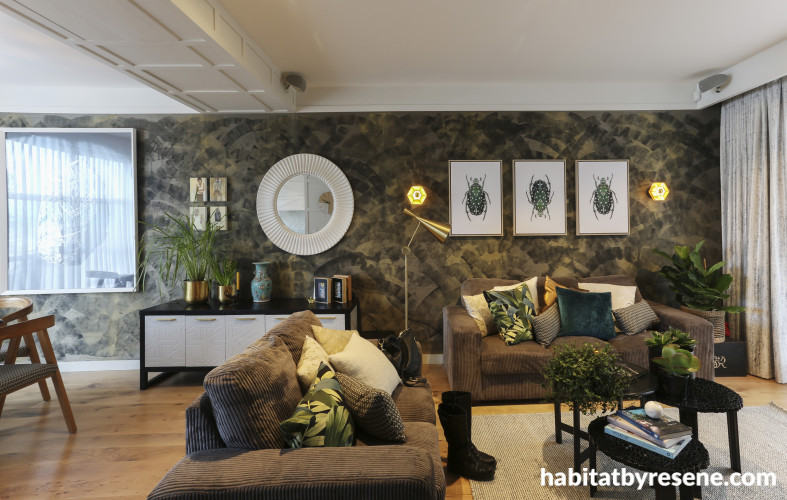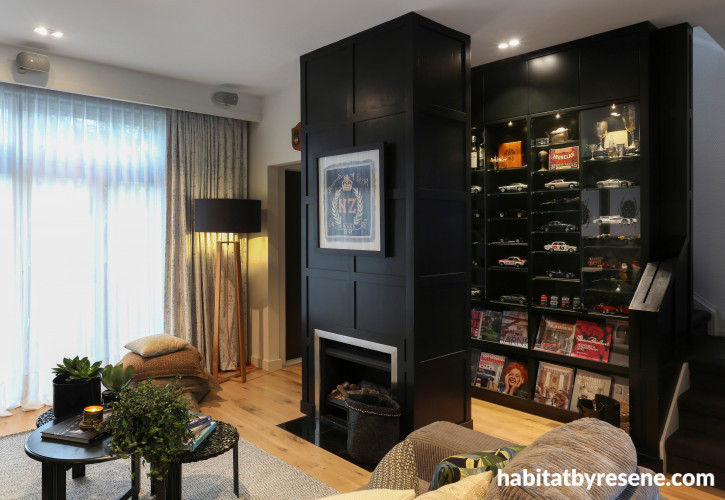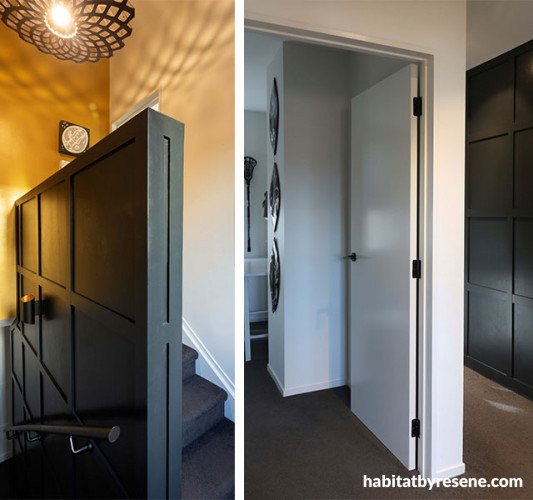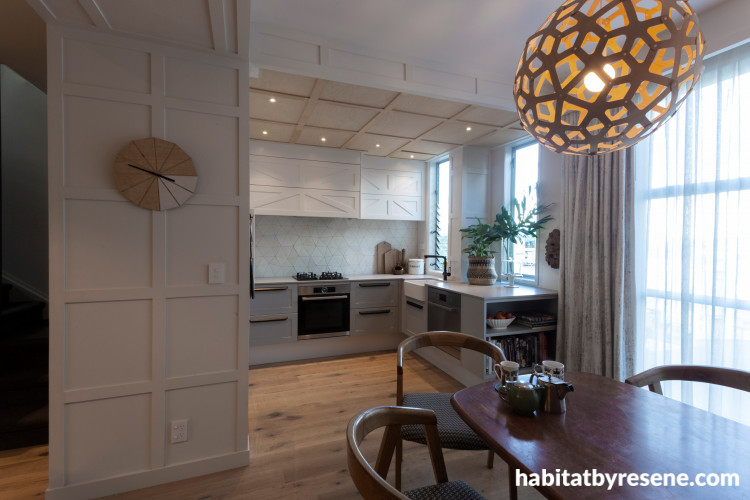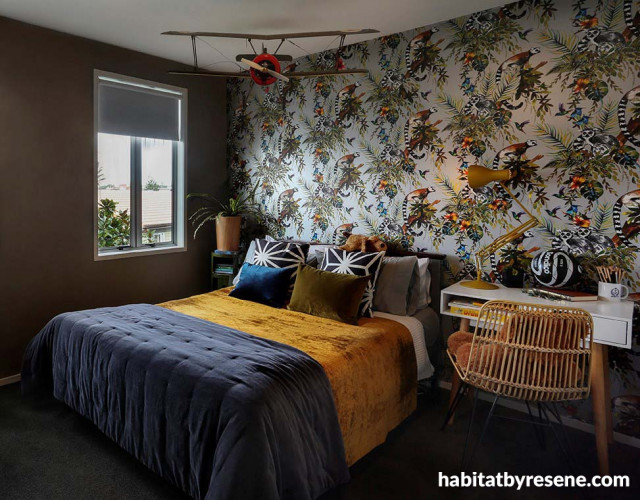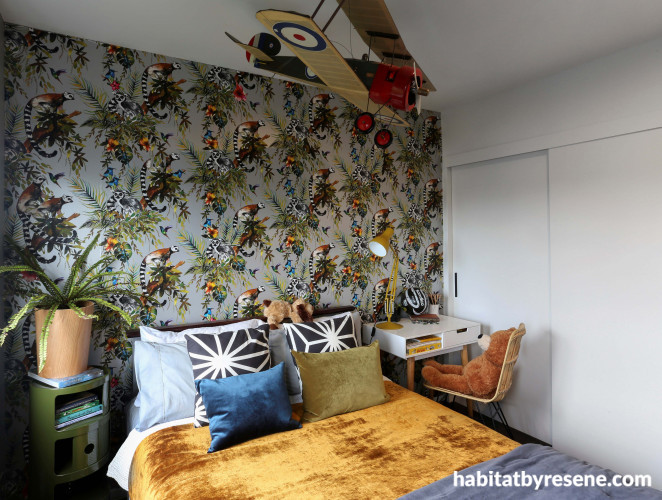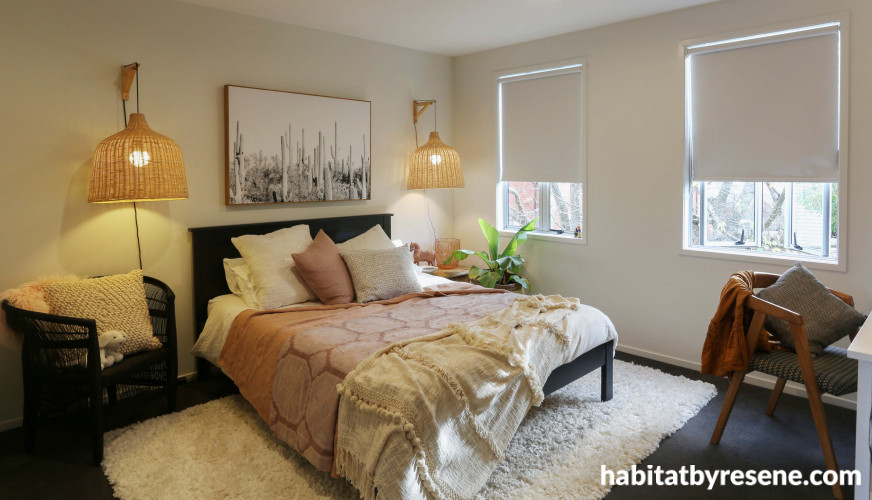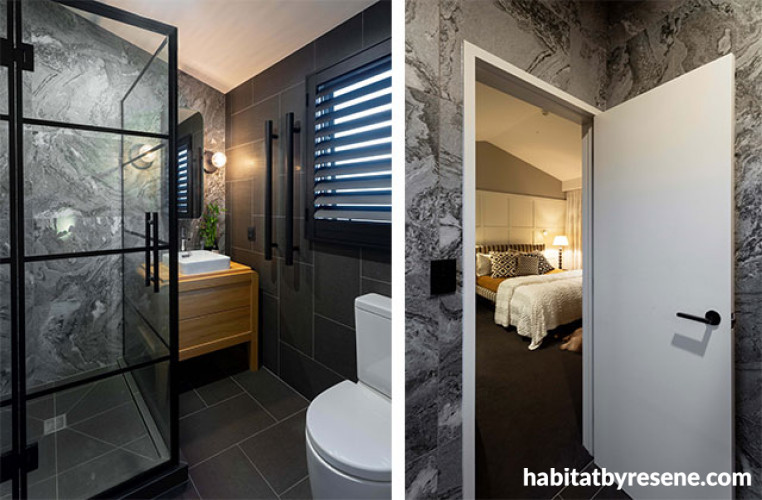 Kelly transforms a sea of vanilla into an art-inspired masterpiece
Designer Kelly Gammie of Eucalyptus Design is no stranger to using colour to transform a home. A past recipient of the Resene Residential Interior Colour Creativity award, she received another big win when she convinced her partner that buying "a tired old 1990s townhouse" in one of Auckland's urban zones was a great idea.
The house, located in Auckland's central Grafton neighbourhood, had its original interior intact with a violet-hued kitchen and bathrooms interrupting "a sea of vanilla, doors, gypsum walls and ceilings".
"It was an exciting prospect for a designer," says Kelly, as it presented her with a blank canvas to work her magic on.
Fresh and sophisticated with a hint of dark moodiness was the look she wanted. Kelly says that she is fascinated with the beauty of darker neutrals and their sense of visual drama.
"Since it was my own house, I had the freedom to experiment and be more daring than a lot of clients are comfortable with, and of course, partners can be coerced far more easily," Kelly laughed.
"With very dark walls – and quite a lot of them – plus painted grasscloth wallpaper, crazy printed wallpaper, walls of dark granite, timber paneling on the ceiling, big feature lighting, dark neutral colours…there were times it took a lot of coercion."
To keep her darker colour choices from feeling too imposing, she contrasted the darker tones with milky white "to give it some pop". This contrast of dark and light neutrals was interwoven throughout each level of the house by way of the painted surfaces, wallpaper, tiles, fabrics, and even into minute details such as door hardware and electrical switches.
Kelly says that it was a stunning piece of photographic art which hung in her last home – a piece titled 'Astrae' by B. Nunes – which became the seed of inspiration for her colour palette.
Published: 03 Apr 2019
Do you have a home full of wonderful Resene paint and colour? Send us some snaps by emailing [email protected].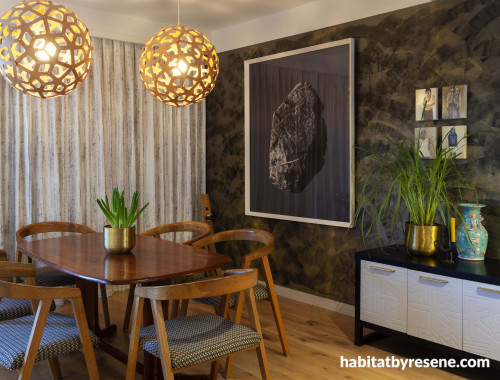 Kelly says the photographic art piece "Astrae" by B. Nunes was the inspiration for their project. The piece of rock in the photo was collected by the artist from nearby Grafton Gully. "We find it exciting that our grand image of a special piece of rock has travelled and returned to its original geographic home." She then created painted this custom grasscloth backdrop in Resene Taupe Grey, Resene FX Gold metallic and Resene Double Cod Grey. The ceiling is in Resene Alabaster and the floors are finished in Resene Colorwood Rock Salt.
"The sombre grey tones and distinct white veining in the piece inspired my use of dark neutral colours and the creation of texture throughout house. Resene Double Cod Grey is my go-to 'black', which was perfect for the floor-to-ceiling painted paneling we used on the staircase and fireplace. Finished in a semi-gloss, it reflects light beautifully, creating a sense of vitality that can often be missing in a truly black surface. A dark grasscloth from the Resene Wallpaper Collection was the base for a full wall art piece on which Resene Gold and Resene Double Cod Grey are painted with abstract jungle foliage.
"I really enjoy creating bespoke aspects to my projects, and this wall is a unique element within the overall interior scheme."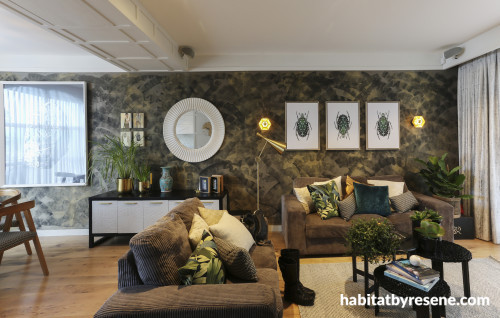 This incredible bespoke wall in Kelly's living and dining area started with a grasscloth wallpaper from the Resene Wallpaper Collection, with Resene FX Metallic Gold metallic sponged on as a base layer. Kelly wanted an abstract finish that created a sense of depth, so she used a roller to apply Resene Lustacryl Double Cod Grey in a random motion. "I loved the result," says Kelly. The ceilings and trim complement in Resene Alabaster and Resene Milk White and the floor has been stained Resene Colorwood Rock Salt.
The oceans of monotonous gypsum walls were transformed into striking statements by incorporating a painted paneling detail. The timber paneling in Resene Double Cod Grey even wraps the inner walls of the entire staircase to add a textural element and connect the colour story from one level to the next.
The timber batten paneling on the fireplace was made using new 60mm pine skirting on ply sheeting to create both texture and strength. These panels were first sealed with Resene Quick Dry, as the required substantial sanding between coats to achieve the smooth finish that Kelly desired. They were then given three coats of Resene Lustacryl tinted Resene Double Cod Grey in a semi-gloss finish to keep them from seeming too blackboard-like and enable the light to bounce off elegantly. The walls have been painted Resene Milk White and the ceiling is in Resene Alabaster.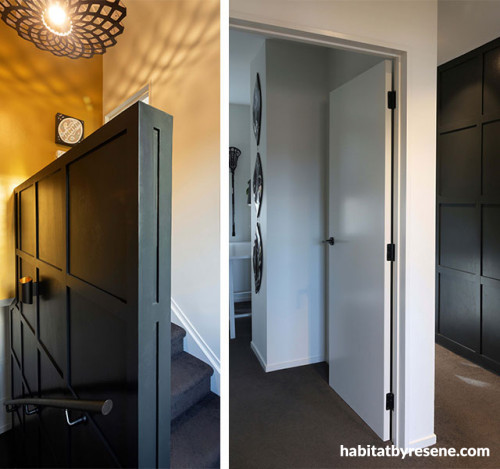 Batten walls in Resene Double Cod Grey and Resene Ecru White walls on the entrance level are complemented with trim in Resene Milk White, a handrail in double strength Resene Colorwood Ebony and Resene Alabaster ceilings. "It leads beautifully up through the different levels of our home culminating in a light catching brassy gold wall, blended especially for me at the Newmarket Resene ColorShop," says Kelly. This custom-made colour has been dubbed 'Resene Eucalyptus Gold', after Kelly's business, Eucalyptus Design.
"The four levels of the house have very individual functions which influenced how they were designed and finished," says Kelly. "The first floor features a bespoke hand painted grasscloth wall, an abstract jungle image that along with the pale oak flooring unites the space shared by the kitchen, dining and living areas. The kitchen with paneled fronts in Resene Eighth Friar Grey and Resene Milk White, is highlighted with Resene Double Cod Grey handles and a milky textural tiled splashback all adding to the home's layers of neutral colour and texture."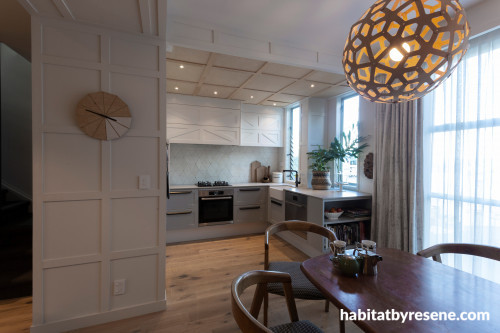 Kitchen cabinetry in Resene Milk White (on the upper cabinets) and Resene Eighth Friar Grey (on the lower cabinets) with Resene Double Cod Grey handles are framed by Resene Milk White timber paneled batten walls. A hint of Resene Colorwood Rock Salt stain was used on the birch paneled timber ceiling to reflect the same stain on the floor below.
What has been dubbed 'the Kids' Zone' can be found on the second floor, where a base of Resene Milk White was used to balance the diverse looks required by an older teenage girl and a younger brother. In Kelly's son's room, a lemur print wallpaper from the Resene Wallpaper Collection displays "the cheekiness of a 10-year-old boy" teamed with Resene Quarter Taupe Grey creates an immediate point of difference to his older sister's room.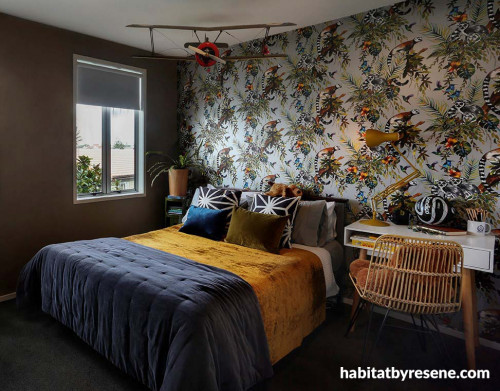 For quirky bit of fun, Kelly hung wallpaper using Resene Wallpaper Collection 12403 in her son's room. "If the design wasn't unique enough, I cut out left over birds, lizards and leaves and stuck them onto the hung paper to give him little areas to giggle at."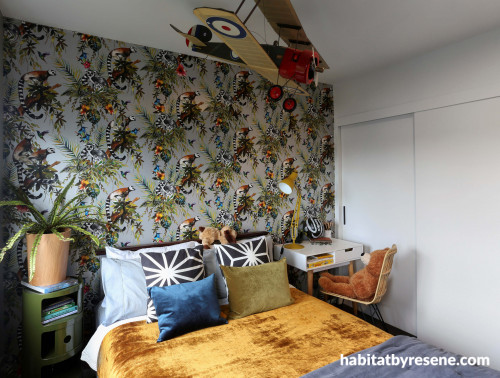 Kelly used Resene Half Milk White on the entry wall in her 10-year-old son's bedroom as well as on the trims and doors. The ceilings are in Resene Alabaster. The lemur wallpaper she used is Resene Wallpaper Collection 12403.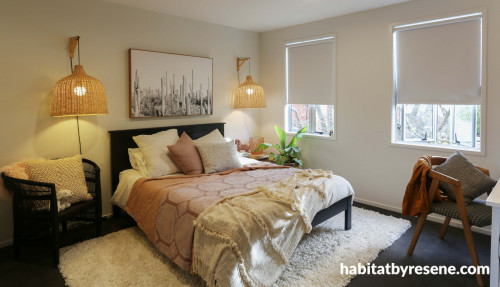 In her teenage daughter's very grown-up bedroom, Kelly went for Resene Half Milk on all the walls, trims and doors with Resene Alabaster ceilings. The bedhead is painted Resene Double Cod Grey.
Their bathroom continues the interior scheme of neutral tone and texture. Large format granite tiles were chosen almost as an homage to "the rock" art piece. Resene Double Cod Grey is taken through into the bathroom shutters and the metal frame for the shower with touches of oak to add warmth.
In the bathrooms, Kelly painted the ceilings Resene Alabaster and the door and trims with Resene Half Milk White for continuity with the rest of the house. Resene Double Cod Grey was used on the shutters.
"This same bathroom theme was tweaked slightly and repeated in the ensuite on the third floor, part of the Parents' Retreat. Sophisticated and relaxed were essential elements for the master bedroom. Of course, Resene Milk White timber paneling paired with Resene Eighth Friar Grey, along with elegant furnishings helped us achieve this."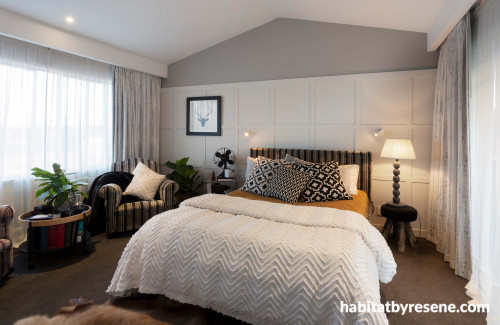 In the master bedroom, Kelly painted the timber paneling, door and trim Resene Milk White and went with Resene Eighth Friar Grey on the section of wall above the bed.
"A modern British seaside cottage is how we see it," says Kelly.
Kelly says that the dark and light neutral tones of the Resene paint and stains she used on that were repeated throughout the home was what really made the transformation work.
"It enabled us to fulfill the purpose of giving our once bland 90s townhouse a genuine sense of individualism and, more importantly, Whanau."
To see more of Kelly's work, visit her website.
images Becky Nunes
Resene Quarter Taupe Grey
the look
If you're stuck on what
colour to use or need colour
advice, try out the Resene
Ask a Colour Expert service.