►
◄
latest
habitat tv
blog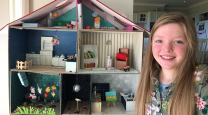 Lara and Isaac's artful and magical makeover
The day after Lara Bui and Isaac Weston bought their 1970s home in Matua, Bay of Plenty, in 2010 they launched into a renovation with gusto. It would turn out to be a three-year marathon makeover, but the result is a light, bright modern home that makes the most of its solid bones, and estuary views filled with bird-life.
Though the property needed love and attention, the couple were also taken by the potential for landscaping the outdoors. "Both of us had been sneakily looking at property listings," says Lara. "Isaac pointed out a house in Matua that I'd been secretly fantasizing about. "It was huge, with water views, we never dreamt we would actually get to live there."
Inside the 1990s colour scheme of sunshine yellow walls with denim blue carpet the couple inherited is gone, replaced with a soothing back-drop that's enlivened with some bold Resene colour choices, made, says Lara, because "we like whatever makes us feel good".
Lara talks us through the couple's design choices.
Where did you start your renovation?
The minute we got in the house we painted all the walls in Resene Quarter Tea to tone down the headache-inducing yellow. A lot of our homewares are colourful so Resene Quarter Tea makes an excellent backdrop colour and it changes depending on the light.
What Resene colours and products have you used?
Resene Quarter Tea is on the pitched ceilings and all the walls, except the dining room. We wanted to create an inviting, bright and relaxing home. The house has high ceilings, so once we painted the walls and ceiling Resene Quarter Tea, it created a gallery-like feel. We had used the same colour in our previous home, so we knew it was a great choice.
The dining room is now used Resene Seeker. After living with the house fully painted in Resene Quarter Tea for a few years it was time to add a bold injection of colour. It's the room that now gets the most 'oohs and ahhs' thanks to that bright blue wall. This room also doubles as my office for my indoor plant business, Cool Plants. I love looking at it and find it inspirational. It is the perfect display wall for my own collection of cool plants.
On the exterior walls we used Resene Cougar. The house cinder block walls were white and faded and we needed a colour that would match the copper tone of the 1970s joinery, as well as the brown clinker bricks. Resene Cougar warmed up the look of the house and nicely complements the joinery.
We used Resene Craigieburn on the decking outside. That was a big decision, because the deck is 90m2 so had to work in well with the overall look of the house. We couldn't go for a dark colour as it would be too hot to walk on, and we couldn't go too light was it would be blinding in the sun. We used Resene Waterborne Uracryl paint because it gave us a very durable finish, ideal for this full sun, high-traffic area.
On the roof and the gazebo we went for Resene Ironsand which is a great multi-purpose colour that goes well with everything.
How did you decide on the overall look of the interiors?
Our style is very eclectic, which is reflected in our artwork and furnishings. We have artwork by our mate Niki Hastings McFall, prints from New York design couple Kozyndan, various pieces from 100PercentNZ , a skate deck by Kiwi artist Shane Hansen, ceramics by local artists George and Co and many other weird and wonderful things.
A lot of our diningware, linen and cushions are from Titan Imports, as its bright, fun stuff. We also have a lot of Reworkit wood furniture created by Isaac that adds warmth and texture. We have also always had a large collection of indoor greenery which adds life to our home. Even if we didn't have a plant company we would continue to indulge in adding to our indoor plant collection as it creates a sense of calm and wellbeing.
What part of the house are you most happy with?
We love the dining room. It makes us happy seeing that bright blue wall every day.
What is your advice for someone trying to achieve a similar look?
Work out your overall colour palette using testpots and A4 drawdown paint swatches before embarking on your project. That way you can confidently start renovations without having to work out what colours go well together mid-project.
Plan ahead and book your tradies well in advance if possible. The good ones are normally booked up for two to three months.
What was the biggest challenge for this project?
After doing some basic cosmetic work we discovered that our 90m2 deck was leaking. The deck is the roof area above our downstairs rooms so it needed sorting out quickly. That was the biggest spend on our renovation. It was not a cheap exercise.
We decided to get a building inspection done after a year of living here to see what other things needed addressing around the property, using Graeme from Building Surveying Services. He really did his best to get to the source of our building issues and then provided us with the best advice to resolve them. Our brilliant builder Wayne Goldsbro completed all the work that was out of our expertise and we now have a warm, dry home that's built to code.
See more about Lara's plant business here. See more about Isaac's business here.
Images by Jay Drew www.facebook.com/JayDrewPhotography/
Published: 01 Nov 2018
Do you have a home full of wonderful Resene paint and colour? Send us some snaps by emailing [email protected].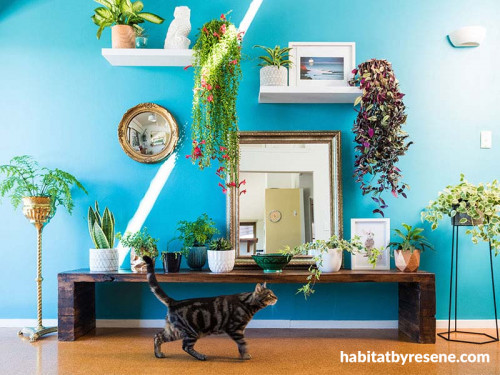 Resene Seeker provides a bold, eye-catching backdrop for Lara's plants in the couple's dining room.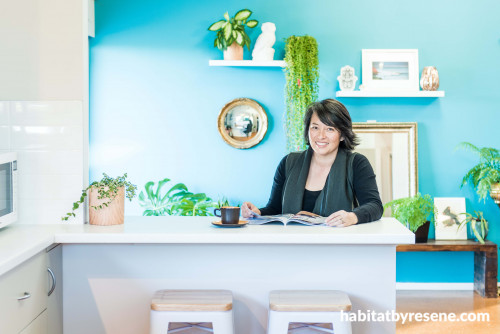 Lara, who owns an indoor plant business, says she finds the Resene Seeker wall in the dining room, which she also uses as an office, inspirational. The colour stands out boldly against the Resene Quarter Tea walls and crisp white accessories in the kitchen.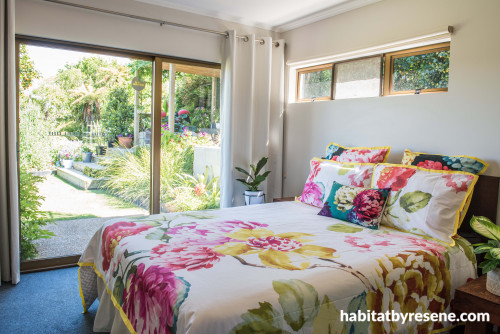 In the bedroom, the use of Resene Quarter Tea allows for a light, airy space that frames the landscaped garden through the ranch slider.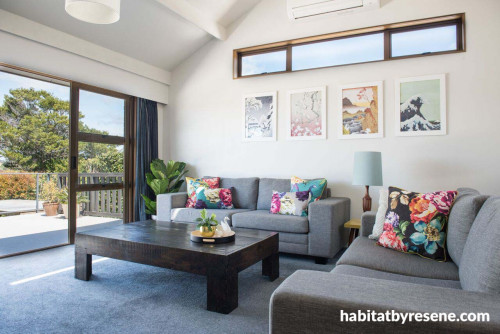 Using Resene Quarter Tea on the walls and pitched ceilings has given the house a gallery feel, says Lara.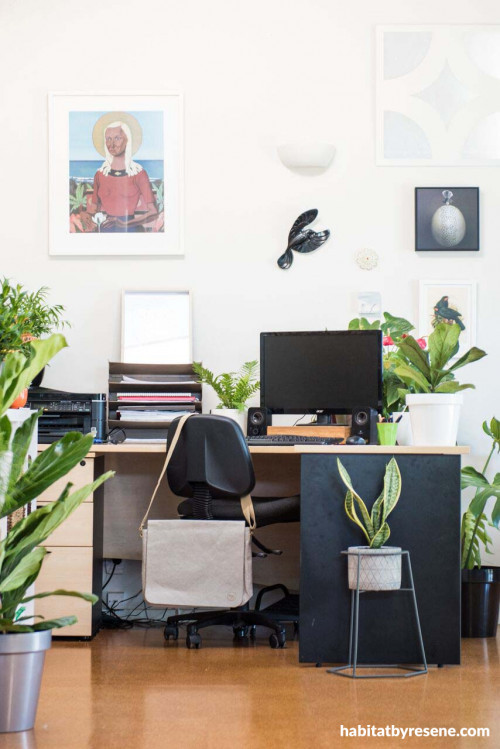 Lara's office space, filled with plants. The walls are Resene Quarter Tea.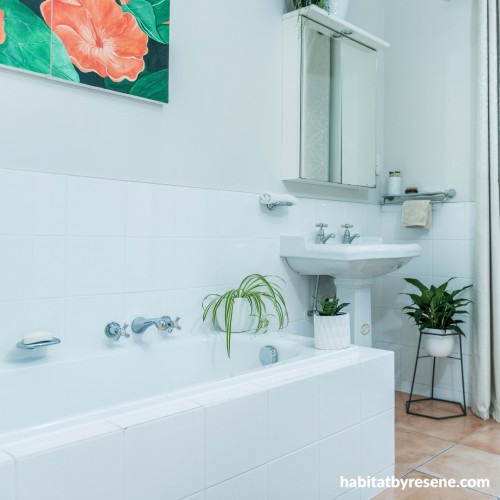 Resene Quarter Tea is also on the bathroom walls where it allows the crisp white fittings to shine, and showcases the feature artwork.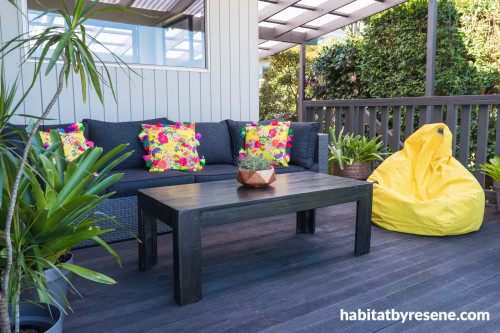 The home has also had a makeover outside with the newly refurbished deck stained in Resene Craigieburn. The exterior walls of the house were painted in Resene Cougar to complement the copper tone of the 1970s joinery. The pergola is Resene Ironsand, to match the roof. The bean bag is by Beanz Lifestyle.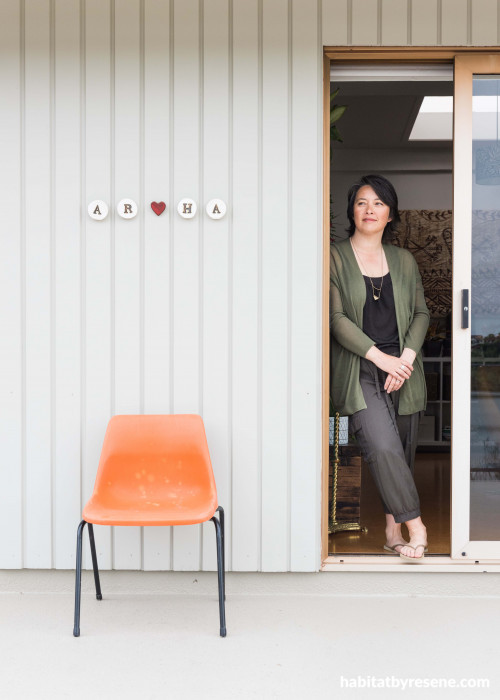 Resene Cougar warms up the look of the house and revives the 1970s cladding.
the look
If you're stuck on what
colour to use or need colour
advice, try out the Resene
Ask a Colour Expert service.