►
◄
latest
habitat tv
blog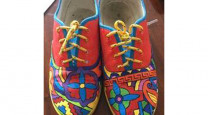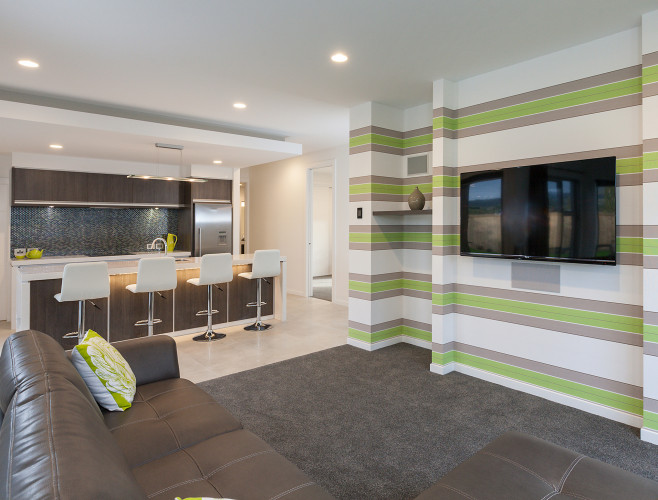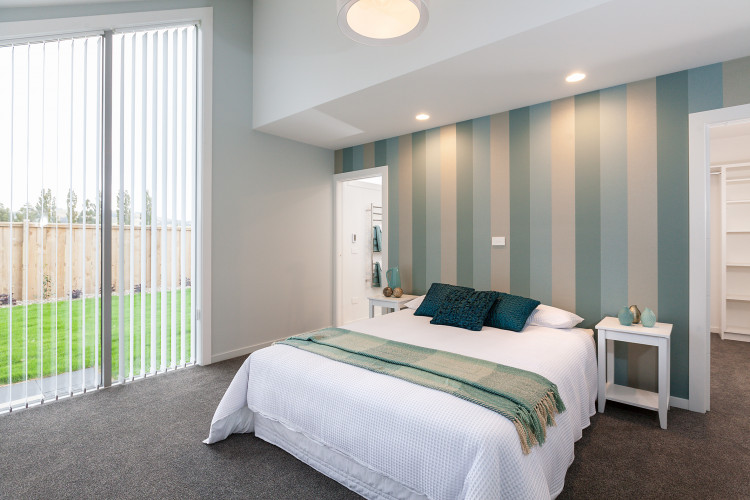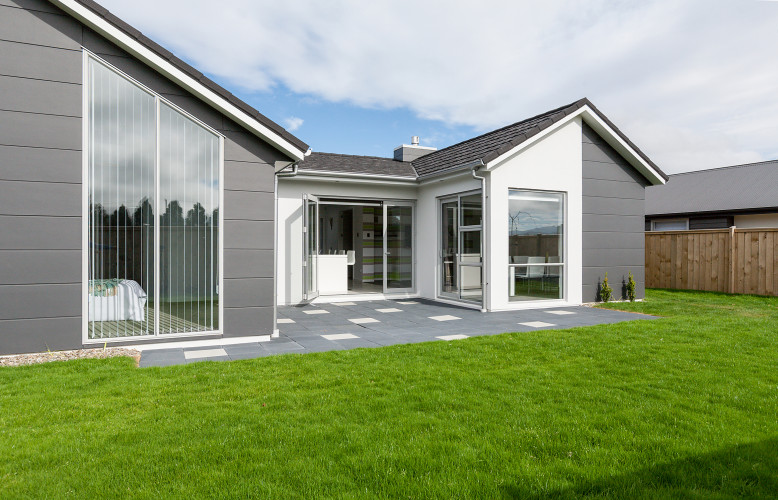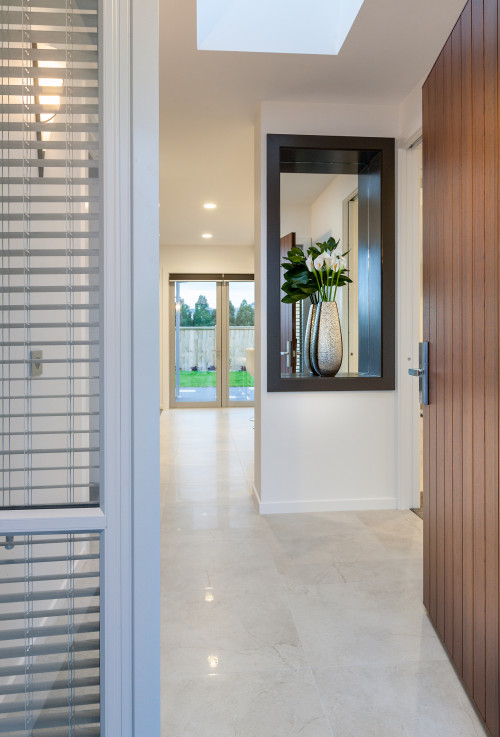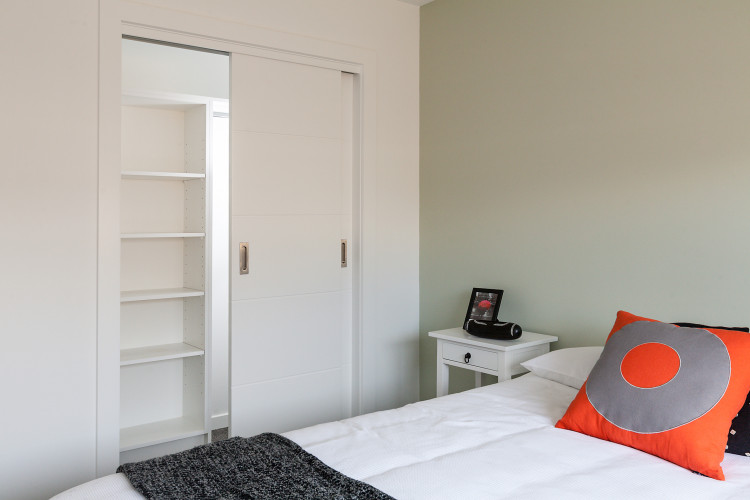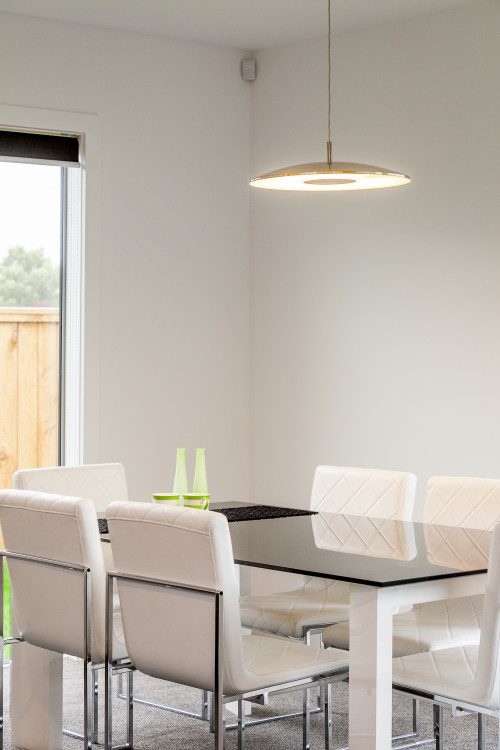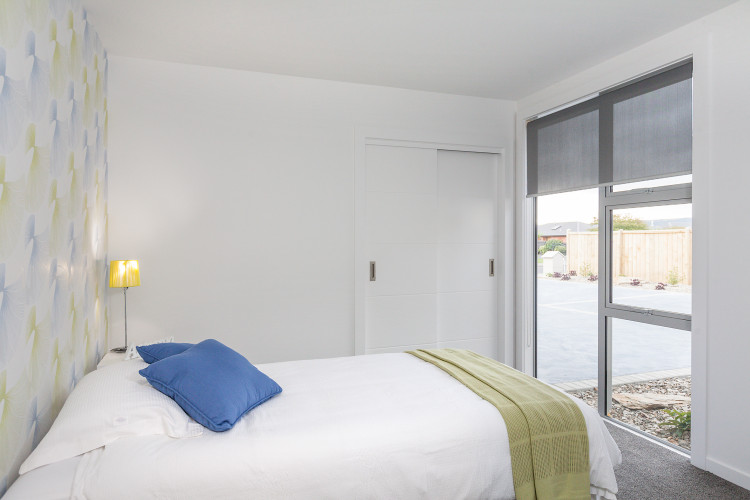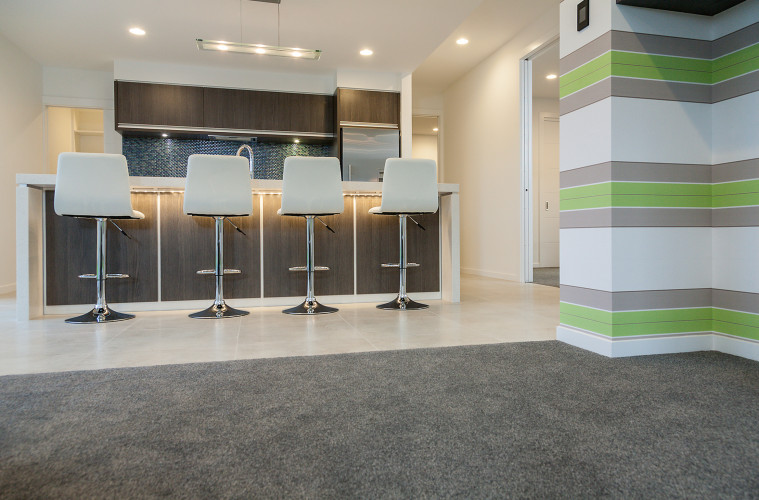 Lee-Anne banishes the bland
04 Apr 2013
Do you have a home full of wonderful Resene paint and colour? Send us some snaps by emailing [email protected].
Stripes and feature colours wow visitors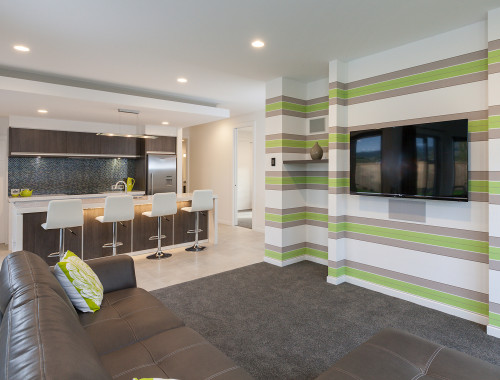 It could be tempting when designing the interiors for a showhome to just go bland, bland, bland. But when Lee-Anne Flockton of Dunedin was given the task of creating a look for a new Jennian showhome, sure, she chose Resene Double Alabaster for the majority of the walls, but has teamed that with striking wallpapers from Resene as well as some sophisticated blues and greens. As she says: "It's a very fine line between being creative and showcasing new things, and putting people off."
Jennian is a Future Proof Building partner which means the company uses principles and features that will improve occupants' quality of life and that ensures the house maintains and improves its value in the future. See the end of this article for the eight principles of future proof building. Resene is also a Future Proof Building partner along with other product suppliers.
Says Lee-Anne: "Having worked on several show homes I know that this process is slightly different from working on individual client homes. A showhome has to appeal to the masses, which makes this design process a lot more difficult. It's hard to please everyone who's going to walk through the door."
An added complication was that all of the Future Proof Building product suppliers needed to be included. Lee-Anne found Resene Double Alabaster a great help with this. "I chose Resene Double Alabaster inside for all the walls because it linked all the different products from different suppliers that I used. That colour contrasted beautifully with all the other colours and products and actually set them all off.
"I chose accents of teal blue (Resene Half Emerge) and green (Resene Beryl Green from the Karen Walker range) because I feel they are the most gender neutral colours. With the living area wallpaper, I kept to stripes as a lot of men are put off by floral patterns!"
Lee-Anne chose one starting point as her inspiration when deciding on the colour schemes for both the exterior and interior. Outside, it was the Gerard roof, which has been teamed with Resene Lumbersider CoolColour tinted to Resene Fuscous Grey for the Stria cladding, Resene Concrete for the Rockcote plaster cladding and fascia board and Resene Half Concrete for the soffits.
Inside, Lee-Anne started with the flooring and worked up. "I always select a carpet that is practical and not going to show everything - hence a flecked carpet. I selected the best colourway of carpet that goes with everything and went from there."
And the most popular colour? Resene Half Emerge by far (from The Range fashion colours fandeck) which is used on the walls of the main bedroom. "This would be the most liked colour according to all of the people who have been through the show home so far."
8 principles of a future proof home
1. Energy smart: Choose the right insulation, heating, lighting, and appliances to make your home warmer and more comfortable.
2. Health and safety: Changes to your plumbing, heating, lighting and the design of your home can reduce the risk of illness, accidents or injury, for example, mechanically filtered ventilation systems, central vacuums and non-slip decking.
3. Life cycle: As one of your biggest investments, your home should look and perform just as well in 10 years as it does today. Life cycle costing means evaluating what a product or service costs over its lifetime.
4. Quality: Products and materials used for key components of the home should meet NZ Standards, carry BRANZ appraisals, or International Organisation for Standardization (ISO) standards.
5. Smart and secure: Smart home security and automation improves your quality of life - from state-of-the-art entertainment to remote garage door openers to fully integrated, centrally controlled computer systems.
6. Sound control: Future-proof your home against noise pollution with intelligent building design and purpose-designed materials like laminated windows and sound insulation products.
7. Spatial design: Future-proof your home for a growing or aging family by building rooms that can be divided into smaller areas or used in multiple ways. Also allow for plenty of storage.
8. Sustainability: Choose eco-friendly products, recycled materials, and renewable resources whenever possible to reduce your carbon footprint and protect the planet for future generations.
For more information, see Future Proof Building.
pictures
Thanks to Hayden Davies and Debbie Payne from Jennian Homes Otago, www.jennian.co.nz/contact/otago/
The colour everyone loves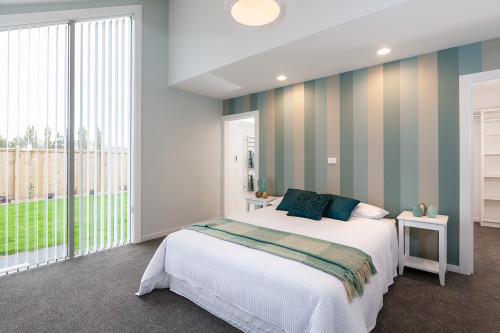 A unisex striped wallpaper (Room 20 8803-90) decorates the bedhead wall in the master bedroom and teams beautifully with walls in Resene Half Emerge - the colour visitors love. The bulkhead ceiling is Resene Alabaster. The interiors were designed by Lee-Anne Flockton ([email protected]).
Adding exterior character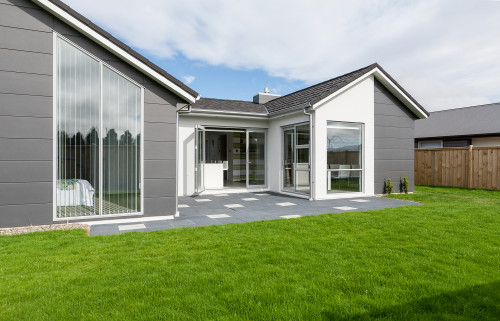 The different cladding styles are enhanced with colour - Resene Lumbersider CoolColour tinted to Resene Fuscous Grey for the Stria cladding and Resene Concrete for the Rockcote plaster cladding.
A welcoming entrance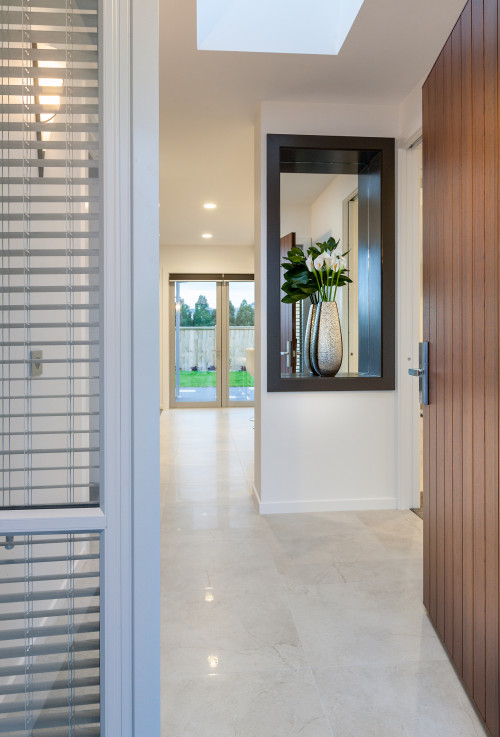 Lee-Anne chose Resene Double Alabaster because of its versatility and its ability to look good with other products, such as the Moonstone floor tiles from Tile Warehouse used in the entry. The inset feature frame is painted in Resene Kina Brown.
Good for all genders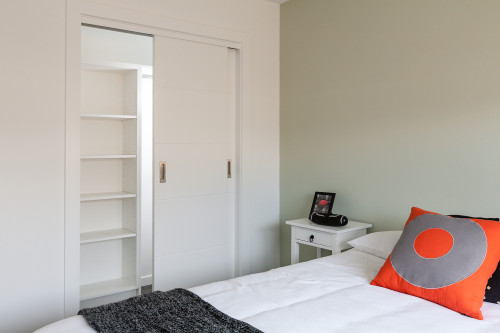 Resene Beryl Green from the Karen Walker range was chosen for a feature wall in this bedroom as being 'gender neutral'.
A soothing backdrop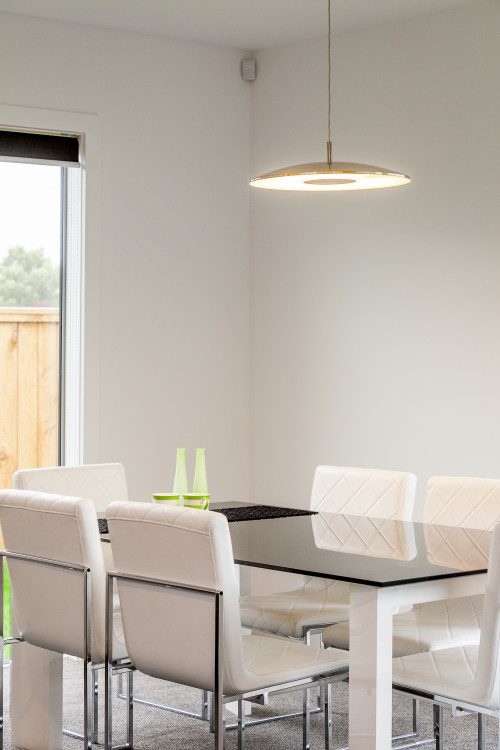 Resene Double Alabaster is a restful backdrop as the main neutral for the house. All of the ceilings are Resene Alabaster.
A whimsical wallpaper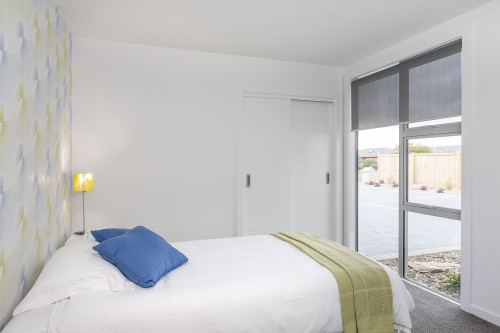 The third bedroom's feature wall is papered in the whimsical Rasch Seduction No. 432145 from Resene.
Just turn it around for more drama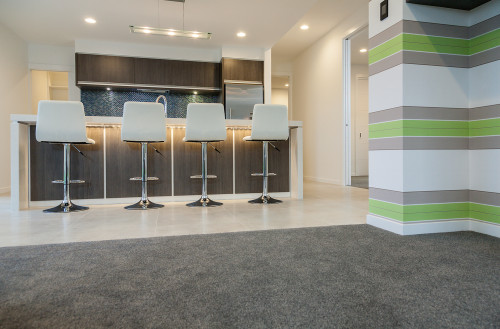 Instead of running this striped wallpaper (Aurora V382-06) vertically, Lee-Anne hung it horizontally for extra wow factor. Other walls are Resene Double Alabaster.
the look
If you're stuck on what
colour to use or need colour
advice, try out the Resene
Ask a Colour Expert service.