►
◄
latest
habitat tv
blog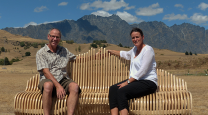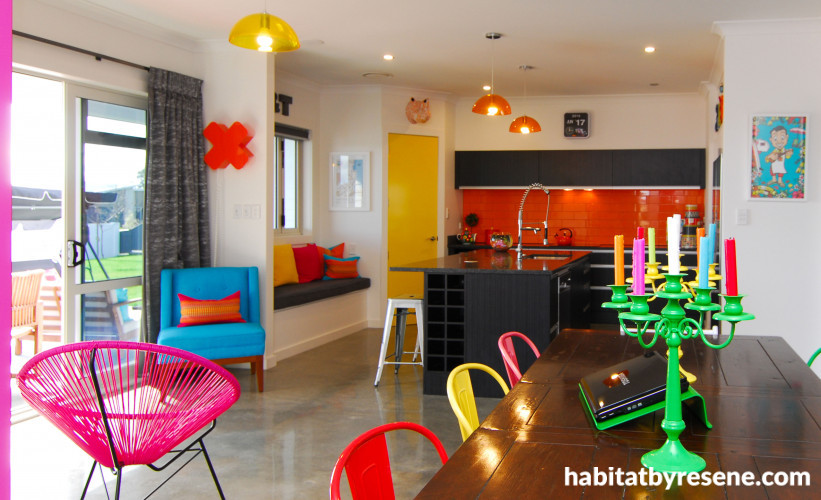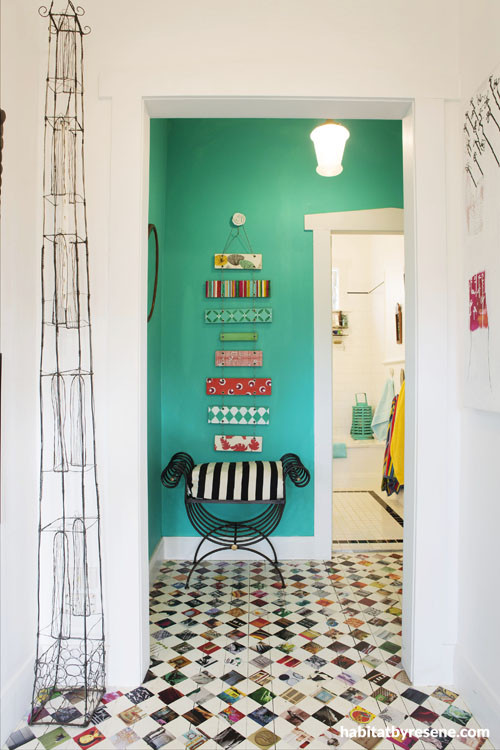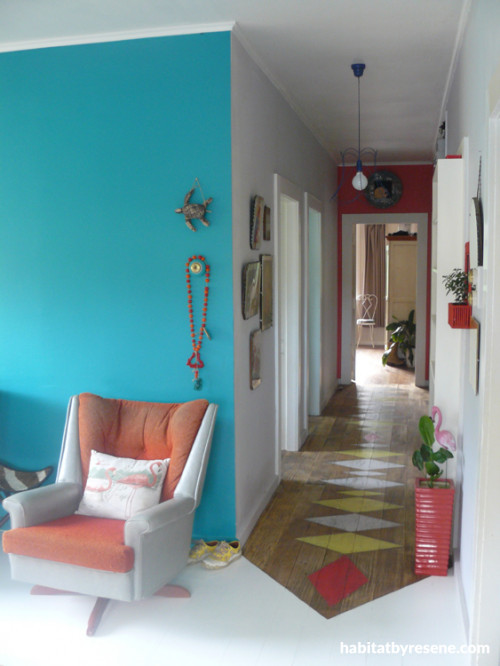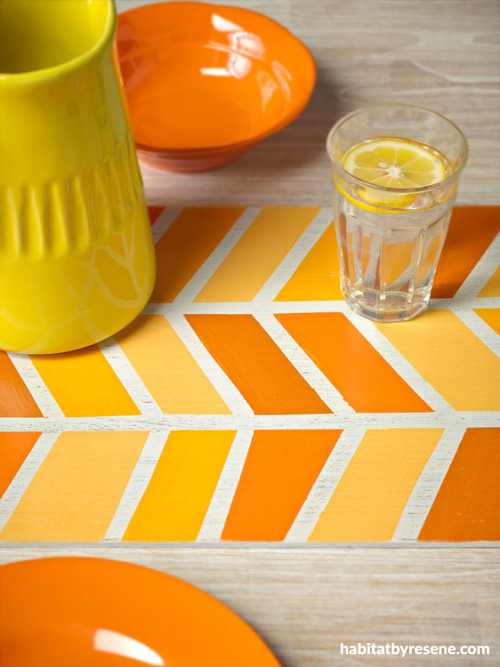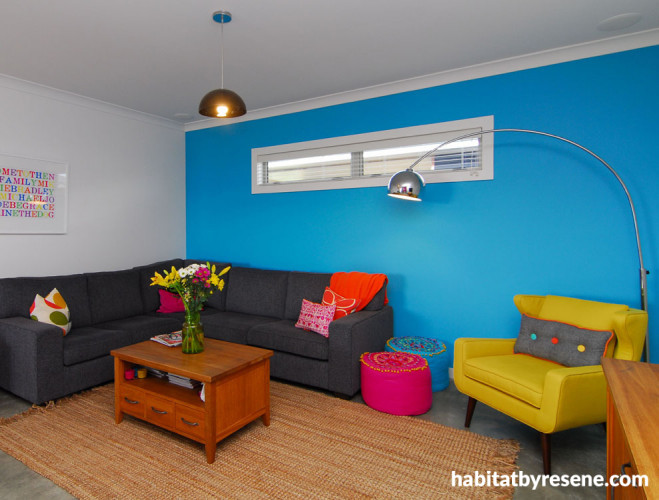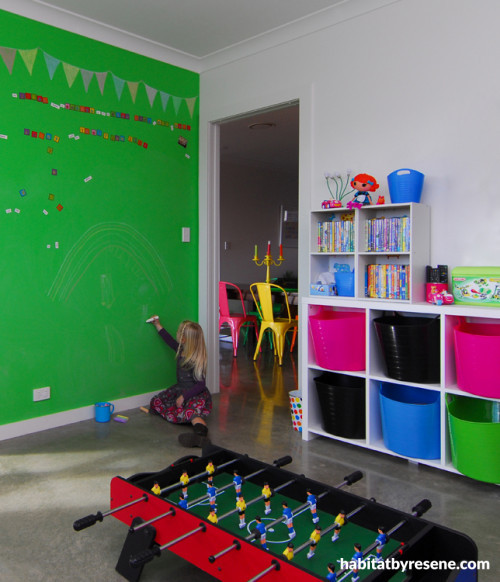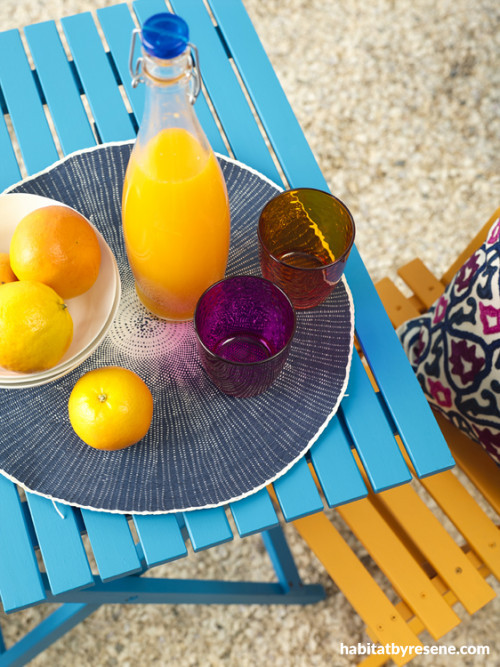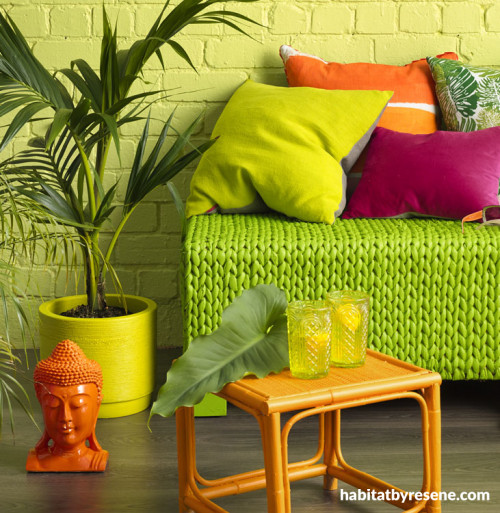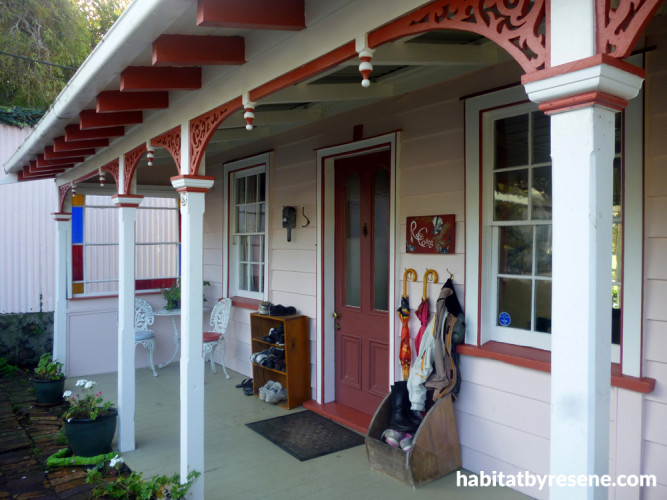 Lolly scramble: using bright colour
It's the season of unashamedly bright colours. Last year, interior fashion dipped its toe into crisp gelato-style colours but this year those icy tones have become bolder, brasher and brighter.
Sunny yellows, searing reds, fluoro oranges, deep saturated aquas. They're all appearing in our homes with renewed confidence, and feature strongly in the recently launched Resene The Range fashion colours fandeck.
The general rule when using strong or bright colours is to use them in moderation. When it comes to paint, that can be interpreted in many ways. The most obvious, is in feature walls. It's incredible what visual lift can be given to a room simply by turning one wall from a quiet off-white neutral to a summery bright. If you're using more than one bright colour in the same space, use those with similar saturation levels, or similar tonal properties. For example, they both need to be clean clear colours; the second colour can't be muddied or muted or it will just look dirty next to the cleaner colour.
A feature wall of bright colour usually looks best in an otherwise neutral interior. Be aware that the colour of your other walls will affect the way you see your new bright colour. The closer to true white those walls are, the more vivid your new colour will look.
Another way to add colour is to hop on the current trend wagon for painted furniture. It's so easy to upcycle second-hand furniture with a small amount of Resene paint, taking something from drab to delightful. Consider adding even more impact to a bright colour for furniture or cabinets by experimenting with the gloss level of the paint. Imagine using a bright yellow in a high-gloss paint – it would look striking. Take care with your preparation to get a nice smooth surface when using high-gloss paints, as they tend to highlight any defects.
Top tip: Use Resene Enamacryl when painting furniture. It's a tough waterborne enamel that's fast drying, non-yellowing and cleans up in water. For a chalk style effect use Resene SpaceCote Low Sheen.
Still on the topic of furniture, you can create eye-catching unexpected pieces by using bold colours on quite traditional forms. So, painting a little side table with cabriole legs in hot pink, for example.
Another great place for bright colour is on the inside… of pantries, cupboards, and in alcoves. It creates a 'wow' moment when you open a door and discover a bright colour hiding behind the door.
Transitional spaces, like hallways, are also good for bright colours as you pass through them rather than linger and be potentially overwhelmed by the colour.
Brightly coloured front doors fall into the same category, and also act as a welcoming beckon to visitors. Hence the popularity of bright red doors.
Read more: Debra's bold experiment with colour
Published: 01 Oct 2016
Do you have a home full of wonderful Resene paint and colour? Send us some snaps by emailing [email protected].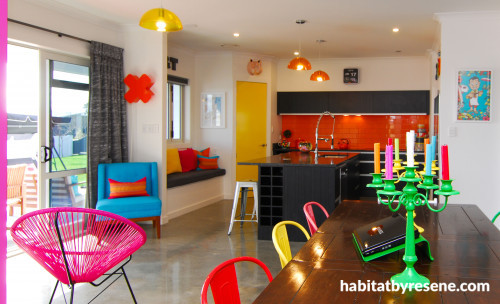 Trudy and Mike Nettle's open-plan family area is alive with pops of colour, in furniture and accessories, but also with a pantry door painted in Resene Fizz. It is also finished in Resene Write-on so that it can be used as a message board. This house features in the latest issue of habitat magazine.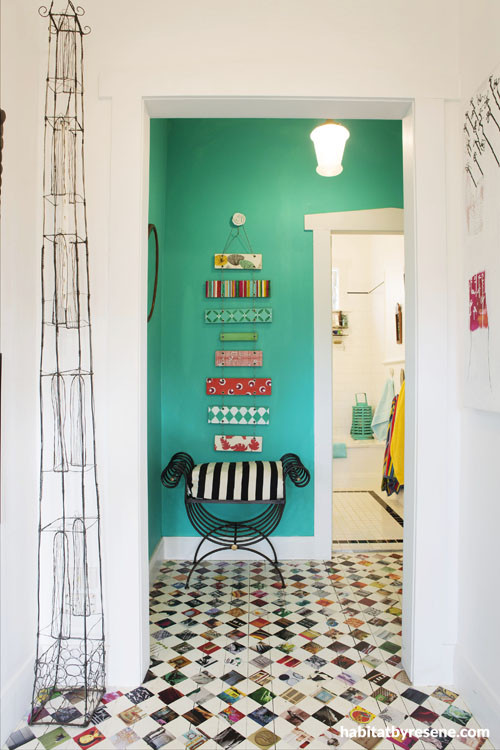 In this entranceway, created by homeowner Rachel Brebner, a striking feature wall in Resene Niagara wonderfully complements the busy flooring below. Accessories in candy-coloured tones decorate the walls. To make the harlequin-style pattern on the floor, Rachel created 400 torn-edged pictures from old magazines, and then decoupaged them onto the floorboards, painted in Resene Half Thorndon Cream.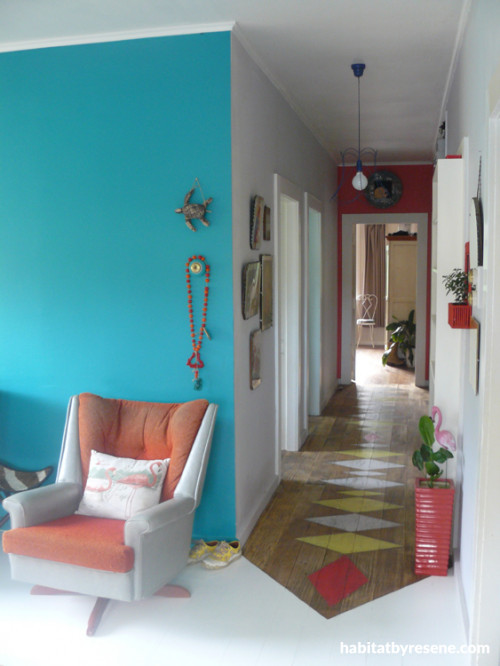 Lisa Moran gave the living room and hallway of her cottage a lift with a feature wall in Resene Java, and by stencilling the floor in a combination of Resene Manz (yellow), Resene Jive (red) and Resene Alto (pale grey). The walls are also in Resene Alto.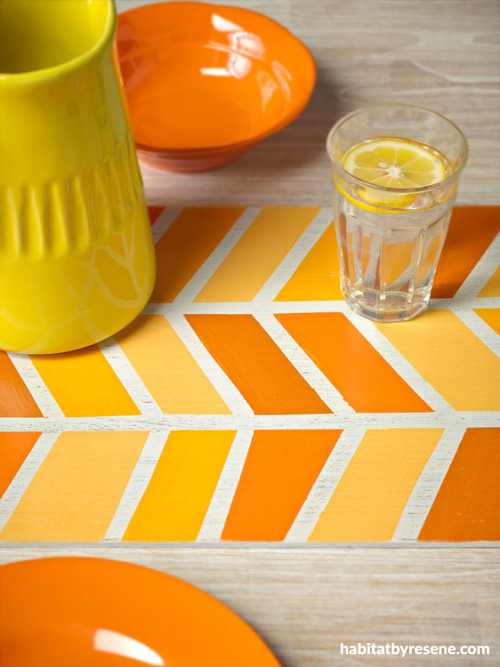 Perfect for a summery table setting, these bright citrus-coloured placemats were made using various Resene orange paints – Resene Juicy, Resene Touche, Resene Clockwork Orange and Resene Adrenalin. Go to habitat tv to see how to make them.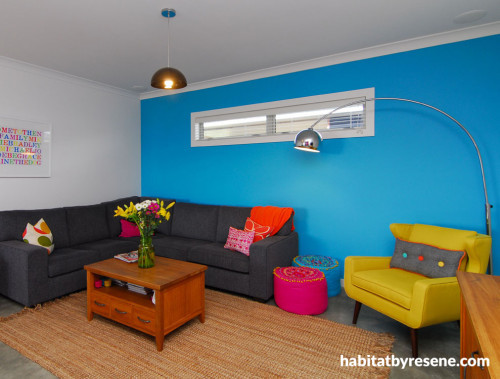 This Resene Endorphin wall was homeowner Trudy Nettle's first foray into bright colour. As a cooler counterpoint, the other walls are Resene Alabaster.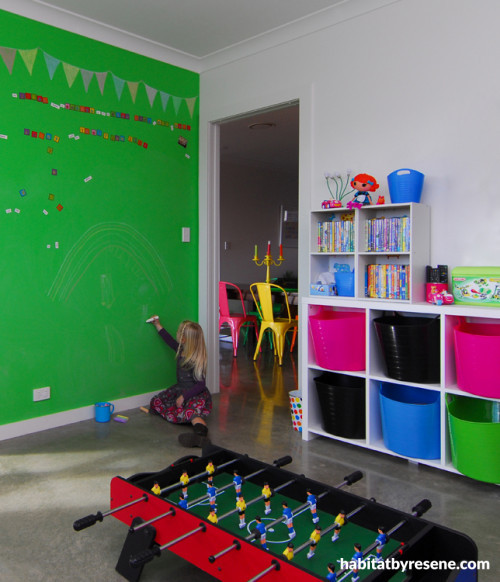 Another room in the Nettle house uses Resene SpaceCote Low Sheen tinted to Resene Wham as a feature wall. The durable low sheen finish of the paint means it can be used as a chalkboard. The other walls are Resene Alabaster.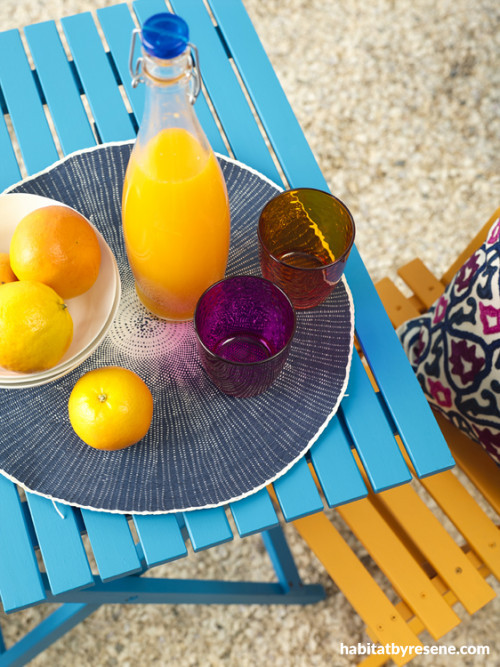 Painting furniture is an easy way to introduce bright colour. This table is in Resene Optimist while the chair is Resene Flashback. The mismatched colours of the chairs and table work because they are all quite saturated, 'hot' colours in the same tonal range.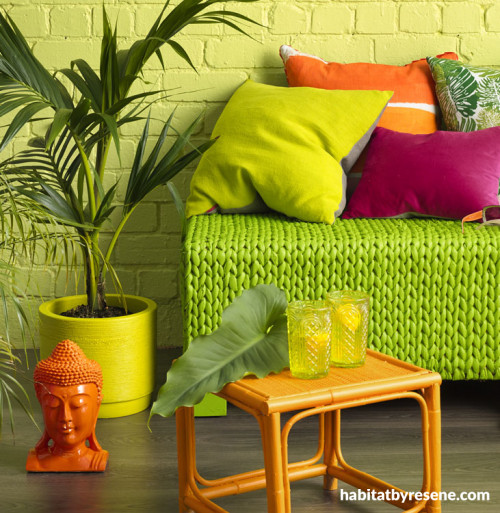 This scheme is full of bright colour, and doesn't need the relief of white walls or accessories to create a vibrant tropical feel. The wall is Resene Spring Fever, the day bed is Resene Limerick, the pot is Resene Tweet, the cane table is Resene California and the floor is stained in Resene Walnut.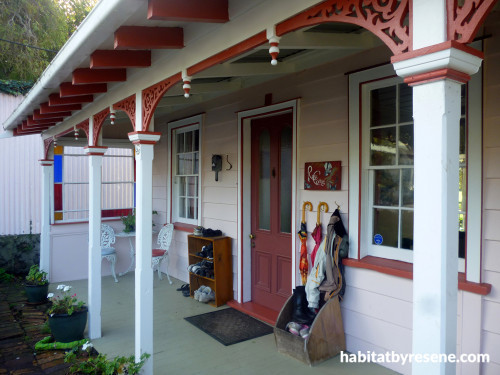 Even an exterior can be treated to a candy-coloured scheme. This cottage has been decked out in pink by Penny Clark, using weatherboards in Resene Dust Storm, darker accents in Resene Cha Cha, a door in Resene Tosca and trims in Resene Soapstone. The veranda boards are Resene Hillary.