►
◄
latest
habitat tv
blog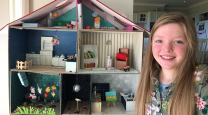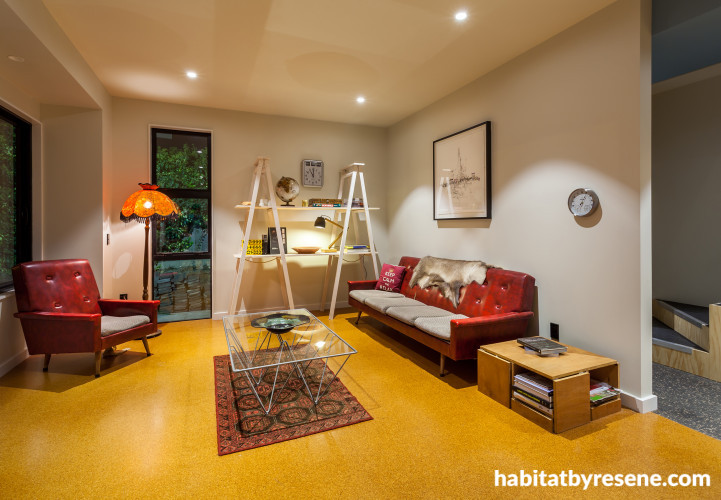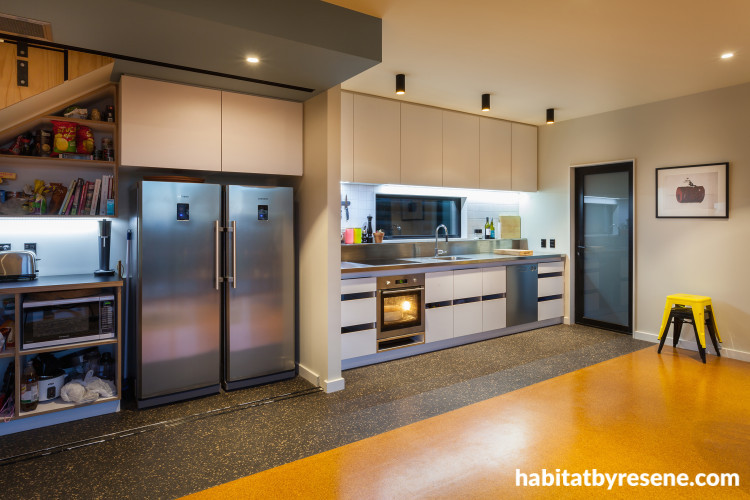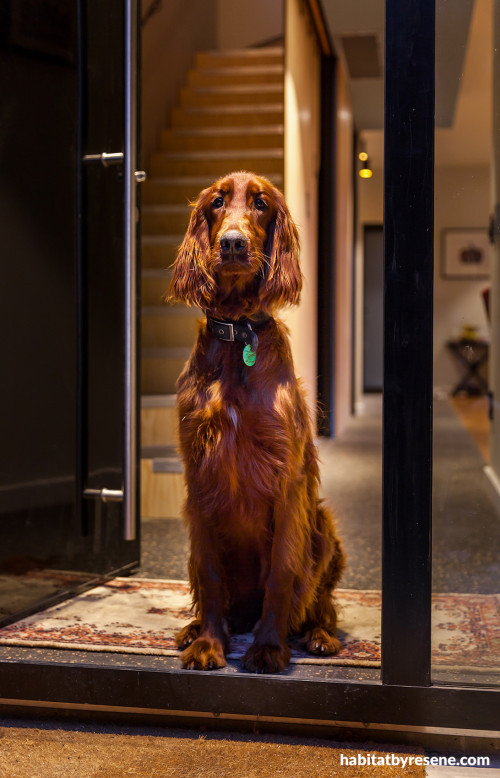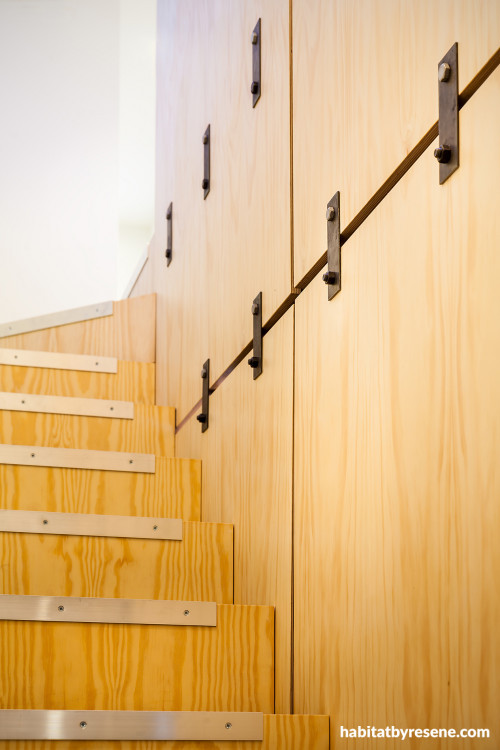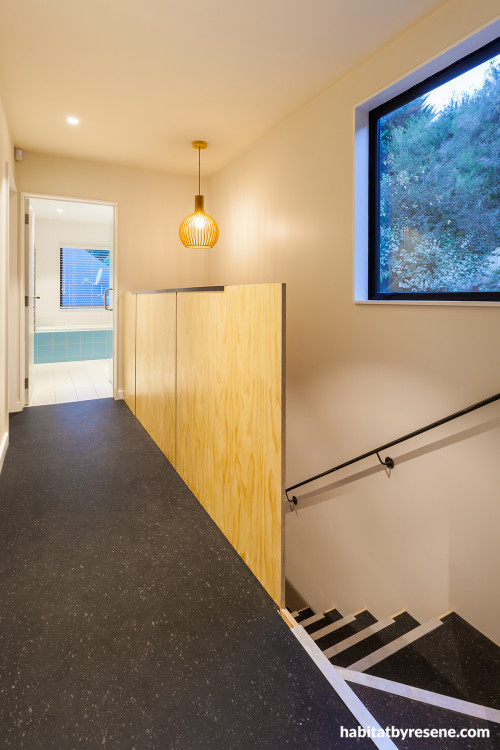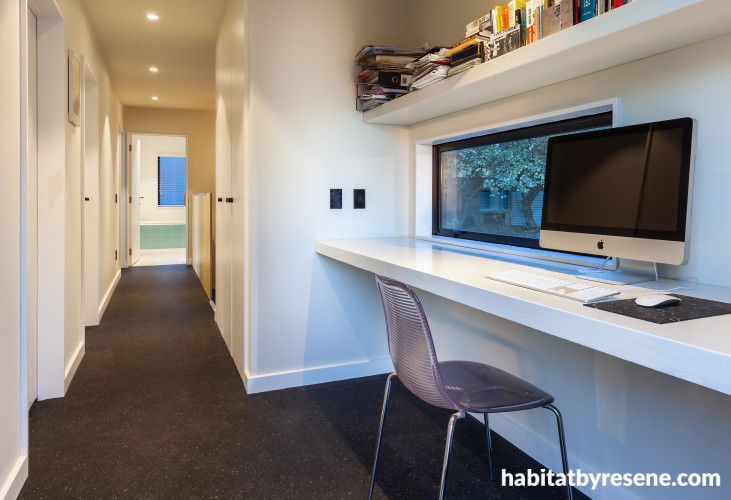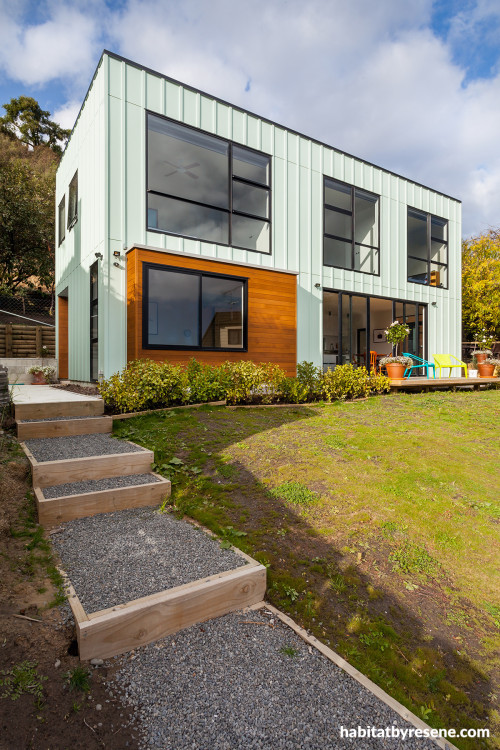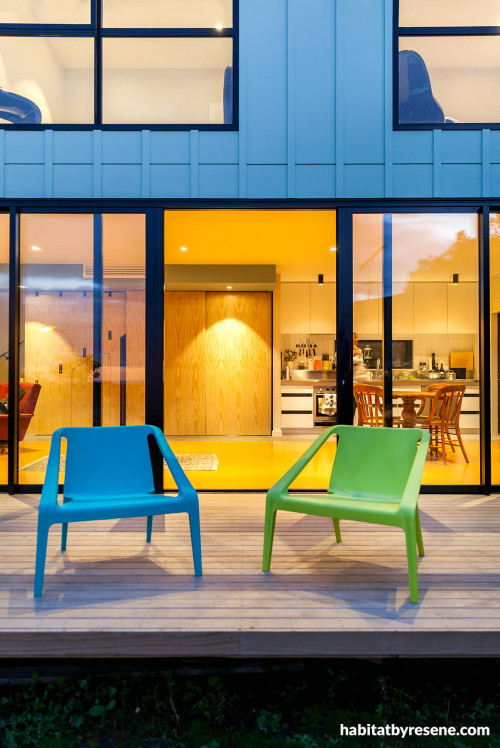 Mike and Jenni do it for the dog
It may be partly in jest, but ask Mike and Jenni Callaghan what influenced the colour scheme of their new Christchurch home, and they'll tell you they didn't want it to clash with their Irish setter Lionel. And going against the tide of current thinking, they chose a soft Resene green for the outside of their very architectural and linear house in Christchurch, instead of a more commonly used neutral colour.
Architect Mike has this to say about his own home:
What Resene colours and products have you used, and what inspired those choices?
We chose Resene Kandinsky for the exterior of the house; it sits with a primarily native bush background and we wanted the house to respond to its setting as well as spark some interest and joy; especially with its simple rectilinear form and to contrast with the feature cedar cladding on the punches and cut-out, which are finished in Resene Woodsman Natural.
Resene Awash was used on the soffits and internal bulkhead, which leads you to the interiors. Resene Half Sea Fog was used on the internal walls to add depth to the open interiors and contrasts with the plywood stairs and joinery finished in Resene Aquaclear with a satin finish. The ceilings in Resene Rice Cake warm up the spaces. Resene Black White highlights the internal doors, skirtings and architraves and corresponds to kitchen, wardrobe and study joinery elements. It works well against the black aluminium joinery.
How did you decide on the overall look of the interiors? What was your overall philosophy?
We wanted a warm background for the furniture, artwork and daily activity. We wanted to avoid bold colours and used the soft green of Resene Kandinsky and the murky blue of Resene Awash to provide modern, fun and family friendly spaces. We also didn't want the house to clash with our Irish setter Lionel!
What part of the house are you most happy with?
I enjoy seeing the sun shine on the exterior of the house highlighting its colour and texture; it gives so much life to its simple geometric form. Too often, modern homes are restricted in their colour palettes and result in stark or grey tones. The internal colours work so well alongside the plywood panels and the cork tile and recycled rubber flooring.
What is your advice for someone trying to achieve a similar look?
Have fun with colour and use it to bring life to objects or spaces; it doesn't need to be the brightest or boldest but the muted mustards and dirty tones can equally enrich in a more subtle way.
What was the biggest decorating, renovating or building challenge for this project?
Affording it initially but now conquering the landscaping.
Do you have a favourite colour, and if so why is it your favourite?
It's dangerous to have a favourite colour; there are so many and I'd hate to offend any of them.
Is there anyone you would like mentioned in the article – builder, designers, painters? Or any other information of interest.
Mel Arnold from Resene was extremely helpful during the process! But otherwise Johnny Agac-Ac and his painting team did a fantastic job and Michael Pidgeon and his crew for building the house for us!
Published: 06 Dec 2015
Do you have a home full of wonderful Resene paint and colour? Send us some snaps by emailing [email protected].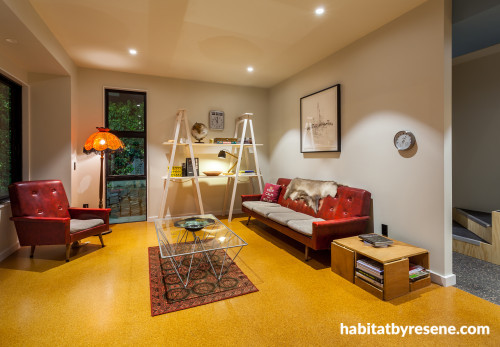 Retro furniture and a warm cork floor are complemented in walls painted in Resene Half Sea Fog for the living room.
pictures
David Higgins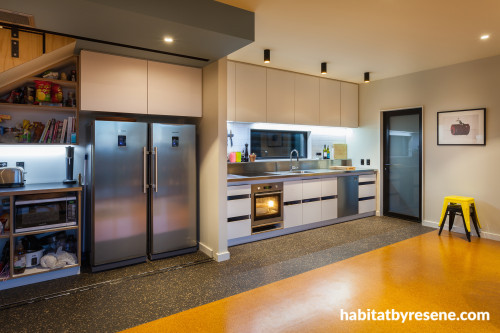 A bulkhead painted in Resene Awash forms part of the kitchen, and houses large plywood doors that across to hide the fridge and adjoining storage. The walls are in Resene Half Sea Fog and the ceiling is in Resene Rice Cake.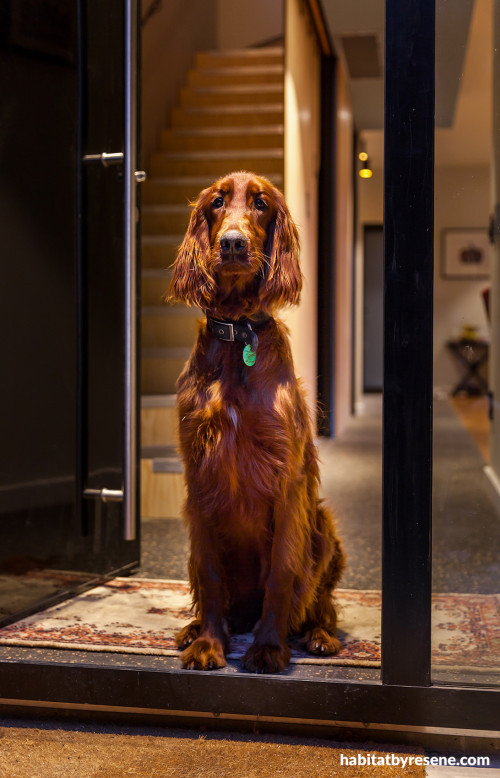 Lionel the Irish setter, the non-clashing dog.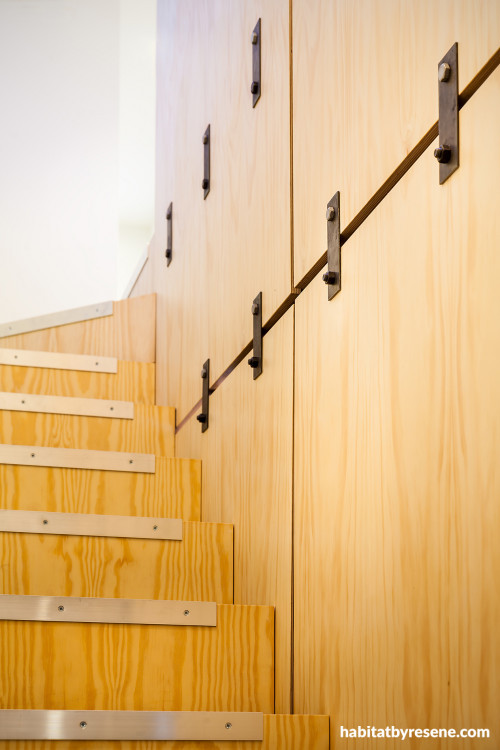 Only an architect would detail the stairwell so beautifully. Architect and owner Mike Callaghan chose plywood to line the stairs, and finished it in Resene Aquaclear.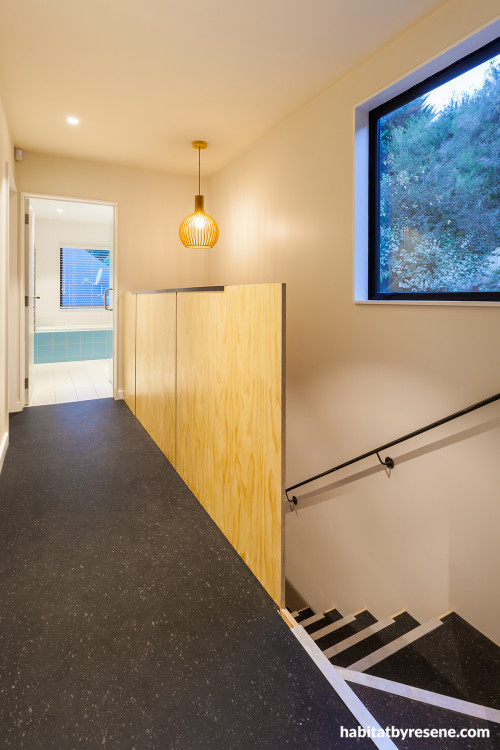 The upper hall and stairwell with plywood finished in Resene Aquaclear and walls in Resene Half Sea Fog.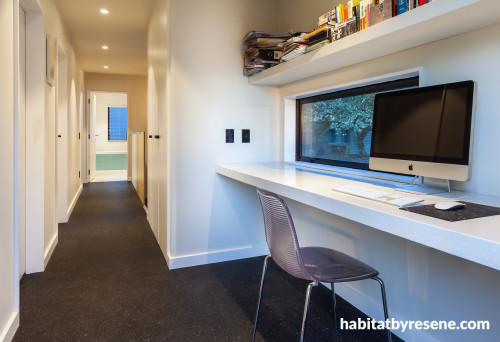 A study nook is neatly integrated into the hallway. The walls are in Resene Half Sea Fog.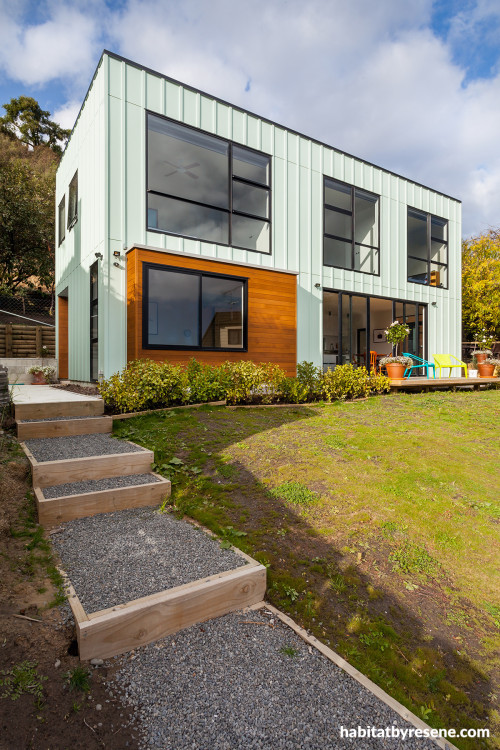 Mike and Jenni chose Resene Kandinsky for the exterior of the house, bypassing more popular neutral choices, to blend with the native bush setting. Cedar accents are finished in Resene Woodsman Natural.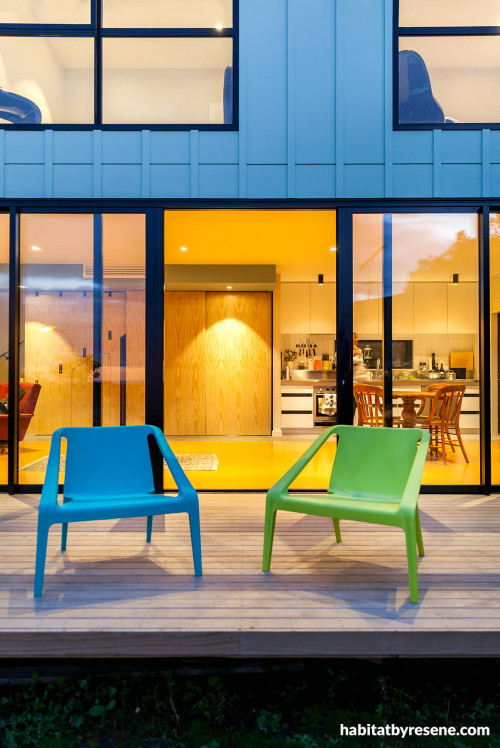 Black joinery punctuates the Resene Kandinsky cladding in this dusk shot of the deck.
the look
If you're stuck on what
colour to use or need colour
advice, try out the Resene
Ask a Colour Expert service.
the look
If you're stuck on what
colour to use or need colour
advice, try out the Resene
Ask a Colour Expert service.