►
◄
latest
habitat tv
blog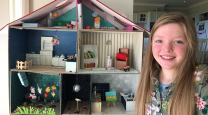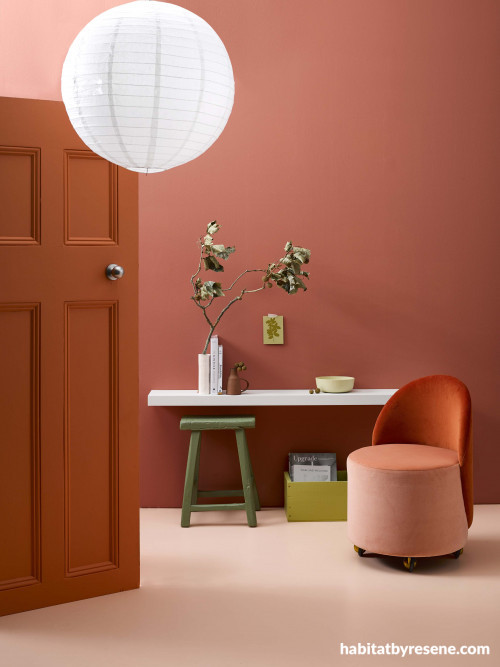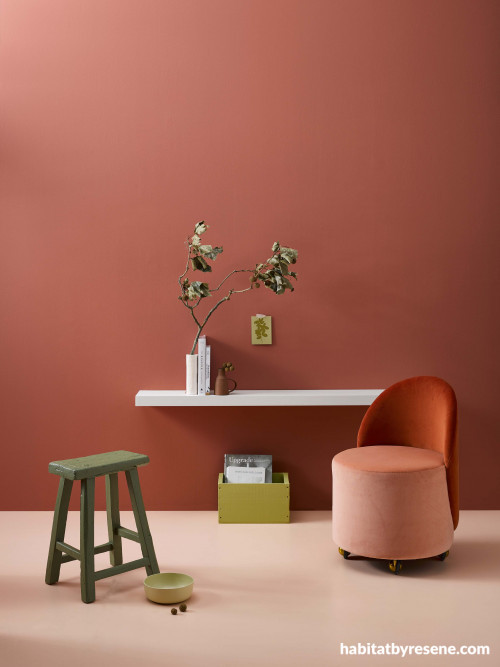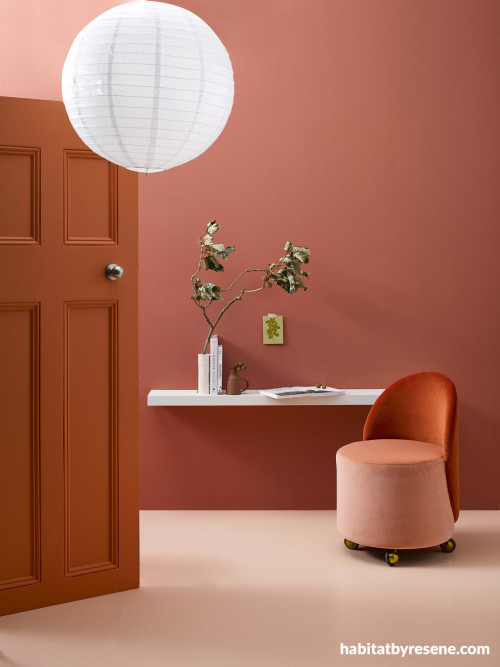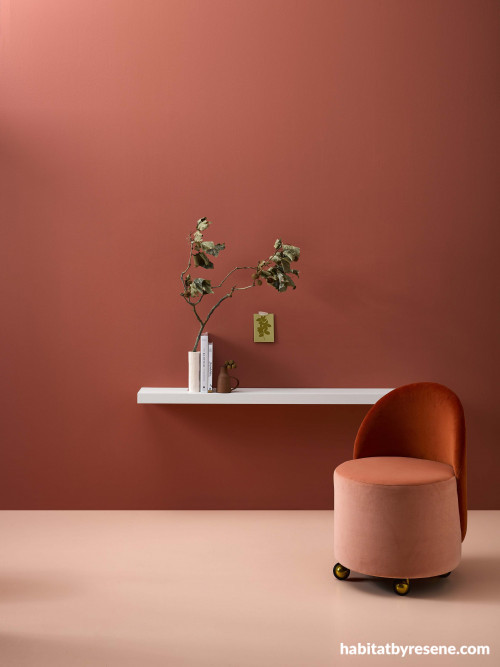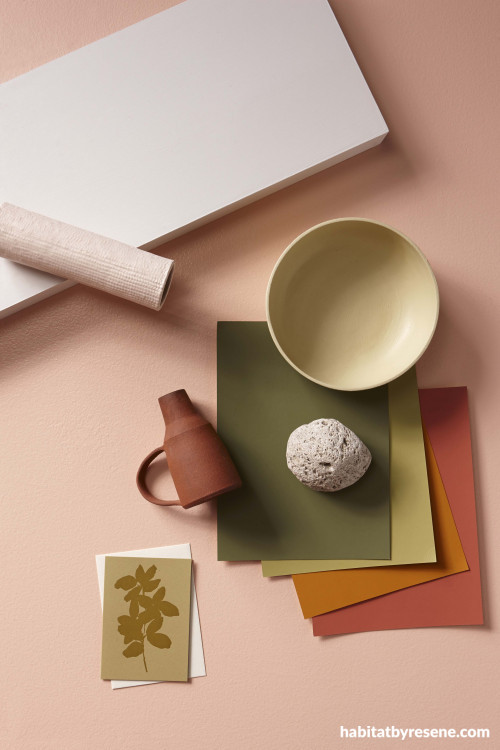 More vs less – which one are you?
Are you a minimalist? Or a maximalist? Take a look at these different versions of the same room – which one appeals to you most?
We took one room and had stylist Gem Adams create different versions of it to see how detailed then how pared back it could go… without looking like an empty room!
This decorative exercise also shows that minimalism isn't what it used to be. Old-style minimalism circa 1990s meant mean cool all-white spaces with hard-edged furniture.
Today, it's more about the accessories and objects you introduce into a space and how you place them – a group of objects can look 'minimalist' as long as they are similarly coloured and shaped so that your eye 'reads' them as a single unit rather than individual pieces. You can also use quite bold paint colours, or even a variety of colours; as long as they work together and clutter is kept at bay, that's minimalism in 2018.
Take this room for example. It's a modern take on an old favourite, terracotta, but using rosier versions of the colour, in rich saturated tones, and brings them together for a scheme that's at once eye-catching and luxe, but also soothing and organic.
By using a tone-on-tone approach with three similar colours, the room has character but stays visually cohesive. These colours are Resene Apple Blossom for the walls, Resene Wax Flower for the floor and the door in Resene Sebedee. The stunning velvet Arch Vanity Chair from Douglas and Bec keeps to the colour theme, showing that if you keep larger decorative items in a similar palette to the walls, this helps create a more minimalist look.
As soon as accent colours were introduced, the room moved away from its minimalist feel. In this case, Gem added accessories in earthy and sharp greens, such Resene Woodland for the stool, Resene Gingko for the crate and a bowl in Resene Yuma. The naturalness of foraged objects like the twigs, the colour and texture of the stool and the earthiness of the little jug and bowl add 'tension' with the plushness of the velvet and luxe-feeling rose-terracotta colours.
Top tip
You don't have to strip a room bare and start again to get it under control. It's often easier to edit accessories, than it is to build them up. Remove the clutter one piece at a time, and take a phone snap after each subtraction. Keep going without making judgements about how the room looks, then review your snaps and see which one appeals most. Re-assemble the room to reflect that preferred option.
Published: 16 May 2018
Do you have a home full of wonderful Resene paint and colour? Send us some snaps by emailing [email protected].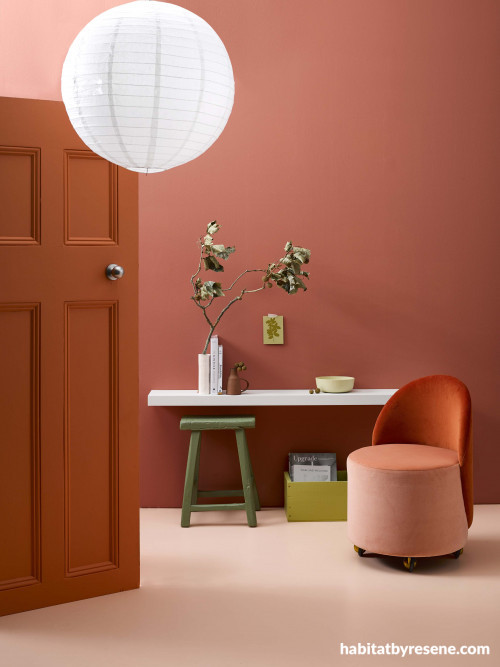 Is 'more' more your style? A tone-on-tone scheme of Resene Apple Blossom walls, Resene Wax Flower floor and the door in Resene Sebeedee is dressed with green accent colours and accessories for added interest. The wide floating shelf, painted in Resene Quarter Tea, can also double up as a desk. The stool is in Resene Woodland, the crate is in Resene Gingko, the bowl is in Resene Yuma and the tall thin vase is in Resene Just Right.
Props: Arch Vanity Chair from Douglas and Bec, postcard on wall from Garden Objects, books from Paper Plane, Teresa Watson ceramic jug from Blackbird Goods, rice paper shade from Wah Lee Co.
pictures
Wendy Fenwick; styling by Gem Adams
First edit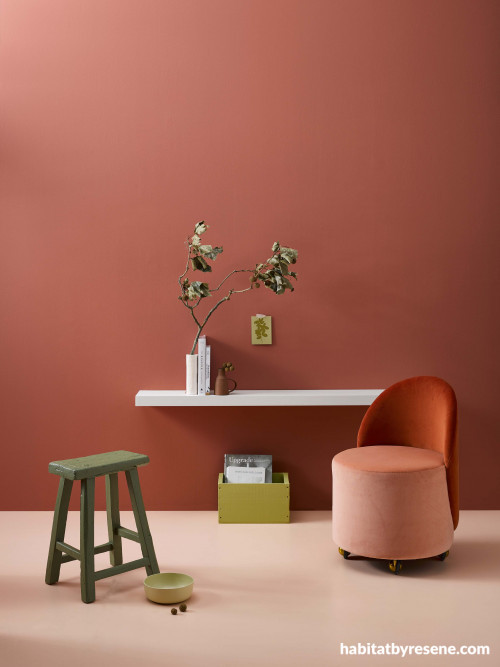 This is not so much an edit as simply closing the door, and removing the pendant light. That removes one colour element from the scheme. Some of the furniture and accessories are repositioned away from a tighter grouping around the shelf.
Second edit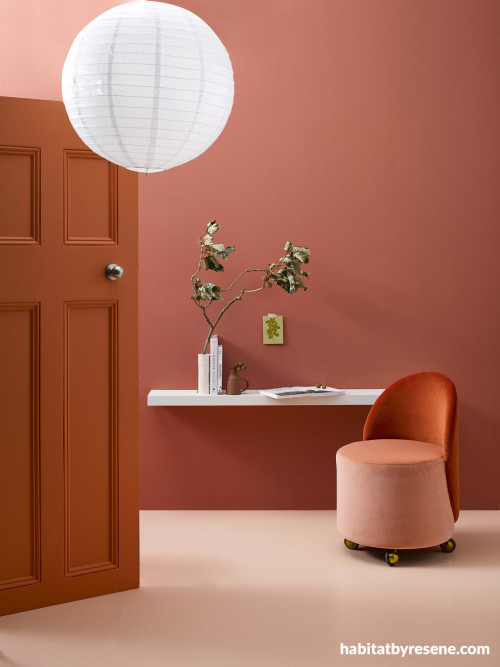 We've opened the door again but removed the larger green accents. The colour palette is now mostly rose-terracotta with very neutral soft white accents in the shelf and the paper lantern-style light fitting.
Third edit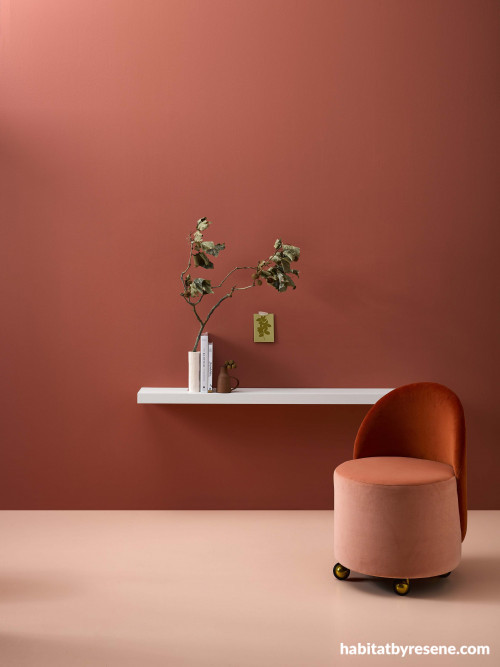 The room is now very minimalist, with all but a small cluster of accessories on the shelf, a small postcard artwork, rich colour and the sculptural quirky chair.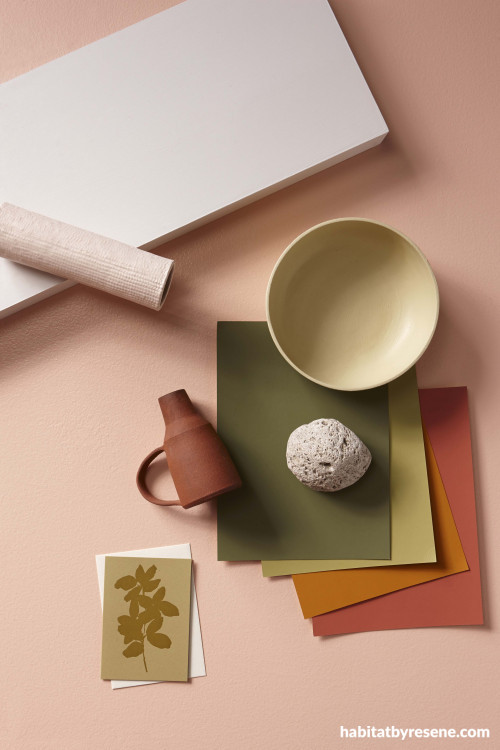 Gem used a moodboard to kick-start the look of the room. Background in Resene Wax Flower, shelf in Resene Quarter Tea, vase on top in Resene Just Right, bowl in Resene Yuma, A4 swatches (top to bottom) in Resene Woodland, Resene Gingko, Resene Mai Tai and Resene Apple Blossom.
the look
If you're stuck on what
colour to use or need colour
advice, try out the Resene
Ask a Colour Expert service.
the look
If you're stuck on what
colour to use or need colour
advice, try out the Resene
Ask a Colour Expert service.