►
◄
latest
habitat tv
blog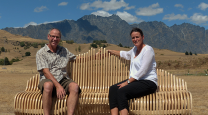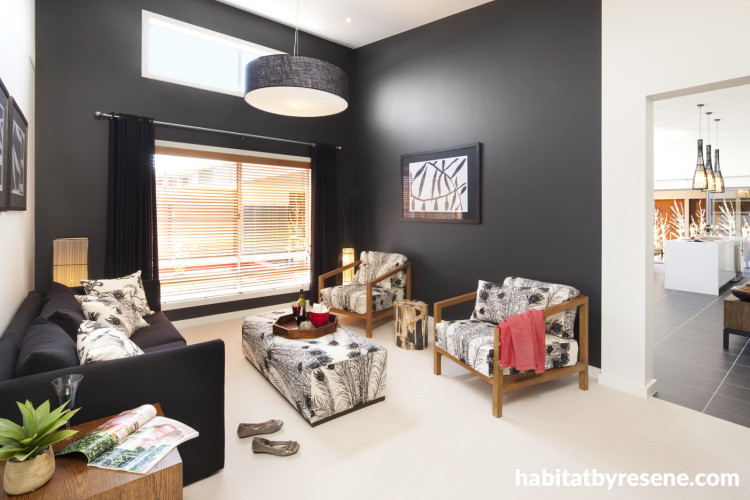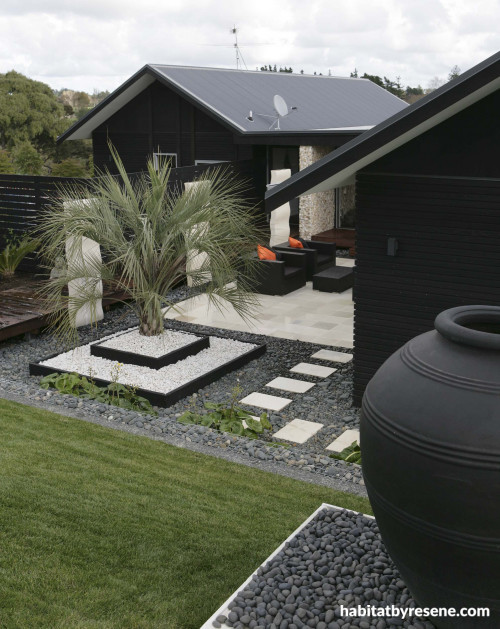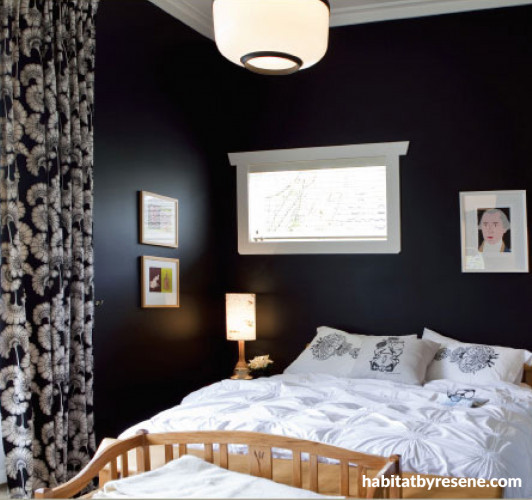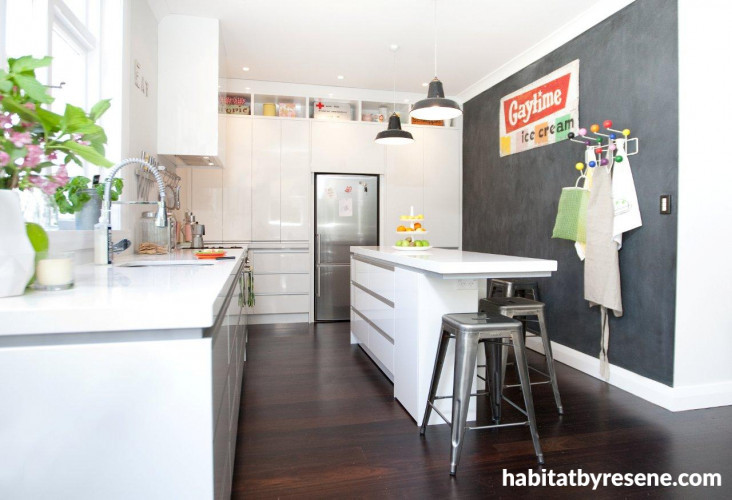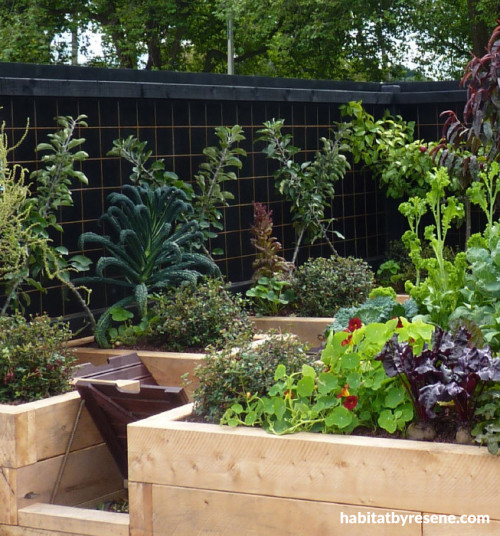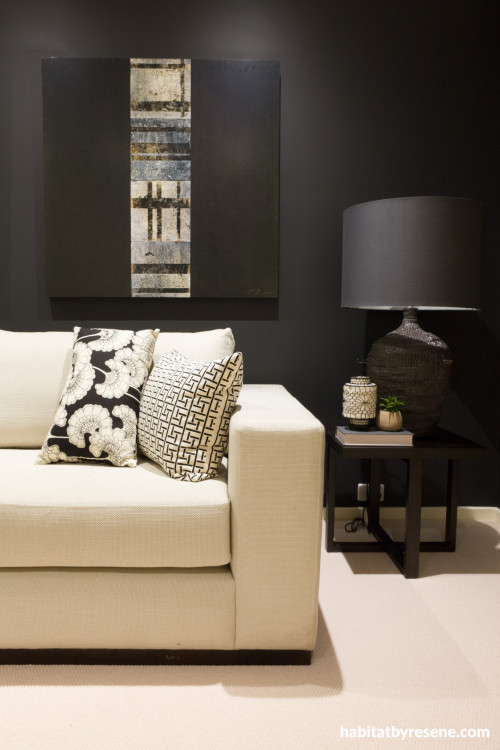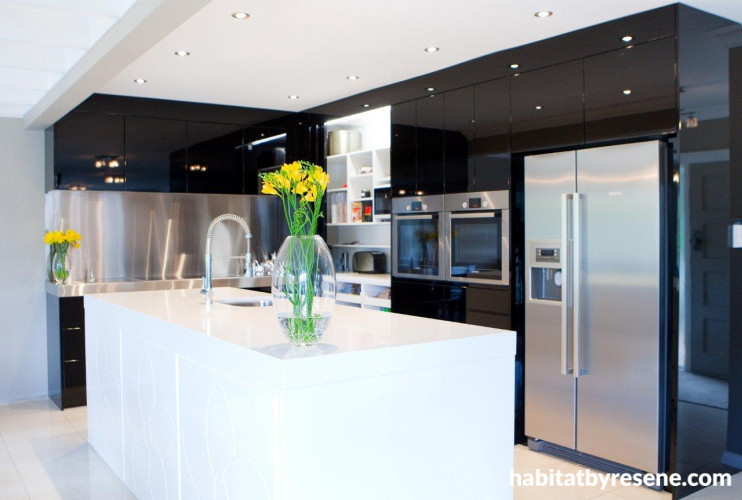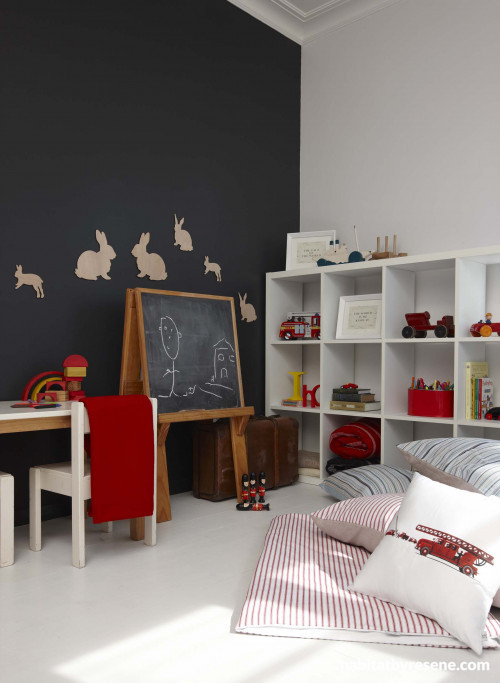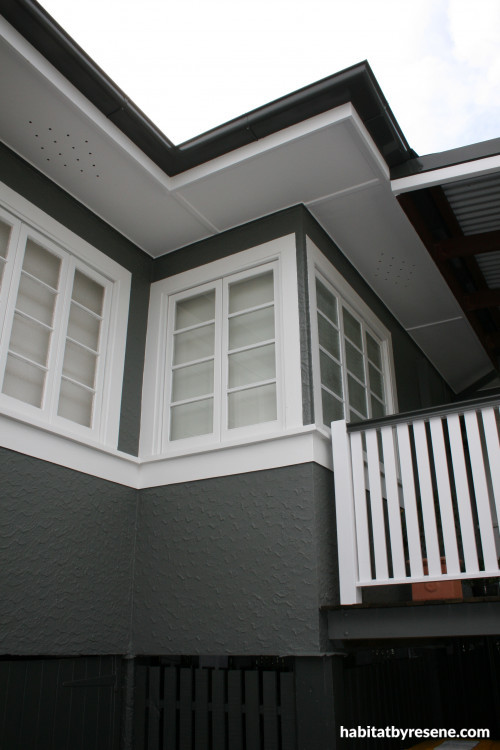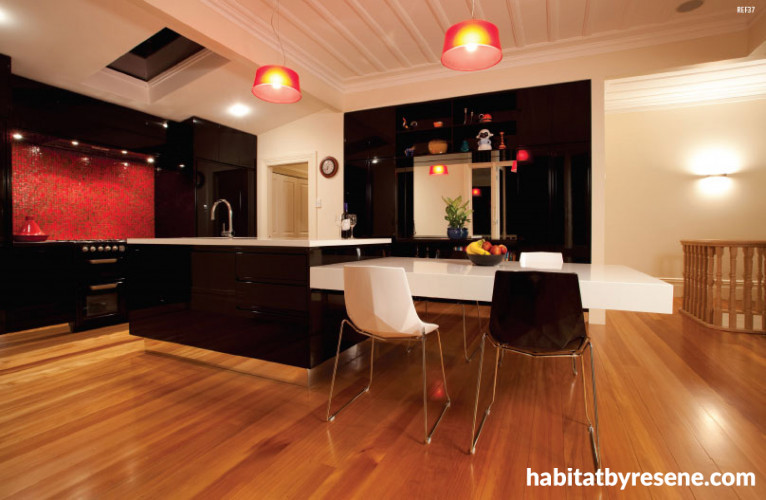 The most daring colour trend in years – black
Published: 18 Jul 2012
Do you have a home full of wonderful Resene paint and colour? Send us some snaps by emailing [email protected].
The bold and the beautiful... again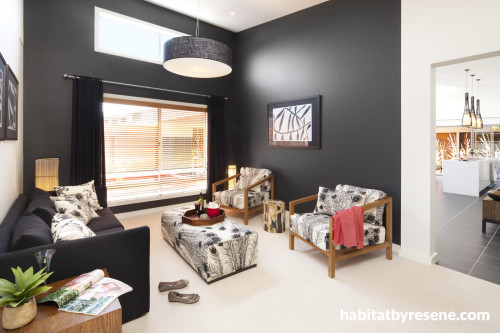 We're in love with black it seems, especially to wear. It's a source of constant wonder as to why people in such temperate Pacific Rim countries as New Zealand and Australia love to wear such a somber colour as black.
As well as wearing it from top to toe, it has also started to make an appearance on and inside our houses. It may seem a brave person who paints their interiors in black but the colour – or at least its many subtle shades from the Resene paint palette – has been popping up in living rooms, bedrooms, and even bathrooms. This week we take a look at some smart uses of black, like the living room above in Resene Nero. Next week we visit a gorgeous heritage home in Hawkes Bay.
What does black stand for? It's smart, sophisticated, dramatic, masculine, moody and urbane.
Tip: An extreme colour like black often calls for an extreme finish – choose an absolute matt finish to appear velvety and luscious. Or a high gloss finish to give a feeling of glamour and help reflect light.
Well thought-out lighting can heighten the effect of black – a wash of soft light over a wall or even diffuse sunlight through sheer curtains.
What illusion does black create? As with any dark colour, black will make a room appear smaller and more enclosed. It's superb for a room that's more likely to be used in the evening, such as a media or TV room, or a bedroom.
Not all blacks are created equal. Some have a touch of brown, some a touch of green, or blue, or white. Ask one of the staff members at your local Resene ColorShop to decipher the numbered code underneath the colour swatch.
Black started showing up on exteriors a while ago. Resene Bokara Grey is particularly popular for this as it's not absolute black but has a touch of coffee bean brown in it – delicious.
Black is a colour that lends a crisp contemporary edge to modern architecture, or a romantic edge to bungalows and cottages, especially tied with white architraves and joinery.
Tip: If you are using dark colours on the exterior of a house, ask for Resene CoolColour paint base which uses technology that reflects the sun's heat so that it doesn't damage the paint finish or what it's covering.
It's also a colour that looks great in landscaping, particulary on boundary fences behind planting. Licorice blacks like Resene Swamp provide a superb backdrop for plants, especially the grey-green tones of native plants.
We love black... for transporting a neutral scheme beyond the ordinary. Black with stone tones and creams is the ultimate in sophistication and a great way to venture into a more dramatic approach to your interiors.
pictures
Simonds Homes
A cool exterior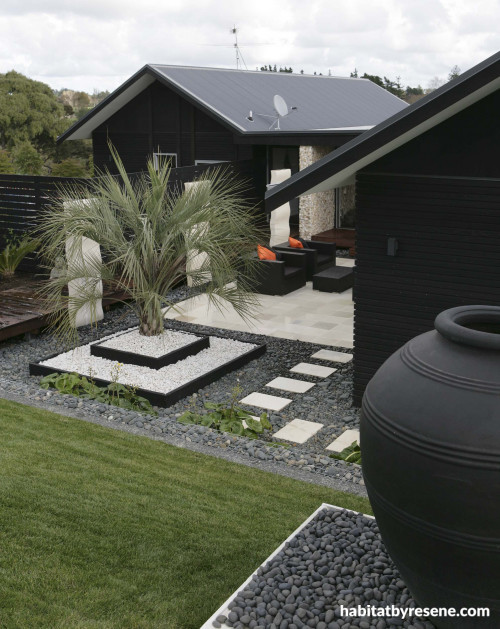 This garden designed by Sandra Batley of Flourish Gardens complements a house finished in Resene Waterborne Woodsman Cool Colour tinted to Hackett Black.
Night-time drama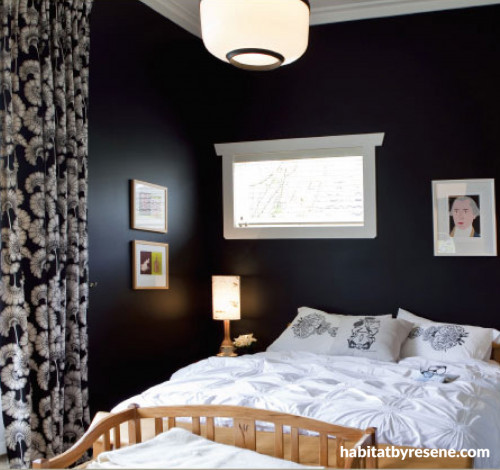 Black is great for night-time rooms, like this bedroom designed by LeeAnn Yare which uses Resene Black for the walls and Resene Bianca for the trims.
Chalk it up with blackboard paint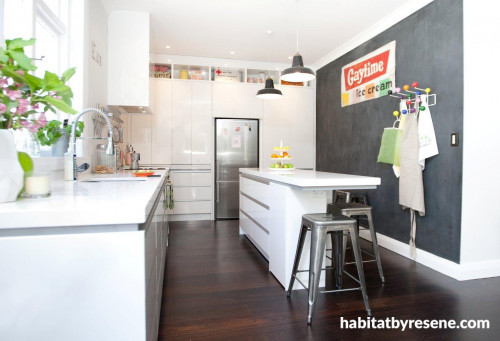 The ultimate practical black finish is Resene Blackboard Paint. Paint an entire wall in a child's room, the back of a kitchen island bench, or frame up part of a wall as a more traditional blackboard – as with this kitchen designed by Rochelle Jackson of Kitchen Elements. Add another dimension by painting Resene Magnetic Magic underneath so that you can use it as a noticeboard as well. The kitchen cabinets here are Resene Half Black White.
The perfect plant companion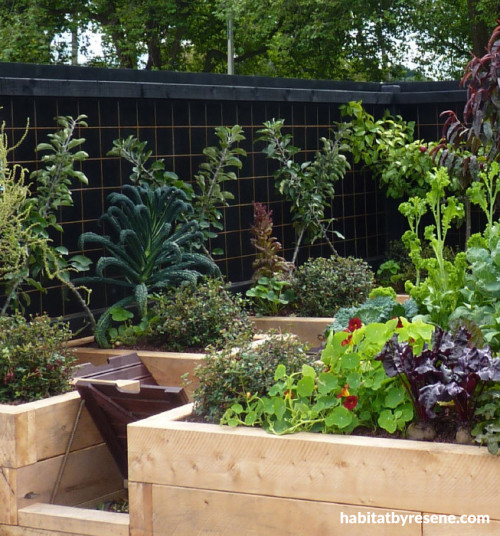 Black is a superb garden fence colour as they tend to enhance and highlight plant colours, as Rachael Matthews of Hedge Design & Garden said of her Ellerslie Flower Show garden this year where she used Resene Pitch Black on the boundary wall.
Sophisticated living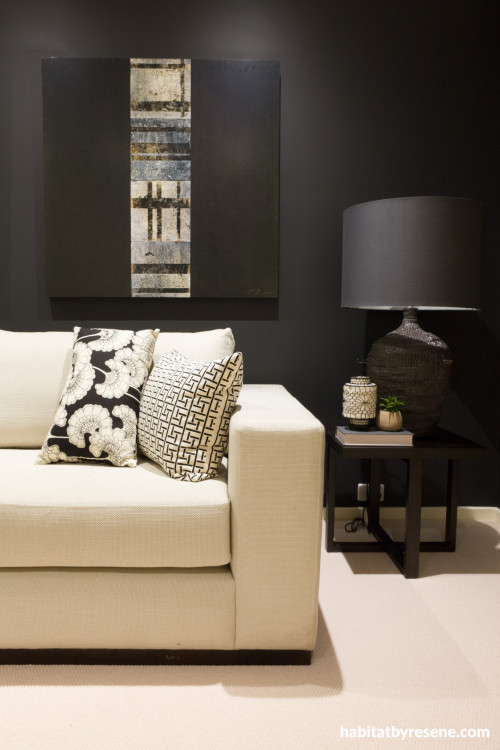 Resene Nero is a stunning wall colour for this sophisticated living room, which is part of a Simonds showhome designed by Suzie Fraser in Australia.
Striking contrasts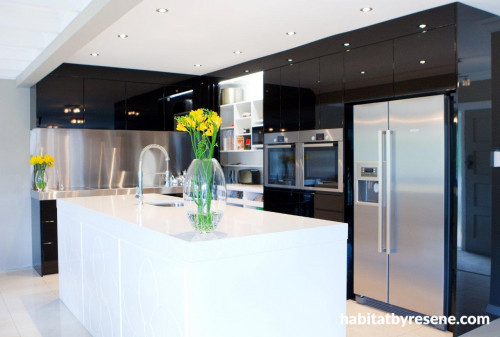 A striking contrasting scheme uses Resene Nero and Resene Sea Fog in this kitchen by Rochelle Jackson of Kitchen Elements.
Go bold for the kids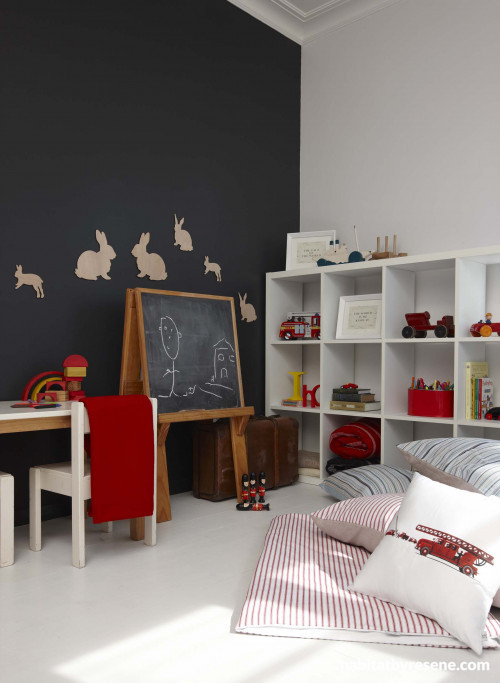 This childrens room, styled by Gorgi, steers clear of traditional kiddy colours by using walls in Resene Foundry and Resene Half Concrete. The floor is also Resene Half Concrete. The linen is by Gorgi.
A classic combo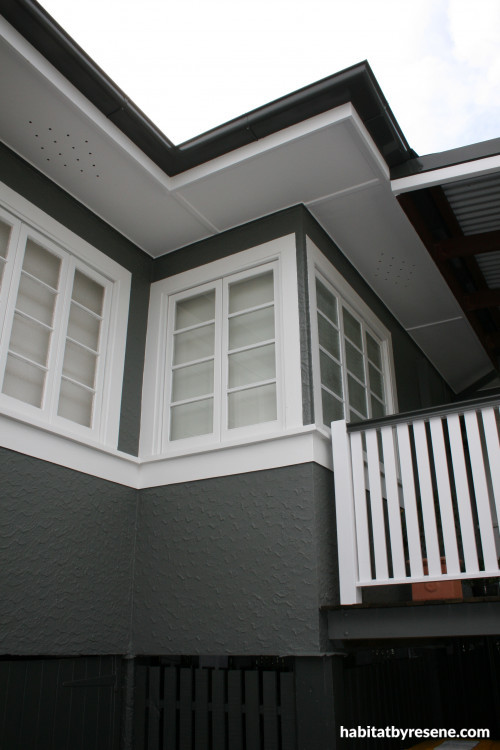 Dark weatherboards and white joinery are a classic combination in this Australian home being renovated by Kari Taplin. The weatherboards are Resene Gravel, the guttering is Resene Double Gravel and the window joinery and trims are Resene Half White Pointer.
A classy centrepiece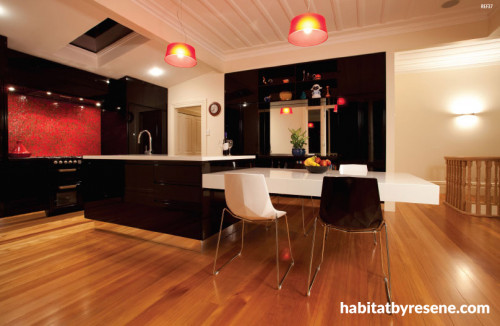 Gary Todd Architecture designed this kitchen in Resene Black as part of a renovation. It also uses Resene Black White for trims and Resene Double Pearl Lusta for walls.
the look
If you're stuck on what
colour to use or need colour
advice, try out the Resene
Ask a Colour Expert service.
the look
If you're stuck on what
colour to use or need colour
advice, try out the Resene
Ask a Colour Expert service.