►
◄
latest
habitat tv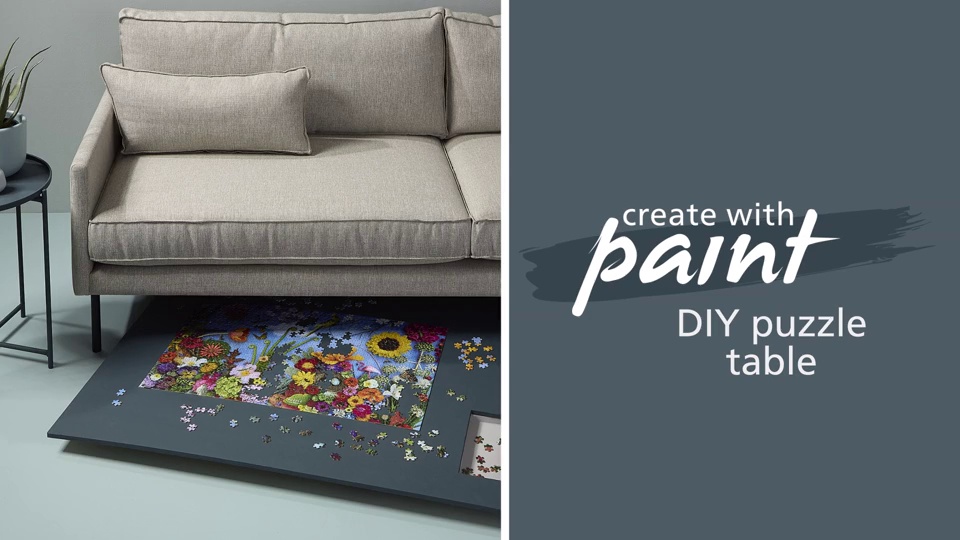 blog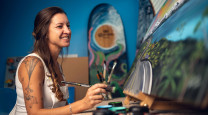 Most popular posts of 2015
Published: 11 Jan 2016
Do you have a home full of wonderful Resene paint and colour? Send us some snaps by emailing [email protected].
1. Rick and Carolyn's elegantly grand 'barn'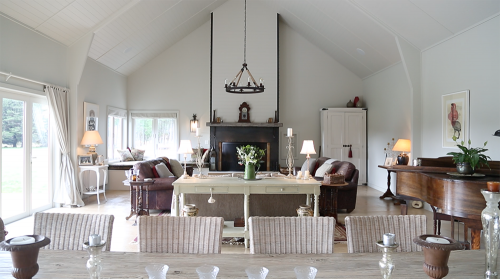 You loved the elegant country-style appeal of Rick and Carolyn Thompson's home. The classic lines of a Customkit design allowed them to create a home that's strikingly simple… yet a little bit grand, too. Add a palette of Resene colours and some quirky Resene wallpaper, and they have a cosy home to call their own.
2. Two small living successes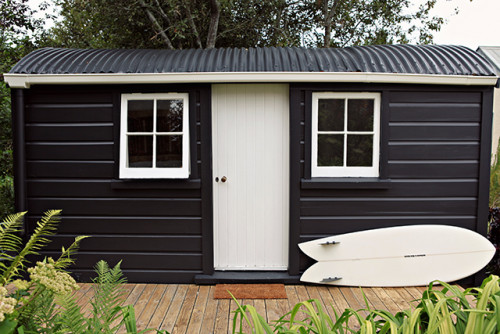 Was it the on-trend topic of small-space living or the gorgeous-ness of Andrew Meehan and Gemma Cagnacci's little black cabin that got you going? The couple needed a space to stay in when visiting Andrew's family in Dunedin at Christmas so they decided to update the little sleep-out that Andrew used as a teenager. Resene Double Cod Grey transformed the exterior while Resene White brightened the simple interior.
3. Maggie's charming forever home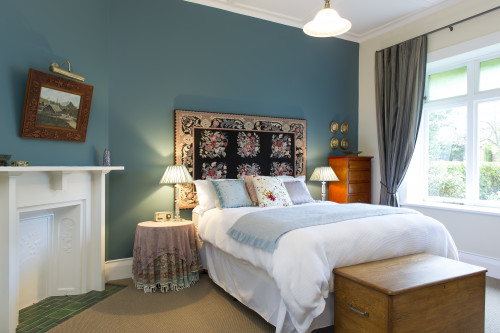 Elegant, tasteful and yet still adventurous with colour. It's almost unbelievable that Maggie Robertson's renovation of her Auckland villa was done remotely from her other home in Wellington. But armed with a great builder, Resene colour charts and a plan, she was able to update the house which she now lives in. Guests come to stay regularly, treated to this room with it's striking feature wall in Resene Tax Break.
4. Rachael and Ben turn yuk into yum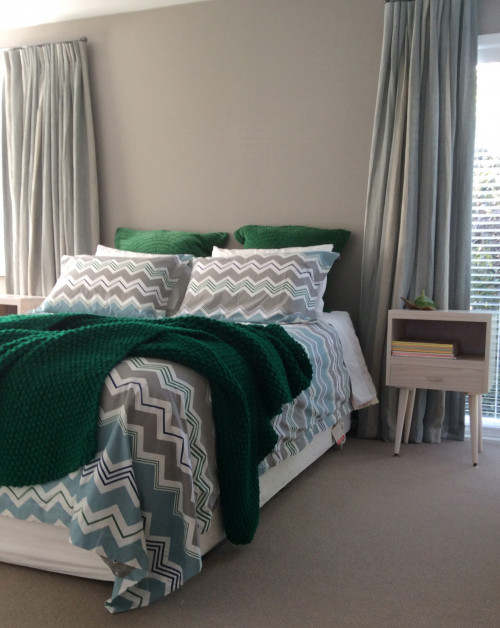 It was 'hate at first sight' when Ben and Rachael Shadbolt bought their Wellington house 10 years ago. But now, washed in a soothing palette of Resene classic neutrals, love has come at last. Resene Stonewall was used in this master bedroom and has become Rachael's favourite colour. It's masculine yet soothing and a great backdrop for pops of rich colour on the bed.
5. Sarah and Brian's retro revival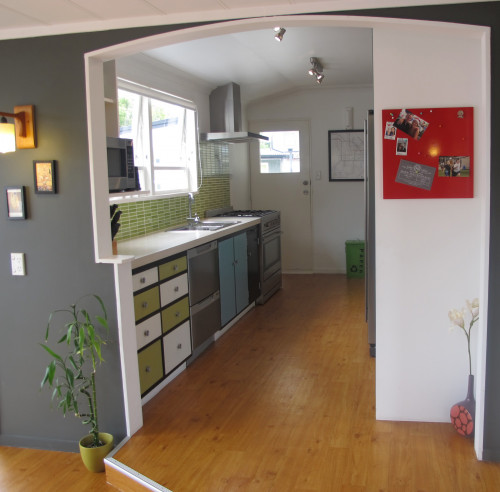 Starting with a tight budget and a passion for Resene Wasabi, a sharp green, Sarah and Brian have given their 1970s home the retro revival it deserves. In its original 1970s condition, they decided to honour the feel of the home – minus layers of wallpaper and replacing an ugly old kitchen with this uber-cool one in Resene Wasabi (green), Resene Gothic (teal), Resene Black and Resene Blanc. Resene Gravel is the charcoal on the walls in front.
6. Vintage kitchens keep it real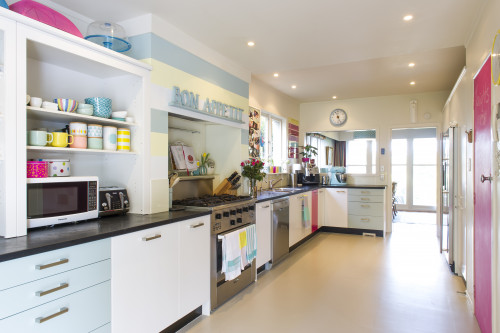 Two key words in one feature – kitchens, and vintage. They're both topics you love. Sleek all-white kitchens are out. Kitchens with character are in.
Kitchens with vintage touches or with elegant traditional good looks are timeless, and fit well into many styles of home. They make us sigh with nostalgia rather than challenge us with their sharp modernity. You can almost smell the bread baking.
Interior designer Jackie Jones of JJID gave her kitchen a temporary makeover to cope with her large blended family, with the help of various paints: Resene Alabaster, Resene Ashanti (blue), Resene Pink Panther, Resene Pale Prim (yellow) and Resene Walk-on tinted to Resene Napa on the floor.
7. Tracy revives a kiwi icon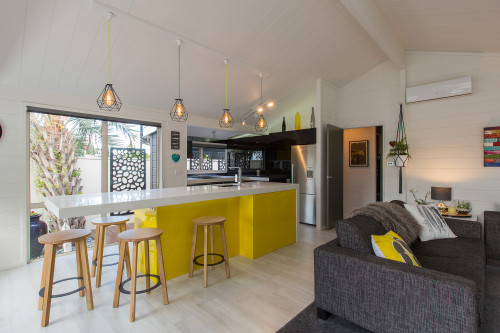 And it's another kitchen that caught your eye with this one – or is it the delicious pop of bright yellow paint (Resene Spotlight). Perhaps it was the story of what can be done with an out-dated Lockwood by painting the walls in soft Resene Quarter Merino.
8. Pam and Allan's beachy vibe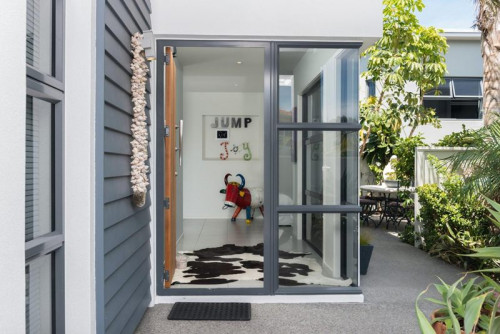 We all love that holiday feeling, and this house delivers with its soft blues and whites, reflecting the icing-sugar sands of Mount Maunganui beach just down the road. Allan and Pam decided on a restful and clean colour palette from Resene to capture that 'beachy vibe' using Resene Half Duck Egg Blue on the walls of the entranceway and Resene Atomic on the weatherboards.
the look
If you're stuck on what
colour to use or need colour
advice, try out the Resene
Ask a Colour Expert service.
the look
If you're stuck on what
colour to use or need colour
advice, try out the Resene
Ask a Colour Expert service.