►
◄
latest
habitat tv
blog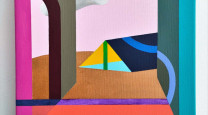 3 tips for creating the perfect powder room PLUS a powder room competition
24 Jun 2021
The humble powder room was once a place for eighteenth century ladies to preen, primp and powder their wigs before a ball. Powder rooms were as elaborately decorated as the ladies that frequented them, often covered in rich colours and elaborate wallpapers. Three centuries later, powder rooms are still an integral part of our homes and we're continually thinking up new and wonderful ways to decorate them.
A powder room is a small room usually intended for guests that houses a sink, space for hand towels and sometimes a toilet too. Known as half baths or guest bathrooms, the powder room's small size means it's easy to renovate at the drop of a hat, making them the perfect place to get creative decorating.
If you have an inspiring powder room that has bold colour, exciting wallpaper or imaginative décor, enter it in the Your Home & Garden and Resene Powder Room Awards 2021 for your chance to win $1000. To enter, email some photos of your powder room and a 100-plus word description of your space to [email protected] with your last name and 'Power Powder Rooms' in the subject line. Be sure to include your name, home address, email address, daytime phone number, the names of Resene wallpaper, paint colours or Resene products used and details of when you decorated.
Entries close 1st July 2021.
Thinking of renovating your powder room? We've got three hot tips to get you started.

The back wall of this powder room is in Resene Jaguar with painted terrazzo in Resene Alpaca, Resene Urbane and Resene Tom Tom. The left wall is in Resene Tangaroa and the right wall is in Resene High Tide. The floor is in Resene Mercury, vanity in Resene Tangaroa and ladder in Resene High Tide. Project by Kate Alexander. Image by Bryce Carleton.
One way to add interest in a small space is to create your own paint effect. This powder room has a maxi-sized terrazzo feature wall painted in a trio of neutral colours. The large shapes have a magnifying effect, meaning they draw the eye in, making the space feel larger. For an alternative feature wall that adds interest, embrace your inner artist and paint a colourful feature wall. For tips on how to do this, click here

This powder room blossoms with Resene Wallpaper HX8-057 on the walls. Finish it off with a crisp trim and surrounding walls in Resene Alabaster, perfect for lightening a room.
Papering your powder room with luscious and rich wallpaper designs is the perfect way to create an elegant space. From sleek stripes to vintage flower patterns, wallpaper can bring a modern mood to your powder room or can help you add a touch of old world charm. Take a refined approach by wallpapering a feature wall and painting the surrounding trim and walls in a white such as Resene Alabaster. The white walls will reflect the colours in the wallpaper and leave the room glowing. Because of the powder room's small size, it's one room that will benefit from wallpaper covering every wall. For more wallpaper ideas, click here

This powder room, designed by Von Sturmer's, uses Resene Triple Tea on the walls to create a moody space.
Rather than trying to make a room feel larger by using plain, light colours, try embracing darker tones to create a moody and enclosed atmosphere. Pair dark walls painted in Resene Triple Tea or Resene Cafe Royale with brass or silver décor for a touch of luxury. If you do adopt a darker colour palette, be sure to lighten up the floor with Resene Colorwood Whitewash or a painted floor in Resene Quarter Concrete.
Published: 24 Jun 2021